38 Reasons Henderson's Relish Is The World's Greatest Condiment
Way more than a Worcestershire sauce wannabe. Tha knows.
1. It goes with 'owt.
2. Like pie and pea supper.
3. And Yorkshire puds.
4. Or stew and dumplings.
5. And not forgetting Sheffield fishcakes. (Which, for the record, are not rissoles.)
6. Put it on your sushi instead of soy sauce. It'll be reight.
7. You could even drink it in a Bloody Mary.
8. Or just eat a bag of lightly-infused Yorkshire Crisps.
9. Or maybe a delicious steak 'n' relish Cornish pasty.
10. The magical elixir of Northern life is served in all of the finest establishments in Sheffield.
11. Like the Fat Cat.
12. And Craft and Dough.
13. And Silversmiths.
14. Not forgetting the minor detail that all of the Wetherspoons in Sheffield have it on the table.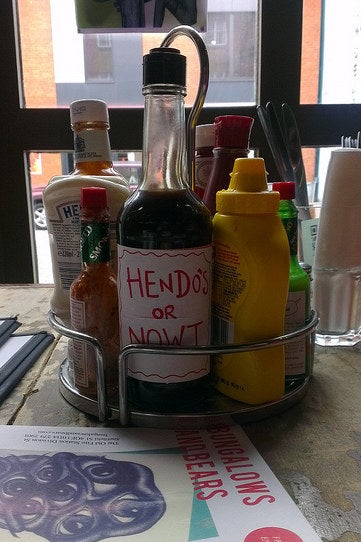 15. It's vegan. (In yer face, Worcestershire Sauce.)
16. It even has its own cook book. Bagsey being first to try the vanilla cheesecake with black cherry ripple.
17. It's still being made within half a mile of where it was invented.
18. In a factory whose sign is so iconic that it was stolen and put up for sale online.
19. And that's not the only time Hendo's has made headlines. Who can forget Jim Dowd's scathing comments which incurred the wrath of an army of Sheffielders? (And Nick Clegg.)
20. Although the biggest scandal of the Jim Dowd incident was the fact that a bottle of Relish had even been seen in London.
21. Could have been worse. Could have been Leeds.
22. Ex-pats down south get it shipped in bulk, such is its rarity outside of the Steel City.
23. And a few brave smugglers have even spread the good word of 'Endersons internationally.
24. There's even a swimming pool in Spain dedicated to it. Imagine bathing in Relish, like a Northern Cleopatra.
25. Artists like Kid Acne bloody love the stuff.
26. And then there's Neil Antcliff, who actually uses Henderson's to paint with. Bit wasteful, that, innit lad?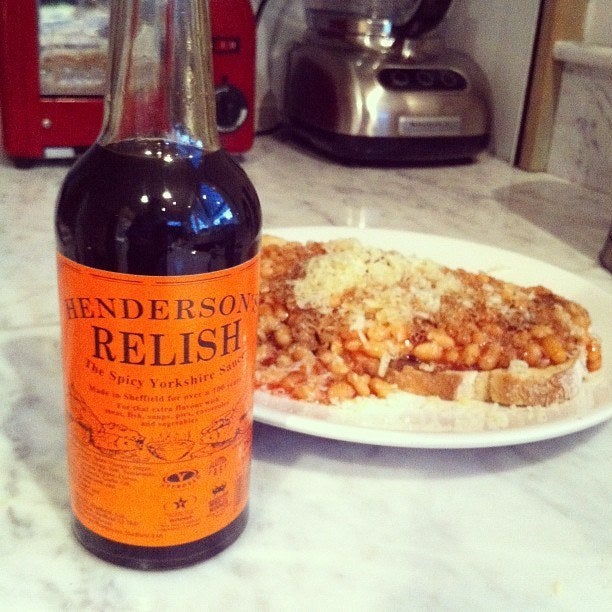 27. Sheffield's second best member of Pulp, Richard Hawley, even sold Hendo's with personalised labels as merch on his tour.
28. (And Richard also launched his first album with a free gig on the sacred ground that is the factory.)
29. But he's not the only famous Sheffielder that loves the spicy stuff. Boromir himself is a long-time fan. One does not simply eat yer tea without it.
30. Def Leppard don't rock all over t'world too well without it. Rick Savage (and his hair) are easily the highlights of the Recipes to Relish cookbook.
31. When Jessica Ennis did her hometown proud, we knew how to celebrate. What says Olympic champ like a golden bottle of Hendo's? Go on, yer jammy lass.
32. It's as Sheffield as t'ole in t'road.
33. And a documentary is on its way.
34. Some say it's the Sheffield water that makes it taste so good.
35. Or is it the cloves?
36. It can be hard to live without it when you're an expatriated Sheffielder.
37. You miss it more than you miss those hills or the Supertram.
38. But you know you're home when you see a supermarket shelf that looks like this.