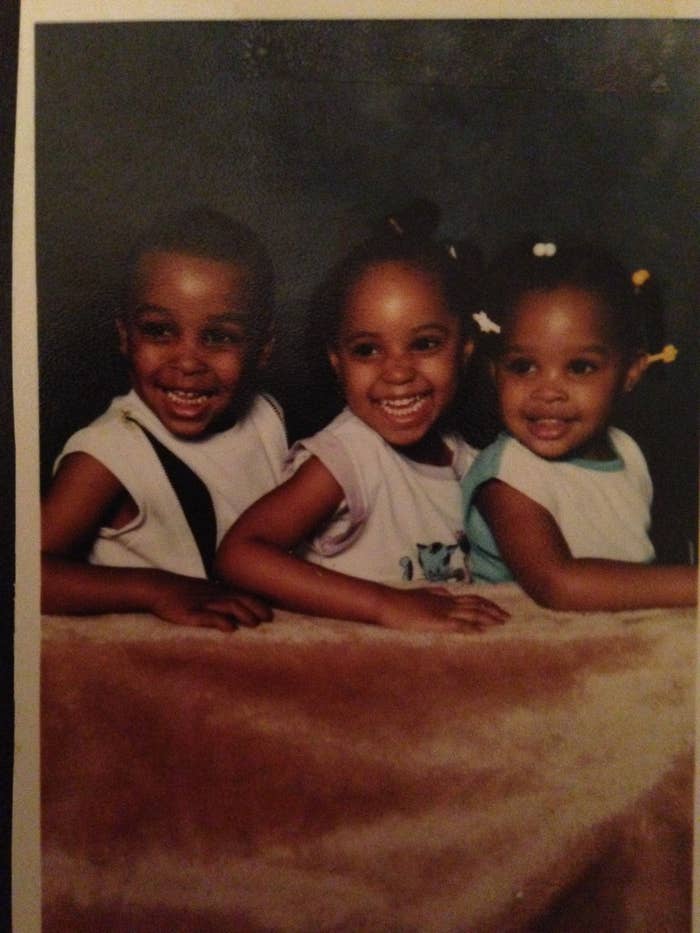 Before I was diagnosed with polycystic ovarian syndrome, I knew I never wanted a child. Not because I dislike children, am selfish, or feel I would not be able to manage the privileged responsibly of raising a child. Believe me, I love children and believe it's a blessing to have a child (and I say this as an agnostic). But, this blessing will never be something I seek. Because I don't want my child to die before they have time to live a full life.
My decision to not even attempt hormone treatment to have a child one day is strictly reserved by fear. Fear that some malice, ignorant, egotistical, privileged person, be it a civilian or police officer will murder my child. My child would be killed not because they have an illegal weapon, or misuse the weapon, or pose a legitimate threat to society, but simply it would be due to the darkness of their skin.
My child could be walking down the street minding their own business, seeking helping, be of rebellious spirit, or non-violently frustrated that their rights are being violated by a police officer or civilian. My child could misunderstand a direction, legally enter a business or home, listen to music, go to school or their workplace, purchase an item in a store, drive a vehicle, be in conversation, breathe, or whatever daily activity a person does in their life…but that activity could result in their death by a person deciding to play God. Because that misguided civilian or police officer automatically assumes my child is guilty and deserves to die.
There's no such thing as the law is on your side when you are black. There's no such thing as use of your "God" given right to live and be free when you are black. The message is clear, constitutional rights do not apply us; because, any one of life activities could elicit an unwarranted arrest, imprisonment, or death before proven guilty. Think I'm overreacting, listed is a history of black (and brown) people that have been killed by police officers or civilians, many of them recent, and they were usually unarmed or posed no threat. For many of the victims, justice had not or probably never will be served. Black lives do not matter in the United States of America.
2. Erica Garner
4. Ezell Ford
5. Dante Parker
10. Sean Bell
11. Ramarley Graham
12. Latasha Harlins
13. Renisha McBride
14. Jordan Davis
15. Jonathan Ferrell
16. Martin Luther King Jr.
17. Malcom X
19. There's more listed on The Root &The Civil Rights Movement was a blood-fest of killing innocent black (and white) people.
For a black person (that lives in reality), it is nothing but hate and disrespect to our life on a daily basis. But I've been a lucky black person (thus far), because I've only been called a nigger and denied entry to a white friends' home. I've only been followed in stores and ignored when asking a retail employee for assistance. And when I get pulled over by a cop, it is because I been caught speeding or violating a traffic law. Still that doesn't dismiss my frightened mind-state to the scenario that one day I might be pulled over for something or nothing, and get the cop who sees me as inhuman. I worry about this not only for myself but for my black friends and their children, my black coworkers and their children, and my family members.
I wish I didn't have to worry, but off the top of my head I was able to list 18 people whose civil rights were violated, and now they are dead. I remember as a child watching on the television Rodney King being beaten by multiple police officers, for what driving while black? I remember white people condemning OJ Simpson before he was arrested, much less indicted, and had his day in court. All due to, well you guessed it, he was black? Even if OJ had never freaked out, and sped off in a white van, white members of society still would have presumed guilty before an investigation, much less a trail.
This is what black people and I deal with all day, every day…FEAR, from the second we walk out the door of our home. I hate FEAR. When my mind thinks God hates me, us (black people), or seems like we're better off dead, or had not been born at all…that's a problem. I want to change my mind state but reality gets in the way. I cannot resolve this because I cannot change the mind of racists. Racist hate black and brown people simply because we are not white. They lust for control. Their mind is warped. Racists hate us when we are good, and they hate us when we are bad.
When I read or watch a video of civil rights clearly being violated by black and brown people (don't even get me started on the militarized police), all I can think to do is give thanks to "God" for my polycystic ovarian syndrome, truly I am blessed, though I shouldn't be.
Sadly, many mothers and fathers blessings (children) have been stolen for them. The worst still is that 60% percent of white society does not have a concern for the mistreatment of the police against black people, and not surprising they're probably staunchly prolife too.