The Media Keep Saying Gladys Berejiklian Was Dux Of Her High School, But She Actually Wasn't
"The premier has never said she was the overall dux of her school," a spokesperson told BuzzFeed News.
The story of the immigrants' child who spoke no English until age five, but went on to become dux of her high school, has in recent years been a key part of the narrative surrounding NSW premier Gladys Berejiklian.
While no-one is questioning that Berejiklian was a bright, bookish student who did well at Peter Board (previously North Ryde) High School in Sydney's northern suburbs, some who went to school with her are wondering when a dux is really a dux, and when a dux is kind of a dux, but not really the dux you might be thinking of.
The idea of a hard-working young Gladys making it to the top of the pile against all the odds plays neatly into the Liberal leader's rags-to-riches tale, and the "dux of her school" achievement is one that has been repeated a number of times in the media in recent years.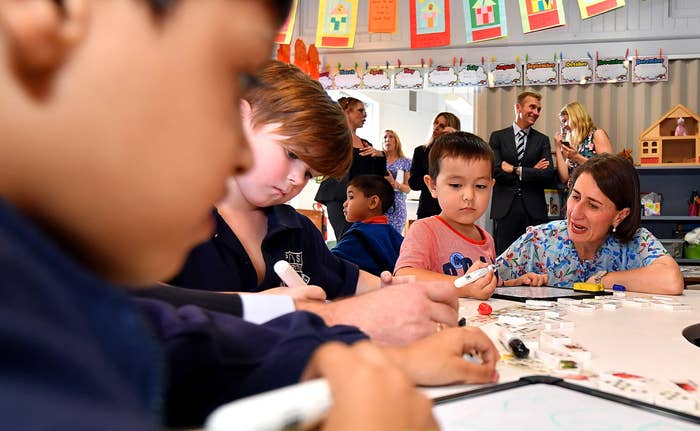 In 2017 the Sydney Morning Herald wrote: "She was a Girl Guide when she was young, and dux of her high school for six years."

In the same year the Daily Telegraph said: "But as the Premier pointed out in her landmark National Press Club address in Sydney last week, her education was entirely via the public system — a place where she became dux of North Ryde High School."
Women's Agenda said in 2017 that "The soon-to-be premier of NSW could hardly speak English when she started kindergarten in Sydney, but later became dux of her high school."
In late 2018 the Herald was at it again: "[Liberals] want to see her make more of the tale of the child of Armenian migrants, a welder and a nurse, whose eldest daughter began school with almost no English but ending [sic] up as dux before reaching the heights of state politics."
So, was Gladys Berejiklian really dux of Peter Board High School? Well, no and yes.
BuzzFeed News has learnt that the Year 12 dux of Peter Board High School in 1988 was not Berejiklian but Gregory Seil. When contacted, Dr Seil confirmed he was a classmate of Berejiklian, and said that "to the best of my knowledge I received the highest HSC mark for the 1988 school year at Peter Board High".

The Sydney Morning Herald reported in January 1989 that Seil was ranked equal 268th in the state.
A spokesperson for Berejiklian told BuzzFeed News that "The premier has never said she was the overall dux of her school".
"Between year 7 and year 10 one female and one male student was given such recognition. The premier was the girl dux in each of these years. When the premier was in Year 12 she was not the overall dux."