I'm Pernell, and I'm a gay man who's very insecure with his body. I recently went to Puerto Vallarta in Mexico, and a friend suggested I participate in a gay naked beach boat cruise. I'm recently single and haven't even tried to mingle, so he felt it'd be an opportunity to (literally) put all of myself out there.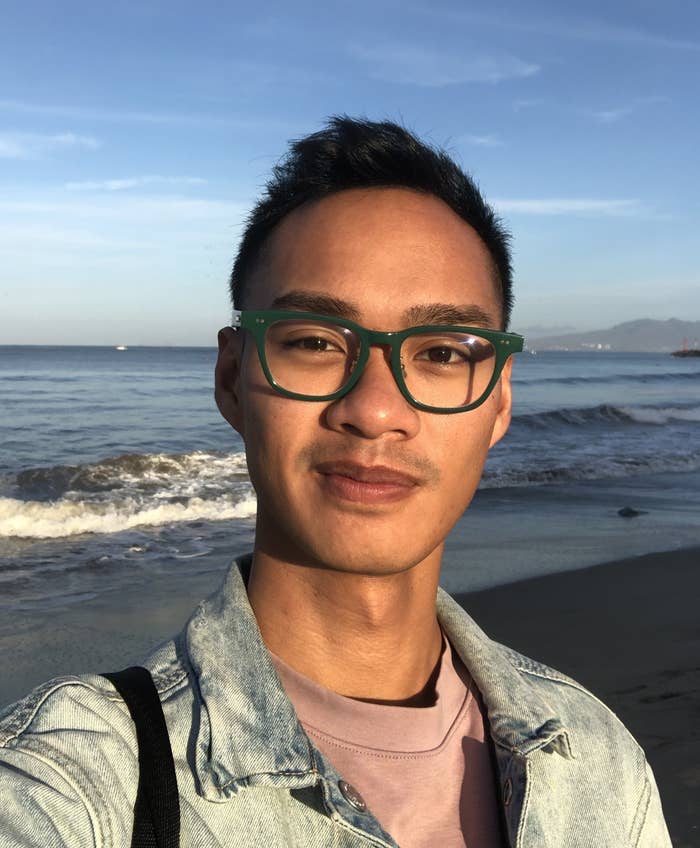 I'm not in my 'best shape' right now, so the idea of being naked around attractive men made me feel uneasy. I don't do well with rejection. But I'd spent most of my vacation in the hotel room, and craved an escape. And that's why I booked myself a ticket to the nude cruise.
It was time for me to get naked and (no longer) afraid. 
The activity was very easy to book, cost about $100 USD, and included drinks and food. The 'naked' cruise itself is exactly what it sounds like: cruising the waters of Puerto Vallarta in a clothing-optional boat, and then spending a few hours on a secluded clothing-optional beach. The whole day was scheduled to be around 5–6 hours.
This was out of character for me. I've never been happy with how I look, especially now that the pandemic has made me terrified of gyms. I know I don't need to have a certain body or face to matter, but I grew up with a flawed understanding that only queer people who look like they're out of an Abercrombie & Fitch catalogue are considered sexy. I'm an Asian born in the '90s in Texas. So yeah, I have issues.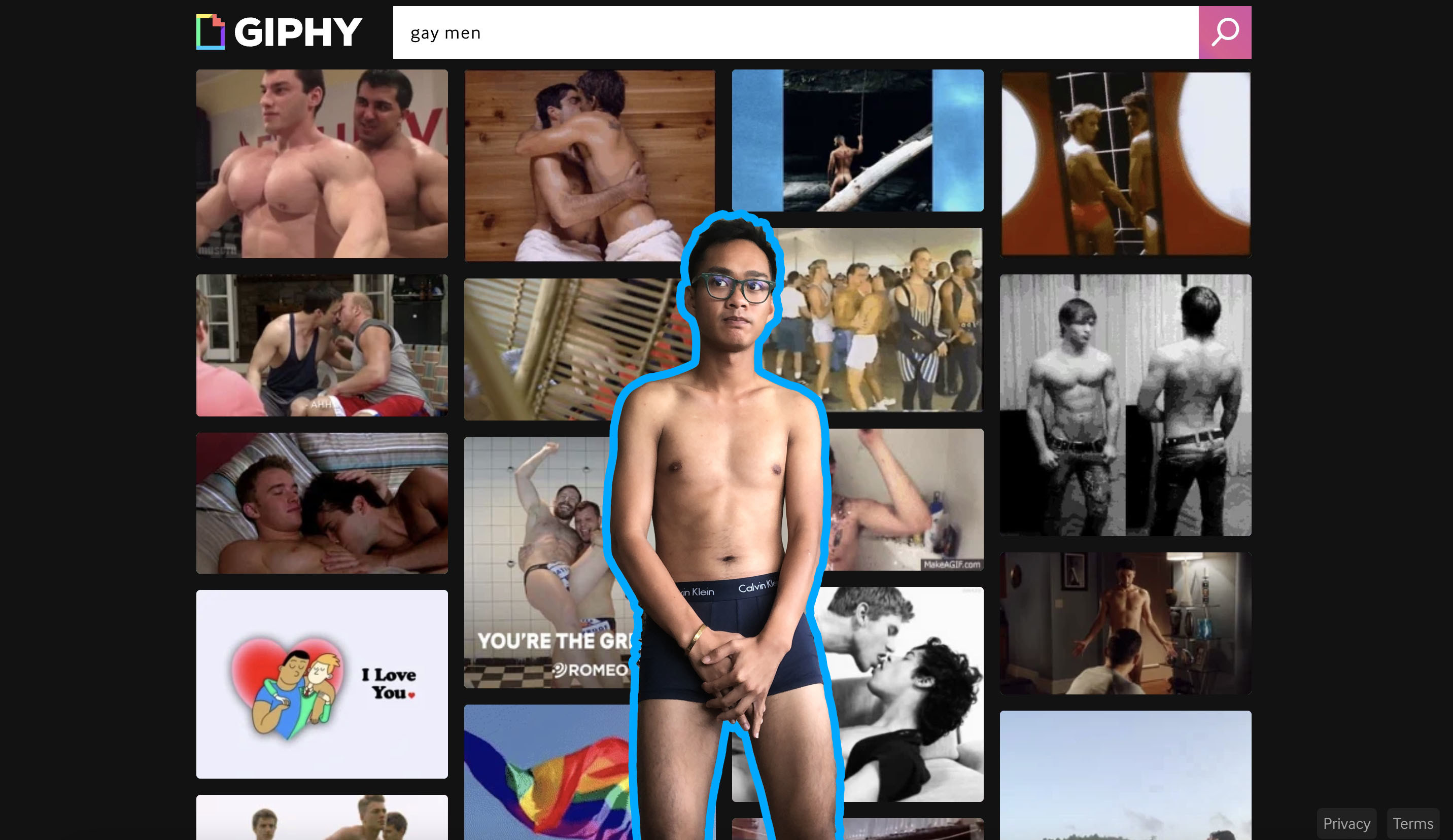 So, I was all nerves as I approached Los Muertos Pier in the Zona Romántica, the downtown part of Puerto Vallarta where all the gay bars and resorts are. I stood at the back of a line of about 60 other queer men who were also waiting to board the naked beach boat cruise.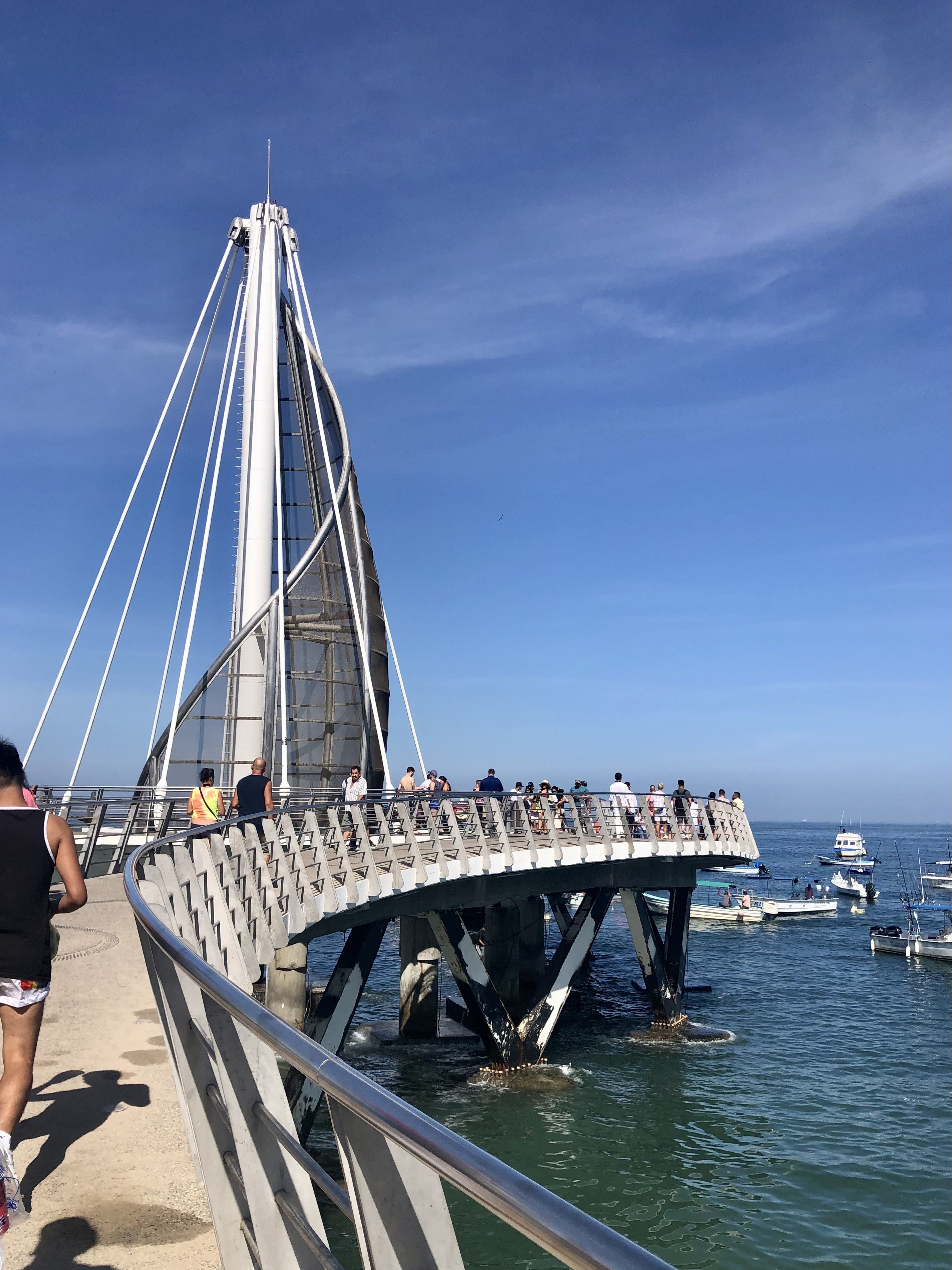 Standing on the spiral pier, I noticed the different types of bodies around me: beer (or bear) bellies, bubble butts with Prada satchels, biceps bursting under T-shirts that are a size too small, and lots of salt-and-pepper beards. I was already starting to compare myself, and my clothes weren't even off yet! And my palms were sweating. The half of a Klonopin I took was doing nothing for me — what a waste.
Then, we boarded the speed boat. There was an open spot in the very back, which I gladly took. We departed from the pier and our guides explained the beach we were going to was only accessible by boat, as they passed down Pacifico beers and bottled waters. Well...there's no turning back, I thought.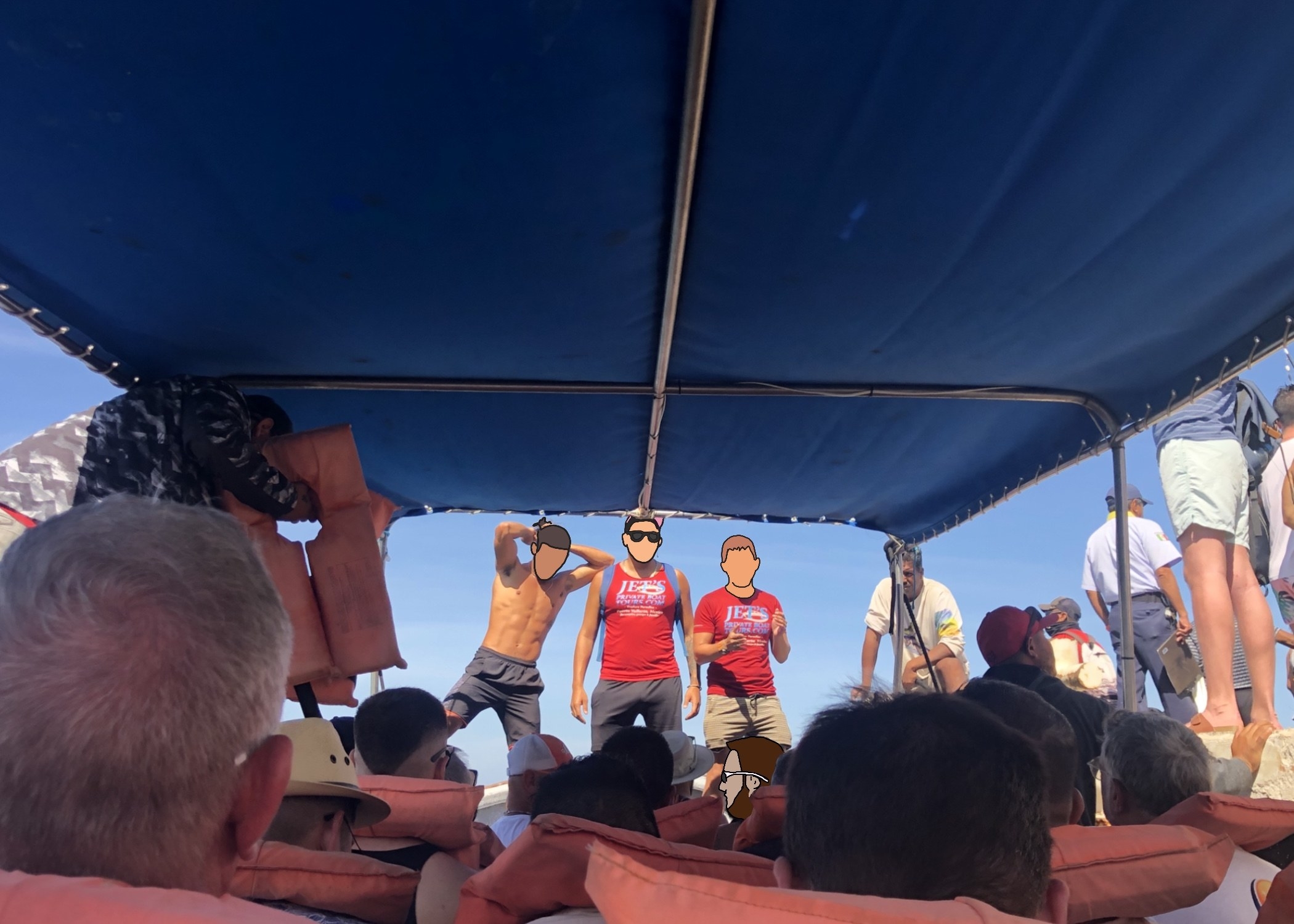 The boat ride was about an hour. I was glad we were seated and that we all still had our clothes on, or else I probably would've been awkward and naked in the corner, nursing a Pacifico.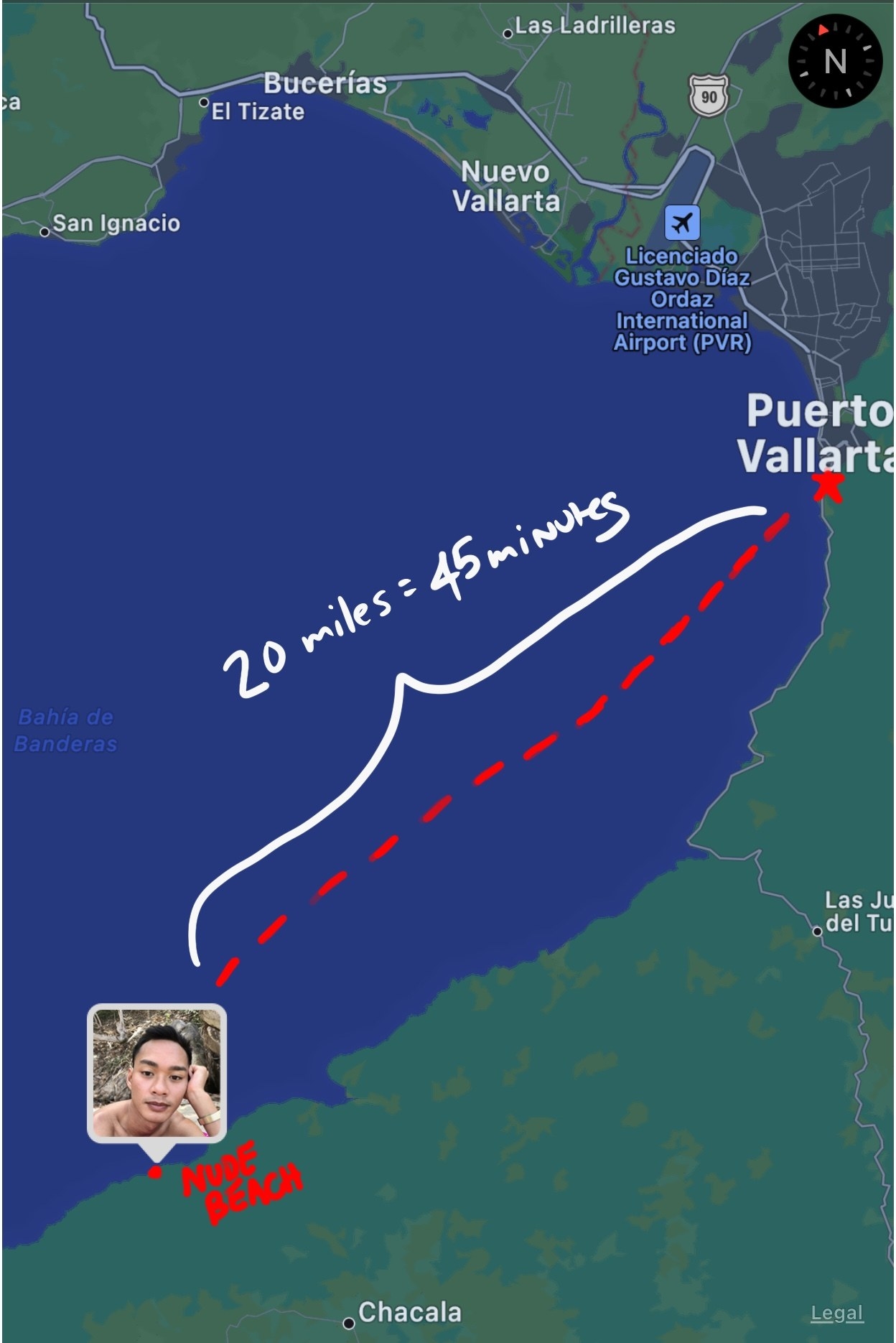 Then, the boat's motor clicked off. I looked ahead. "Alright, men," one of the guides at the front said. "We're halfway to our destination. So," he continued, as he slipped out of his Speedo, "clothing is now optional." His dick flopped out and all I could think was, Oh. This is happening. Others started to strip; I did not. I looked behind me and only saw the ocean. We were too far from shore.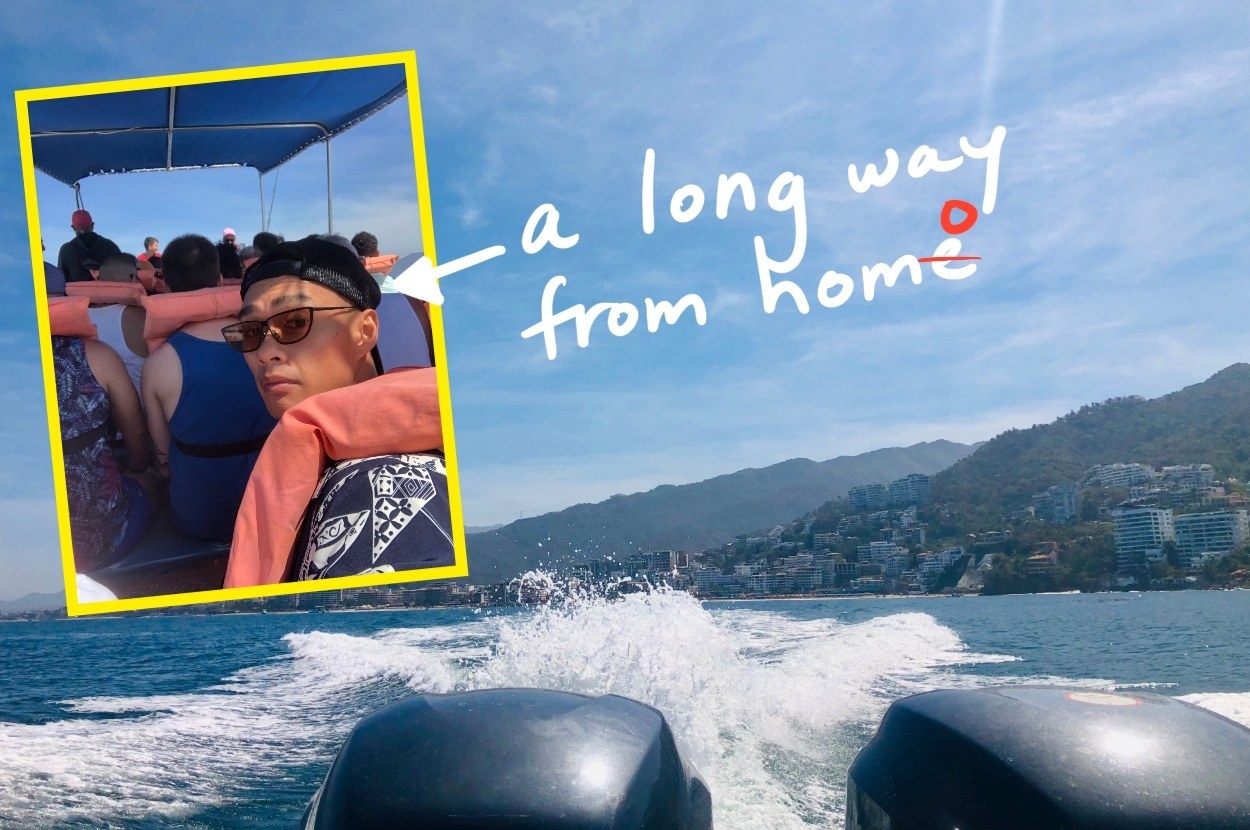 After an hour of being sea men, we finally arrived. I gasped as we got closer. Had we reached a private island? The cliffs. The waves. The tall, lush trees. It was all so serene. The beach was stunning, and I couldn't wait to relax on it. We hopped off the boat one by one, waded through welcoming water, and claimed our spots in the sand.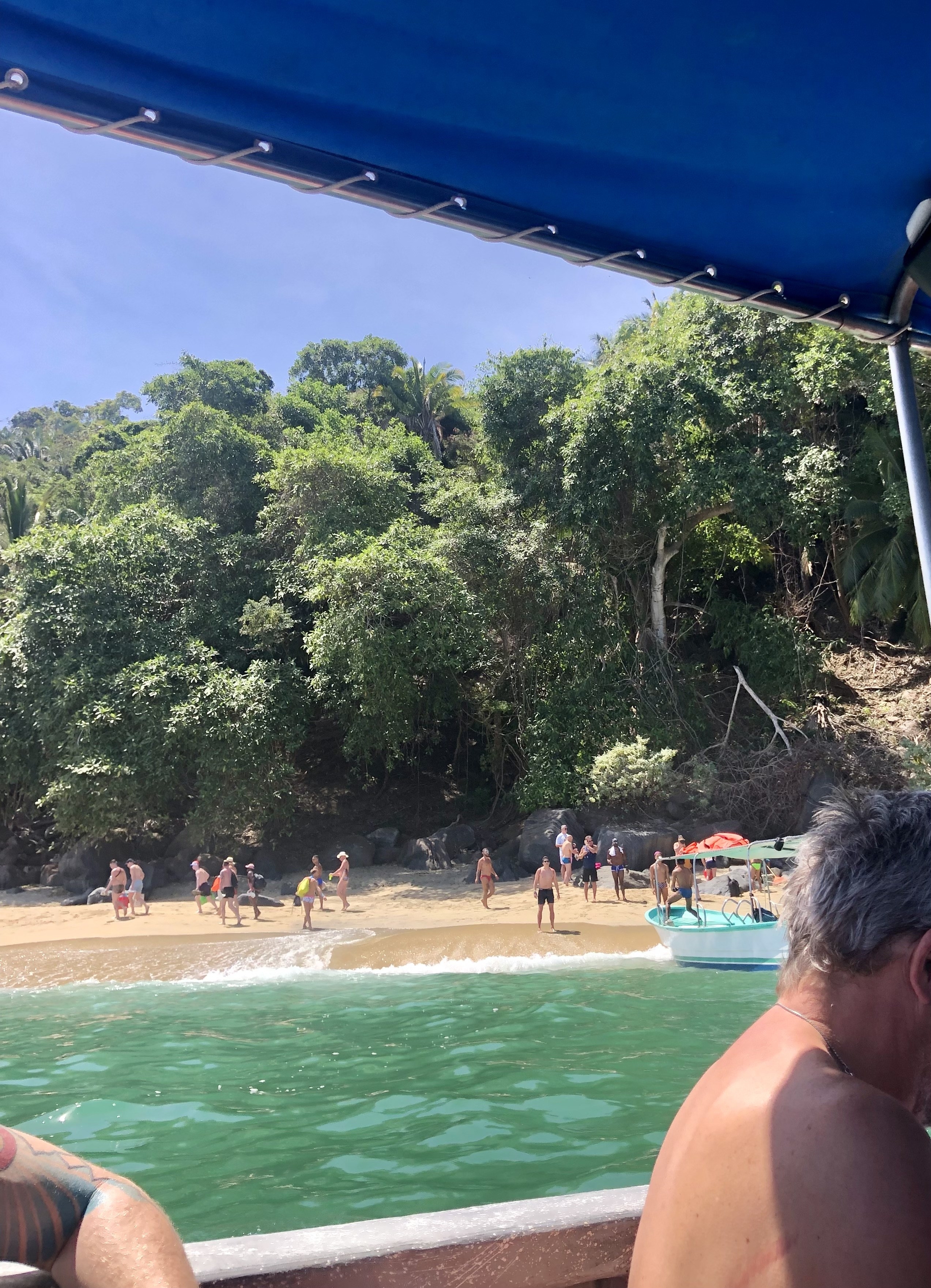 Immediately, people started disrobing. I set my blanket down toward the back, up against the rocks. It was a great spot for people watching. My blanket was big enough for three, so I shared it with my seat buddies from the boat. "Are you going to strip?" I asked my new friends. They smiled and shook their heads. "Will you?" I didn't reply; I just pulled my shorts down.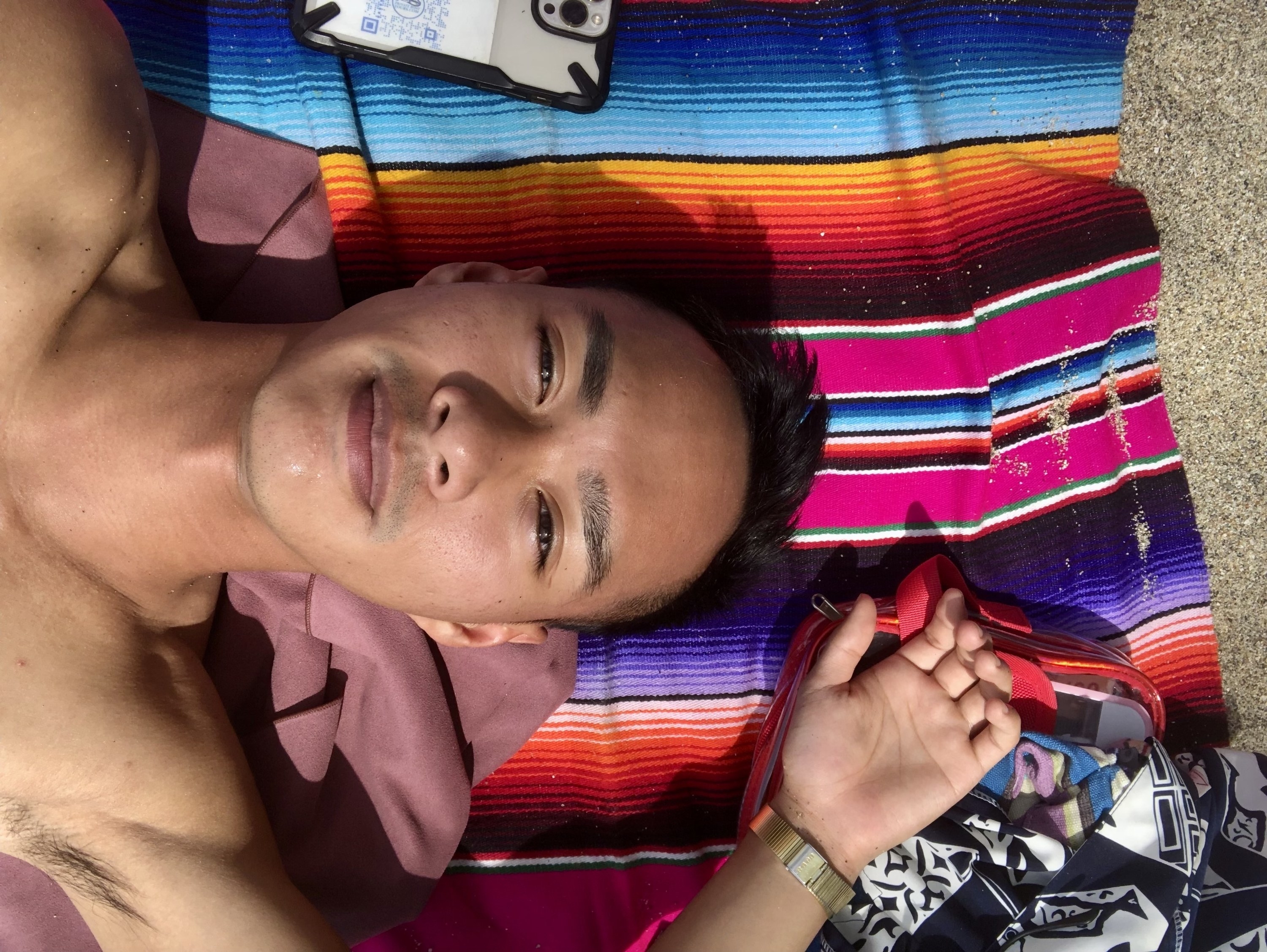 At one point, a man with a comically stiff erection casually walked around and was even talking to people. I guess he liked what he saw, which was 50 naked gay men on a beach. I was in awe of his confidence. I even envied it.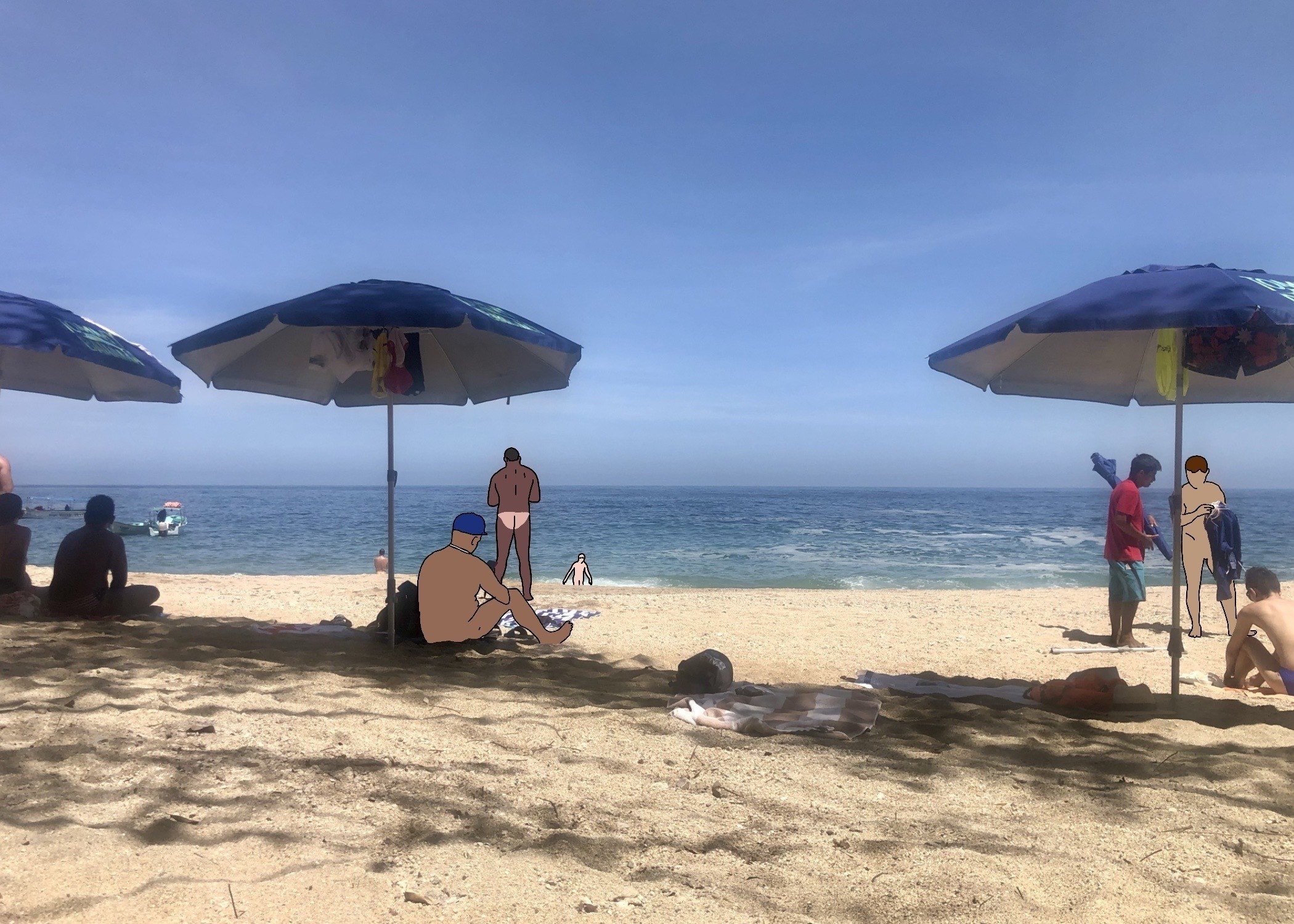 A dog strut up to my blanket and laid down. I think he sensed my nervous energy. I didn't even care why there was a dog on this private beach. I just gave him scratches to thank him for calming me down — what an ally.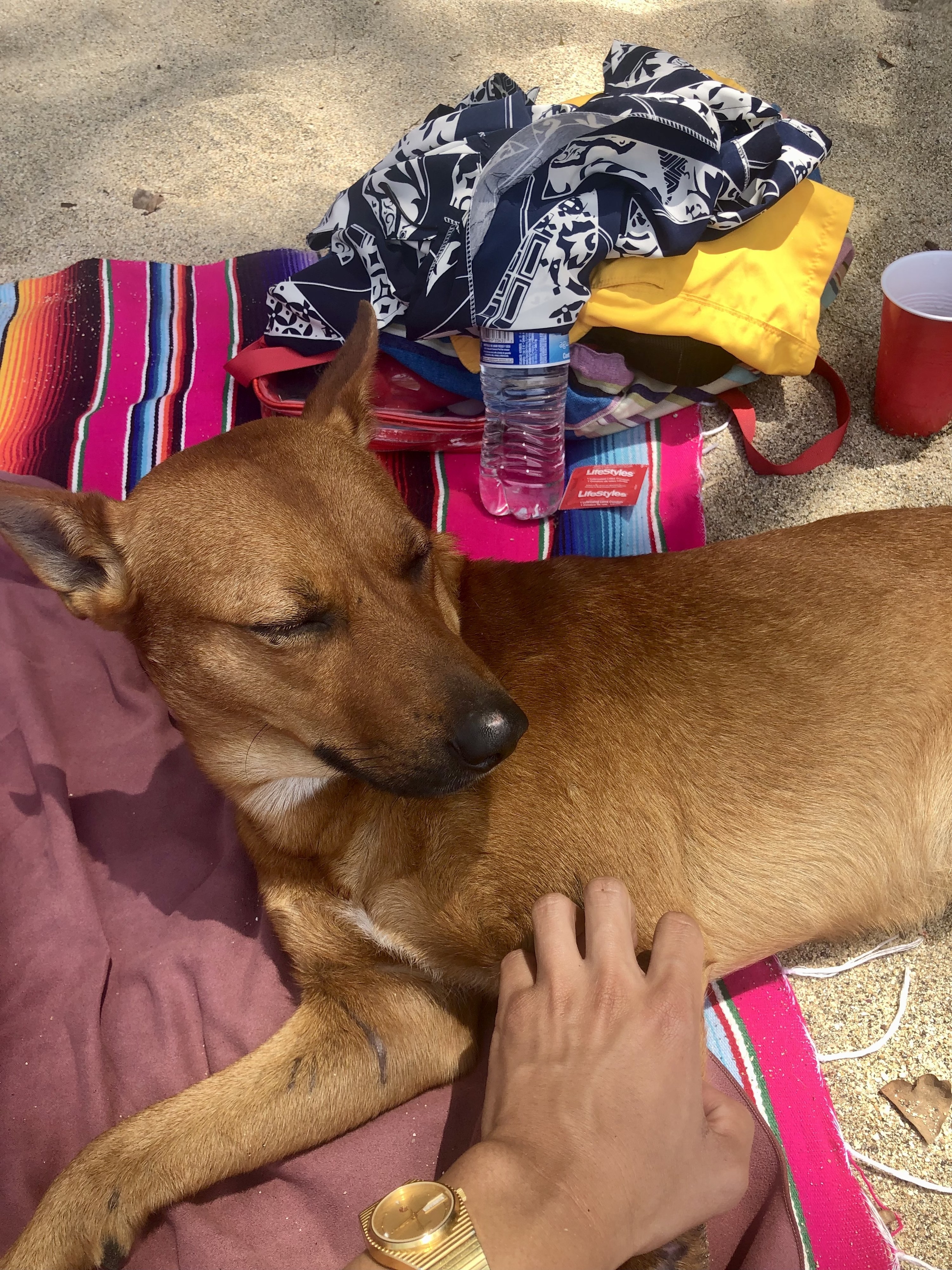 Then, the guides announced that food and drinks were ready. I walked from my blanket, naked, to check out the spread. There was rum, tequila, vodka, and Squirt soda as a mixer. As for food, there were grapes, potato chips with hot sauce and limes, and shrimp ceviche to choose from. Brown butts and penises hung inches away from the table as I picked out what I wanted to sip and munch on. It was kind of refreshing how cavalier everyone was about being naked.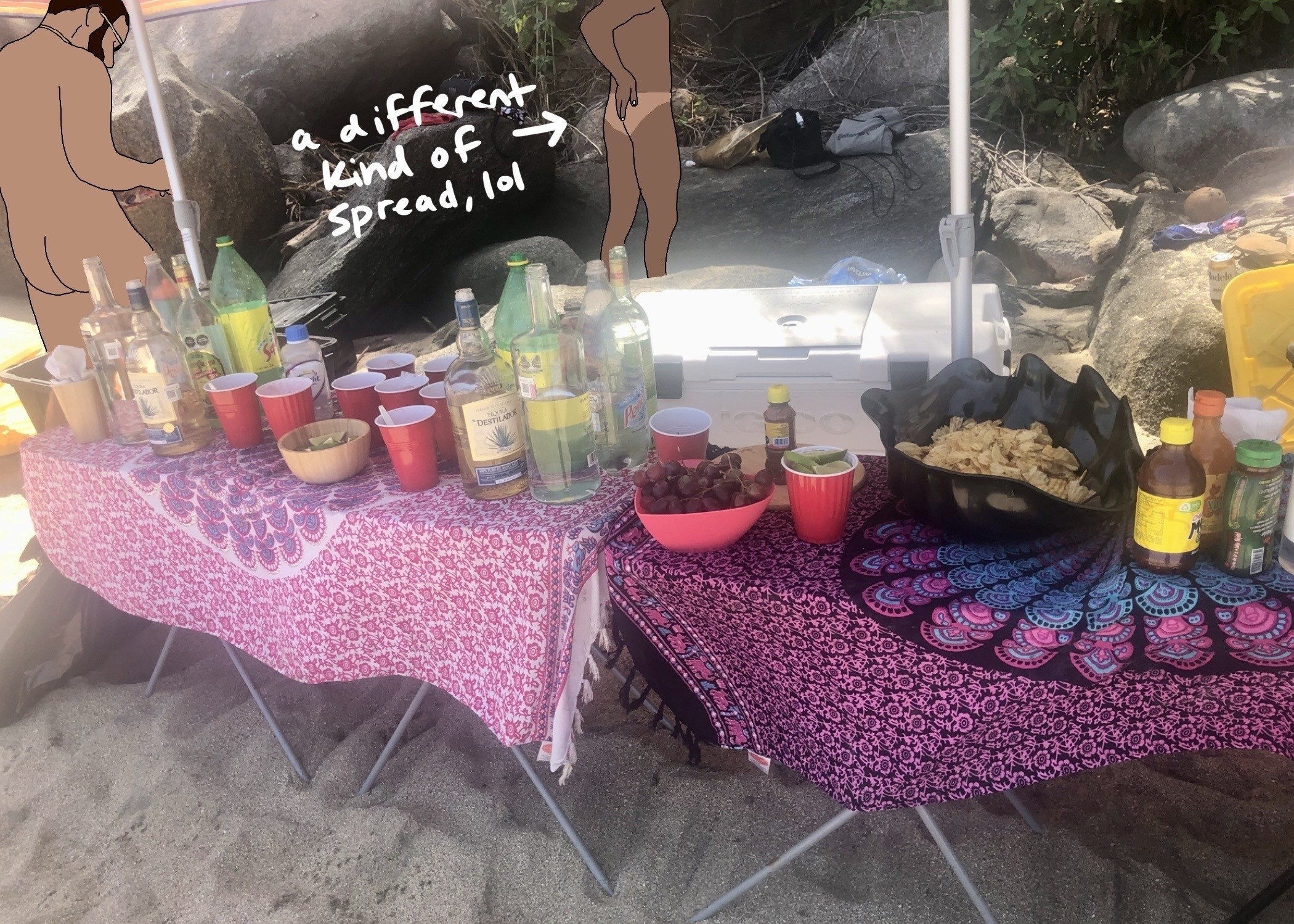 I sat back down on my blanket with my shrimp ceviche and enjoyed the sight(s). The therapy dog was gone, but I didn't need him anymore. It felt liberating to just be naked among other queer men and realize: They don't care what I look like. If people like what they see, they can stare. And if they don't, they'll just look elsewhere.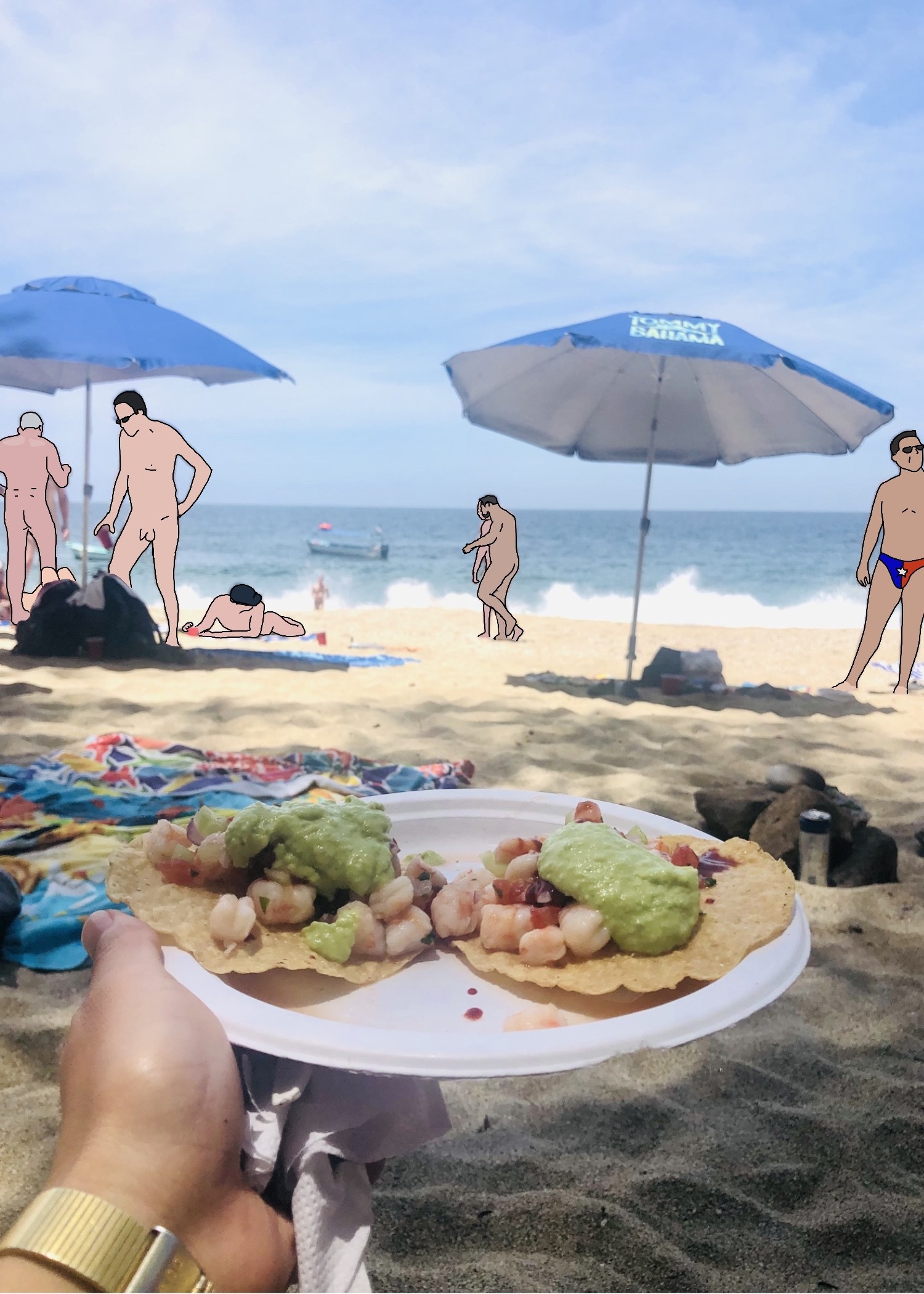 Perhaps my sudden confidence was attributed to the two tequila-sodas I'd drank. And one thing was for sure: They were going right through me. I was peeing in a corner of the beach against the rocks, when two nude men approached me mid-stream. "Can you pee on us?" one asked. And y'all, I did.
"That's so hot," the other guy groaned. "Really?" I laughed. Huh. To think I was nervous about being naked just a few hours earlier, and now I was peeing on someone! It didn't do much for me, but I'm happy I tried it. I accidentally pissed a little on my own foot, so all three of us walked into the ocean afterward (holding hands) and washed off.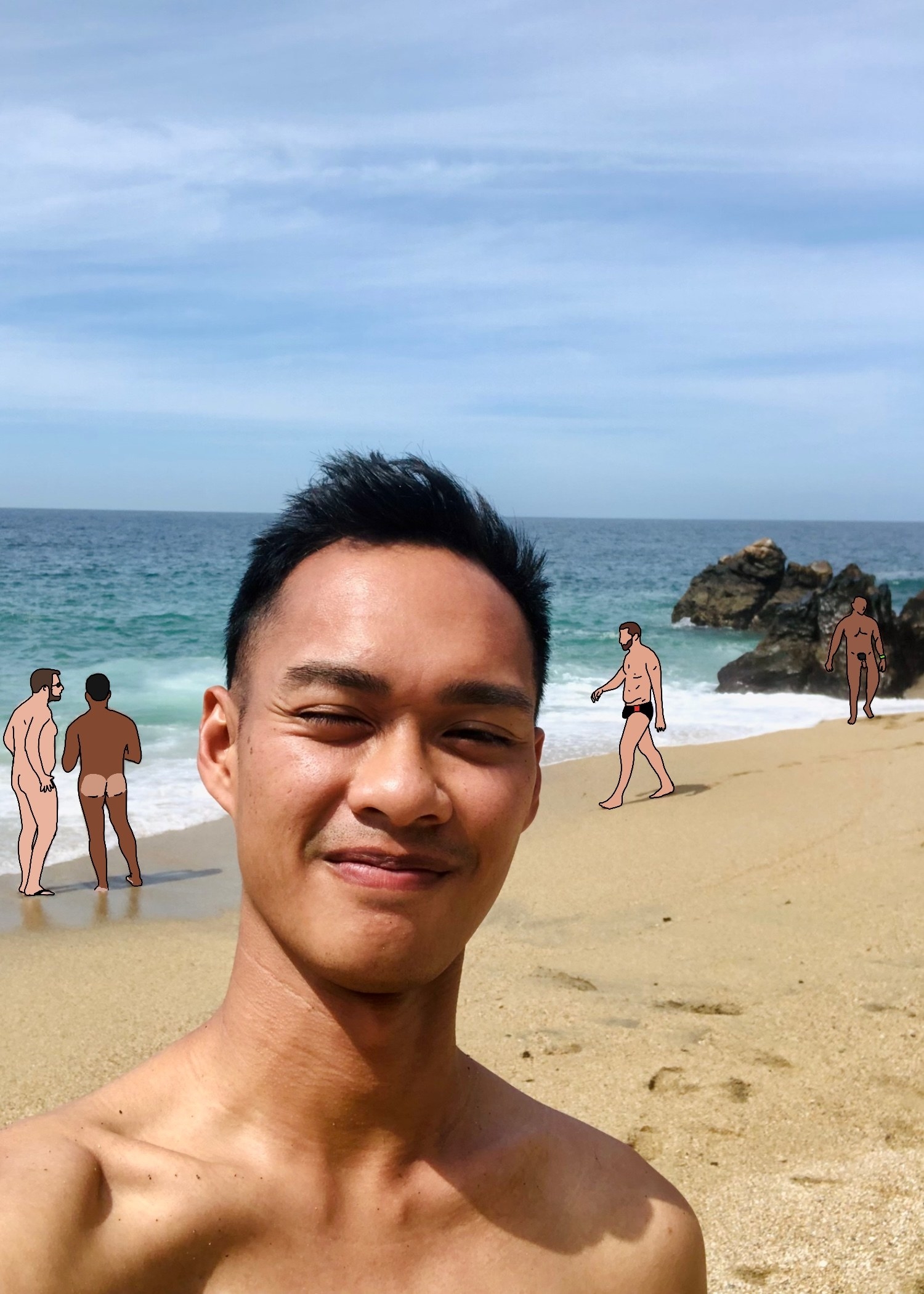 I walked along the water and accidentally interrupted a man taking nude photos of himself using the self-timer on his phone that he'd propped up against a rock. I offered my help. He smiled, handed me his phone, got on his knees, and with his bare butt to camera, spread his cheeks. Then, we had a little photo shoot. That's community.
I returned to my blanket, laid on my stomach, and observed the beautiful naked, queer men around me. I watched as strangers warmly talked to each other, their dicks just out. I was inspired by how comfortable everyone seemed. Before the cruise, I'd thought being around other naked men would make me feel extra insecure about my body. Instead, it made me want to take my own clothes off. After all, nobody cared.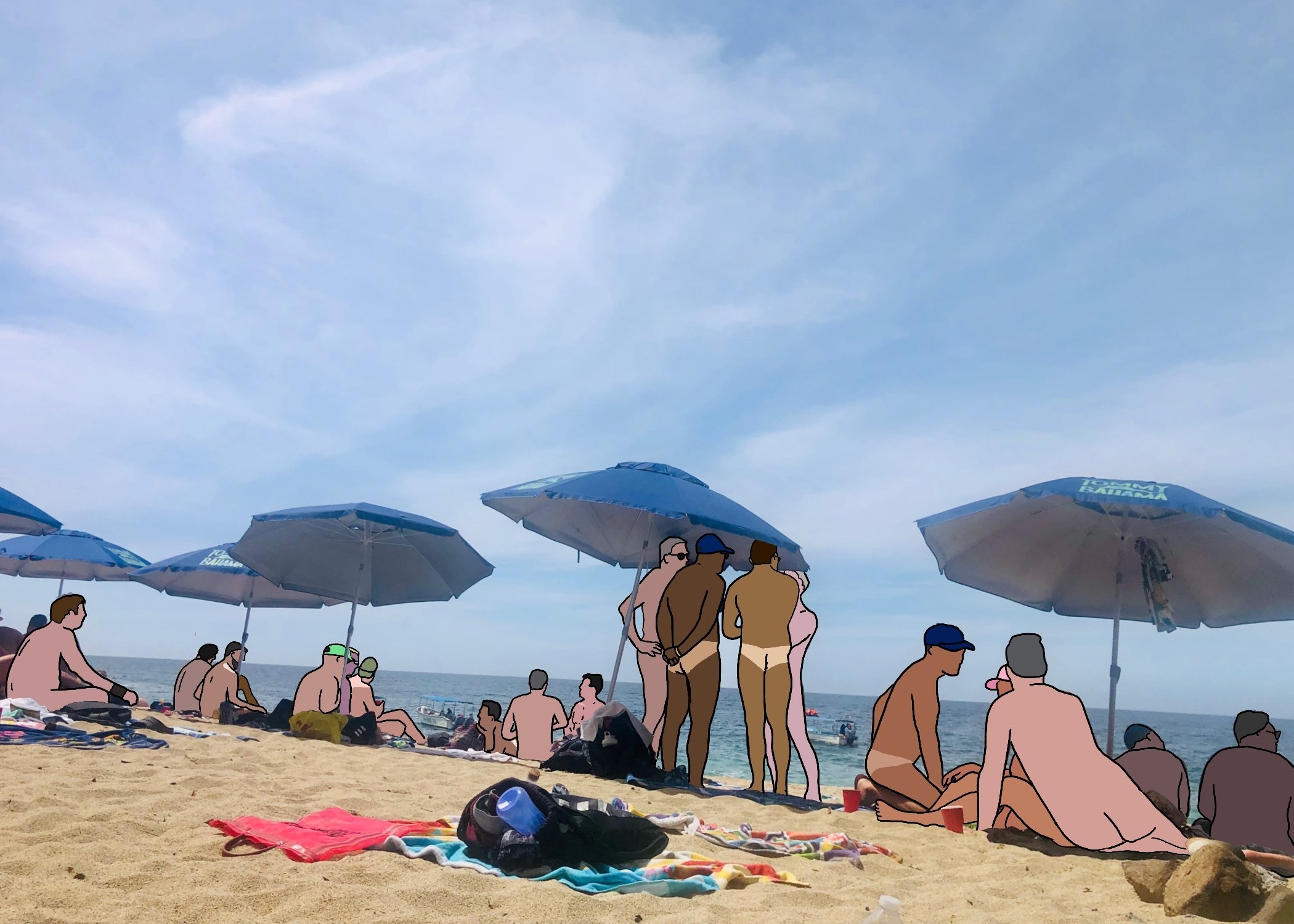 I embarked on the naked beach boat cruise to challenge my insecurity, and ended up having a great experience. I made new friends. I found a new appreciation for my body. And I even allowed my single self to have a little fun. I'd faced my fear of being nude around others — I even pissed on it, too.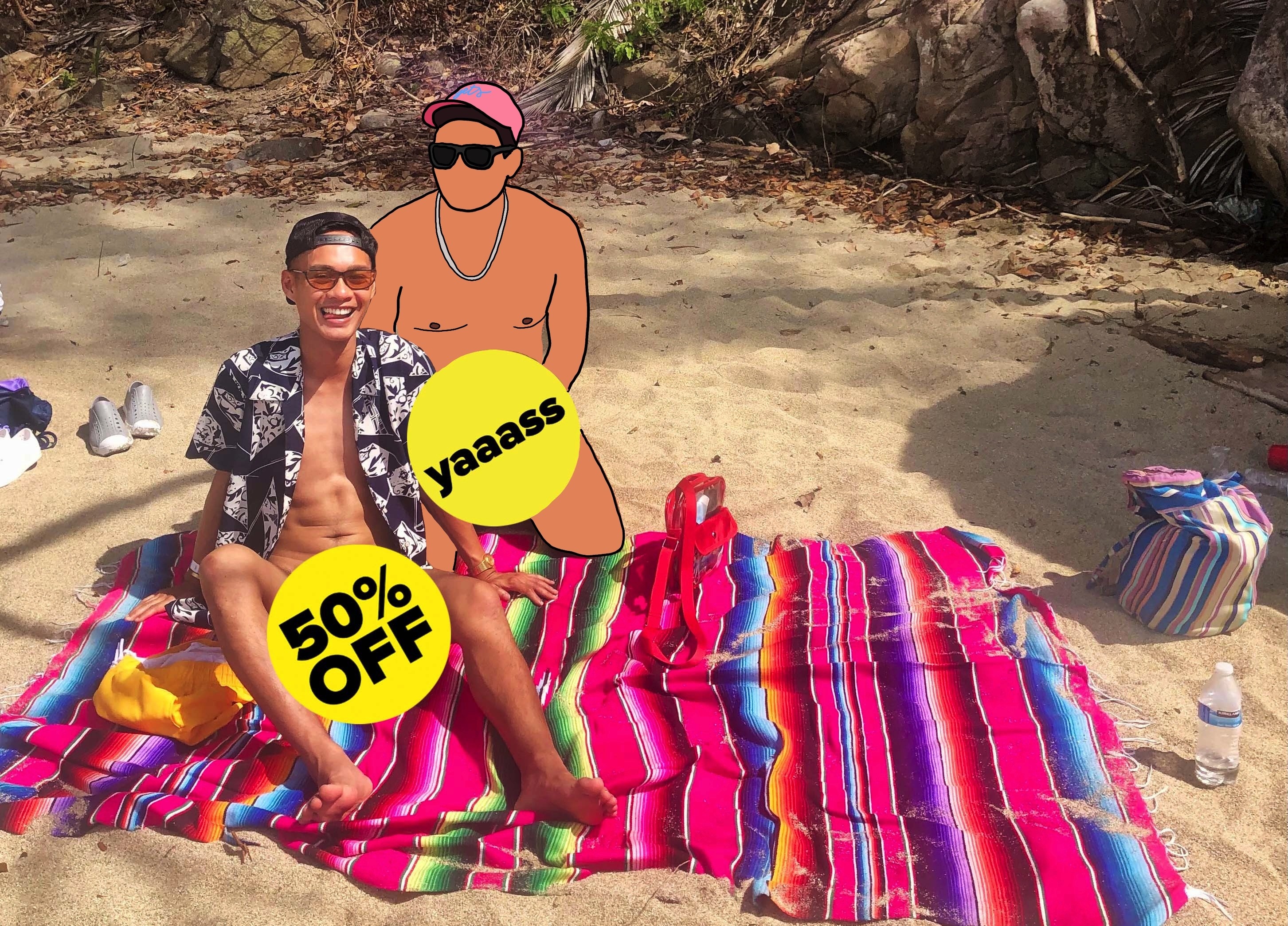 Soon after, the guides let us know it was time to leave the naked beach. The trio of speed boats hovered near the shore. I walked through the water and jumped back on.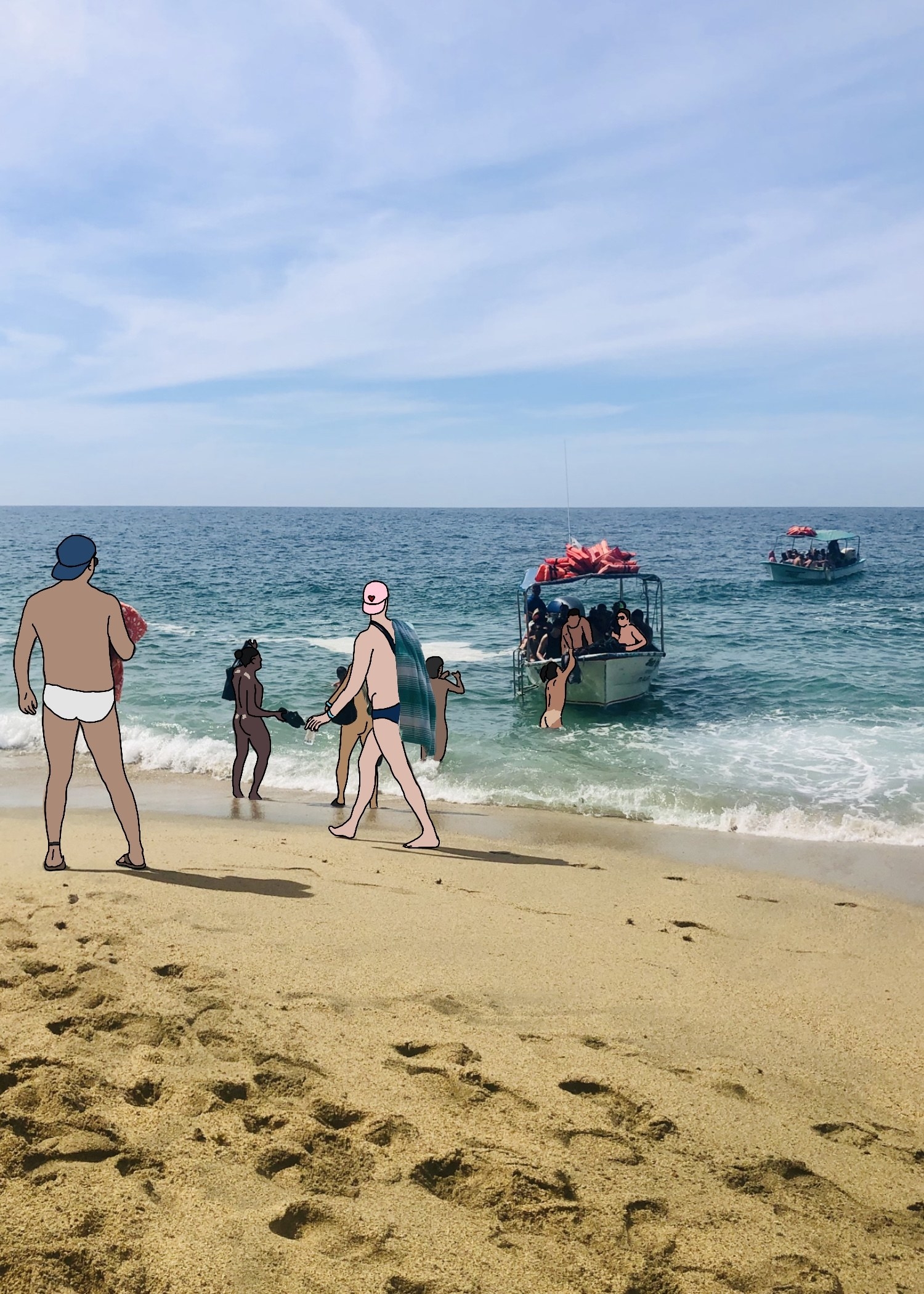 I took a final look at the clothing-optional beach as we sped off. Out in the "real world," it's often hard for me to feel connected to my queer community, especially other gay men. So, shedding the armor of my clothes in the presence of other gay men felt liberating — it was paradise.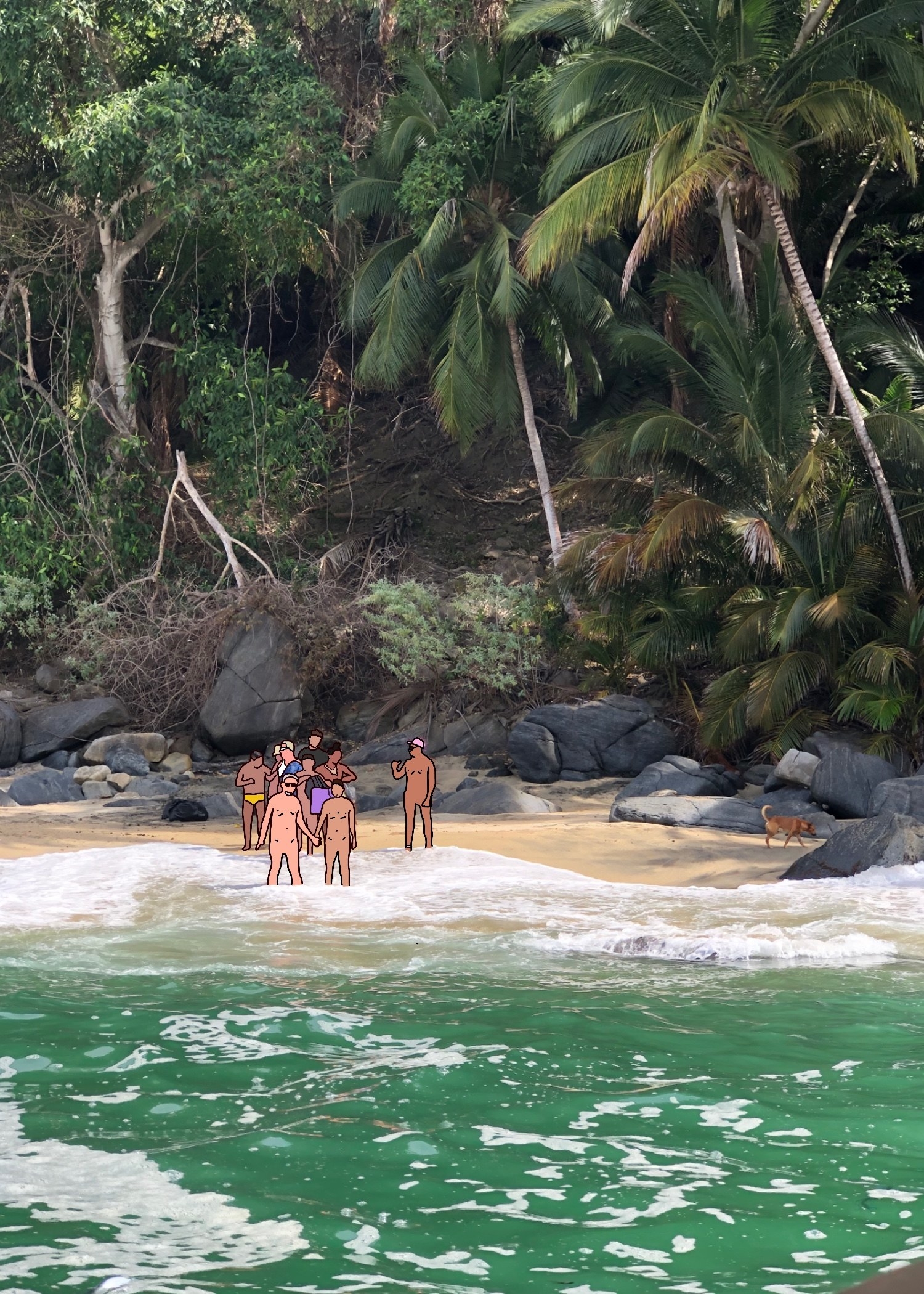 What's your own experience with becoming more secure with your body? And what other unique travel experiences do you want me to try next? Let me know in the comments.