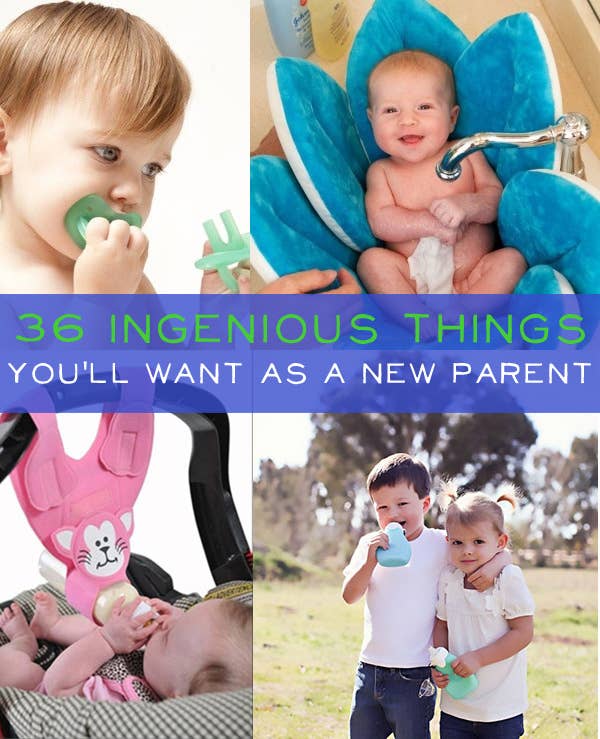 1.
A snack/activity tray is a lifesaver on long car rides. 2.
Here's a DIY version.
5.
The "Woombie" is a safe and natural way to swaddle your baby. 7.
This (pricey) gadget turns your iPhone into a baby monitor. 10.
The Molar Muncher is a pacifier that soothes the entire gum line simultaneously. 14.
A kid's urinal makes potty training a little more bearable. 15.
This bottle sling attaches to the car seat and offers an extra hand during bottle feedings. 16.
Those shorties need their own showerhead. 17.
Give your child their own mailbox outside their bedroom and leave them letters and tiny presents. 19.
Fill these Sili Squeeze bottles with pureed food for easy feeding. 20.
Or if you prefer spoon-feeding, this all-in-one gadget will make your life so much easier. 21.
The Blooming Baby Bather turns your sink into an easy cushioned cradle for washing your baby. 22.
This inexpensive adapter turns any water bottle into a baby-friendly bottle. 23.
Keep your belongings in a zippered storage pouch made specially for strollers. 24.
This nursing reminder tag helps a breast-feeding mom keep track of what side she's on. 25.
This tactile bottle holder provides extra grip for toddlers lacking in the hand coordination department. 27.
This bath caddy is padded so your knees don't get all sore. 29.
This time-out stool will come in handy for naughty kids. 30.
This handcrafted growth chart makes an awesome gift. 31.
Let the kids feel a grand sense of independence with this remote control, which can be programmed to seven kid-friendly channels. 32.
The Baby Nes is like a Keurig machine for baby formula.