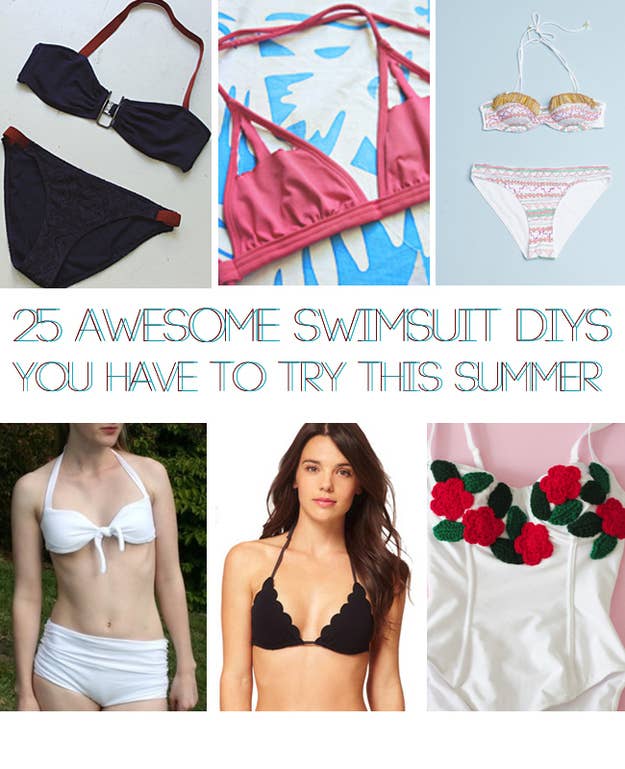 1.
Cut triangles out of a triangle top bikini. 2.
Buy some fancy fringe trim and sew it on to the top of a simple bandeau. 3.
Revamp a bikini with Sharpies and fringe. 4.
This bikini requires some sewing but it is SO cute. 5.
Transform a boring one-piece into a monokini. 6.
Here's another monokini variation. 8.
Replicate this scallop-edged Chloe bikini. 9.
Make a bikini out of a t-shirt. 11.
Use fabric dye to ombre a one-piece. 12.
Pucker the butt of your bikini bottom. 13.
Turn your triangle top bikini to a twist-top for a little variation. 14.
Trade out your boring bikini strap for a three-band bikini strap. 15.
Add crocheted flowers to a plain bathing suit. 16.
Turn a bikini into a tankini for less than $10. 18.
Add contrasting straps to a strapless bikini. 19.
Add lace to your swimwear. 20.
Get this easy sewing tutorial for a bathing suit with three variations. 22.
With just a little cutting, you can turn a one-piece into a bow cut-out swimsuit. 23.
Turn a bra into a swimsuit top. 24.
Sew on some sequins. 25.
Switch up how you wear your string bikini top.
Here's an awesome cover-up idea: transform a big baggy shirt. Another cute cover-up idea: the cut-out heart tee. And finally, a supremely easy cover-up made from an old t-shirt and bleach.