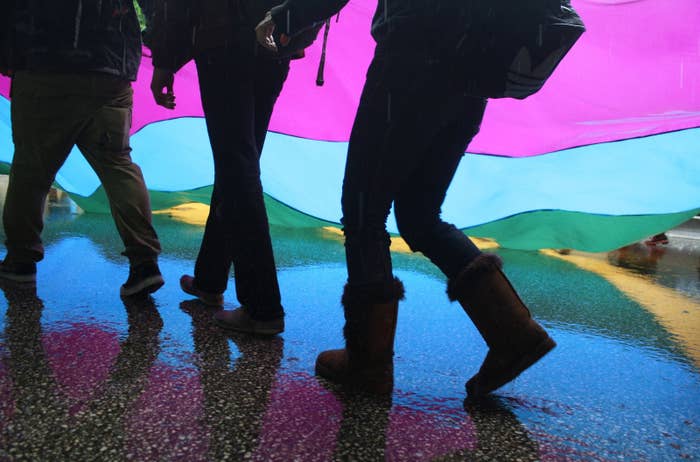 An organisation that published a set of downloadable stickers on its website criticising pro-trans policies in schools has issued an apology and removed them.
Just hours after BuzzFeed News published an interview with Transgender Trend's founder, Stephanie Davies-Arai, the group tweeted: "Although we obviously never intended our stickers to be used in schools, we understand people's concerns that they could be used to create conflict between students. This is the last thing we want, so we have withdrawn the stickers from our site. We are sorry, we made a mistake."
Davies-Arai had said when asked about the stickers that schools should out trans pupils to their parents — a breach of all accepted protocol.

The organisation — which sends resource packs to teachers that question what it calls the "trans narrative" — also tweeted: "We oppose all forms of bullying, we support good communication and individualised support."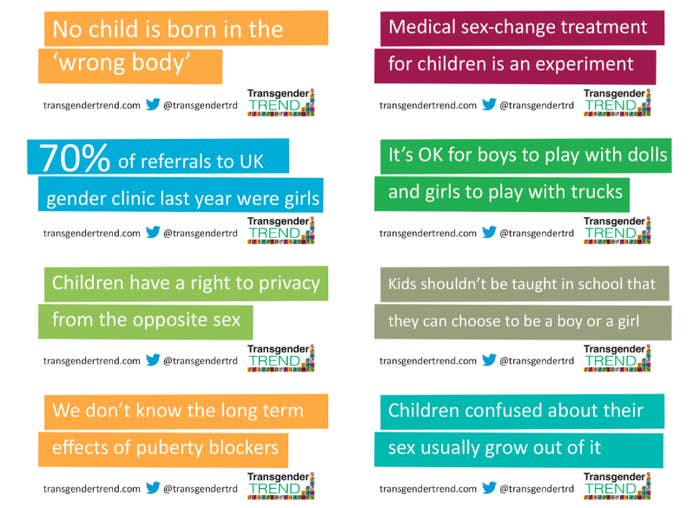 The stickers included slogans such as "Kids shouldn't be taught in school that they can choose to be a boy or a girl", "Is Rapid Onset Gender Dysphoria the new anorexia?", and "Medical sex-change treatment for children is an experiment." One also asserted that teenagers come out as transgender "after social media binges".
Transgender Trend still insisted its stickers were "factual", despite children in Britain not being offered medical transition.
Shortly after the apology, social media users cast doubt on the group's claim that it didn't intend the stickers to be used in schools, by sharing previous tweets in which Transgender Trend expressed approval to individuals and other organisations saying they would take the stickers into a range of public places including educational institutions.
Transgender Trend retweeted an organisation saying the stickers were "fantastic" and "great for schools, GPs, community facilities etc" and another saying they would print them out and "stick on the back of every public toilet stall door and bulletin board I can find. Libraries. Shopping malls. Schools. Universities."
A petition on the British parliament's website has now also been launched in response to, its creator Sarah Woodall wrote, a "recent influx of anti-LGBT+ material being sent to schools in England". Such resources "recommend conversion therapy", "encourage school staff to break equality laws", and "give false information regarding the legally available treatment for transgender youth".
The petition has so far attracted over 5,000 signatures. Petitions that attract 10,000 signatures within six months prompt a response from the government, and over 100,000 can trigger a debate in parliament.