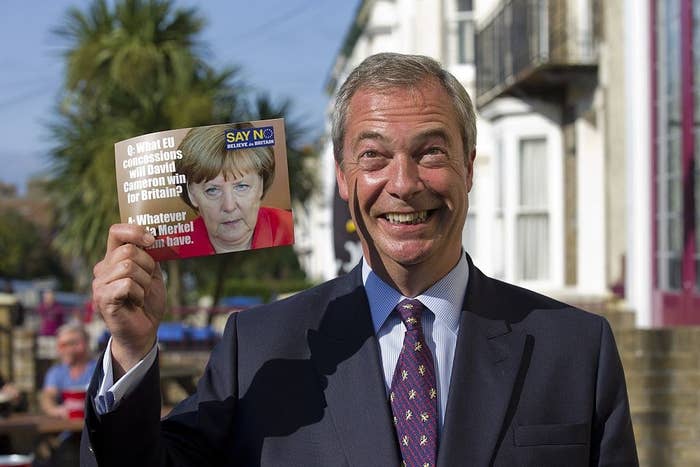 Nigel Farage has refused to deny a suggestion that he is attempting to apply for joint German citizenship.
A Facebook user reported that she had seen the former UKIP leader queuing at the German embassy in London – and speculated that he was attempting to gain dual nationality in the wake of the EU referendum result. So BuzzFeed News telephoned Farage to ask if this was true.
Asked what he was doing at the German embassy, the UKIP MEP, who has devoted his political career to campaigning for Britain to withdraw from the EU, replied, "None of your business."
And when asked specifically whether he was queueing at the embassy in order to apply for German citizenship, Farage, whose wife Kirsten Mehr is German, replied again: "None of your business." Then he hung up.
His refusal to deny the claims will do little to quell growing curiosity over his presence at the embassy on Monday, which was revealed by Leonie Witte in a Facebook post. "I guess he realised he really kinda screwed us over and is quickly trying to also get some dual citizenship," she wrote. "I say we start a petition to NOT ALLOW THIS."
She also reportedly overheard Farage apologising "for not having some kind of document with the sentence 'as you might have noticed I've been a bit busy lately'."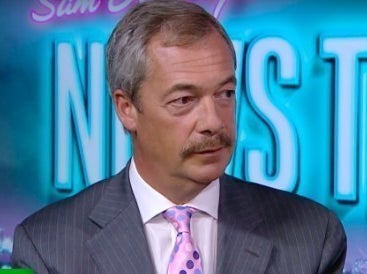 Nigel Farage and the German embassy in London
Her Facebook status update has since been shared more than 100 times, and has had more than 100 retweets on Twitter, prompting The Spectator to ask in a headline: "What Was Nigel Farage Doing At The German Embassy?" The author of the article "contacted UKIP for clarification", which was seemingly not forthcoming.
The story has sparked indignation among Britons on social media. "WTF? Farage campaigns to deprive whole UK of EU citizenship & then tried to get EU citizenship himself?" tweeted someone using the name Isolated Brit.
"If that's true then the man clearly has literally no shame or integrity," tweeted another, with the name Gouldina. "Farage is probably trying to make sure his German wife doesn't get sent home," said "Lord John Tudor".
Farage stood down as leader of UKIP last month, plunging the party into a tumultuous leadership battle. After maintaining a low profile for several weeks, Farage returned to the spotlight last week, appearing on Russia Today sporting a new moustache – to mixed reviews. Witte, who spotted him at the German embassy, noted that the facial hair "indeed looks shit".
UPDATE:
Following the publication of this story, the political blog Guido Fawkes tweeted: "Farage's spokesman says it is 'not true' that he is applying for German citizenship."