Nigel Farage Has A Tache And The Internet Thinks He Looks Like Other People
Is this the Brexit Britain we were promised?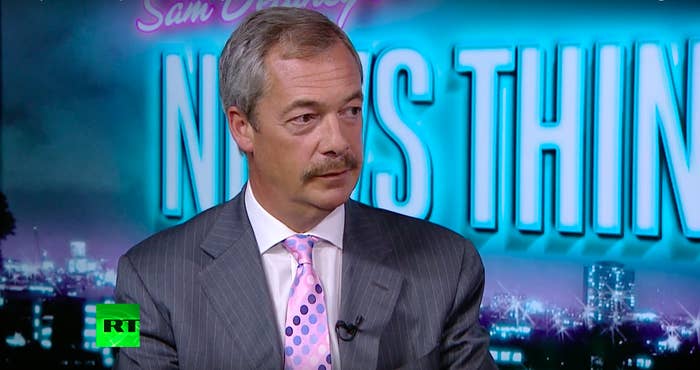 Former UKIP leader Nigel Farage, having largely disappeared since stepping down from his role, surprisingly appeared on Russia Today, accompanied by some new and bewildering facial hair, setting Twitter alight in the process.
Farage with a 'tache, it turns out, looks like many other people.
He looks like former London mayor Ken Livingstone.
He looks like George Constanza from Seinfeld in that episode where he feels like an out-of-work porn star.
Nigel Farage with a moustache also looks like James Beck playing Private Joe Walker in Dad's Army.
Or maybe he looks like Homer Simpson pretending to be Guy Incognito?
He definitely looks a bit like Alan Statham from Green Wing.
And it is fair to say that Farage with a 'tache looks like Swiss Toni, from Swiss Toni.
Let's all pray that the news comes back soon.