NHS Responds To Accusations Of Homophobia Over HIV Prevention Drug Statement
"Singling out gay men who do not use condoms is intentionally provocative, homophobic, offensive, and inaccurate," the CEO of Britain's largest HIV charity said.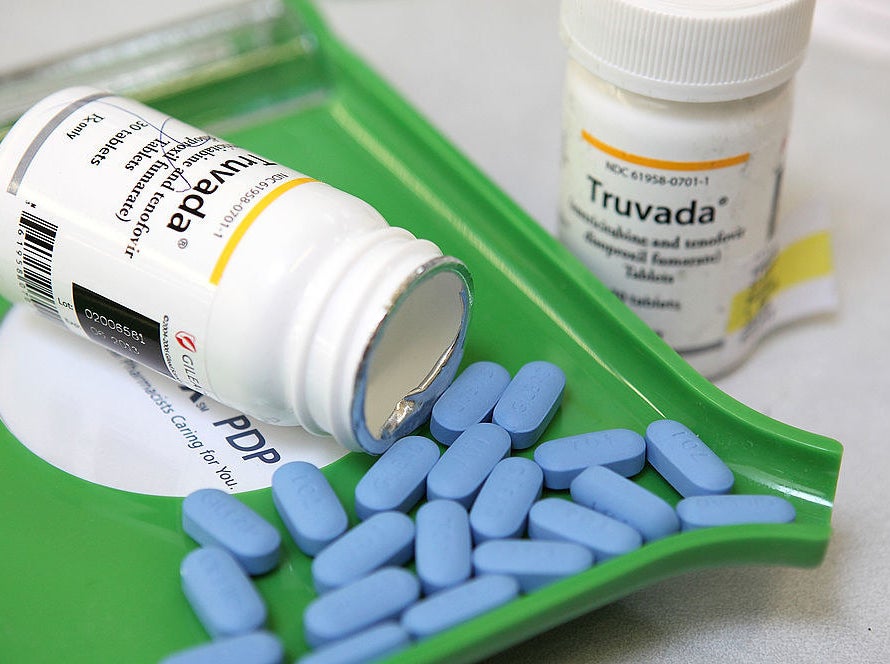 NHS England has said it "strongly denies" the accusations of homophobia levelled at it last week following its statement regarding the drug that prevents HIV – but refused to comment further.
After the high court ruled on Tuesday that NHS England can provide Truvada, the medication that blocks HIV, the organisation published a response that described the drug protocol (called PrEP – pre-exposure prophylaxis) as a "measure to prevent HIV transmission, particularly for men who have high-risk condomless sex with multiple male partners".
The statement also said that "given the ruling, NHS England cannot now confirm funding" for other treatments and services, which it did not name, but it did refer to the category under which they fall, allowing media organisations to report that treatments such as those for children with cystic fibrosis could be affected by the court's decision.
In response, Ian Green, CEO of the Terrence Higgins Trust – Britain's largest HIV charity – wrote to Simon Stevens, chief executive of NHS England, condemning the tone and content of its statement.
Green wrote: "Singling out gay men who do not use condoms is intentionally provocative, homophobic, offensive and inaccurate".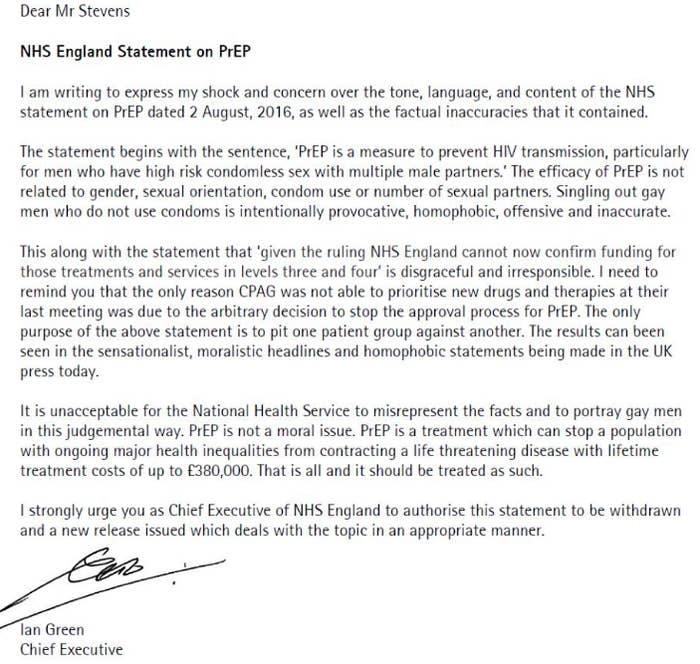 He also condemned NHS England for suggesting other treatments would be affected by the ruling, explaining that any delays in those services came as a result of NHS England stopping the pre-commissioning process for PrEP, which both stalled other commissioning decisions and triggered the court case brought by the National Aids Trust.
"The only purpose of the above statement is to pit one patient group against another," wrote Green. "The results can be seen in the sensationalist, moralistic headlines and homophobic statements being made in the UK press today."
The Daily Mail's front page blared "What A Skewed Sense of Values" and referred to the pill as a "lifestyle drug", while a headline from The Times said: "HIV drug puts other care at risk, warns NHS."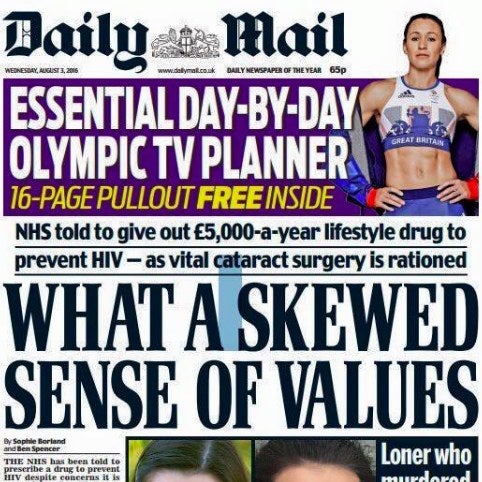 Green asked Stevens to apologise and withdraw the statement, arguing: "It is unacceptable for the National Health Service to misrepresent the facts and to portray gay men in this judgemental way."
But in response to an email from BuzzFeed News asking whether NHS England would be retracting or apologising for its statement, a spokesperson said it "strongly denies the claims [of homophobia and inaccuracy] and will be responding to the letter as soon as possible". The spokesperson added that there would be no further comment at this stage.
Dismayed at NHS England's handling of the outcome of case, several other HIV organisations and campaigners echoed the comments made by the Terrence Higgins Trust.
Gus Cairns from NAM (the National Aids Manual) accused NHS England of "using this innovation in HIV prevention as an opportunity to turn different patient groups against each other and promote homophobia HIV hatred on a level we haven't seen since the 1980s". Those responsible, said Cairns, should "hang your heads in shame".
Lisa Power, co-founder of the LGBT rights charity Stonewall, and a former director of policy at the Terrence Higgins Trust, added: "The opening line of this release has led directly to grossly homophobic and discriminatory front-page coverage...it is years since we had to deal with stuff like this, so openly judgmental from health services."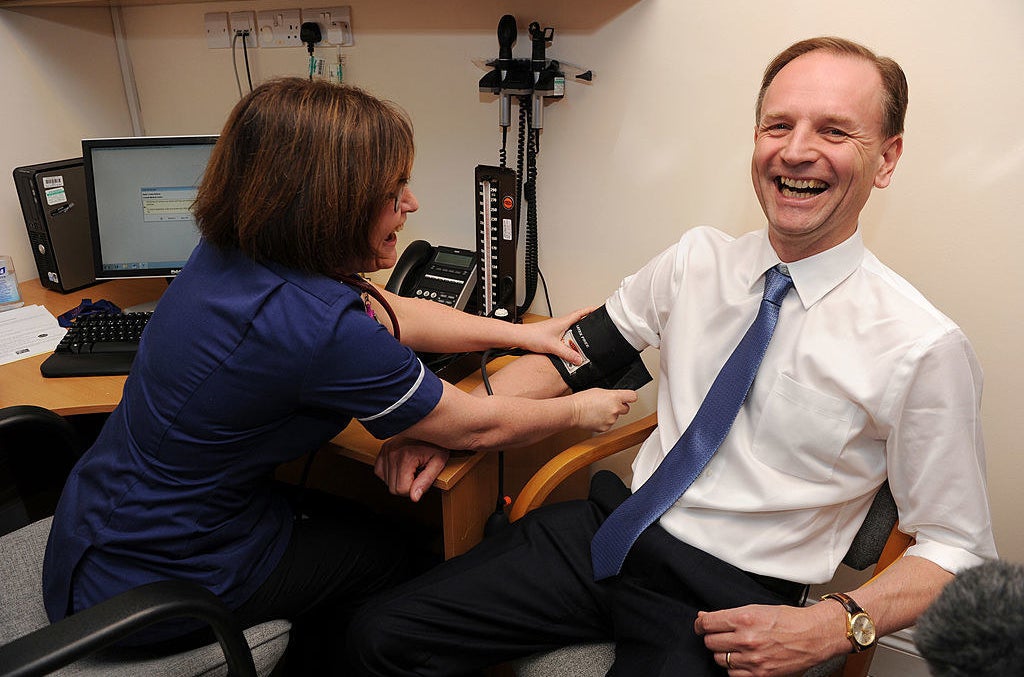 Simon Stevens, chief executive of NHS England (left) and Ian Green, CEO of Terrence Higgins Trust
Monty Moncrieff, CEO of London Friend, an LGBT health charity, agreed: "The tone of this statement ... has contributed to skewed and homophobic press coverage. NHS England should consider how their wording frames the (legitimate) debate on clinical prioritisation unfairly. It is disingenuous to suggest that it is the outcome of the legal action that has delayed other commissioning decisions."
Clinicians also objected in the strongest possible terms. Tristan Barber, one of Britain's most prominent HIV consultants, wrote: "Government sleight of hand to encourage division is grim indeed" adding that "PrEP has been shown to be cost saving, even if we reduce the argument to the economic". He said NHS England's rhetoric following the high court ruling was a "political tactic tantamount to inciting hatred".
NHS England plans to appeal against the high court ruling.