The "Most Prolific Rapist In British Legal History" Used The Drug GHB On His Male Victims
Reynhard Sinaga, who has been jailed for at least 30 years, was described by the judge as "an evil sexual predator who has preyed upon young men".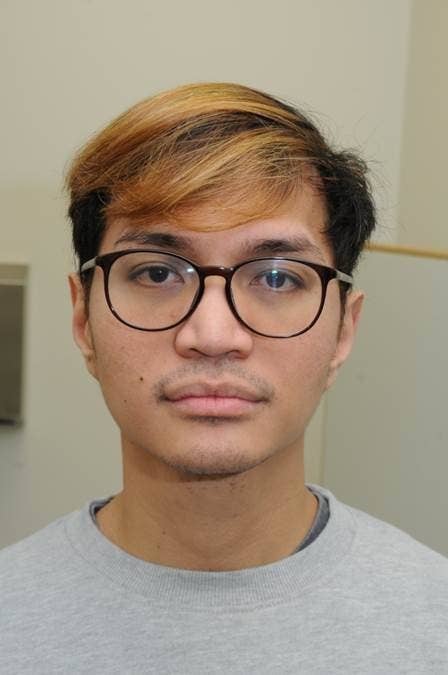 A man dubbed "the most prolific rapist in British legal history" has been sentenced at Manchester crown court to at least 30 years in prison for a total of 159 sexual offences against 48 male victims in Manchester.
Reynhard Sinaga's crimes included 136 counts of rape, eight counts of attempted rape, 14 counts of sexual assaults, and two counts of assault by penetration. He used GHB, the potentially lethal sedative and anaesthetic, to render his victims unconscious before filming all of the assaults. In some cases, he also stole personal items such as watches to keep as "trophies".
Police say there could be as many as 190 victims in total and have appealed for more people to come forward.

The scale of the 36-year-old's offences against young men — ranging from schoolboys to students in their early twenties — has prompted the Crown Prosecution Service to suggest that beyond having been convicted of more rapes than anyone in British history, he could be the world's most prolific rapist.
There were so many victims that Sinaga had to be tried in four separate trials over 18 months from 2018 to December 2019.
Last year, BuzzFeed News published an eight-month investigation into the drugs GHB and GBL, which revealed their widescale use as weapons of rape and sexual assault. The findings were the result of the largest ever survey of gay and bisexual men who use G and formed part of a Channel 4 Dispatches documentary about the issue.
Sentencing Sinaga, Her Honour Judge Goddard QC told him: "You are an evil serial sexual predator who has preyed upon young men... Your actions show you are a dangerous, deeply disturbed, and perverted individual with no sense of reality."
She said she had considered handing down a whole-life sentence, which would have been unprecedented for a non-murder conviction, but the case fell just short of the requirements.

Operating out of his flat on Princess Street in central Manchester, Sinaga — a post-graduate student — often approached men in the street, including many heterosexual men and particularly those who were lost or drunk, posing as a "good Samaritan", offering to help them before luring them back to his home where he spiked them with GHB and raped them.
Many had no memory of knowledge of what happened but only learned that they had been raped once informed by police who had seized Sinaga's phone and found a cache of video files of his rapes.
One victim said, "Not only had the perpetrator raped me but he had taken steps to ensure that the act is preserved forever. However much I wish it had never happened, which due to my lack of memory from the night I am able to successfully keep it from my mind, many people, including the police and anyone in court, have seen me being raped."
Another victim was raped eight times over a six-hour period. The man had been visiting Manchester for a night out with workmates but got separated from them and lost his bank card. He contemplated walking home to Stockport along a motorway before Sinaga, who was in a taxi, offered him a lift and a place to stay the night.
After the sustained attack, Sinaga bragged to a friend over the phone by paraphrasing the lyrics of "Black Magic," a song by Little Mix: "Take a sip of my secret potion, I'll make you fall in love."
A further man, who had no idea he had been raped, went home to his girlfriend who accused him of sleeping with another woman. To prove that he had not, the victim took her back to Sinaga's flat to meet him, unaware of what had taken place.
Sinaga loitered outside nightspots in central Manchester, in particular the Factory and Fifth Avenue, seeking out young men in vulnerable states before taking them to his apartment. He would pretend to be caring, offering them somewhere to stay or charge their phone before offering them a drink laced with GHB.
Due to the effects of the drug, administered without their knowledge or consent, many of the young men were unconscious for hours. Some vomited, urinated, or soiled themselves.
While they were passed out, Sinaga would rape and sexually assault them, often multiple times. He often licked navels and inserted his fingers into them, as part of the attack. All were filmed.
Footage he took of his victims using his phone showed them to be unresponsive during the attacks. Some could be heard snoring. He also took close-up photographs, detailing the rapes.
Afterwards, Sinaga systematically went through his victims' Facebook profiles, noting down their details and cataloguing them. As well as watches, he stole phones and ID cards.
The offences took place between 2015 and 2017. Sinaga was only caught when one of his victims regained consciousness to find Sinaga sitting on his back naked. Police officers seized the attacker's two iPhones which contained hours of footage of his crimes. Such evidence was crucial in finding further victims and securing the convictions.
During the fourth trial, Sinaga claimed that his victims consented to being filmed as part of an agreed sex game. The jury rejected this defence, unanimously delivering a guilty verdict on an unprecedented volume of sexual crimes.
Mabs Hussain, assistant chief constable of Greater Manchester Police, said the true period of offending could be much longer. "We suspect he's offended over a period of 10 years," she said. "The information and evidence we are going from is largely from trophies that he's collected from the victims of his crimes."
Several of his victims told the court they had suffered extreme psychological consequences from the attacks, ranging from anxiety and anger to mood disorders and thoughts of suicide.
In personal statements, they outlined the aftermath of their rapes. "I have never been in such a bad place in my life and I don't know how to get out of it," said one. "I was diagnosed with severe depression and put on anti-depressants. I also started counselling."
"The perpetrator has taken a part of me that I will never get back, and deserves the largest sentence possible," said another.
"It changed my life forever," said a third.
Some also spoke of what they endured during the trial. "I was very anxious giving evidence," said one man. "It was very traumatic for me because I knew I had to face up to the reality of what had happened. I also knew I was going to get asked questions that would make the night a reality and that would haunt me."
The case has prompted Home Secretary Priti Patel to announce a review of the classification regarding GHB. However, when approached by BuzzFeed News and Channel 4's Dispatches last year, during the making of a coproduced documentary about GHB, the Home Office, along with the Department of Justice, the Equalities Office, and the Department of Health, declined to take part or comment on the findings of the investigation. No minister was made available to appear on camera.
When a former justice minister, Crispin Blunt, agreed to be interviewed he said during his time in the department, ministers were not even allowed to discuss issues of drug prohibition for fear of merely the fact of a conversation taking place being leaked and used to suggest the government was not tough on drugs.
Currently, GHB is a class C drug and its sale is therefore prohibited in all circumstances, with a two-year maximum jail sentence for possession and 14 years for supply or production, in line with substances such as sedatives and steroids. By contrast, cannabis, which is a class B drug but which almost never causes death (unlike GHB) carries a maximum of 5 years in prison for possession.
But as BuzzFeed News reported last year, a loophole exists in the law. The most commonly sold form of GHB is called GBL, which is as a precursor to the drug, meaning it becomes GHB when ingested. The effects are identical. But because GBL is a chemical used as an industrial cleaner, for example to clean alloy wheels, it is legal to sell for such purposes. Companies are therefore selling GBL online in large quantities, advertising it as a cleaning product, but enabling GHB dealers to buy it. They do not have to prove they are using it for industrial purposes and very few checks are carried out.
Some advertise on Facebook, as BuzzFeed News revealed as part of its investigation with Channel 4's Dispatches. Others sell through Grindr and other hookup apps.
But the weaponising of GHB and GBL by rapists is also prompting increasing alarm in the justice system. A leading figure in the prison and probation service revealed during the filming of the documentary that the drug is being mixed with lubricant by rapists and applied anally, with victims therefore not knowing they have been drugged, or how, before the attack takes place.
In the largest survey ever conducted of gay and bisexual men who take GHB or GBL, over a quarter — 28% — revealed to BuzzFeed News and Chanel 4's Dispatches that they had been subjected to rape or sexual assault while under the influence of the drug. Almost all knew someone else who had been similarly attacked.
The Sinaga case, however, often involved heterosexual victims, with the offences taking place far outside what are referred to as chemsex settings — in which gay and bi men have sex on drugs such as GHB and crystal meth. It will, said one official with knowledge of the case, prompt the authorities to now consider how they will adapt to the changing landscape that this vast case has unveiled.