In a white, cramped bedroom in Clapham, south London, one of the Scottish National Party's most trusted senior political advisers is pursing his lips to sweep dark rouge up his cheekbone. He smears eyeshadow next, in multicoloured arches over his brow, but leaves the eyelashes bare.

"I'm a drag queen in trainers – why should I wear falsies?" he says.
Nathan Sparling is 26, 6'5", and not ungenerously proportioned. "I have an overactive knife and fork," he quips.
His voice is cavernous and meaty, bellowing out his Fife accent with such tuba-like brio that should his career in politics and drag implode he might sensibly consider a job as a town crier.
On a shelf to his right sits a dark wig, a huge beige bra, and an epic vodka and Coke. The air is so thick with hairspray you can taste it.
A week ago, his backroom strategising and campaigning helped secure a major victory for the SNP in the House of Commons: a vote 138–1 in favour of a bill introduced by one of their MPs to ratify the Istanbul Convention, which imposes a minimum requirement on countries to tackle violence against women.
"History – signed, sealed, delivered," he tweeted from his politics account @nathansparkling. "Proud to have made a small part in making #ICBill a reality."
This evening, as a laptop perches on his bed playing a Pet Shop Boys gig, Sparling is preparing to become Nancy Clench, host of the weekly karaoke night at one of Soho's most famous institutions: the Admiral Duncan pub. She also has a regular spot at Heaven, London's biggest LGBT club. And her own Twitter account. Nancy Clench is a star.
When BuzzFeed News first met her, in the street last June, at the Soho vigil for the victims of the Orlando massacre, she stood head and bosom above the crowds, giving us an impassioned interview live on Facebook while standing in the gutter.
At the time, BuzzFeed News was entirely unaware that the righteous diva of Old Compton Street was the same person who crops up on Twitter, besuited and bespectacled, as the earnest adviser of leading Scottish politicians.
This is not exactly a well-beaten career path.
There have been drag queens in other countries loosely involved in party politics. Last month, Germany's Olivia Jones (real name Oliver Knobel) revealed her ambition to one day be president at a Green Party candidate selection vote. And politicians have on occasion donned drag: the mayor of Reykjavik, Jón Gnarr, for example, at the city's Pride parade in 2010.
But no one else is known to be employed simultaneously in both worlds, switching between the two like Superman in a phone box.
But then few other parties have changed so dramatically regarding LGBT rights as the SNP. The party that once championed anti-gay campaigner and businessman Brian Souter now has the highest proportion of LGBT parliamentarians in the world. And Scotland, once neck-deep in whisky and machismo, is now a leader, socially and politically, in LGBT rights.
Straddling both worlds, Nathan Sparling is its most in-your-face symbol.
The name Nancy Clench, he explains, is a play on Judi Dench, but as the evening moves from his bedroom to the bar – a chance for BuzzFeed News to regard the butterfly leaving the chrysalis – what begins to emerge is that he is not playing a part at all.
The first clue to this comes in a look he gives himself while applying makeup in the mirror – one of both cheekiness and recognition: a light switching on. It is the amused look of someone catching their own reflection while being buggered at an orgy. It says, "Hello Nancy, my dear, shall we cause some unholy mischief?"
The connection between these two characters would be altogether simpler were it not for what surfaced a few days earlier in his office in Westminster, when he had invited BuzzFeed News to meet him in his political guise.
The divide in Sparling's life, it transpires, is not between politics and drag, Nathan and Nancy. It lies somewhere else entirely.

Dressed in a grey suit and open shirt, Sparling accosts BuzzFeed News at the security check in Portcullis House, the 1990s office building for MPs across the road from the Palace of Westminster.

He breaks immediately into conversation before leading the way to the drab interconnecting rooms he shares with two SNP MPs: Eilidh Whiteford, for whom he works directly, and Mhairi Black, the wildly popular rising star and the youngest member in the Commons, whom he also assists.
Big Ben looms through a small window high up in the office.
Sparling's work here, he explains, spans research, communications, and strategy with particular emphasis on social justice, on which Whiteford is the party's group leader.
Politics came before drag, he says, sitting at one of the desks. "It was my 13th birthday and we got a leaflet through the door about a mobile phone mast that was going to be erected opposite our house." He joined the local campaign against it, organised a petition, and – extraordinarily – went to meet his local MSP, Tricia Marwick. The phone company backed down. "It's what got me into politics."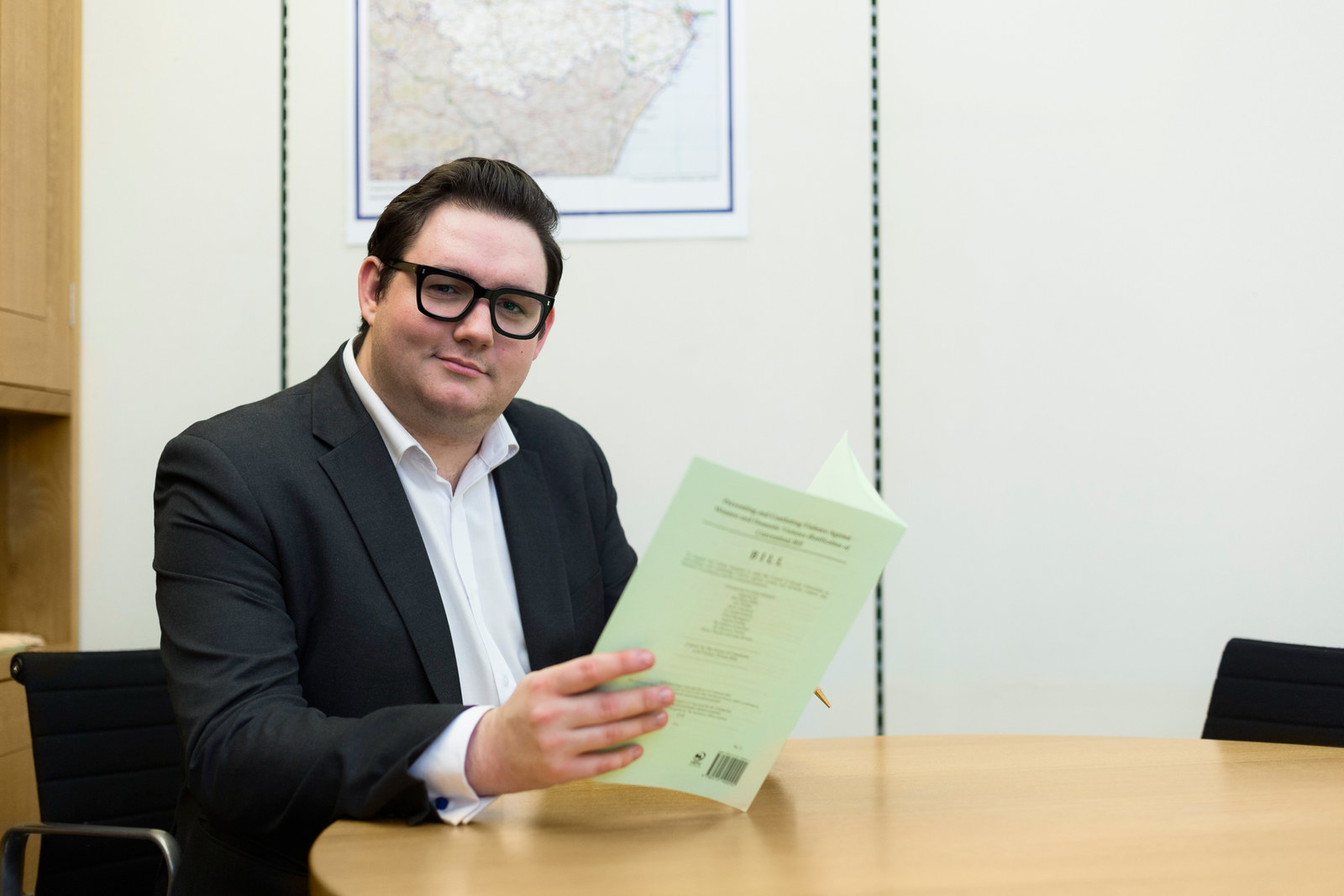 From there, growing up in Glenrothes, 30 miles to the north of Edinburgh, Sparling immersed himself in local recycling campaigns and mock elections at school, where he stood as the SNP candidate. He came out to his parents at 14, but kept quiet at school.
"There was one openly gay person who was heavily bullied, and I didn't want to be bullied," he says. This fear, born of witnessing how others reacted to someone like him, cast a long shadow. "I'm quite a socially anxious person and that was probably why," he says. Even now, he adds, "I won't walk into a bar I've never been in before. And I will very rarely talk to people I don't know."
For someone who works in the most public of careers to suffer with such anxiety might seem improbable, but it was the very thing that propelled him into these worlds.
"They provide a way for me not to be socially anxious," he says. "Being in this place [Westminster] I put on quite a confident front. And with drag, you're putting on a mask."
At 17, he escaped to university in Dundee, where he ventured into student politics and came out to friends for the first time. But after that first year away, an event would take place that would both compound his anxiety and divide his life in two – the divide that would spawn Nancy Clench.
Sparling stayed on alone in the halls of residence that summer and early one evening there was a knock at the door.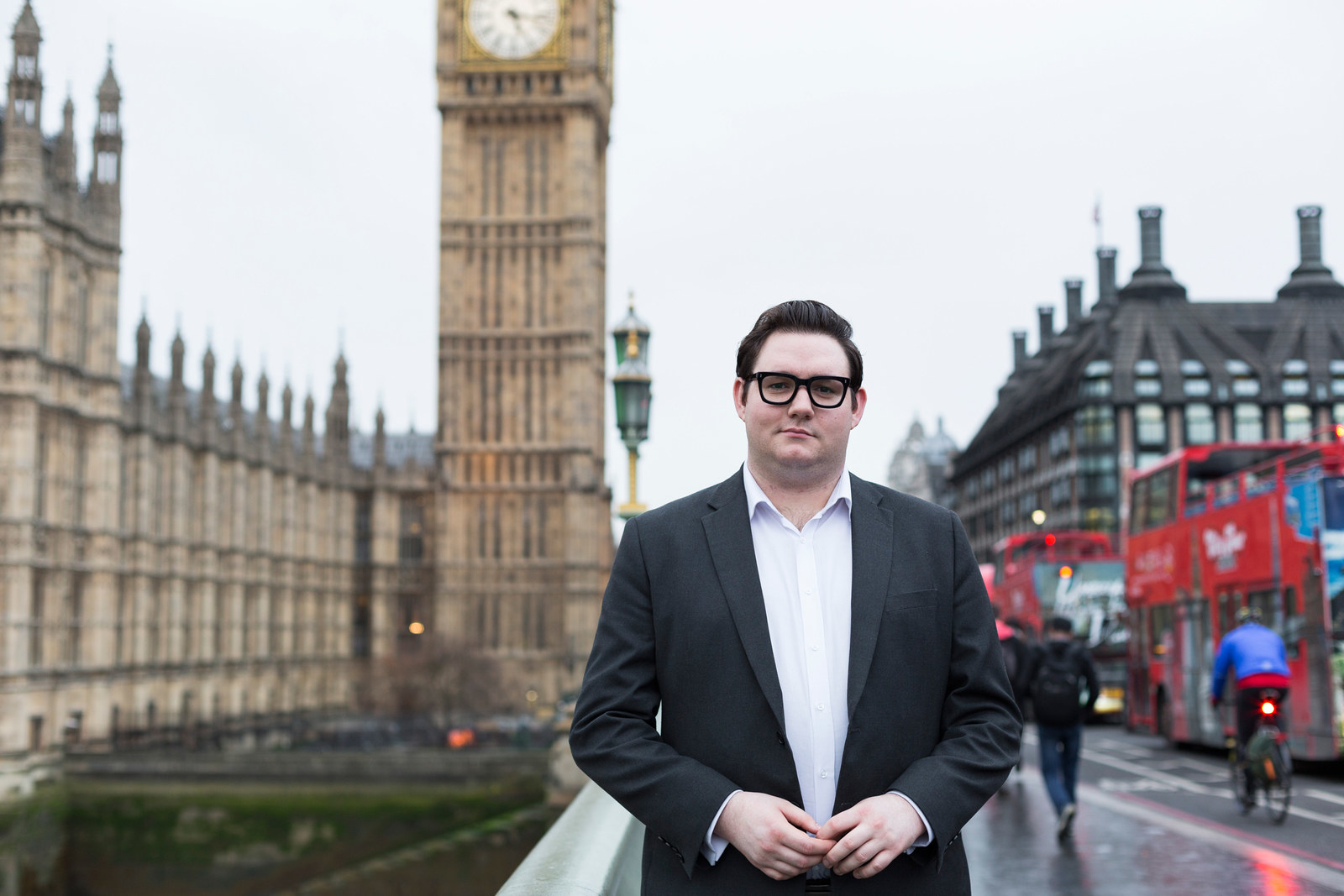 A group of people awaited him as he opened the door. They were carrying a dog chain and would soon pick up a set of golf clubs. Three men and one woman entered the flat as two more stayed outside on the lookout.
"First off they wanted a mobile phone, and I'd just bought a new mobile so I thought I was being smart by giving them my old one," he says. "And then somebody rang me. That infuriated them."
One of them raised the dog chain. "Smacked it over my head and body," he says. "I was severely battered." He starts to breathe short, shallow breaths. "I was conscious for the whole thing."
To try to attract attention from passers-by, Sparling grabbed one of the golf clubs and threw it through an open window. "That infuriated them even more," he says. "I was pinned to the bed and had a golf club cracked over my leg."
After this he heard one of them shouting to one of the others: "Go and find a knife." What was he thinking at the time?
"That I was going to die," he says.
They didn't find a knife, and instead gathered up his belongings, including large amounts of electronic equipment, and left. Afterwards, he says, "I looked like the elephant man – a lot of cuts and swelling." The golf club caused nerve damage to his leg, making walking agony.
The burglars were caught – "they walked into Cash Converters with a blood-covered laptop" – and all six were given custodial sentences. But the damage to Sparling remained. Nightmares and flashbacks accompanied the scars that formed on his face and hand.
He dropped out of the University of Dundee and returned to his childhood home. "To this day," he says, he experiences "not feeling comfortable being in a flat on my own. Hearing noises can make me anxious. It's what contributes to that social anxiety."
Shortly after the break-in, his best friend died from sudden adult death syndrome. Sparling, in reaction to everything, began experiencing wild mood swings: "euphoric states and then the crashing, crashing lows". He was diagnosed with bipolar disorder (something, he says, from which he is now recovered).
After a year recuperating, Sparling enrolled at Edinburgh Napier University and it was here that Nancy Clench was born. While reconnecting with student politics he had also started DJ'ing in an Edinburgh gay pub, where a drag competition was being organised. But only three or four people applied. "So they begged all of the staff to take part." Sparling gave in.
"I forced myself into a size 12 sequinned dress with a cardigan covering the fact the zip wouldn't go up in the back and a short Liza Minnelli wig, and my partner at the time wrote a Lady Gaga parody that I performed on stage."
He came second and had to return for the final. "And came last." But Sparling saw an opportunity. "I was DJ'ing anyway at the pub and they were going to pay me more to DJ in drag, so I did that." Nancy Clench was born. It wasn't only the money that appealed.
"It was the mask," he says. "I would speak to everyone in the bar."
Nancy Clench looked "atrocious" at the time, he says: "Some sort of Dutch woman's dress my friend had given me and a wig that cost £10 from a joke shop." It didn't matter. He started developing his routine before branching out on to the stand-up comedy circuit. His parents and grandparents would attend. "They loved it!" he says.
After university, having worked in policy for HIV Scotland, he contacted some of the politicians he had liaised with and asked for a job. Soon he was assisting the gay SNP MSP Kevin Stewart and Dennis Robertson, the first blind MSP.
At first, Sparling told no one about Nancy. "I didn't know how they would take that." But he grew close to Robertson, helping the politician attend events, becoming his right-hand man. In return, Robertson helped bring his employee's identities together.
"It was him that started telling people [about Nancy]," says Sparling. "A lot of people found it fascinating that of an evening I go out and put on a dress, so they would ask a lot of questions: the hows and whys and whats." Robertson, meanwhile, was rather more playful.
"He always used to joke about the fact that he wouldn't know if I'd gone into work in drag or not. You'd get a comment in the morning like, 'What are you wearing today, Nancy?'"
Far from judging Sparling for being a drag queen, other SNP politicians embraced it, and began inviting Nancy Clench to host the karaoke at the party conference, which she still does every year. This is despite the nature of some of the material.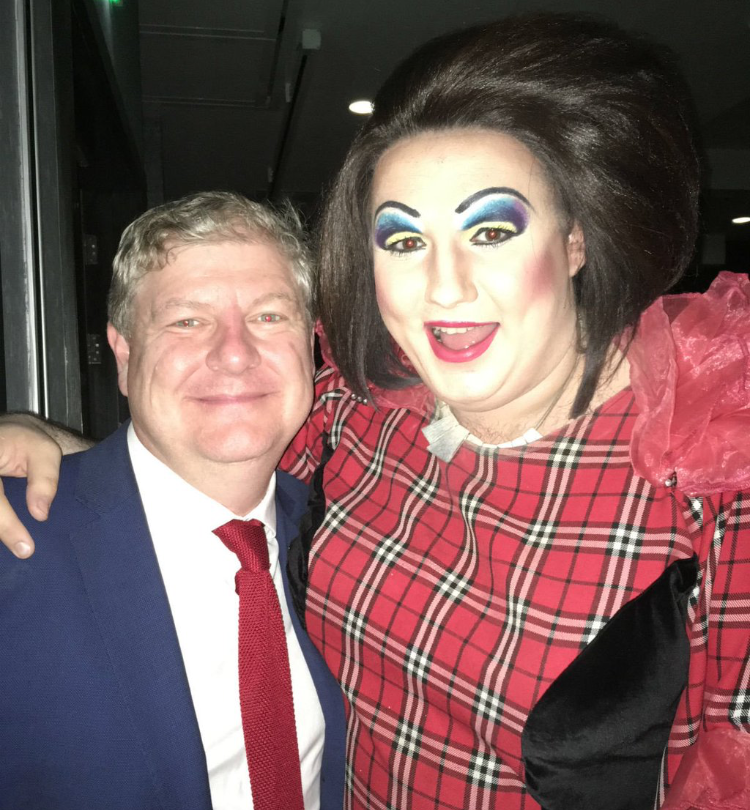 "I think there's a concern sometimes that certain media outlets might run something as a story that I've said [as Nancy]," he says. "So I do sort of watch what I say in terms of, 'Would I be happy reading it in the Daily Mail?'" He pauses for a second. "But fundamentally I still tell jokes about fisting."
Delegates should perhaps be grateful it stops with fisting. In one video online, from a stand-up gig, Nancy Clench seeks to enlighten the audience about the terminology for when a straight man uses a foot for penetration, "wading in the sea", compared with when a gay man does: "wading in the mud".
The Scottish National Party has certainly changed.
The change in Scotland, meanwhile, can be measured in one particularly surprising way.
"As a drag queen I never experience homophobia walking through the streets of Glasgow, and I do in London," he says. "In London I've had people directly challenge me: 'You big poof, that's disgusting' on the tube and walking around. I've also had lads thinking they're funny by wolf-whistling."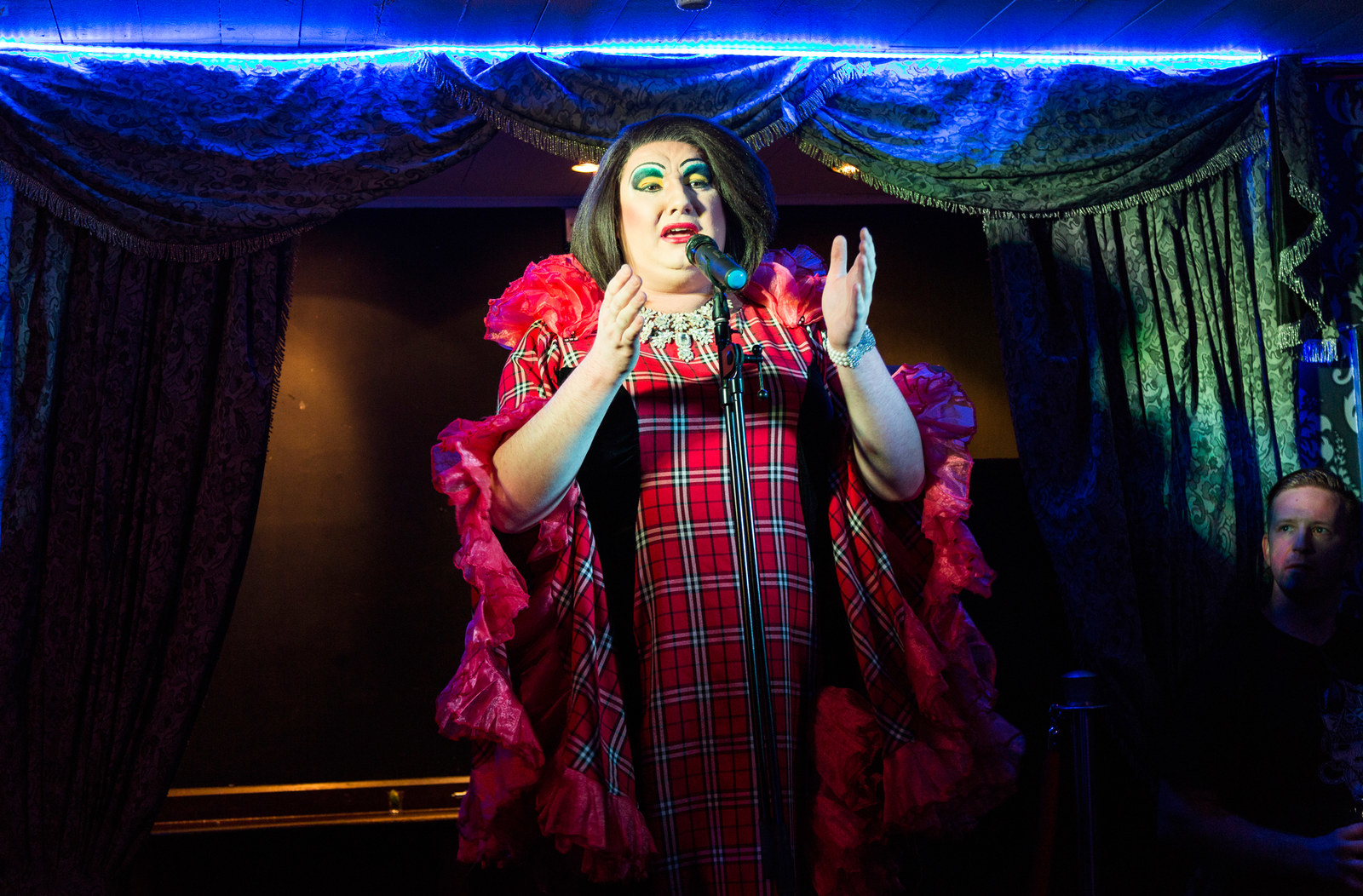 He tends to respond to the culprit with, "'You'd never get a chance,' which generally has their friends erupting in laughter – they've been turned down by a man."
Challenging such abuse is a conscious decision. "It goes back to being at school, because I didn't want to be challenged about being gay and I didn't deflect the homophobia that someone was getting. There's guilt there."
Soon after the Scottish independence referendum in 2014, Sparling left Scotland for London, initially to pursue his drag career, but in the 2015 general election the SNP went from six MPs to 56 (seven of whom are lesbian or gay) and Sparling was soon recruited to work for Eilidh Whiteford and Mhairi Black.
He has since also worked as campaign director for Angus Robertson, the party's deputy leader and a long-standing supporter of LGBT rights. "I think that goes to show how much of an accepting party we are," he says. "I always thought there'd come a period where I would be blocked from doing something I wanted to do."
Sparling is interested in becoming an MP or MSP, he says, but not until he is at least 40. Would he like to be first minister?
"I think no one could deny having dreamt about having been first minister," he replies carefully. But Nancy Clench won't be going anywhere soon. "I enjoy it too much to consider giving it up at the moment but there will come a time where she will disappear."

A few days later, however, there are no signs of even a vaguely imminent departure for his alter ego as he stands in his room, jigging about to the music, trousers down, tights on, and stuffing rolled-up towels into his bra. We jump in a cab headed for Soho.
As we arrive, the customers outside the Admiral Duncan greet him like a beloved star. "Nancy! Nancy!" one cries.
Inside it is packed, despite it being a Monday night – Ms Clench, it seems, is the draw. Tonight she adorns an endless tweed frock with frilly trim, providing that ever-welcome bridge between the camp and the deranged. She teams this with trainers.
Spotting them, another regular asks, "How's the feet?"
The choice of shoe, it emerges, is not so much a defiance of the sartorial demands made by society's binary construction of gender, but rather because Sparling has gout.
Nancy Clench bursts on to the stage at the back of the pub, encircled by punters knocking back the spirits on offer, many of whom seem well versed in the proceedings.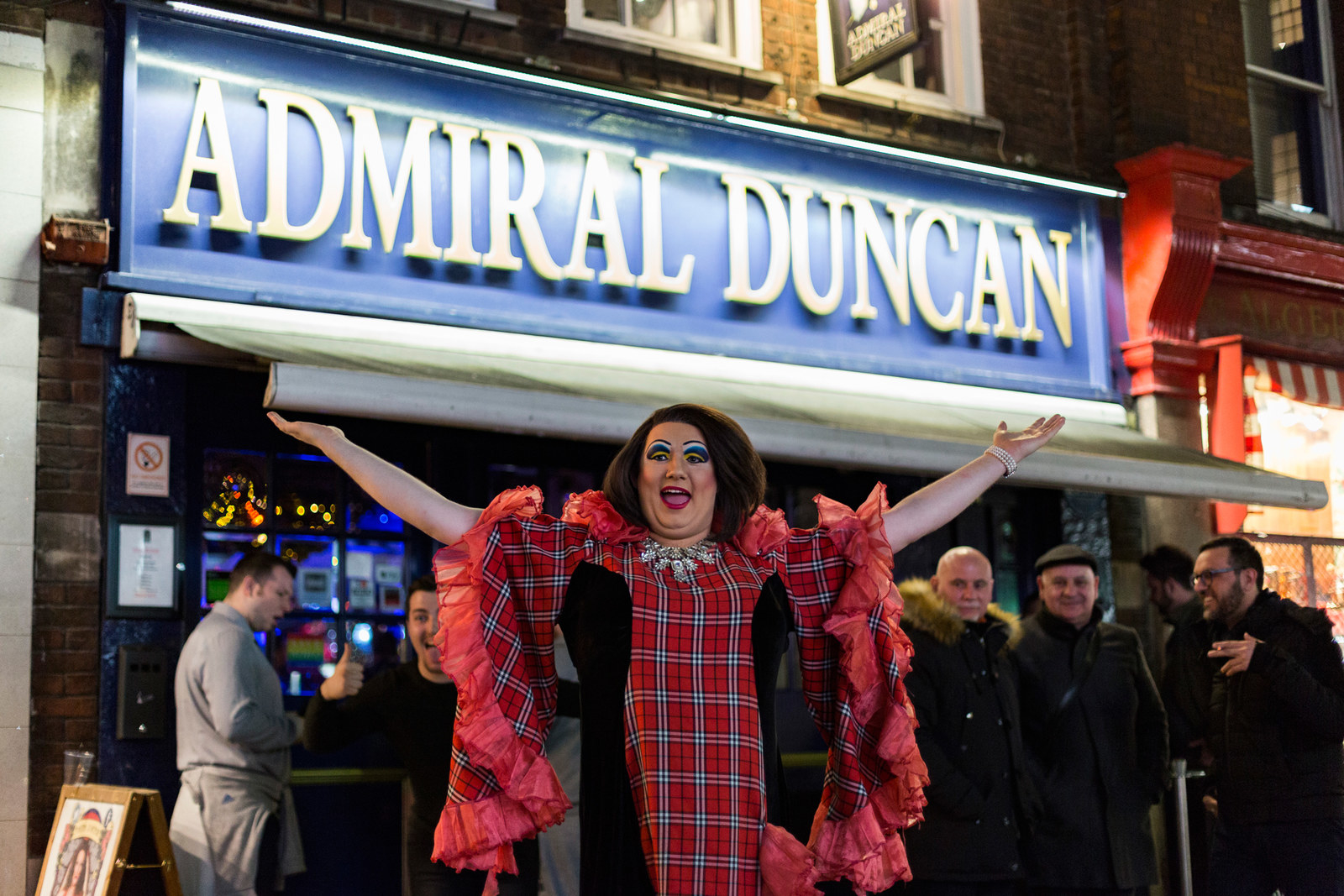 "Welcome to the Admiral Duncan!" she booms. "It's a Monday night! If anyone is kind enough to buy me seven tequilas I'll down the lot during the instrumental of 'And I'm Telling You'!"
She begins instead to sing Bonnie Tyler's "I Need a Hero" very loudly and dramatically, ignoring the lyrics on the karaoke machine in favour of her own: "Late at night I toss myself off and I dream of what I need."
The first customer to perform is a 73–year-old man inexplicably wearing a gold lamé suit, white winkle-pickers, and the kind of wig even Liberace might deem a giveaway. Nancy introduces him as "available for weddings, bar mitzvahs, and soon his own funeral".
The second customer up, who is white and British, attempts "Kingston Town", prompting Nancy to interrupt, mid-song, "I think this is cultural appropriation."
When the next singer goes alarmingly awry, such that it could be any song, sung in any key except that of the backing track, our host shrieks at those applauding: "That was fucking bad. Don't encourage him."
A man at the front reaches out to grab Nancy's unmentionables. "I've told you a million times on Grindr: Nooo," she retorts. Two men are snogging at the bar. Another man is bellowing "Oi, oi!" like a lad on the lash in Magaluf.
Meanwhile, a heterosexual Canadian, who we learn through Nancy's interrogation has been brought here by his girlfriend, is leaning against a wall with a look of deathly confusion. This is not helped during the next song as a punter's rendition of "Uptown Funk" is interrupted by Nancy performing the entire dance routine to the "Macarena".
A muscular, tattooed man near the front is shouting "Rohypnol" at her for reasons best known to his subconscious and, hopefully one day, the police.
The fun continues. A bald man in a suit that presumably once fitted begins to wail his way through "Sweet Caroline" before telling the crowd, "I want audience participation." Which he unfortunately receives.
As BuzzFeed News says goodbye to Nancy Clench, she gives a tight hug from the stage while a man named Gareth begins singing "That's Life". He is surprisingly good; people are joining in, even hugging and swaying.
At the exit, the lyrics are still ringing out, "I've been up and down and over and out...Each time I find myself flat on my face I pick myself up and get back in the race" and for a moment it is as if anyone could be singing them – the customer, the community, Nancy Clench, or most of all, Nathan Sparling.