An actor who alleges that Kevin Spacey repeatedly sexually assaulted him in a public place in 2013 has accused London's Old Vic theatre of a "breach of trust" over its handling of his complaint, BuzzFeed News can reveal.

The man, who has not previously spoken to the media and who requested anonymity, said the theatre's response had prevented him from reporting what he alleges Spacey did to him.
Earlier this week, the theatre, where Spacey was artistic director for a decade, set up a "confidential" helpline for those wishing to report sexual harassment, in the wake of a string of allegations against Spacey – and in the midst of criticism that the theatre had turned a blind eye to his behaviour.
"Any experience shared will be treated with in the utmost confidence and with sensitivity," a statement by the theatre said, adding that "external advisors" would help with the process.
The man sent an email to the address provided by the theatre (confidential@oldvictheatre.com) explaining that he would rather not detail the allegations in writing as he was concerned about security and so would rather speak to someone about it.
But the response he received was not from an independent external advisor but from the theatre's executive director, Kate Varah. In her email, seen by BuzzFeed News, Varah asks for his phone number.
The actor told BuzzFeed News he was stunned to receive a response from the senior executive and not a neutral third party.
"I thought I would be dealing with some external [person]," he said. "But Varah is dealing with this one-to-one. That freaked me out because it ends my ability, in my eyes, to come forward, anonymously, with what I thought was confidential."

The man said he was concerned that those who run theatres can decide who is and is not called for auditions and given parts. He feared that for a member of senior management to know exactly who is making an allegation, and to then speak directly to the complainant, risks derailing the process of asking for anonymous complaints about sexual harassment.

"When you say confidential you don't expect the person who is in charge of a very well known theatre to then get in touch with you immediately," he said. At that point, he added, "confidentiality goes out the window. This is not confidential. It's not private... It's a total breach of trust."
Despite his alarm at Varah's email, the man said he was concerned that this would be the only way to report his allegation about Spacey to the theatre so he gave his number and took Varah's call.

But during the call, he said, he told her her involvement was "hugely inappropriate".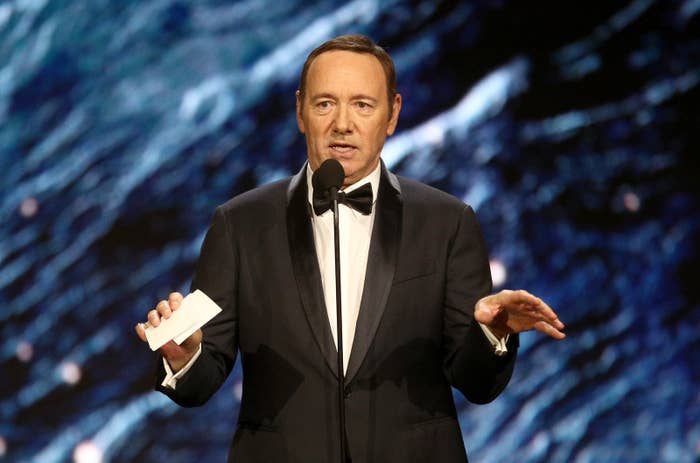 "I was angry, really angry, because this is really really sensitive," he said. "It just blows my mind. I couldn't believe when I got the email through. The conflict is so inappropriate."
He added that he was "totally dismayed at this process".
The actor was preparing to give a full account of what he alleges Spacey did to him, but, following the call from Varah, he has now decided it is too great a risk. He described to BuzzFeed News the incidents from 2013, which he claimed included multiple instances of groping, and alleged Spacey used the theatre "like a playground".
When contacted by BuzzFeed News, a representative for the Old Vic denied that there had been any breach of confidentiality and described the man's claims as "false".
"We are treating any information provided to the confidential hotline in the strictest of confidence..." the spokesperson said. "We can assure you that we have only contacted people by telephone who have advised that they would like us to do so. We only have their phone numbers if they have given them to us voluntarily. Such contact has been made to discuss how we may help and offer assistance."