British Mothers With HIV Are Going Hungry To Pay For Formula Milk
Breastfeeding risks infecting the baby and, according to a new report, mothers living in poverty are sacrificing their health to avoid it. "I have to skip eating lunch to save for food in the evening," a mum of three told BuzzFeed News.
HIV-positive mothers on low incomes are going hungry in order to pay for formula milk to avoid infecting their babies with the virus through breastfeeding, a new report has revealed.
According to the two charities behind the policy briefing Access to formula milk for mothers living with HIV in the UK, women in Britain are falling through a net of patchy provisions, problems with benefits, and in some cases the complexities of the asylum system. This leaves them with a stark choice: Go hungry to pay for the milk replacement or spend what little they have to feed themselves – but risk passing HIV on to their child.
One mother of three, Tabia, from London, told BuzzFeed News she regularly goes without food so she can afford formula. "I have to skip eating lunch to save for food in the evening," she said. "I try to have at least one meal a day ... at the time when I need to take the [HIV] medication, because you have to take it with food." She said she knows many others in a similar or worse situation.
The revelation comes just a week after NHS England announced it is embarking on a billion-pound cost-cutting drive that will end prescriptions for nonessential items such as painkillers, gluten-free food, and hay fever drugs. But there is no nationwide NHS policy to provide formula milk to HIV-positive mothers anywhere in the UK, except Northern Ireland.
According to the report from the National AIDS Trust, supported by the charity Body & Soul, the lack of free access to formula is risking the health of both mothers and children, and could cost the NHS more in the long term.
Deborah Gold, NAT's chief executive, told BuzzFeed News: "We were alarmed to discover that mothers living with HIV are being forced to go hungry in order to afford formula. We urge NHS England to take up the recommendations in our report and to commission a national formula milk scheme for mothers living with HIV as part of their provision to prevent infant acquisition of HIV."
She added that it would be "a low-cost intervention compared to the lifetime treatment cost for an infant should they contract HIV".
The situation facing the most vulnerable mothers living with HIV is dire, according to the study, despite a relatively straightforward medical context. Britain is exceptionally good at preventing mothers from passing the virus on to offspring before and during birth, so that it almost never happens (0.27% of around 1,100 births to HIV-positive women).
This is the result of a rigorous system of testing women in pregnancy, treating them with antiretrovirals suppressing the virus so that the mother isn't capable of transmitting it, and where the virus isn't suppressed, performing Caesarean sections.
Where problems of "vertical transmission" (as mother-to-baby infection is known) do occur, however, is through breastfeeding. Globally, 30–60% of children infected with HIV acquired it through breast milk, according to the World Health Organisation, and in Britain there have been eight cases in recent years.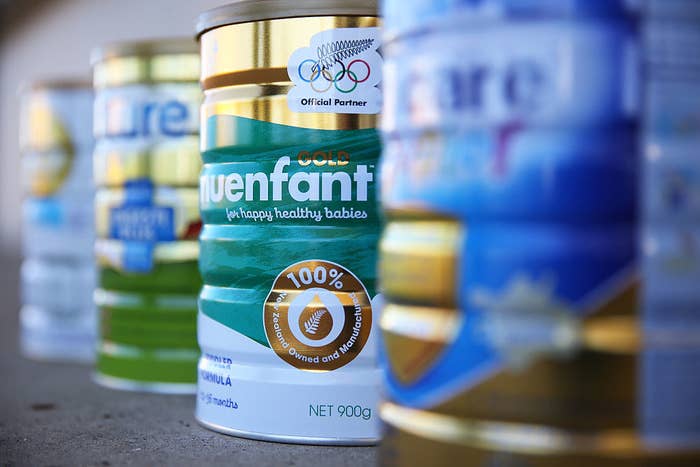 Although when virally suppressed, HIV-positive mothers pose almost no risk to their infants through expressing milk, there remains a theoretical risk, and combined with the substantial risk of breastfeeding when the virus is not fully suppressed, the advice is clear: Always use formula milk.
Guidelines from the British HIV Association (BHIVA) state: "All mothers known to be HIV-positive, regardless of antiretroviral therapy ... should be advised to exclusively formula feed from birth."
But this assumes all mothers can afford formula, or have access to benefits and services that provide it for them, whereas the authors of the report found that this is in many circumstances not the case.
"The cost of formula milk can make it difficult to access for some mothers living with HIV," the report noted. "This is forcing some women to go hungry in order to afford formula for their infant – compromising their own health and potentially compromising the effectiveness of their HIV treatment." Many antiretroviral drugs need to be taken with food in order to be properly absorbed.
The NAT study involved interviews with HIV-positive mothers, midwives, community groups, and a range of HIV service providers. It also detailed the gaps in services designed to cater for mothers living with the virus.
"There are some government schemes that may relieve the financial pressure of buying infant formula milk ... however, evidence from HIV support organisations suggests this support is insufficient," it said.
One such scheme is Healthy Start, an NHS programme to boost the health of low-income young families. Vouchers are provided for fruit and vegetables, milk, and formula milk. But according to the report, this isn't working adequately.
"We have been notified by HIV service providers of several problems. Mothers do not always realise that they are entitled to access Healthy Start and even if entitled, some have experienced delays in accessing it. Even when they can access it, the vouchers are insufficient to cover the costs of infant formula milk in addition to other food that is urgently needed."
Others in need, it said, simply won't meet the criteria for access to Healthy Start, despite being on a low income or receiving benefits. Applicants also have to have a national insurance number, and mothers seeking asylum or with an irregular immigration status may have none of the necessary requirements – and are meanwhile subsisting on around £35 per week.
"Currently, basic support payments work out to approximately £5 per day per person," said the report, which is "not enough to support those living with HIV meet their basic needs let alone to cover the cost of infant formula milk. Midwives have told us that in some cases mothers in this situation will not eat themselves to ensure their baby has formula milk."
The report includes the story of one mother, named Nnenna. Originally from West Africa, she came to Britain to study for a postgraduate degree, but became pregnant and HIV-positive by an abusive man from whom she later fled.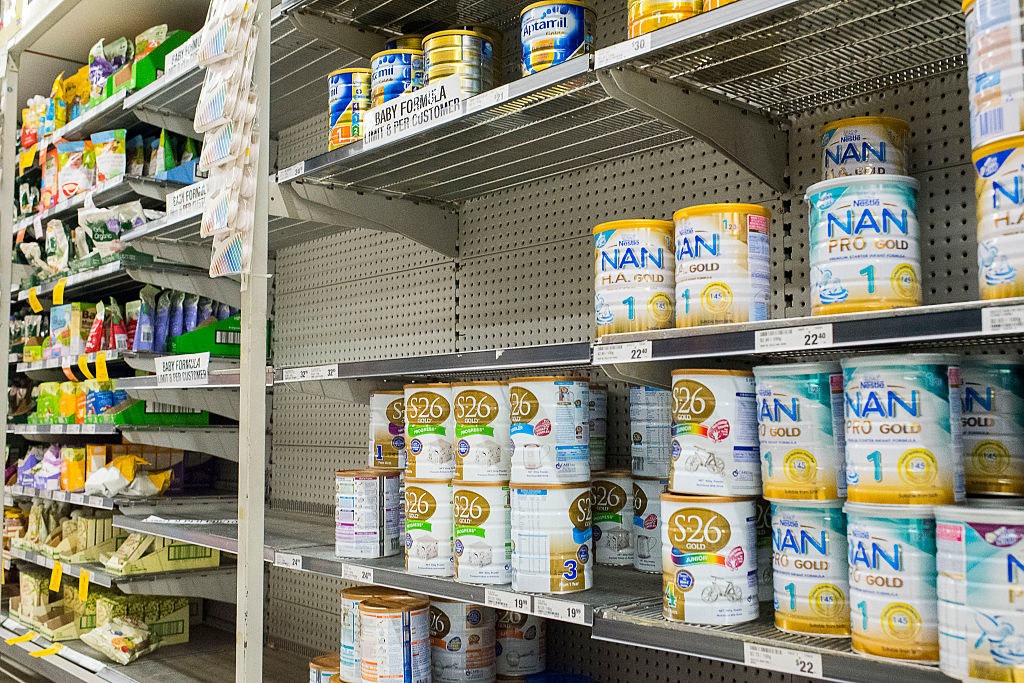 She currently lives in a domestic abuse shelter with her baby and, because of her immigration status, isn't eligible for the Healthy Start vouchers, and the £17 per week that formula costs is a huge proportion of the money she receives. "She often has to go hungry in order to feed her baby and has no money left to buy winter clothes or other essentials," the report said.
Her experience was echoed by Tabia, who told BuzzFeed News that she struggles daily to provide the most basic subsistence for her baby, her 4-year-old, and her teenage son, who has autism. Originally from Botswana, Tabia has been in the UK for nearly 20 years and lives in London.
"The tub of formula milk is, like, £12–£13 and then the baby normally takes two tubs at least in one and a half weeks," she said, adding that this represents a large chunk of the child benefit she receives – the only money she is entitled to.
"It's difficult," she said, "because it's something you really, really need." After years of being fully virally suppressed – known as "undetectable" – in recent months, Tabia's blood tests have revealed the virus has become detectable again, making her infectious, and increasing the need for formula.
"I've had to cut down on what I really need – on food – and get the cheaper versions of food, so the baby is able to get the formula milk. There are times where we didn't have enough food," she said. "I had to apply for subsistence from the Food Chain just to get by." The Food Chain charity provides meals and groceries for people with HIV in need of help. It supported Tabia's family for three months.
"Everything is just too expensive – the rent, the council tax, bills, and then after that we are left with almost [nothing] to get groceries and having to make sure the baby has formula milk. There isn't any cheaper brand of formula milk; all of them are really expensive."
Unable to work as she has to look after her children, Tabia accesses services run by Body & Soul and has become a mentor to other mothers with HIV.
"I meet women who are really desperate for formula milk," she said. "They've got no income. Some mothers are even forced to breastfeed because they don't have the money to buy the formula milk and they are scared to come forward because they don't have a regular immigration status."


She added that this is particularly the case for those encouraged by their families to breastfeed, an issue that the report highlights.
"One lady just had a baby and her virus is detectable and she's breastfeeding the baby – because of pressure from the family. And immigration problems. It's something that's still happening. Sometimes the women are so hungry and they're carrying babies and ... even if they had the formula milk they're still hungry themselves. And if they're going to breastfeed the baby you need to eat if you're going to produce the breast milk."
According to the NAT report, BHIVA's recommendations that formula milk should be freely available for all who cannot afford it has been endorsed by the HIV Clinical Reference Group, which advises NHS England, and "would be a low-cost intervention compared to the lifetime treatment cost for an infant should they contract HIV".
The cost of the formula along with feeding equipment for a year would be between £417.59 and £475.46, the study estimated. The average cost of treating someone with HIV throughout a lifetime (if acquired at birth) is approximately £622,800. Therefore, it concluded, if formula were provided free to all HIV-positive mothers who give birth each year (about 1,100–1,300) "the cost would still be lower than lifetime HIV treatment for one child".
For Tabia, not to have to worry about paying for the substance that would keep her baby safe from infection would, she said, "have made a big, big difference" both to her and other women in her situation.
NHS England did not respond to BuzzFeed News' request for comment.
Names have been changed.