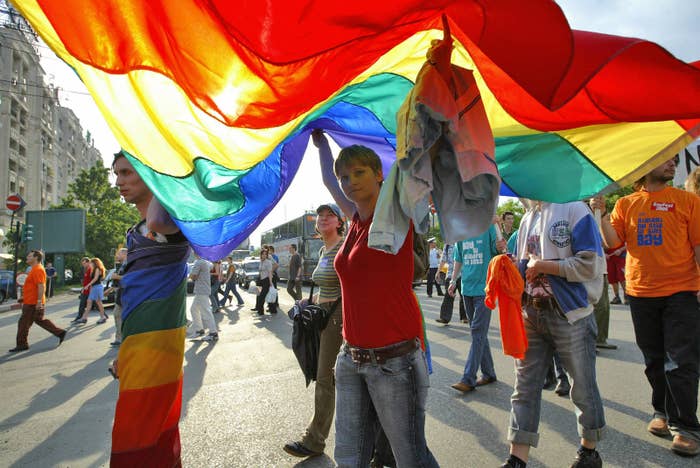 LGBT people in Britain could see hard-won protections rolled back if the country votes to leave the European Union on Thursday, senior lawyers have warned.
Across a range of areas, including employment, health, marriage, asylum, immigration, and the right to goods and services, a Brexit vote could have both immediate and longer-term consequences for LGBT citizens, according to a QC, a Home Office adviser, and an LGBT rights barrister who lectures in equality law.
"Once we're out of the EU we lose the EU laws and regulations which underpin the Equality Act," Jonathan Cooper told BuzzFeed News. The act, which was introduced in 2010, guarantees equal treatment in employment as well as in private and public services. "And once you've lost that underpinning, who's to stop the regulations being tinkered with? You could see challenges to the Equality Act happening and a situation where things are bleak because ultimately we get our equality through the EU and the single market."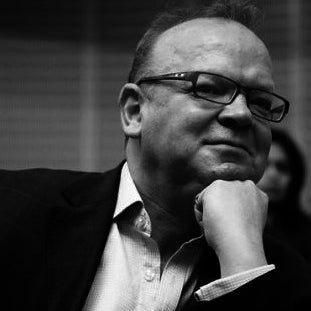 Apart from civil partnerships and same-sex marriage, all other LGBT equality legislation that Britain enjoys arose from Europe, said Cooper, Britain's leading expert on international LGBT human rights law. "Decriminalisation, access to the armed forces, the equal age of consent, gross indecency [laws] – all of those changes came about because of decisions of either the Strasbourg or Luxembourg courts," he said.

LGBT people are "always vulnerable" to discrimination, he said, adding: "I can't imagine why you would want to take away equality protections when that's all we have."
He said employment protections in particular would falter in the wake of a Brexit vote. "You'll get exemptions carved out," he said. "Without the human rights framework, they'll say, 'Why can't you have an exemption for people [to discriminate] because of their faith?'"
His fears were echoed by Sarah Bourke, a leading employment and LGBT equalities barrister, who lectures in gender equality at the Academy of European Law.
"If we are no longer in the EU there is nothing to stop protection for LGBT people in employment being taken away," she told BuzzFeed News. "What it boils down to is political will."
Bourke, who in 2012 successfully fought a landmark case against a Christian psychotherapist struck off for practising conversion therapy on gay clients, also fears religious rights infringing on LGBT rights in the event of a Leave vote.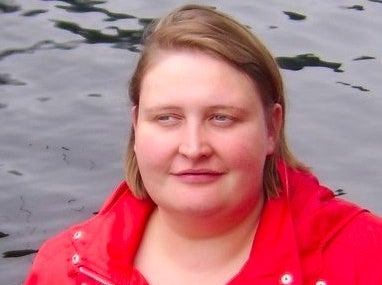 "Organisations like the Christian Legal Centre have consistently been arguing for effectively the freedom to discriminate on the grounds of sexual orientation," she said. "These groups are extremely well organised and good at lobbying. And there are elements in the Conservative party that are accommodating to a faith-based agenda."
Both LGBT and heterosexual families could see certain legal protections eroded if Britain left the EU, said Bourke. "There are workplace family rights such as parental leave, which is sexual-orientation neutral – maternity rights such as maternity leave and the right to return to work."
In the event of a Brexit vote and Leave campaigners within the Conservative party taking control, attacks on equal rights could be far-reaching, Cooper claimed, with even same-sex marriage at risk.
"By leaving the EU you lose the equality regulations – you lose the EU charter, the [EU] Fundamental Rights Agency – all these institutions that have been either the key instruments [to equality laws] or they're a fundamental safeguard," he said. "What's to stop them [the Conservatives], without a prime minister like Cameron, repealing that legislation?"
Immigration, asylum, and refugee rights would be under threat too in the event of Brexit, said S Chelvan, a prominent LGBT asylum barrister and former Legal Aid Barrister of the Year.
"As recently as December 2014 the Court of Justice [of the EU] was instrumental in laying down guidance prohibiting the use of certain materials, including video and photographic material of same-sex activity being produced to support [asylum] claims here in the UK," he said.
"It's only because of the Court of Justice that clear guidance [exists] making sure that LGBTQI refugees are treated humanely. Exiting the EU could lead to the introduction of procedures that would be damaging and harmful to those seeking refugee status on the basis of gender or sexual identity."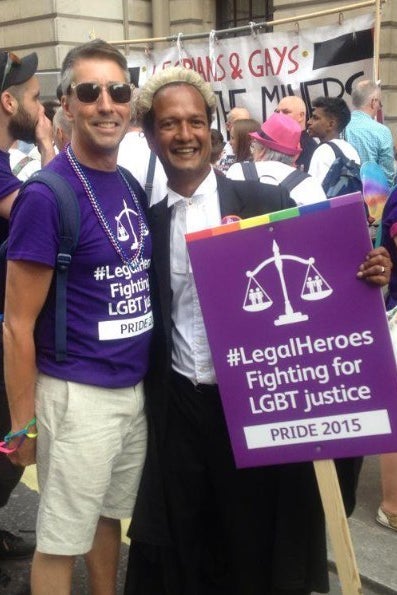 Any LGBT person who seeks to bring their partner to the UK from an EU country would face huge problems if Britain left the union, added Chelvan, who has won a string of groundbreaking LGBT asylum cases and advises the Home Office on LGBTI asylum claims.
"The Leave campaigners have made it clear they want to introduce a points-based [immigration] system," he said. "And what we see with the minimum income threshold of £18,600 which has been introduced for non-EU migrants in relation to spouses is that it's exceptionally difficult for the reunification of both same-sex and opposite-sex couples from non-EU countries. So with the introduction of that [for EU countries] we're going to see insurmountable obstacles to maintaining your family life here in the UK."
Cutting away rights for LGBT refugees could have a profound effect on Britain's standing in the world as a beacon of gay rights, Chelvan added.
"Our international reputation is clearly going to be damaged," he said. "And anyone who says the contrary isn't living in the real world."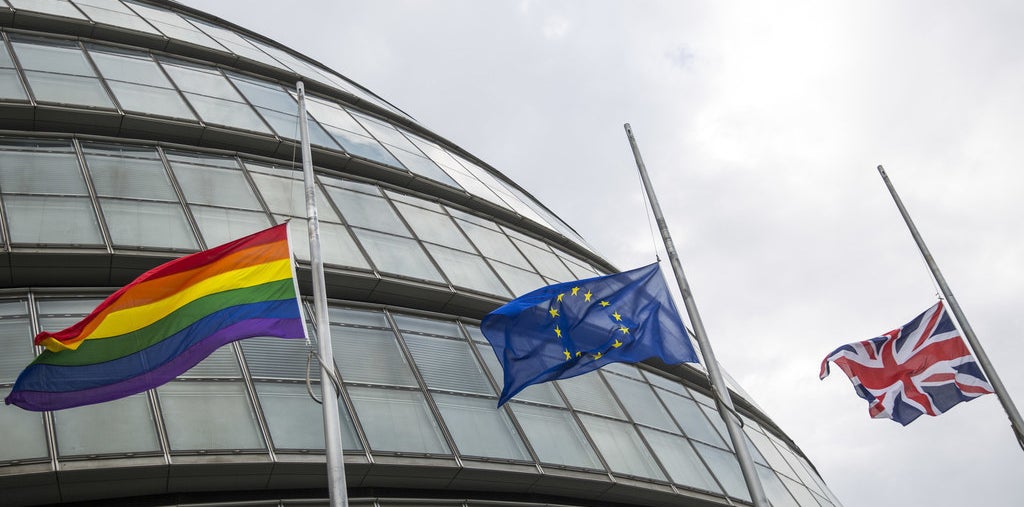 However, other human rights lawyers who are not LGBT specialists, said they took a different view on the potential impact of a Brexit vote.

Manjit Gill QC, head of international human rights at No5 Chambers, said he did not foresee any immediate or dramatic erosion of anti-LGBT discrimination measures, and regarded some of these suggestions as "scaremongering", particularly on spousal rights.
"I very much doubt same-sex marriage would be at risk," he said. "You never know what might happen in the future but in the short-term, judging by the public mood, I wouldn't have thought that is realistic."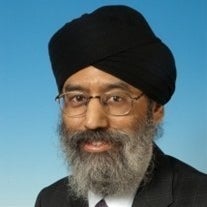 Manjit Gill QC and Oliver Lewis (right)
Gill remained concerned, however, about a wider issue: the lessening impact of international law on the UK beyond the EU. "Where fundamental rights are concerned, EU law is embedded in, and to be seen as a part of, a greater fabric of international law. And therefore, a lot of other principles of international law have a
positive impact on our domestic law, via EU law. So to Brexit would potentially
put that sort of development in jeopardy. It would slow it down."
He added: "If you break away from international law principles there is the danger you start adopting narrow, parochial, municipal approaches to your law, which tend to stultify its growth." This, said Gill, would be seen over many decades.

Oliver Lewis, a professor of law at the University of Leeds and human rights barrister at Doughty Street chambers, warned of a different international impact of Brexit - that it could set back LGBT rights in other EU nations.
"Britain is a really important actor in the EU and extremely influential because it has a strong history of protecting human rights," he said. "LGBT groups in central and Eastern Europe really want Britain to remain in EU because of the soft influence that UK politicians and civil servants have in the policy table in the EU and in bilateral meetings people have in Brussels."
He said some of the suggestions of imminent threats to LGBT rights in the UK were "speculation" – as no one knows if, for example, the Employment Framework Directive 2000 would be repealed. But he agreed with the LGBT specialists that leaving the EU would bring widespread uncertainty.
"Every single EU law will have to be looked at in the next few years – a huge piece of work," he said. "My concern is that that in itself opens up the possibility for the new UK regulations and laws to undermine what already exists, or to come in at the lower level – not to reach the EU minimum."
And EU Law, he said, is a "minimum – not the ceiling but the floor."
BuzzFeed News contacted Vote Leave for comment on the potential impact on LGBT rights, but they had not responded by the time of publication.