A Tory Running For Office In The Heart Of LGBT London Referred To Gay Sex As "Immoral"
Hillary Su is standing for Westminster council, which covers Soho. She has been accused of "casual homophobia" for her remarks.
A Conservative party candidate hoping to be elected as a local councillor in Soho – the world-famous heart of Britain's LGBT nightlife – has referred to gay sex as "immoral", BuzzFeed News can reveal.
Hillary Su is standing in the hotly contested borough of Westminster, in which Soho falls – a key battleground between the Tories and Labour in the local elections next month.
Commenting on a tweet by a Twitter user who was questioning the "intense scrutiny of Tim Farron's stance on gay sex", Su wrote in May 2017: "The right to private life, however immoral, is what free society offers - so long [as] it doesn't interfere with others or break laws."
She then criticised the former Liberal Democrat leader – who had been widely condemned for refusing to say whether he believed gay sex to be a sin – for failing to "defend his faith".
When asked by BuzzFeed News if she thought gay sex was immoral, Su refused to deny it, and instead replied by email: "Who am I to judge."
She said: "I am here to serve the public. I do not make judgements on what people do in private," adding that she was "proud of the Conservative Party's record on equality. We legalised gay marriage and stand by to protect their equal rights."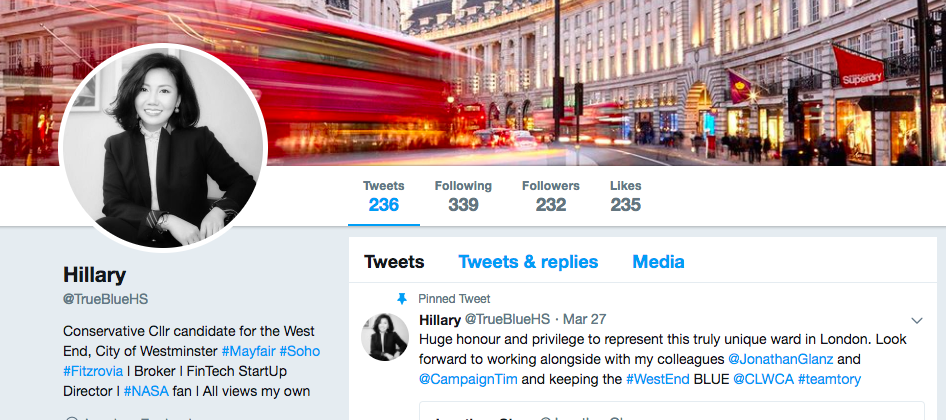 Her tweets have angered constituents in the area. Jason Phillips told BuzzFeed News: "Any candidate who makes moral judgments on people because of their sexuality is unfit to represent an area as important to the LGBTQ community as Soho. It is clear from Hillary Su's comments that she believes gay relationships are 'immoral'. This is a clear signal to the LGBTQ community that the Conservatives are still the nasty party and I hope voters will reject her casual homophobia."

Su has tweeted about a range of social issues, while indicating her support for Jacob Rees-Mogg ("how a true politician should be"), the most prominent of anti-LGBT, anti-abortion, Christian traditionalists in the Conservative party, and retweeting President Trump and his deputy, Mike Pence.

When the BBC advertised for a trainee multimedia journalist, looking for someone from a black or minority ethnic background, Su tweeted in January this year: "If race matters to you, you are inherently racist. Multi-media should be embracing the multitude of thoughts NOT multitude of skin colors. Intellectual diversity matters. Your skin color doesn't. Stop victimizing ethnic minorities BBC."
Asked by BuzzFeed News to clarify her comments, Su appeared to backtrack and said: "As a proud British Asian, I believe having a diversity of perspectives and backgrounds in the workplace is just as important as having a diversity of races."
Westminster council has been criticised in recent years by many LGBT groups who question the rents and rates being charged to businesses in Soho, which some say have contributed to the closure of LGBT bars and clubs, as well as other independent businesses.
The "cleaning up" of Soho has, for many, meant removing its character, prompting LGBT people to seek other areas. The council has long been held by the Conservatives, and if the party loses overall control or the borough falls to Labour, it would represent a huge symbolic win for the opposition.