A prominent Nigerian writer who was kidnapped last week after publishing an essay about anti-gay sentiment has been released following ransom demands and threats by his captors to murder him, BuzzFeed News can reveal.
Chibụìhè Obi, 24, who had been missing since 1 June, walked free on Sunday at approximately 10pm local time after international reports of his capture. It is not yet known if a ransom was paid.
A source close to Obi told BuzzFeed News that his abductors revealed his whereabouts on Facebook on Sunday night, but the location was so far from where he lives in Imo State, south-east Nigeria, that it was five hours before he could be picked up. He has now been reunited with his family.
His abduction follows other similar disappearances in Nigeria in recent months, according to Bisi Alimi, a leading Nigerian LGBT activist who was granted refugee status in Britain. "One of them got killed," he told BuzzFeed News.
Obi was seized less than a fortnight after he wrote an essay entitled, "We're Queer, We're Here," an evocation of the violence and silence engulfing gay people in Nigeria. The piece sparked multiple threats so severe as to cause Obi to consider fleeing the country, according to Alimi, who was in touch with him before his capture.
Friends of Obi's raised the alarm on Friday night when he failed to attend a poetry event in Nsukka, Enugu state, adjacent to Imo State. The kidnappers, who hijacked Obi's Facebook account, sent messages to his friends from his account to threaten the writer's life. The authorities were then notified.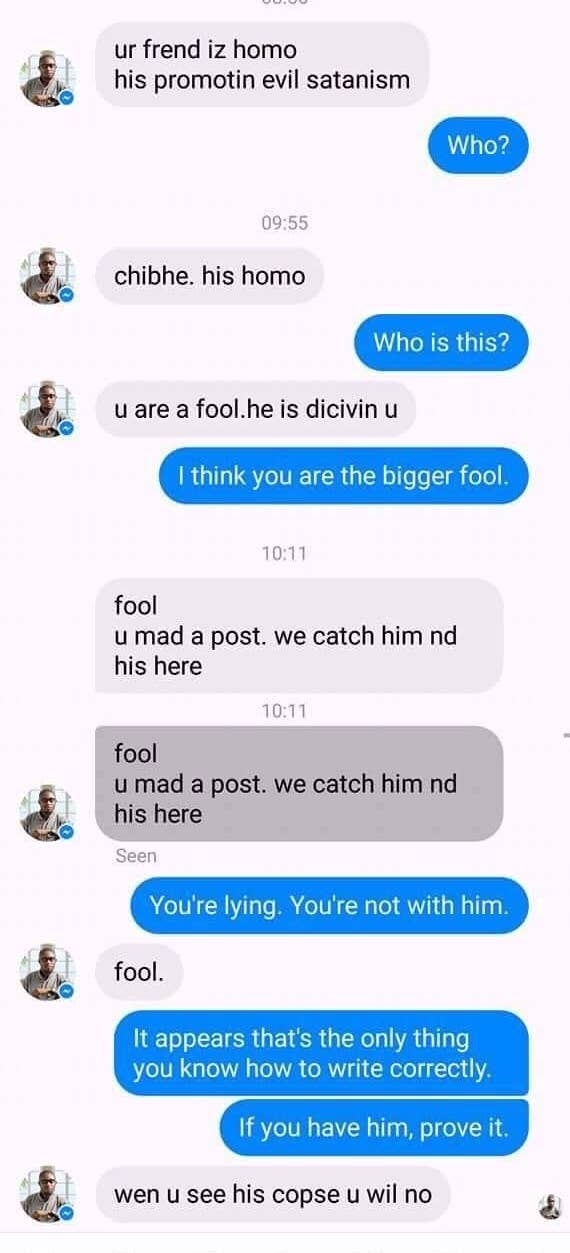 The messages, some of which have been forwarded to BuzzFeed News, began: "ur frend iz homo his promotin evil satanism" and "we catch him and his here". When challenged to prove they had captured him, the kidnapper replied: "wen u see his copse you will no".
A friend of Obi's posted on Facebook that he had been abducted and wrote: "We…started receiving messages, specifically anti-gay death threats from his Facebook account, operated by someone obviously not him. This same person also claimed to be stranded at an undisclosed location & even demanded for money…I'm worried. We are worried."
He added that he was sure the abduction happened as a result of the essay Obi had written. Another friend revealed that Obi had told him he had been "reported" to a family member for being a "gay activist".
Homosexuality is illegal across both the mostly Muslim northern parts of the country – where under Shari'a law the punishment is death by stoning – and the mostly Christian states in the south where the sentence can be 14 years in jail.
In 2014, a new law was introduced, The Same-Sex Marriage Prohibition Act, which made illegal gay clubs or organisations and any attempts to conduct same-sex weddings, including those who "witness, abet and aids" such ceremonies or groups. The effect, say activists, has not only been increasing hostility towards LGBT people but also fear among those associated with them.
In his essay, Obi described an attack on someone at his university who had come out as gay and who lived in the same hostel as him.
"They came for him, kicked open the wooden door shielding him and dragged him into the open. They hit him repeatedly with whatever objects they felt could unhinge his body and call forth confessions. Boots, balled fists, sticks, slaps. They asked him [who was] gay. They asked him to name names. There was no way it could be only him. They wanted to purge the hostels of fucking faggots and liberate the entire school from the infestation of the horrible ass-swinging taboos."
He also conveyed the atmosphere of hostility in which he and his contemporaries now find themselves.
"Two weeks after the Owerri Book Festival, an unknown young man stalked me up to the rear gates of IMSU [Imo State University] and, when he finally caught up with me, threatened to cut off my penis if I went on to write and promote homosexuality…"
"It is over a year now since we started publishing LGBTIQ-themed poems. Threats have been coming. Thick-brained humans come to your Facebook inbox and write long sermons peppered with hate and warnings. They'd tell you to get ready for them."
Obi's friends are now trying to find ways to keep him out of danger.
"I have been speaking with him for some time and after he wrote the article he got in touch with me and said he'd been receiving death threats and to please help him get out of Nigeria," said Alimi, who added that he has avoided contacting Obi's family directly to protect them, legally, from being associated with an out gay man.
"We've raised it with the high commissioner in Nigeria, to make his access to a visa easier so that we can take him out of the country."
Alimi, who was arrested and fled Nigeria after becoming the first to come out on Nigerian television, added: "This is not the first time this has happened to writers in Nigeria and a few months ago one of them got killed. I'm sure this is not going to be the last time.
"It's very important someone becomes the face of this continuous attack on queer writers in Nigeria. We've been keeping quiet and hence why the international community has no idea that this atrocity is going on in Nigeria. Someone has to speak up."
The Foreign Office has been contacted for comment.