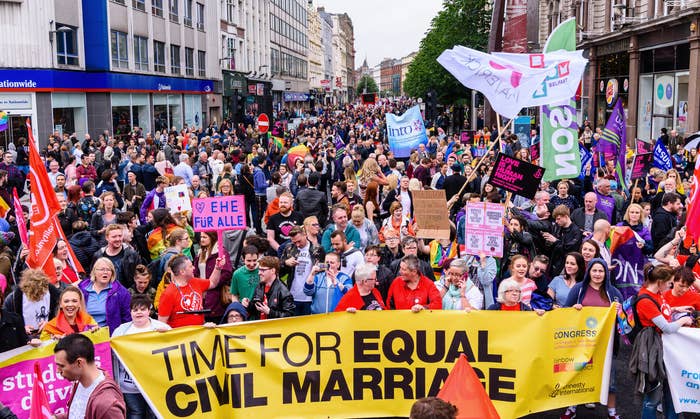 Same-sex marriage campaigners in Northern Ireland have been dealt a double defeat after the High Court today ruled against two cases involving gay couples seeking same-sex marriage – but have vowed to appeal the rulings.
Currently, only civil partnerships are available to same-sex couples in the region.
In a judgement that was previously expected to pave the way to full marriage rights in Northern Ireland – the only part of the UK not to allow same-sex marriage – Mr Justice O'Hara dismissed a case involving a gay couple who married in England in 2014 who argued that their marriage should not be downgraded to a civil partnership on returning home to Northern Ireland.
He also dismissed a second case from two further gay couples who sought a judicial review into the Northern Ireland Assembly's failure to introduce same-sex marriage, by arguing that it was a contravention of human rights not to allow same-sex couples to marry.
Of the first case, O'Hara ruled: "It is not at all difficult to understand how gay men and lesbians who have suffered discrimination, rejection and exclusion feel so strongly about the maintenance in Northern Ireland of the barrier to same sex marriage. However, the judgment which I have to reach is not based on social
policy but on the law."
The ruling continued: "While the Northern Ireland Human Rights Commission supports an equal level of human rights protection across the United Kingdom, its Chief Commissioner wrote on 11 June 2012 that 'the restriction of marriage to opposite sex couples does not violate the international standards and this is clear from both the international treaties and the jurisprudence of the European Court of Human Rights and the United Nations Human Rights Committee.' In my view the Chief Commissioner was correct to make that statement."
O'Hara went on to elaborate that he is disinclined to overstep the jurisdiction of the Northern Ireland courts or contradict previous Strasbourg rulings. The implication in the ruling is that it is for politicians in the Stormont government to introduce same-sex marriage and not a judge.
Ciaran Moynagh, the solicitor for the Petition X couple, said following the ruling that "the work will continue" and released a statement on the couple's behalf: "Of course, we are disappointed by today's ruling. What it shows is that more work needs to be done to explain a truth that, to us, is self-evident; the love two men or two women share is never a threat to society – in fact the world could do with a little more love today.
"Today we are calling on the mums, dads, siblings and friends of LGBT+ people to no longer remain on the side lines. Speak, write or tweet to our political leaders reminding them that the majority of people in Northern Ireland support same sex marriage. Our fight to have our love recognised continues and we will discuss our options with our legal team."
Mr Justice O'Hara also dismissed the second case but the ruling has not yet been published. Solicitors acting for the two couples tweeted immediately after the ruling that it was "disappointing" but that their clients would appeal.
O'Hara spent over 18 months reaching a verdict on the legal challenges to the lack of same-sex marriage rights in Northern Ireland.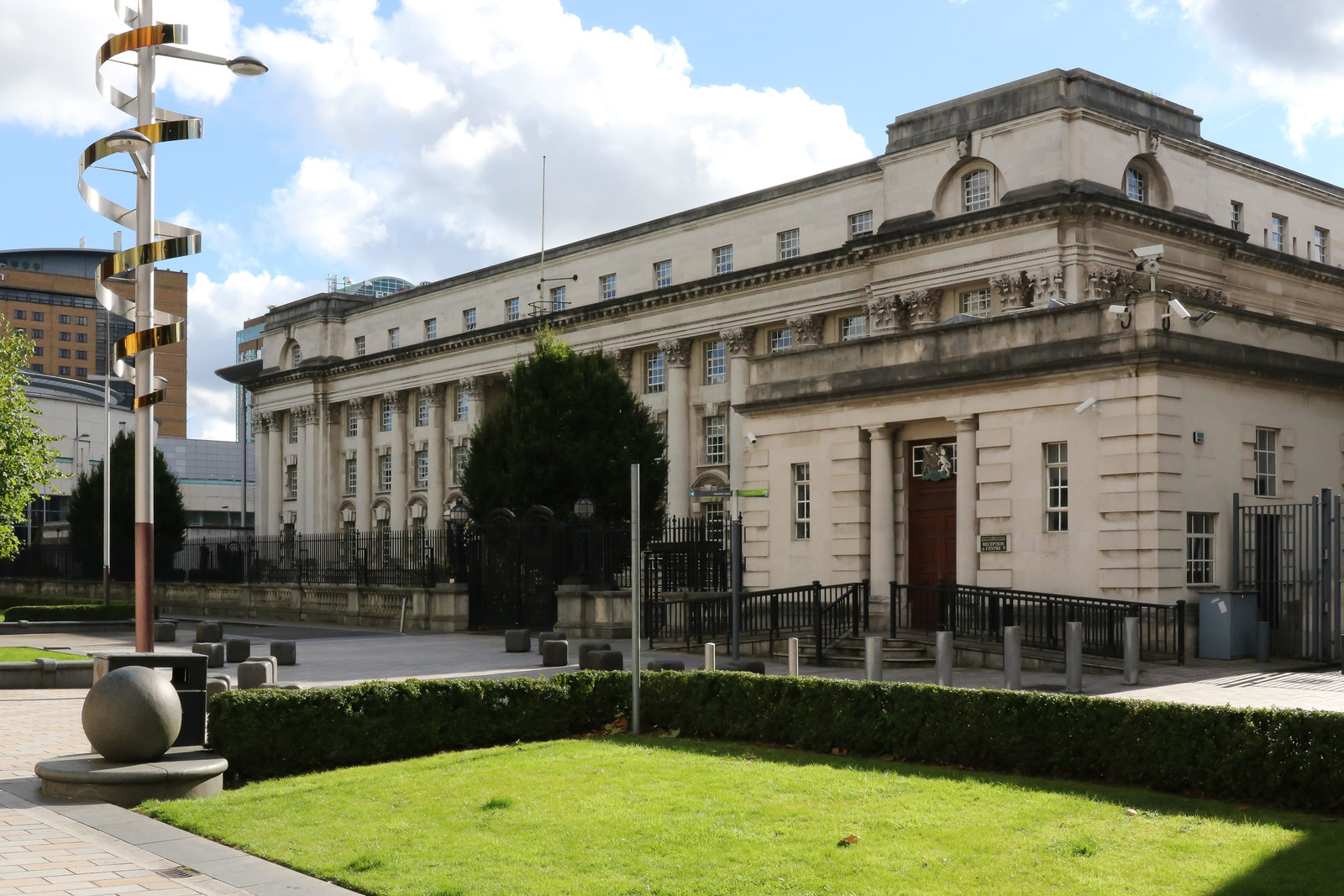 John O'Doherty, director of the Rainbow Project, the LGBT pressure group supporting the cases, told BuzzFeed News the day before the verdicts that they were particularly hopeful of success in the case seeking recognition of same-sex weddings elsewhere in the UK because of the strength of legal precedent.
"One of the key arguments was, in Scotland two 16-year-olds can get married without parental consent – they can't do that anywhere else in the UK – but once married in Scotland they have to be recognised as married everywhere else, so why should that be different for equal marriage?"
The same principle had been applied to humanist weddings, he said, whereby a humanist marriage in Scotland is recognised in England even though humanist weddings are not legal there.
Ciaran Moynagh, the solicitor representing the Petition X couple, told BuzzFeed News that he would challenge the ruling in the court of appeal. If successful there, it would enable his firm to initiate a successive legal challenge that would prise open full same-sex marriage rights in the province. Such a case would argue that if Northern Ireland now recognises same-sex marriage from other parts of the UK, it is legally nonsensical to not authorise it in Northern Ireland.
"We always thought it was a two-stage process," said Moynagh. "It would be unsustainable [not to allow full same-sex marriage rights]. You're now recognising them from England, why can't we have them here?"
However, if this legal route is the tool that delivers full same-sex marriage rights, it could take more than two years, said Moynagh.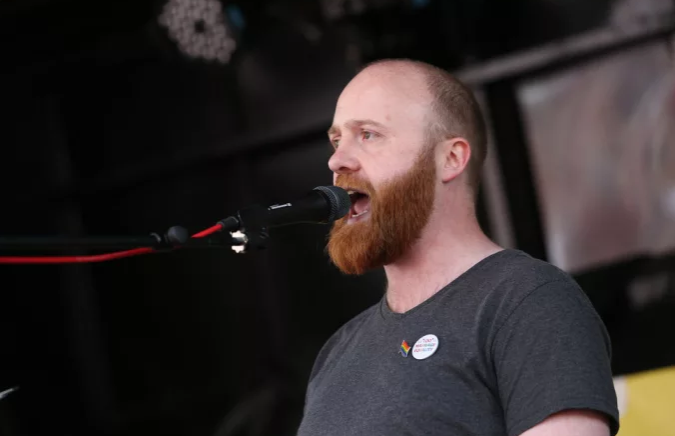 Both cases arose amid a protracted political fight for same-sex marriage in Northern Ireland that reaffirmed entrenched divides between the main parties as the public's attitudes increasingly converged in favour of it.

But while polls suggest 70% of the Northern Irish population now support same-sex marriage and over 50% of Northern Irish politicians are in favour, the devolved government failed to introduce it before dissolving earlier this year and the Westminster government has declined to intervene on the issue, deeming it a devolved matter.
Stormont debated the introduction of gay marriage five times over the last few years, and on each occasion the vote failed. This was because the Democratic Unionist Party invoked what is known as a "petition of concern", in which the bar is raised for passing a motion from more than 50% of the assembly member votes to 60%, including at least 40% of both unionist and nationalist politicians.
This tool was introduced after the 1998 Good Friday Agreement to prevent one community riding roughshod over another and to ensure cross-community cohesion in the power-sharing government. The use of such a mechanism in the issue of same-sex marriage, which does not have particular republican or loyalist resonance, therefore proved highly controversial, with many accusing the DUP of misusing the petition.
While politicians argued and stalemate prevailed, therefore, others sought legal solutions. In 2015, the Rainbow Project approached a gay couple about bringing a case against the fact their marriage was not recognised in Northern Ireland despite being enacted in another part of the UK.
"When we spoke to them they felt strongly that equal marriage should exist in Northern Ireland, and that they should be recognised as being married, having gone to the effort of going to England getting married, with their families and friends," O'Doherty told BuzzFeed News. After making their case to the High Court, the Rainbow Project, the couple and their lawyers waited over 18 months for a ruling.
"I don't think any of use were expecting to be waiting nearly two years but that's unfortunately where we've ended up," said O'Doherty. "It's certainly been difficult."
There are now several paths ahead before full same-sex marriage rights could be won.
The first is through the courts, but both the court of appeal would have to find in favour of one or both of the current cases dismissed today in the high court, and the supreme court would then need to either support this judgment if appealed, or not agree to hearing the cases.
But the political route is still possible, however.
According to O'Doherty, the day that the Stormont assembly dissolved, a private member's bill calling for same-sex marriage – supported by Sinn Fein, the SDLP, the Alliance Party, Green Party and some Ulster Unionist members – was being considered.
If Stormont resumes its duties rather than Northern Ireland falling to direct rule from Westminster, then this private member's bill would be "pretty much the first thing on the agenda," said Monagh. "There is draft legislation there and with this [petition X] case being successful the draft legislation would certainly make it to the floor for a vote."
Because it is a private member's bill, a petition of concern could not be used in the first hearing, and by the second, an attempt to wield such a petition would be harder, said Monagh: "Is same-sex marriage an orange-and-green thing anymore? If you look at the polls and the data, the majority of the public are supportive of it." In this instance, he added, as legislation would be prevented by the use of a petition of a concern, then a judicial review could be brought against the wielding of such a petition.
The final path to same-sex marriage in Northern Ireland could come if, in the event of Stormont failing to reconvene to form a workable assembly, the Westminster government reverts to direct rule. Pressure would then mount on Westminster to roll out same-sex marriage rights to citizens in Northern Ireland, as its previous assertion that such matters are the responsibility of devolved governments, would no longer stand.
O'Doherty today called on Theresa May to deliver equal marriage rights across the UK.
"Of course, we would prefer that the Northern Ireland Assembly were in a position to grant these rights; the Assembly is not currently functioning," he said. "It is, therefore, the responsibility of Theresa May's government to make the necessary amendments to the marriage legislation to make it applicable in Northern Ireland.

"The eyes of LGBT people around the world will now be on Theresa May. She says that she has changed her mind on LGBT equality over her years in Parliament. Now is her chance to prove it."