People Can't Get Enough Of This Hilariously Honest Job Advert
"I'm only a dickhead for the first three years you know me. After that I'm a total sweetheart." Update: It was definitely a real advert and he got 150 applications.
There are job adverts, and then there's this from Justin, an American restaurateur who's opening a new breakfast spot near Glasgow.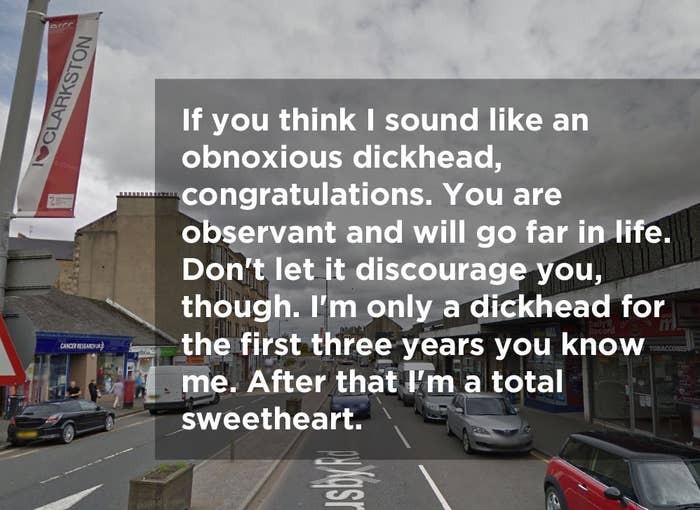 The advert appeared on Gumtree on Tuesday morning and appealed for "someone fast, progressive, and not a total **** for a new restaurant in Clarkston," which is eight miles south of Glasgow.
The ad's been taken down, but you can still read it thanks to Google's caching of the page. It went viral overnight with some people calling it "hilarious", "honest" and "the best job advert ever".
It has a good start. And it got steadily better:
I have no problem working seven days a week, but on the off-chance I break my foot or get third-degree steam burns on my face I need someone who can work unsupervised and still make quality food. It's a breakfast/brunch/lunch place to start, but there are no eggs benedicts. Go on, wrap your head around that and then continue reading. I'll wait.
Justin said the ad was an attempt to whittle out the time-wasters who applied for previous positions.
Seriously. Last time I was hiring for a place I got over 400 CVs. You know how long it takes to read 400 CVs? Too damned long. So don't waste anyone's time. I need a second in command to bang out a ton of semi-fancy food in a kitchen the size of a closet, and you also have to put up with my wife because I do, and she's the real boss.
And the money? "The money is shit. It's £7/hour and a cut of the tips. Don't ask for more because I don't have it." It's not all gruelling though:
In fact, if you're awesome and you have actual cooking skills, you'll probably be my best friend and you'll work 55 hours a week and I'll let you put whatever horrible music you enjoy on the stereo and buy you beer.
Anyone who's had to hire someone will relate to his point about cover letters:
Send me a real cover letter too, if you're the cover letter type. If you have one that says you're a "hard-working team player that can also function well alone" and that you "value customer service and punctuality" I will stab myself in the face with a pencil and nobody will get a job. Be honest.
And then there is the immortal closing line.
If you think I sound like an obnoxious dickhead, congratulations. You are observant and will go far in life. Don't let it discourage you, though. I'm only a dickhead for the first three years you know me. After that I'm a total sweetheart.
We caught up with the advert poster, Justin Valmassoi, originally from Detroit, Michigan, who really did write the very honest job ad yesterday, for a restaurant that will be called "Something".
"It was a very surreal day yesterday," he said. "I was just trying to be honest. It was a genuine ad, I thought I would try and cut through. It's a pretty tight timescale because I'm trying to launch on the first of July and I don't have any people and I don't have the time to spend sifting through 8 million cookie cutter CVs.
"It's the way I talk – every time I write it comes out like that. I had a couple of people who read the virst paragraph and said "Oh that's Justin!"
Justin received about 150 applications thanks to the ad, but it wasn't his decision to take it down – Gumtree removed it because of profanity, he said. "It annoyed me because I paid to put it up and I need the people."