Cinema Worker Hospitalised Before Screening Of "Brotherhood"
An employee at the Vue cinema at Stratford Westfield suffered a laceration to his eye in an attack before a screening of the gang violence drama Brotherhood last week.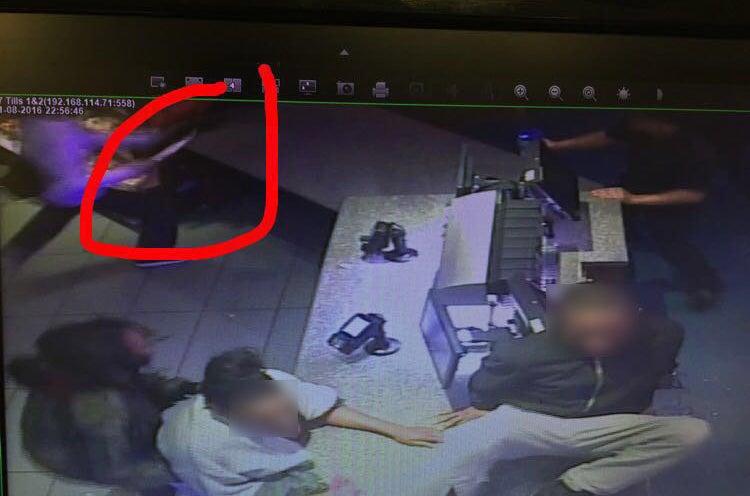 Police are investigating a brawl between two gangs of young people at a cinema in east London that broke out before a screening of a gritty urban drama depicting gang violence in the city.
One 28-year-old member of staff suffered a laceration to his eye in the incident, which took place at the Vue cinema at the Westfield shopping centre in Stratford, near the Olympic stadium, at around 11pm on 31 August.
The violence occurred before screening of the film Brotherhood, which the cinema has now stopped showing.
Met police told BuzzFeed News officers from Newham branch were investigating a GBH but have not made any arrests.
The London Ambulance Service said the it was called at 11.07pm and that paramedics "treated a man at the scene and took him to a hospital in east London".
CCTV images sent to BuzzFeed News (above) appear to show that at least one person at the scene of the violence was brandishing a knife. Police said there was no evidence that a knife was used in the attack that hospitalised the employee.
Earlier this week BuzzFeed News reported that the cinema had stopped showing Brotherhood, the third in an acclaimed trilogy of films written by and starring Noel Clarke. But Vue would only offer a brief statement on why the film had been taken off the schedule, confirming that "incidents" took place.
A former member of staff at the cinema who has spoken to the affected employees told BuzzFeed News they are "in fear and want people to know what happened". Employees have expressly been told not to speak to the media about the incident.
The former staff member said: "I only found out the subject matter today after one of the staff working there was brave enough to tell me what happened and that they were all gagged from speaking out about it.
"They haven't been giving any time off or counselling for what they witnessed and I can only imagine this to be a distressing thing to see."
A spokesperson for Vue said in an emailed statement: "We can confirm that there were incidents at the Vue Stratford site in Westfield last week, however while they are being investigated no further comment will be made. The welfare of our customers and staff is our top priority and we will take all necessary steps to ensure this at all times.
"Alongside this Vue run an Employee Assistance Programme and confidential helpline and make all staff aware that time off can be arranged through line management in the event of any serious incident or occurrence."
Police urge anyone with information about the incident to call them on 101.