Vladimir Putin Said He's Ready For A Meeting With President Trump
The Russian premier was reacting to Trump calling for Russia to be readmitted to the G8 group of nations.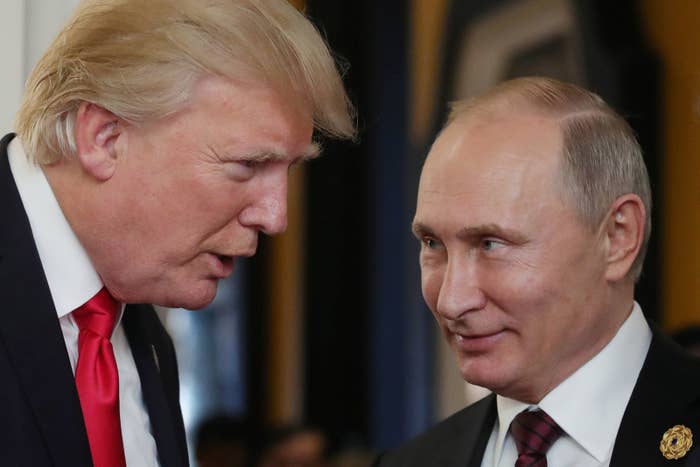 Russian president Vladimir Putin said he would be happy to meet with Donald Trump, after the US president called for Russia to be allowed to rejoin the G8 group of the world's most powerful economies.
Speaking to reporters in Qingdao, China, Putin said he would welcome a discussion with Trump and mentioned that he agreed with Trump that there are concerns over a renewal of an international arms race, AP reported.
Trump, who has long called for reconciliation with Russia, made his comments on Saturday at the G7 summit in Canada, where he asked: "Why are we having a meeting without Russia being in the meeting?" He said Russia's presence in the group would be an "asset".
Earlier, the Russian news agency Tass reported that Kremlin spokesperson Dmitry Peskov confirmed that a meeting was on the cards, with Vienna a likely destination.
"Various cities, which can be suitable for a meeting between the two presidents, are often considered," he said. "You know that the two presidents discussed the need for such a meeting during their latest telephone conversation, including that Vienna could be such a city."
The G8 nations became seven in 2014 when Russia was expelled for its annexation of the Crimean peninsula in Ukraine – a region of long-held strategic and historic importance to Russia.
Putin argued Crimea had a large number of Russian speakers who welcomed the unification. But the remaining G7 nations condemned the invasion as illegal and in contravention of international law and specific obligations.
Trump raised eyebrows over the weekend by appearing to downplay the Crimean episode by saying Russia was expelled because "something happened".