Two 15-year-old girls who tortured and murdered a vulnerable alcoholic woman in the front room of her house while posting pictures of the ordeal on social media have been given life sentences and must serve a minimum 15 years' detention.
The pair, both from Hartlepool, who were 13 and 14 at the time of the attack, were sentenced at Leeds crown court on Thursday for murdering Angela Wrightson, 39, in December 2014.
An order to prevent the killers being named publicly was upheld in court and will remain in place. Defence counsel, Cleveland police, and Hartlepool council all opposed an application by the media for the anonymity to be lifted.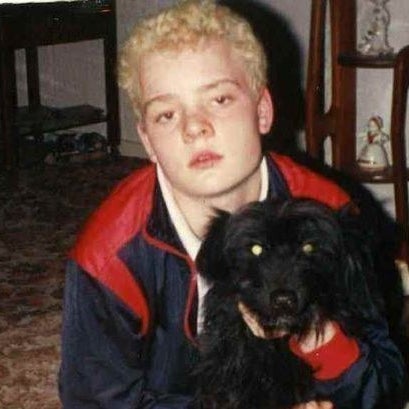 The girls were found guilty on Tuesday, after a eight-week trial heard that they subjected Wrightson to more than 100 injuries, 80 of them to her head, using various household objects. Wrightson weighed six and a half stone and was found dead by her landlord at her home on Stephen Street in Hartlepool on 9 December, the day after the attack.
Delivering the sentence, Mr Justice Globe QC said Wrightson's mother "cannot understand how you could have been as violent as you were. She is not alone in that."

He said: "You were aware Angie was particularly vulnerable because of her circumstances. This is not a case of instantaneous death following a shot, a stab, or a blow. She pleaded for you to stop.
"This was a sustained attack over a long period of time carried out with weapons in many different ways – she suffered mentally and physically before she lost consciousness and died."
He added: "You left not knowing or caring whether she was alive or dead."
Both girls denied murder, although the older of the pair admitted manslaughter on the grounds of diminished responsibility.
At the sentencing hearing on Thursday, Jamie Hill QC, representing the older girl, said she admitted "the use of unlawful violence" but added that the trial was "very much about her mental state at the time she acted".
John Elvidge QC, acting for the younger girl, said she was of "lower than average intelligence" and that she "thought as a child, spoke as a child, acted as a child".
Wrightson was known to children locally and referred to as "Alco Ange", the court heard.
The killers posted multiple images of Wrightson to Snapchat during the murder, one of which (above) has been released by police. It was taken at around 9pm on 8 December, apparently while she was still alive. They left Wrightson's house to visit a friend at 11pm, before returning at 2am.
After trying to contact a carer to arrange a lift, at 4am one of the girls instead tried calling the police, asking to be taken home. Cleveland police released an audio recording of the call (the girl's voice has been altered to disguise it).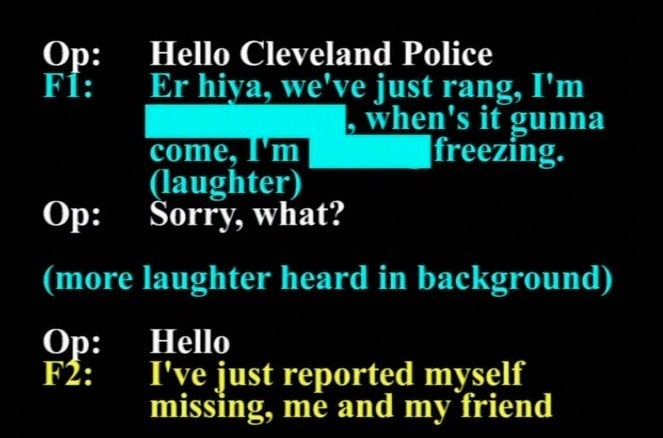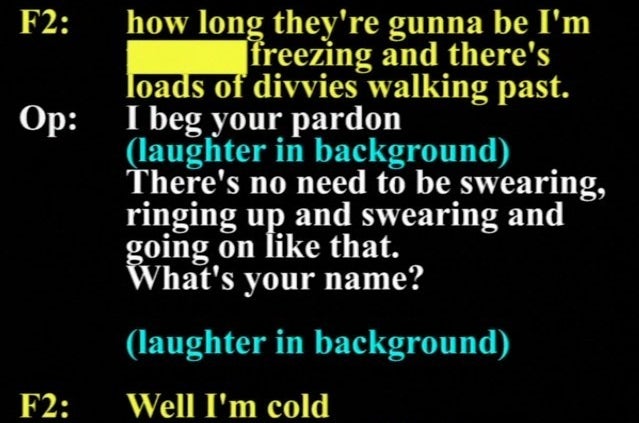 The girls then posted another image while in a police van later that evening, with the caption "Me and [girl's name] back in the back on the bizzie van again". Other images they posted to Snapchat that night showed them drinking cider.

Cleveland police also released images of the items used to kill Wrightson, including a TV and a stick with a nail attached to it.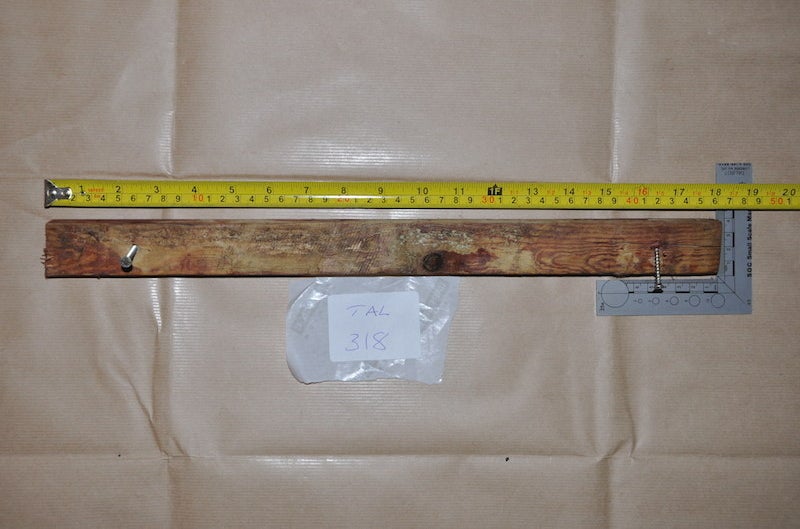 Two of the items used to injure and kill Angela Wrightson
It emerged during the trial that both girls had been in care and had absconded from care homes 18 times in the previous 30 days before the attack, the Daily Mail reported.
Social workers who worked with girl A, the older of the pair, told the trial she began drinking and taking drugs aged 11 and had been subjected to domestic violence. She had been referred to the local child and adolescent mental health service.
When asked to confirm her date of birth in court, she reportedly didn't know it.
The court heard during the sentencing hearing that the older girl made four serious attempts to kill herself during the trial.
Girl B came from a more stable background but had run away from from home several times. It was she who took the pictures of Wrightson in her final moments, while also reportedly using her phone to text friends and play videos on YouTube.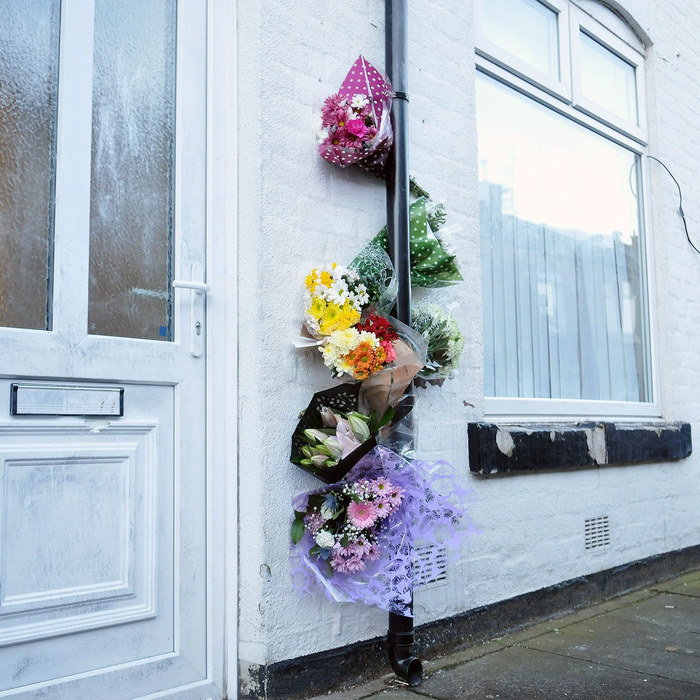 In a statement released on Wednesday, Wrightson's family paid tribute to her and admitted she led a "troubled and a times chaotic lifestyle".
"Listening to the details of her injuries and of her final moments has been a harrowing experience and something which will continue to haunt us each and every day," they said. "No sentence, regardless of its severity, will ever bring Angie back.
"The two girls responsible will one day be women themselves, free to live their lives and perhaps have children of their own. A right which was taken from Angie."
---
Behind the scenes, the case has also been the subject of a battle between media organisations and the courts over how the details of the trial were published on social media.

The judge was so concerned by comments the public were making about the defendants on Facebook – and underneath news articles that media outlets had published on their own websites – that he ordered a retrial.
On the third day of the original trial in July 2015, Globe was informed of an "avalanche of prejudicial comment" on Facebook that could affect the outcome of the case. The prosecution called this "a virtual lynching mob".
In criminal cases in England and Wales, reporters and the general public are bound by the "strict liability contempt" rule which prohibits any commentary or reporting on a case that could prejudice its outcome. This normally means that news reports have to be based on evidence heard in court – but the general public on Facebook have no such concerns and vitriolic comments about defendants in high-profile trials are commonplace.
As the BBC reported, media organisations were ordered to "remove all links from [their] websites to other websites, including social media sites" and to stop tweeting about the case.
The BBC, Sky News, and seven newspaper groups appealed this decision on the principle of open justice and eventually in February this year Lord Justice Leveson in the court of appeal came up with a compromise: The media could report the case but they had to turn comments off on their articles and not mention it on social media.
And the fact that this ruling existed couldn't be mentioned publicly until the verdicts were handed down this week.