Two Teenage Girls Jailed For Kidnapping A Toddler In Primark
The girls, aged 13 and 14, were each detained for three years and three months at Newcastle crown court on Monday.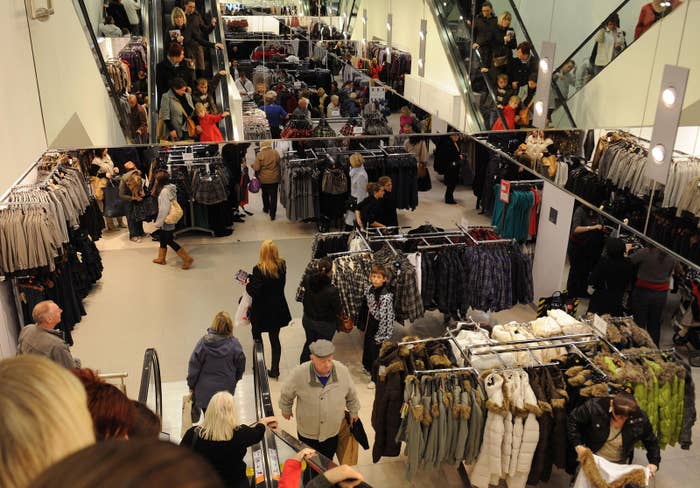 Two teenage girls have been jailed for kidnapping a toddler from a Primark store in Newcastle.
The girls, aged 13 and 14, were each sentenced on Monday at Newcastle crown court on Monday to three years and three months' detention. They had pleaded guilty to kidnapping at an earlier hearing.
Mr Justice Globe, sentencing, said that no physical harm had come to the little girl, but added there had been enticement and planning.
The teenagers were seen playing with the toddler for 15 minutes in the clothes shop, in a way that her mother thought was "sweet", the court heard. She was later seen banging her head against a wall once she realised her child was gone.
Sarah Barlow, prosecuting, told the court that the defendants had tried to snatch other children that day but were unsuccessful, the Northern Echo reported.

CCTV footage played in court, but not released to the media, showed the defendants in the children's section of Primark at 4pm on 13 April, where they spoke to the victim and offered her sweets.
"They offered her sweets. That's indicative of the level of planning – they had taken with them things likely to attract a child to them. They were playing with her," Barlow told the court.
"[The victim] was running to and from the girls. Her mother was not suspicious, she simply thought the girls were playing with her daughter and were being quite sweet."
The girls then took the toddler out of the store and took a Metro train 3 miles to the local suburb of Gosforth. A witness said the girls looked anxious, jurors heard.
A tablet device belonging to one of the girls contained previous search engine queries related to sexual assaults, including "rape" and "young people getting raped".
Globe said the girls gave conflicting accounts of the incident, neither of which he felt adequately described what had happened.
The judge took one month off the sentence due to the curfew the defendants have abided by since their guilty plea.