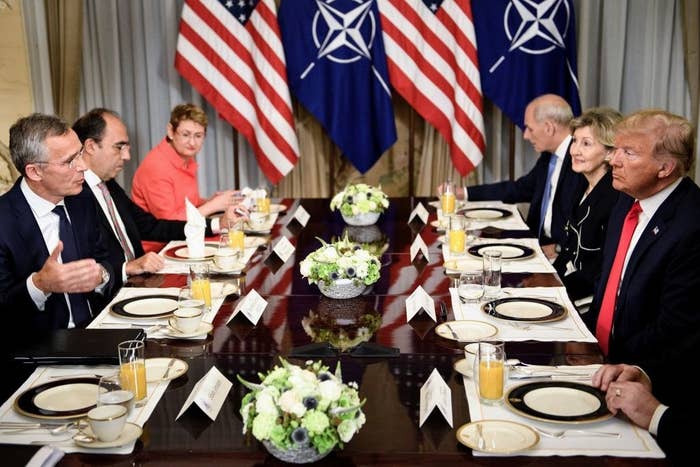 Donald Trump has wasted no time causing controversy on his European trip this week, as he used his first breakfast meeting on the opening day of the NATO summit to accuse Germany of being "totally controlled by Russia" through its reliance on Russian oil and gas.
In an apparent attempt to expose an issue that divides European governments, Trump hammered Germany for paying Russia vast amounts for oil and gas while NATO spends money protecting Europe from Russia.
Responding to a question from the White House pool reporter at a heated bilateral breakfast meeting with NATO secretary general Jens Stoltenberg in Brussels on Wednesday morning, Trump espoused his long-held belief that the US is propping up NATO in terms of defence spending.
"I think it's very sad when Germany makes a massive oil and gas deal with Russia," he said.
"We're supposed to be guarding against Russia and Germany goes out and pays billions and billions of dollars a year to Russia. We're supposed to protect you against Russia but they're paying billions of dollars to Russia and I think that's very inappropriate."
Germany, Trump said, "is totally controlled by Russia" because, he claimed, it gets "60% or 70%" of its energy from Russia via the new €9.5 billion Nord Stream 2 pipeline, which will carry 55 billion cubic metres of gas per year under the Baltic Sea to Germany.
The project is controversial across Europe, particularly the nations near or bordering Russia, for increasing energy reliance on Russia. Donald Tusk, the president of the European Council, is opposed to the project, which he says is against "our strategic interests, our security".
Trump also complained that the Nord Stream consortium chair is a former German chancellor, Gerhard Schröder. "You tell me if that's appropriate, because I think it's not," Trump said. "Very bad thing for NATO … I think we have to talk to Germany about it."
Trump appears to have exaggerated Germany's reliance – while the country does get most of its gas from Russia, that accounts for only about 9% of its overall energy provision. Trump also implied the project was state-funded when it is a private venture.
When Stoltenberg mentioned a recent $40 billion commitment from NATO members on defence spending, Trump asked "why was that?" to which Stoltenberg responded: "It was also because of your leadership."
"They won't write that," Trump said, referring to the media. Trump then admitted the extra money was positive but called it a "very small step".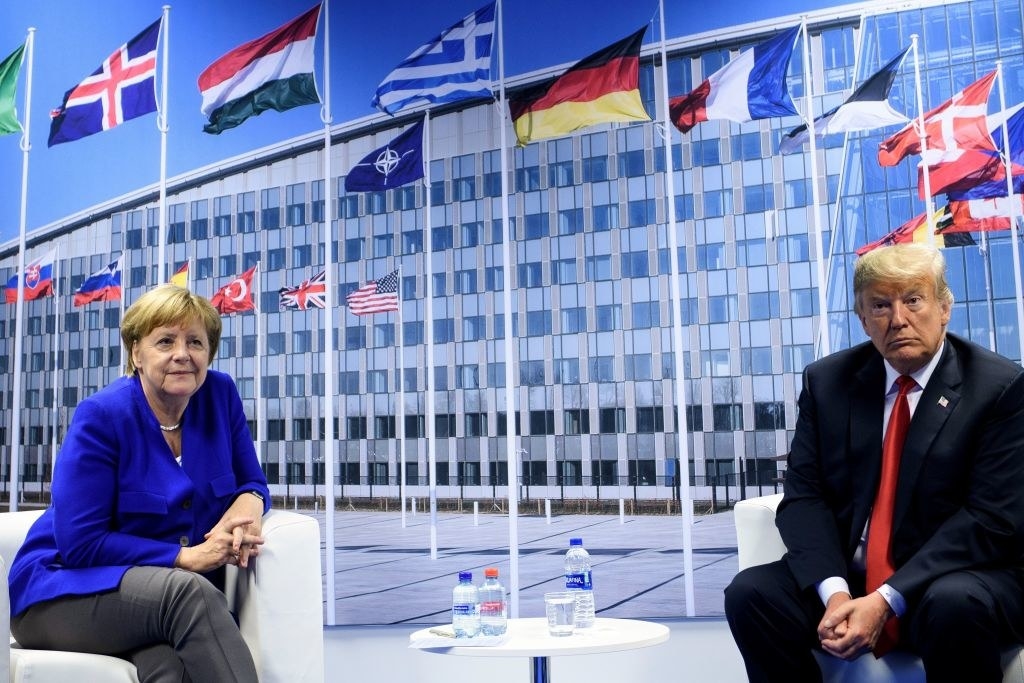 Trump is expected to make the same point later on Wednesday at the NATO summit in Brussels.
German chancellor Angela Merkel, who grew up in East Germany, said in response to Trump's comments: "I've experienced myself a part of Germany controlled by the Soviet Union, and I'm very happy today that we are united in freedom as the Federal Republic of Germany and can thus say that we can determine our own policies and make our own decisions and that's very good."
German defence minister Ursula von der Leyen, speaking after the meeting, told reporters: "We have a lot of issues with Russia without any doubt. On the other hand, you should keep the communication line between countries or alliances and opponents without any question."

Trump's remarks were also criticised by the two senior Democrats in the US Congress. In a joint statement, Nancy Pelosi and Chuck Schumer said Trump's "brazen insults" were "an embarrassment", adding: "His behaviour this morning is another profoundly disturbing signal that the President is more loyal to President Putin than to our NATO allies."
Later, Trump and Merkel discussed trade and military spending in a private meeting on the sidelines of the summit. According to a pool report, Trump said afterwards: "We're having a great meeting. We're discussing military expenditure, we're talking about trade. We have a very, very good relationship with the chancellor, we have a tremendous relationship with Germany.

"And I believe that our trade will increase and lots of other things will increase but we'll see what happens."
Merkel was typically more reserved and said she was "pleased to have this opportunity to be here for this exchange of views."
The White House pool reporter provided audio of the meeting: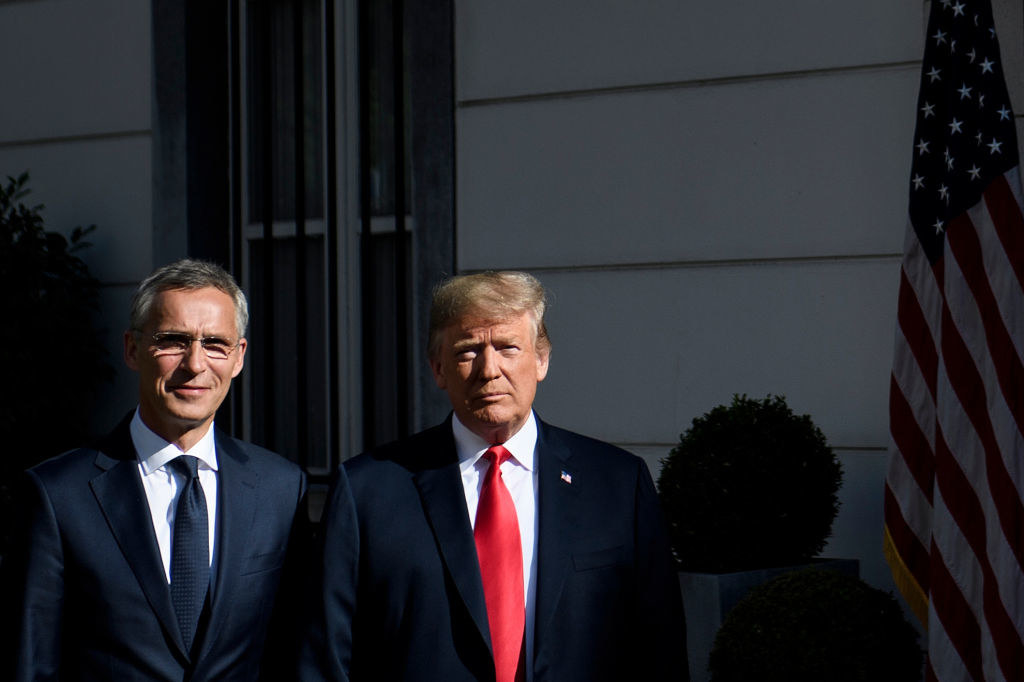 Trump has long criticised European NATO allies for failing to meet a defence spending target of 2% of GDP, as agreed at a 2014 NATO summit in 2014. The US spent 3.57% of its GDP on defence in 2017 – by far the highest of any NATO member – and countries such as the UK, Greece, and Estonia also passed the 2% mark.

But some spent less than 1% and Germany – much to Trump's annoyance – spent 1.2%.
Trump's bald criticism of NATO, plus a protectionist trade policy and his decisions to pull out key multilateral agreements such as the Paris accord on climate change and the Iran nuclear deal, has prompted some to question whether the future of the transatlantic alliance is secure.
Trump told the breakfast meeting: "This has been going on for decades, this has been brought up by other presidents, but other presidents never did anything about it because I don't think they understood or they just didn't want to get involved. But I have to bring it up because I think it's very unfair to our country, it's very unfair to our taxpayer."
"Germany is a rich country... well, they could increase it immediately, tomorrow, and have no problem."
After Stoltenberg responded by saying the ultimate goal of NATO was to "protect and defend" its members, Trump said: "How can you be together when a country is getting its energy from the country you want protection against? … They're just making Russia richer."
Speaking after the meeting, Stoltenberg said the president has used "very direct language". He told reporters: "Despite disagreements, I expect that we will agree on the fundamentals that we are stronger together than apart."