The Man Leading The Inquiry Into The Grenfell Fire Faced Criticism On Its Opening Day
Sir Martin Moore-Bick, who formally opened the inquiry on Thursday, said including a panel of survivors in an advisory role would risk undermining his impartiality.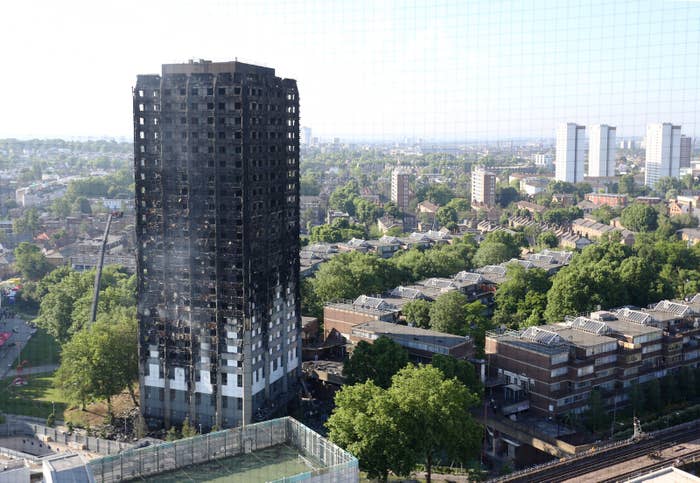 The retired judge heading the inquiry into the Grenfell Tower fire is facing criticism after saying that survivors and people from the surrounding north Kensington community will not be able to form an advisory panel because they could undermine its impartiality.
At the formal opening of the inquiry in central London on Thursday morning, Sir Martin Moore-Bick, who instead plans to work with a team of independent assessors, told an audience of affected families and journalists:
"I know that many of the survivors would like to appoint someone from among their own number or perhaps another local resident as one of my assessors.
"Many of them can of course provide valuable evidence, and I shall ensure them all their evidence is heard and carefully considered, but to appoint as an assessor someone who had had direct involvement in the fire would risk undermining my impartiality in the eyes of others who are also deeply involved in the inquiry.
"I've therefore come to the conclusion that I cannot take the course that they would wish me to adopt."
The inquiry, set up by the prime minister in the wake of the fire that killed more than 80 people and displaced hundreds more, has been beset by controversy and criticism from local residents, who fear the process will be a whitewash or an overly bureaucratic exercise.
Local campaign groups had specifically called for survivors to be included as advisers, and legal experts who have acted in many similar cases told BuzzFeed News in July that was a key way the process could win and maintain local trust. They want those who have been directly affected to work closely alongside Moore-Bick.
A group called BME Lawyers for Grenfell this week applied for a judicial review in order to force the inquiry to expand its terms of reference and appoint a more racially diverse team, so it is "fully equipped to address issues surrounding race, austerity, and issues surrounding the fire and its aftermath".

Thursday's hearing ended with more controversy as Michael Mansfield QC, who represented the family of the murdered teenager Stephen Lawrence and is representing Grenfell survivors, tried and failed to address the meeting.
As Moore-Bick's opening speech came to an end, Mansfield, who was seated in the audience, stood up and asked the judge if he would take a question on behalf of the survivors. However, Moore-Bick left the room without acknowledging him, as audience members shouted.
Mansfield told BuzzFeed News it was "disrespectful to survivors" for the judge to walk away without responding to his question about the absence of survivors in an advisory role. "There are other concerns as well, [including] the venue, provisions for the survivors and all sorts of things. We've put it all in writing so he knows what they are," he said.
"I believe they've taken the decision not to have a panel and he's going to drive the whole thing in the way in which he's doing today," Mansfield added.
"He said to me in a letter that he was considering a panel, but it's never been mentioned by the prime minister, not mentioned by him. All they talk about are assessors – [assessors] are not the panel, they're quite different. The panel makes decisions with him, the assessors provide advice."
Brian Richardson, a barrister who is providing support and advice to the Justice 4 Grenfell group, told BuzzFeed News: "I think the one major concern that people have is the suggestion [Moore-Bick] has made that he will run the inquiry with simply a team of assessors, rather than a panel that includes members of the community.
"That is something that survivors, the bereaved, and local representatives have been very clear in the consultation that they want. The fact that he stood up and walked out without taking any questions or without hearing what Michael Mansfield QC was going to say on behalf of survivors, I think is very disrespectful."

Sid-Ali Atmani, who escaped from the 15th floor of Grenfell Tower on the night of the fire, told BuzzFeed News he was disappointed that campaigners such as the Justice 4 Grenfell group didn't have the chance to question Moore-Bick.
"We all knew what was going to happen. He was here for 43 minutes and 83 seconds. That's his statement, that's it," he said.
"Just a single question would've been better, but what can we say? It's quite hard to say how I'm feeling about the inquiry, it's very hard to say."
He said he hoped the Met police's criminal investigation, which is taking place separately to the inquiry, will uncover the truth about what happened and prosecute anyone responsible.
As protesters gathered outside to demand the inquiry takes a different approach, Moore-Bick used the hearing to lay out his objective: to uncover the truth behind the fire and its causes, not to decide whether one side or another had a better case or to punish anyone.

He added, however, that any of his findings could be used as the basis for criminal or civil suits in future against anyone involved in the inquiry, such as Kensington and Chelsea council and its arm's-length tenant management association.
He also published a list of issues that the inquiry will investigate.
"I'm well aware that the past few months have turned the world of those who live in north Kensington upside down and that former residents of the tower and other local people feel a great sense of anger and betrayal," he said.
"That's entirely natural and understandable. But if the inquiry is to get to the truth of what happened it must seek out all the relevant evidence and examine it calmly and rationally."
Moore-Bick continued: "We are acutely aware that so many people died and that many of those who survived have been severely affected. We are also conscious that many have lost everything.
"The inquiry cannot undo any of that, but it can and will provide answers to how a disaster of this kind could happen in 21st-century London."
The inquiry will take place in two parts: The first will investigate the fire itself, its causes, its spread throughout the building, and whether there are similar defects in high-rise towers elsewhere.
The longer second phase will examine the design of the building and the complex system of regulations that governed the various improvements and refurbishments at Grenfell, particularly the most recent set of works in 2015, which installed the external cladding that has widely been implicated as a key cause of the fire's rapid spread.
The inquiry team will gather evidence for both phases simultaneously but a report into the first phase will be published around Easter 2018.
In a move that left some residents and survivors bewildered, Moore-Bick also spent considerable time stipulating how inquiry submissions should be made and that written evidence must be typed with a font size of 12.
A spokesperson for Downing Street said: "The prime minister has said we are determined there will be justice for the victims of this appalling tragedy and for their families. As the inquiry starts today, we're confident it will get to the truth of what happened and learn the lessons to stop a similar catastrophe from happening in the future."