Products for sale on Etsy featuring Taylor Swift lyrics have been taken offline after the singer's lawyers threatened sellers with legal action.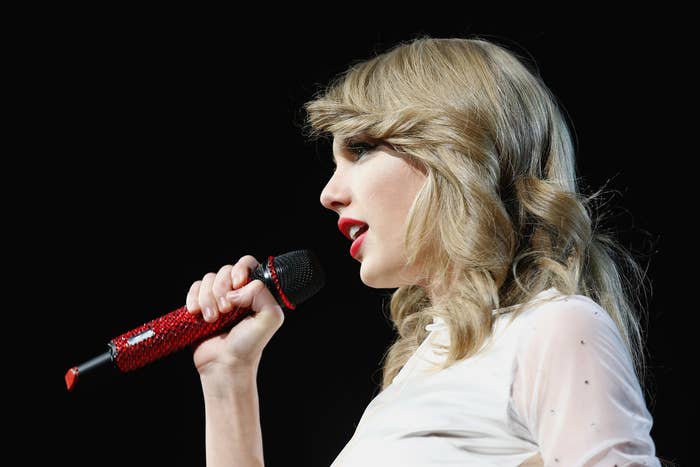 The news comes a week after it emerged that lawyers acting for Swift had applied for various phrases from her chart-topping 1989 album to become registered trademarks, including "this sick beat".
Those applications are still pending, but Swift already owns a long list of trademarks relating to logos and lyrics, meaning that anyone who makes and sells goods featuring those phrases and lyrics could receive a legal challenge.
And BuzzFeed News has learned that this has indeed been happening and that several Etsy stores have received cease and desist letters.
One Etsy store owner, who asked not to be named for fear of further legal action, received a trademark infringement warning last month in relation to a T-shirt featuring a Swift lyric. She told BuzzFeed News:
We originally made the item for fun, we love Taylor and we had friends that love Taylor. We never intended for it to be a profit making item. The cost of the item covered shipping costs, and production costs with very little left over.

When we got the e-mail that the trademark infringement occurred, we were pretty shocked because while our item was popular we didn't feel as if it had become popular enough to cause harm to Taylor Swift's empire. We were shocked. And we were scared. We didn't even make enough money for a lawyer and this had seemed like such a harmless and fun idea.

That same day, we saw that Taylor was attempting to trademark a variety of phrases and trying to get them blocked from being sold. After seeing that, we grew a little angry and felt targeted by her camp. It didn't seem like much of a coincidence anymore.
Many Etsy sellers see themselves simply as fans who have been inspired by Swift's songs, she said:
Fans like to see themselves as part of the artist's story, however small. They want to contribute and be creative and have fun. These free, loving, creative minds are being stopped by the very artists who have inspired them.

Obviously an artist has a right to their art and people should respect that. But at the same time most people, like us, are trying to be respectful and contribute to the excitement that the artist brings into our lives.

When that is taken away, it leaves us with a bitter taste in our mouths. It feels as though we don't matter, that our ideas and thoughts and creations never belonged to us in the first place. No matter how hard we worked. And for other fans who make art, I'm afraid that this is going to be the future.
Etsy said it would not comment directly on trademark claims made against it or its sellers, but instead sent us this statement:
Because of privacy and legal concerns, we can't verify specific information about who contacts us. However, I can share more information about our copyright and intellectual property policy:

When a seller opens a shop and lists an item on Etsy, they are agreeing to our terms of use, including trademark guidelines, and copyright and IP policy. We take intellectual property and copyright concerns very seriously, and we comply with the DMCA and remove items when we have proper notice. When we are notified about allegedly infringing material, we act swiftly and in compliance with our policy, which you can find here.
When pressed on how many Etsy sellers had been affected by trademark claims so far, a company spokesperson said: "I'm sorry, we don't currently release those figures."
However, of the 15 items from Etsy that featured in this BuzzFeed list of Swift-related gifts from November, only three remain online and for sale.
While some Swift-related goods are still for sale on Etsy, including a number of things related to the 1989 album, many are now gone.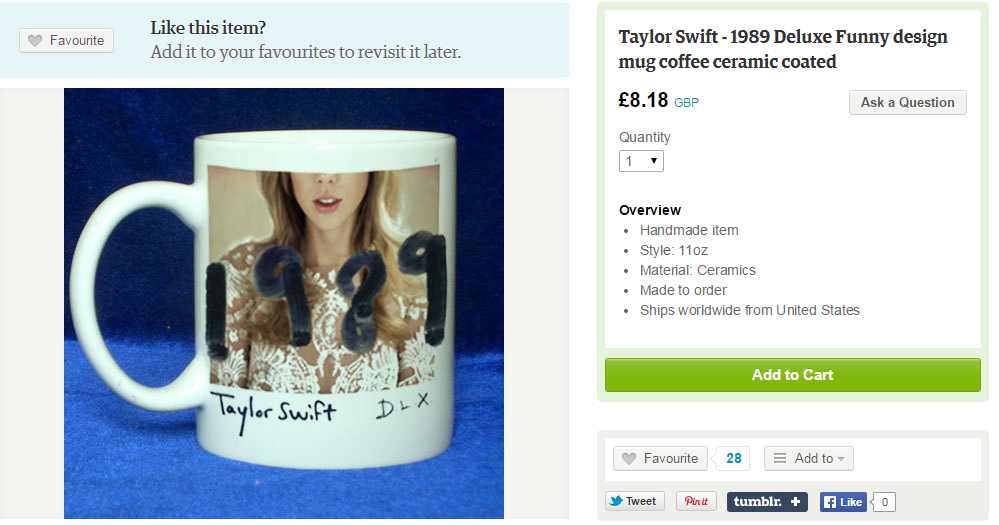 BuzzFeed News has learned that lawyers acting for Swift have been issuing takedown notices to Etsy sellers, via Etsy's legal department, for some time.
One seller, Julie Klukas, from Vancouver, received a warning and had her handmade prints featuring Swift's lyrics taken down in 2013. The warning, seen by BuzzFeed News, read:
Etsy received a notice from Darla Rumsey (brandprotection@tasrightsmgmt.com), Brand Manager, TAS Rights Management, LLC, the exclusive licensee and administrator of the trademark, name and likeness rights of Ms. Taylor Swift, in the United States and throughout the world. According to the notice, certain material on Etsy "is a product never offered by the Trademark owner", "violates a celebrity's right of publicity", and/or "contains unlawful comparison to trademark owner's brand name".

Do not re-activate or re-list these item listings until you resolve the issue. If you have questions, you may want to contact the party who submitted the notice (their contact information is provided above), talk to an attorney, and/or refer to this Help article: http://www.etsy.com/help/article/3896. Repeat notices, like this one, may result in account termination.

Thank you,

Etsy Legal
Illustrating how big Swift's brand is, there's a whole company to protect her image rights, TAS Rights Management (TAS stands for Taylor Allison Swift).
Launched in May 2011, TAS licenses pictures of Swift to publishers and picture agencies and manages her trademarks.
But Darla Rumsey, who sent the warning above to Etsy, is a brand protection manager at MarkMonitor, an intellectual property rights company owned by Thomson Reuters.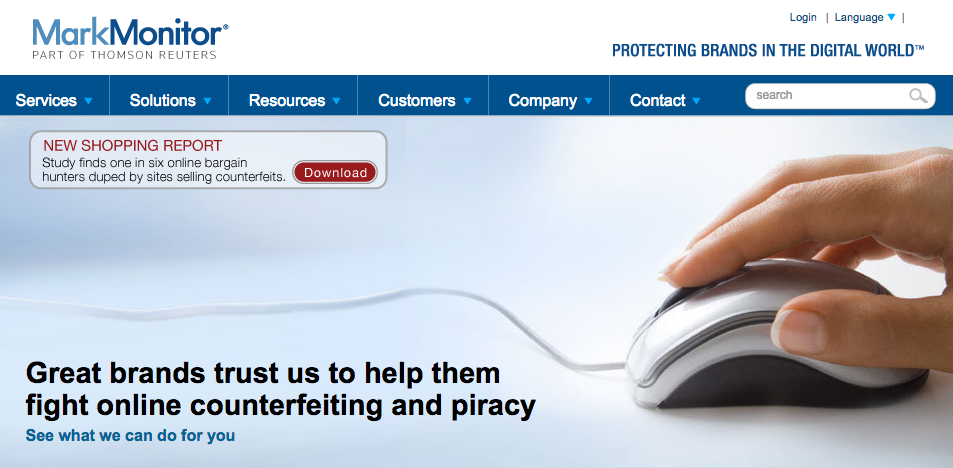 Stars issuing trademark takedowns is becoming quite a trend. Last week TMZ reported that Beyoncé had threatened Etsy for having sellers offering mugs with "FEYONCÉ" written on them.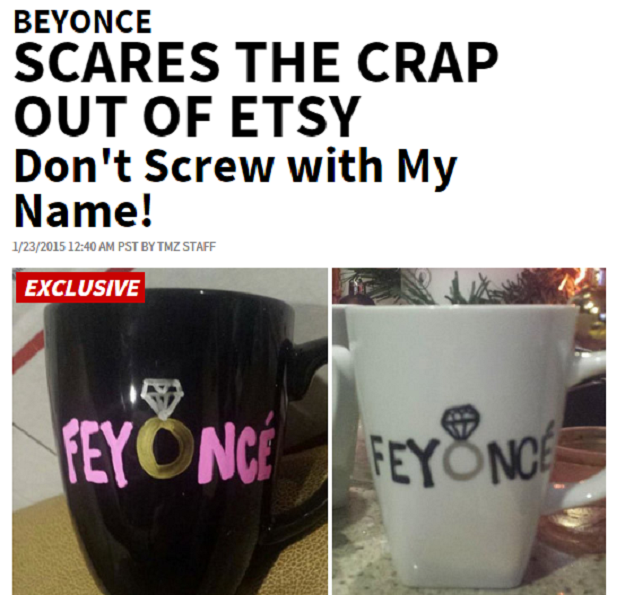 And something similar happened in 2013 when Fox Group sent legal notices over unlicensed versions of a hat worn in the cult sci-fi show Firefly.
We have contacted Swift's representatives and will update when we hear from them.