A man who called a woman an "ugly black bastard" on a flight — in a clip that's been seen more than a million times on social media — has been reported to police by the airline.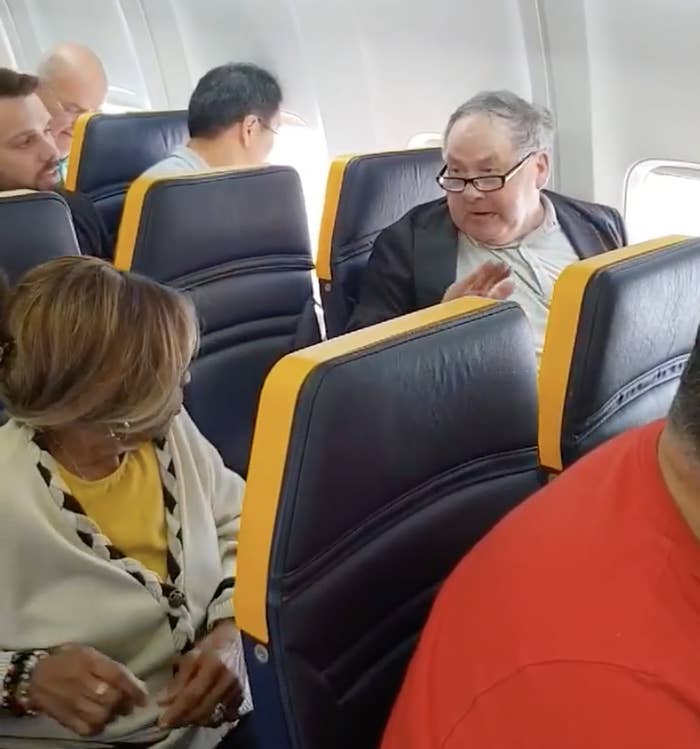 The clip shows the man angrily protesting at sitting next to the woman. A flight attendant asks the woman if she would like to sit elsewhere, which she initially refuses before she eventually asks to sit next to her daughter elsewhere on the plane.

At one point the man is heard to say: "Don't talk to me in a foreign language, you stupid, ugly cow." He then threatens her: "If you don't go to another seat I'll put you in another seat."
After the woman agrees to move, the man then calms down. But other passengers can be heard asking why the man has not been removed from the flight.
Ryanair's head of communications, Robin Kiely, confirmed to BuzzFeed News on Sunday morning that the man has been reported to Essex police.
"We have reported this to the police in Essex and as this is now a police matter, we cannot comment further," he said.
Essex police said in an emailed statement: "This incident, which we were made aware of this morning, is believed to have taken place on a plane at Barcelona Airport.
"Essex Police takes prejudice-based crime seriously and we want all incidents to be reported. We are working closely with Ryanair and the Spanish authorities on the investigation.
"We would encourage anyone with information to contact us on 101. You can also contact Crimestoppers 100% anonymously on 0800 555 111."
The man who captured the video, David Lawrence, told HuffPost that the altercation took place before a flight took off from Barcelona to Stansted, near London, on Thursday.
Labour MP and shadow transport minister Karl Turner was among those who criticised the airline for not removing the man.
The woman, aged 77, is of the Windrush generation of post-war immigrants to the UK. She had been on holiday to help cope with the death of her husband, her daughter said.
"In a few weeks, it'll be one year since my dad died and I took my mum away for a few days' break. My parents were married for over 50 years," she told HuffPost, which agreed to refer to the woman only as Mrs Gayle.
"She's been feeling really down and depressed, so I thought the trip would raise her spirits.
"The underlying reason behind the man's abusive behaviour comes down to the fact that my mum is a black woman and he didn't want her sitting next to him — he says it in the video."
She said her mum felt "upset and very stressed about this situation".