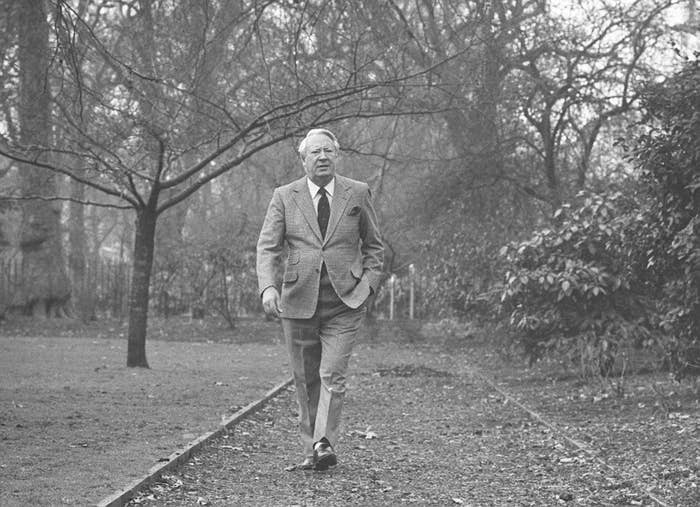 The police force that conducted a £1.3 million investigation into claims that former prime minister Sir Edward Heath sexually abused children said on Thursday that it would have grounds to interview him as a suspect in relation to seven cases if he were still alive.

The announcement by Wiltshire police was immediately criticised by Heath's family and supporters, who accused the force of "covering their backs at the expense of a dead man".
The force released a summary reporting into its Operation Conifer investigation, which was launched in 2015, in response to claims from multiple men who were children at the time of the alleged abuse. The report provides an overview of the investigation so far but doesn't draw any conclusions on whether the force believes he was guilty, to the anger of friends and former colleagues.
Of the seven cases about which Heath would have been interviewed, police said they had information which "undermines the victim's account".
Officers received 42 disclosures from 40 separate people covering 14 police force areas. The alleged incidents span from 1956 to 1992, but don't relate to the four years Heath spent as prime minister from 1970 to 1974.

Operation Conifer was launched after the Independent Police Complaints Commission investigated claims that Wiltshire police had deliberately caused a criminal prosecution against a suspected brothel keeper to collapse in 1994.
In its report the IPPC found no evidence to support the allegation that the case was dropped because the suspect had threatened to make allegations against Heath.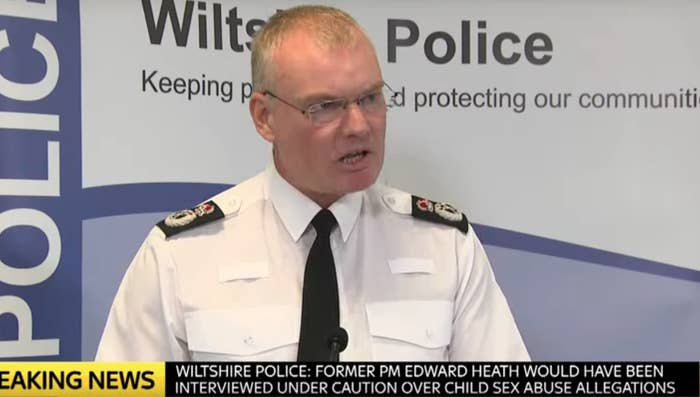 Wiltshire Chief Constable Mike Veale said in a press conference on Thursday: "We have gone where the evidence has taken us ,whether it supported or negated the allegations.

"Most importantly the report does not draw any conclusions as to the likely guilt or innocence of Sir Edward Heath, or make any comment on any action the Crown Prosecution Service would have taken if he were alive today."
Referring to previous media coverage, in which he was said to have believed the claims against Heath, he said it was not the role of the police to decide guilt, but to investigate evidence.
"The investigation did not know what it did not know," he said. "It didn't know the circumstances, veracity, the risks, the complications, implications or other vulnerability factors — until a proportionate, professional, and objective investigation was conducted it would be impossible to identify and safeguard any children and other vulnerable adults who may be at risk today.
"The safeguarding and protection of vulnerable people will continue to be our primary reasons for conducting this investigation."
The allegations made against Health in Wiltshire's report include one allegation of rape and nine counts of indecent assault, all against boys under 16.
Three people were arrested as part of the investigation in April this year – two were released without charge and one remains under investigation.

In a joint statement, Lord Hunt, chair of the Edward Heath Charitable Foundation, and Lord Armstrong, former private secretary to Heath while he was prime minister, said: "The Wiltshire Police report is profoundly unsatisfactory because it neither justifies nor dispels the cloud of suspicion.
"It contains a summary of the investigation, but draws no conclusion as to Sir Edward's guilt although during the investigation the Chief Constable was heard to express, as he certainly should not have done, his personal view that Sir Edward Heath was probably guilty.
"As Sir Edward is dead, justice requires that there should be a quasi-judicial process as a substitute for the judicial process. This could be in the form of an independent review by a retired judge, with unrestricted access to all the evidence collected by the Wiltshire Police. In the meantime, a fundamental, time-honoured principle should be respected, namely that a man is innocent until he is proven guilty."
Ken MacDonald, the former director of public prosecutions, criticised the force for holding a press conference outside Heath's home and appealing for witnesses to come forward – which he said was likely to encourage "fantasists" to come forward.
He said in a statement: "Why should fantasists have come forward in this case? Well, everyone knows that during his lifetime, and as a single man, Sir Edward was the subject of sexual innuendo and gossip.
"This was, at the time, puerile and in poor taste, hardly reflecting well on those who encouraged it. But it has also made him an obvious target for lurid and trashy comment in death – and you can find this adolescence readily on the Internet.
"It is no surprise at all that Wiltshire police should have concluded that they would have interviewed Sir Edward had he been alive. This gives entirely bogus credibility to their investigation without meaning anything in forensic terms."
A number of other former colleagues and family friends released statements disputing the claims against Heath.
"The bar for interview is low, in most investigations as low as the police want it to be – and in the case of a dead man, virtually nonexistent," MacDonald said. "They are covering their backs at the expense of a dead man. Shame on them."
Heath died at his home in Salisbury in July 2005, aged 89, which means the claims against him cannot be heard at trial and prosecutors cannot say whether or not they would have brought charges. The claims could instead be heard at an inquiry headed by a retired judge, a course his charitable trust has called for.
In an open letter in December 2016 – an unusual step for a police chief – Chief Constable Veale defended the investigation and denied it was a "fishing trip or a witch-hunt".
The operation is separate to the botched Operation Midland investigation by the Metropolitan Police Service, which was sparked by claims that public figures including leading politicians committed child abuse and murder in the 1970s and 1980s.
Operation Midland was based on the testimony of one source, known as "Nick", who was later discredited and the operation dropped, before an independent report by retired judge Sir Richard Henriques found 43 separate police failings. Wiltshire has always been keen to stress its officers didn't speak to "Nick".
Several forces did receive complaints about Heath, however, but Wiltshire was chosen to manage the investigation because Heath lived in the area.
Wiltshire police said in a statement: "Wiltshire Police carried out an impartial and thorough investigation in line with national guidance from the College of Policing. The guidance clearly states that there is a legal duty for the police, under article 3 of the European Convention on Human Rights, for police forces to proportionately investigate criminal allegations made against deceased persons."
The ongoing Independent Child Sex Abuse Inquiry will now investigate whether there was knowledge of any alleged abuse related to Heath in Westminster.
A spokesperson for the inquiry said: "The Independent Inquiry into Child Sexual Abuse made a formal request to Wiltshire Police to provide it with a copy of its report into Operation Conifer so that it could consider it as part of its Westminster investigation.
"In regard to the allegations concerning Sir Edward Heath, the Inquiry will investigate whether there was any knowledge within Westminster institutions, and if so, what actions were taken."