The minister who approved a £3 million grant to Kids Company days before it went bust says he "never believed" its claim to have helped 36,000 children.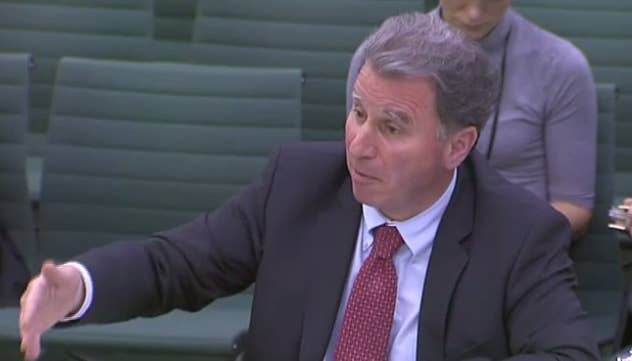 Cabinet Office minister Oliver Letwin overruled civil service advice to approve the grant despite having seen a report that detailed extraordinary misuse of funds.
But on Thursday Letwin stood firmly behind the decision to continue funding the charity – it received more than £7 million from the Cabinet Office in its final four months – and praised its unorthodox methods, which have been heavily criticised since its closure in August.
Giving evidence to the Commons public administration and constitutional affairs committee (PACAC), Letwin said he had no regrets over his handling of the charity and insisted that prime minister David Cameron, one of Kids Company's high-profile supporters, had not exerted pressure over funding decisions.
During the three-hour hearing, Letwin faced a salvo of questions from MPs over what steps the government took to verify its methods and claims. Fewer than 2,000 client files were referred to local authorities after the charity's closure, despite claims it had 36,000 clients.
Bernard Jenkin, the committee's Conservative chair, asked Letwin: "What would you think of a company that put up billboards advertising how brilliant it was with completely inaccurate figures of its activity?"
Letwin replied: "It is not unusual in the voluntary sector for charities to make the most of whatever numbers they get.
"I'm saying she [Batmanghelidjh] conflated a whole series of different figures in order to get the biggest possible figure and to give the impression that went beyond what it looks like when you look at the detail.
"And I assumed that they in some sense or other had 36,000 clients. ... But were there really 36,000 people that were individually being looked after inside Kids Company on a day-by-day basis? I never believed that and the accounts never said that."
The PACAC is investigating Whitehall's relationship to the stricken charity, which collapsed in August after it emerged in a joint BuzzFeed News and BBC Newsnight investigation that that police were investigating previously unreported allegations of sexual abuse at two of its centres.
Letwin told the committee it had become obvious since the election in May that the charity was "grossly financially mismanaged".
But he repeatedly defended the charity's work and said it benefited from a less "bureaucratic" mindset compared to other charities.
"There are people, in particular kids, who desperately need the kind of human-to-human contact you can't get from that kind of organised bureaucratic process," he said.
Paul Flynn, the Labour MP for Newport West, described Batmanghelidjh as a "confidence trickster" and asked the minister why he chose her as his "hero the year" in 2002.
Letwin described the charity's sudden collapse as "regrettable" and insisted that it could have continued as a going concern if the restructuring changes the Cabinet office imposed had been allowed time to take effect.
The £3 million payment, which came just months after another Cabinet Office grant of £4.26 million, was conditional on Batmanghelidjh standing down as CEO and the appointment of a new financial controller.
"I did take seriously the proposition that we could actually get together with a new management and continue the good work without the financial problems," he said.
"The idea was to put them in a position where they would never ask for another grant."
Letwin spoke of how impressed he was with Kids Company centres after visiting them between 2001 and 2003. He was "immensely moved by what they were doing for those kids who had been deprived of almost every kind of emotional support that we would expect as children and indeed as parents", he said.
Letwin also denied that the Cabinet Office grants were either the result of pressure from the prime minister or made out of fear of negative headlines.
Earlier in the hearing, the committee was told by former children and families minister Tim Loughton that he had felt pressured into approving grants from the Department of Education due to the charity's high-profile backers and links to government.
"Basically if we'd said no we're not going to give any money to Kids Company at all that wasn't going to be an option," Loughton said. "There was a clear feeling that if we didn't renews that grant, that would not be acceptable. We had to go along with giving them some money."
"On every submission I got there was a sort of disclaimer which effectively said that Camila Batmanghelidjh had very strong links to the Evening Standard and the Metro and other people high up in the media who would be in a position to make it uncomfortable for the government.
"It was exceptional in that it was such a high-profile charity and had high-profile backers. ... When you have her [Batmanghelidjh] round a table for a Big Society summit, when you have her at the cabinet table, when you have No. 10 policy advisers having meetings with her that you weren't aware of ... clearly this is a charity that you have to look at more favourably."
Letwin admitted that he had a conversation "every day of the week" with David Cameron and they had discussed Kids Company, but stressed when it came to funding: "It was my decision."
He also denied that the Cabinet Office and several other government departments who funded the charity had been "emotionally blackmailed" by Batmanghelidjh, who would often claim the charity would be on the brink of closure should it not receive its next funding round.
Letwin claimed that this wasn't the case and said he refused the charity any extra funding on 22 May, despite its chair, Alan Yentob, warning that the charity was about to go under.
Asked whether he felt any regrets about his involvement in the affair, Letwin was adamant he had none.