Judge Rules Calais's "Jungle" Refugee Camp Can Be Partially Demolished
French government plans to evict at least 1,000 migrants and refugees from the southern part of the camp were approved by a judge on Thursday.
At least 1,000 people face being evicted from Calais's refugee camp, known as "The Jungle", after a judge backed French government plans to demolish its southern section.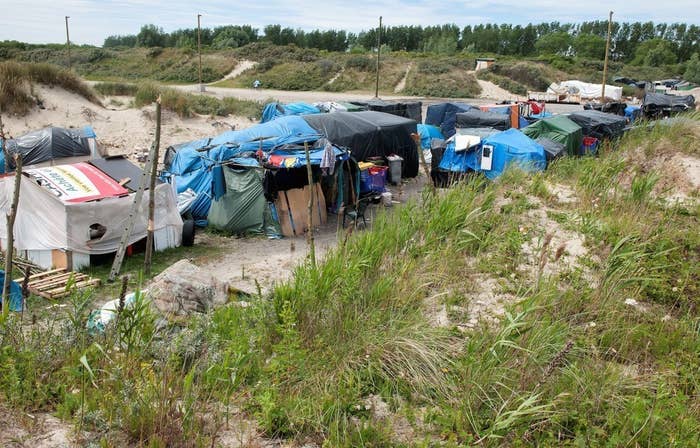 A judge sitting at the Lille administrative court said on Thursday that the government could go ahead with plans and evict people living there who had been given until Tuesday to leave.
According to The Guardian, the local authority in Calais said: "The order is applicable, except for common social areas," meaning that public areas such as makeshift mosques, churches, and schools would not be torn down.
According to one estimate there are 3,000 people living in the camp, some of whom have tried to illegally gain access to the UK.
Two refugee charities, Help Refugees and L'Auberge des Migrants, have argued that there are 3,455 people living in the section due to be demolished – more than three times the figure cited by the French government.
Earlier this month, plans were announced by Fabienne Buccio, the top official in the Pas-De-Calais region, to transfer the refugees to heated shipping containers in other parts of the camp and at other centres in France.
Save the Children condemned the government's action and said the camp's destruction had made an "appalling" situation even worse for children.
Ginny Howells, the charity's emergency manager in Calais, said: "The decision to go ahead with bulldozing the southern part of the Calais refugee camp will make what was already an appalling situation for children even worse.
"Homes and shelters will be destroyed without there being enough spaces in the new accommodation for people to move into.
"Even when there are beds, miscommunication and mistrust between the authorities and the vulnerable children here mean many will take their chances in other informal camps where conditions are even more unbearable.
Save the Children called for enough safe spaces for children to be provided immediately, before the demolition.