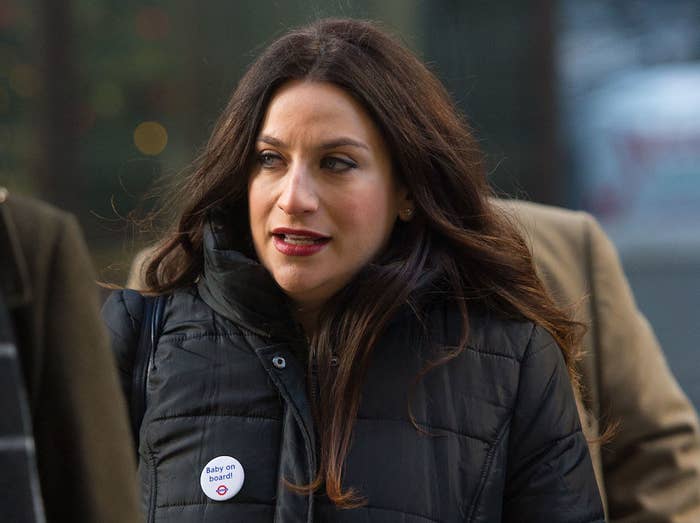 A Jewish Labour MP was subjected to 2,500 antisemitic and misogynist messages a day after a far-right activist encouraged his sympathisers across the world to barrage her with abuse, a court has heard.
Luciana Berger, the Labour MP for Liverpool Wavertree, was giving evidence at the Old Bailey on the first day of the trial of Joshua Bonehill-Paine, who is accused of racially aggravated harassment by writing a series of articles about her between 2014 and 2015.
Bonehill-Paine, 23, from Yeovil, Somerset, was described in court as "a committed proponent of anti-Semitic views".

Berger told the court she was sent abusive tweets, Facebook messages, handwritten letters, and even a pornographic DVD following Bonehill-Paine's appearance in a series of YouTube videos and the publication of a series of blog posts he wrote.
Among the threats were specific references to where she lives, the court heard.
One post written by Bonehill-Paine, titled "Racist Anti-White Jewish Labour MP Luciana Berger Exposed", featured Berger's face superimposed onto the body of a rat, and also on to the body of a woman being spanked by former Labour leader Ed Miliband.
The article said Berger was a "dominatrix" and a "money-grabber", and that she was connected to the death of Jesus.
Another, which Berger told jurors caused her the most distress, was titled "The Legacy Of Operation Filthy Jew Bitch". The post celebrated the high number of abusive messages Berger had received, the court heard.
"These articles came at the same time as thousands of messages I was receiving and it inspired others to also send them," she said.
"There was a campaign to inspire people around the world to target me in every way possible. The police said that at its peak I was receiving 2,500 messages a day during that period.
"What concerned me was the military nature of this. At the time I was concerned for my personal safety. The fact it was talking about going into battle was pretty worrying."
One of Bonehill-Paine's posts was titled "On the eve of battle", an apparent reference to a court appearance that was then imminent.
Berger said she did consider whether Bonehill-Paine's posts were him exercising his freedom of speech. "But no individual should have to go through this," she said. "Me and my family are fortunate in that we are resilient. But my concern is that for many people in the country to receive just one of these messages, it could have a lasting effect on them."
The court was shown a YouTube video from October 2014 in which Bonehill-Paine, wearing a suit and standing in front of a union jack, told his viewers to back a campaign supporting Garron Helm, a man who was jailed after admitting sending an anti-Semitic tweet to Berger in 2014.
Helm had tweeted an image of Berger with a yellow star placed on her head with the hashtag #HitlerWasRight.
Supporters in the UK and the US then began tweeting using the hashtag #FilthyJewBitch, the court heard.
Philip Stott, prosecuting, told the jury in his opening address: "It is true that in this country we have a right to freedom of expression ... It is not however an absolute right. It is limited to protect the rights of others, including the right not to be harassed with racist abuse, no matter what position one holds in life."
James Palfrey, defending, asked Berger during cross-examination whether it was possible that the manipulated images could be seen as satire or an attempt to ridicule her.
Palfrey also asked why Berger had not sought other means to remove the material, rather than just contacting the police. She replied that because the content was hosted on WordPress, which is based in America, it was very hard for British-based complainants to have posts removed.
Bonehill-Paine denies the charge and the trial continues.