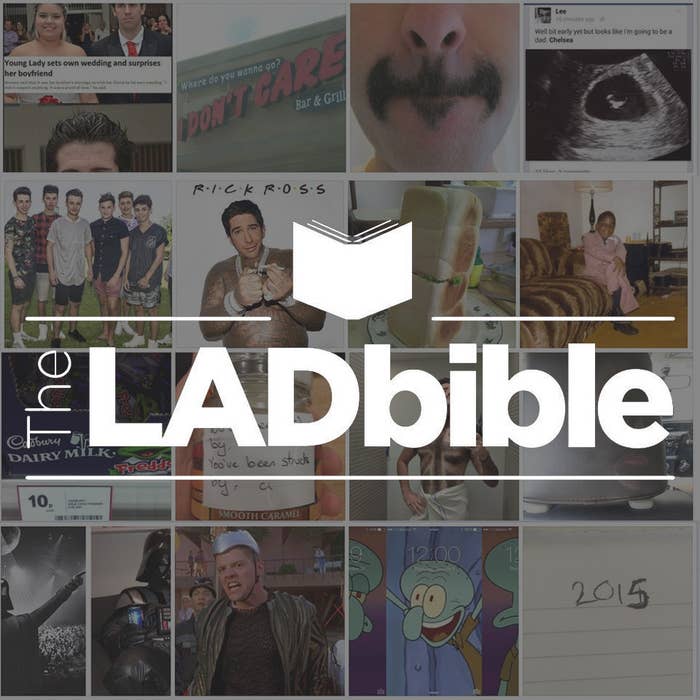 2014 was the year The Lad Bible emerged as a real force in British web publishing.
Launched in its current incarnation in 2012, it graduated from a pack of British "lad" websites to become one of the most socially driven, Facebook-centric publishers around. It's part of a new generation of media companies that focus their efforts on social sharing via Facebook, Twitter, and other, newer platforms such as Vine and Snapchat.
Despite this scale, the company operates under the radar of mainstream media, and guards its inner workings closely. Having spoken to former employees and contributors, BuzzFeed News has learned that:
– The Lad Bible's parent company, 65twenty, is trying to make the transition from scrappy startup to serious media business – but has some way to go, according to insiders.
– On its website, The Lad Bible routinely publishes images without credits or attribution.
– The company hired an experienced advertising sales director with a background in newspapers in January 2014 but he left in November after a dispute over commission payments.
– The laddish internal office culture led to one new starter having pornography uploaded onto their work laptop as a prank.
– The Lad Bible is now trying to shake off its reputation as a boobs-and-banter site, full of sexist jokes and soft porn, which has seen it vilified as part of a "lad culture" pervading university campuses and high streets.
– It is financially successful, making more than £1 million a year from advertising, and its 24-year-old CEO harbours a dream of it becoming "the next IPC Media" (a reference to the UK's biggest magazine company, now called Time Inc. UK).
In total, The Lad Bible and its related brands, including The Sport Bible and an Australian offshoot, have 16.1 million Facebook likes.
Its main Facebook page has 7.7 million likes and is gaining more at the rate of about 250,000 a week. In terms of traffic to theladbible.com, the publisher claims 4 million daily visitors, citing comScore figures, and 20 million unique visitors a month, according to one company director.
The Lad Bible has refined quickfire viral publishing into an art form. It spots videos before they become hits, and with lightning speed uploads them to its Facebook page. The clips are usually taken from YouTube, Twitter, Vine, Reddit, and other Facebook accounts. Sometimes there is a credit and link to the source account or the person who sent it in, and sometimes there isn't.
In an interview, a 65twenty spokeswoman acknowledged that the company was reconsidering its stance on photo copyright. "We are definitely looking at how we attribute," she said.
The Lad Bible's growth is closely linked to the explosive growth of video on Facebook.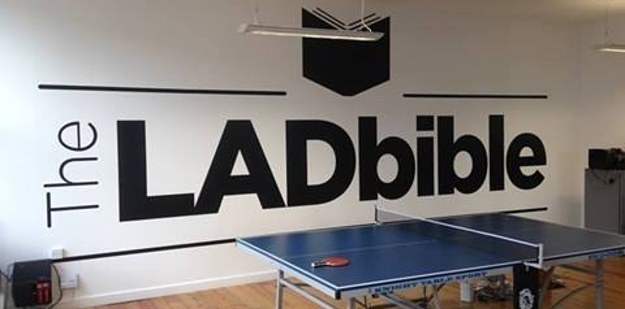 The Lad Bible is popular. But not everyone is a fan.
The publisher, and others like it, has been accused of fueling a sexist culture among young men, particularly among university students and sports clubs. When it first launched in 2011 – its founder was Alex Partridge, who later sold it and went on to found the similar site Unilad – The Lad Bible was just a crude list of numbered commandments, modelled on the Ten Commandments. They included "Thou shalt treat women with respect, unless their slags" (sic).
As recently as October and November last year, the site was encouraging women to send in pictures of themselves as part of two running features, #CleavageThursday and #BumdayMonday. This message, from 2012, is typical of the kind of language The Lad Bible once frequently employed: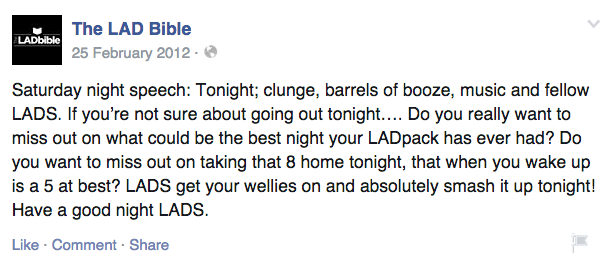 The National Union of Students doesn't laugh this kind of thing off as banter.
In a poll of 2,000 students last year, it found that "75% of students are aware of online communities such as Unilad and Lad Bible, with almost two-thirds of women students (63%) agreeing that these contribute to an unfair representation of women".
In response, the 65twenty spokeswoman told us that The Lad Bible's content was now "very different to what it was at the time of the survey" and was increasingly "funny, immediate, [and] clever". She also pointed out that one quarter of the site's Facebook fans are female.
Vicky Chandler, a final-year student at Cardiff University who successfully campaigned against laddish Vine comedian Dapper Laughs' appearance there last year, told BuzzFeed News:
Looking at [The Lad Bible] as an overall media outlet, you cannot say that its sole purpose is to demoralise and attack women, but having said that, [websites with the name] "LAD" automatically alienate not just one whole gender, but anybody who doesn't associate themselves with the term. ...

Although this may not be the website's intentions, you merely have to scroll through the comments on their articles and social media pages to see the disgusting attitudes some of its readers have towards not just women, but the LGBT+ community and other minority groups within society. ...

I doubt highly that The Lad Bible's creators are sexist, homophobic individuals, however, stats have proven that the website's "jokes" are manifesting themselves across university campuses around the UK.
So who is behind this phenomenon? 65twenty is a social media agency run by 24-year-old CEO Alexander Solomou, known as Solly.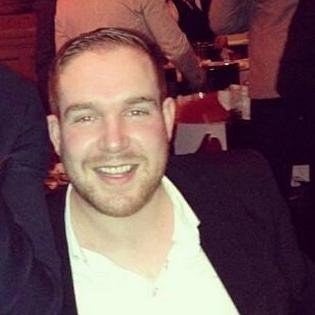 Solomou got the idea for a digital media business while still a business management student at Leeds University, where he studied from 2009 to 2013. It is thought he received a small start-up grant from the university.
His first venture was called Rate Our Student Life, which clocked up 10,000 likes on its Facebook page. Ostensibly a vehicle for students to like and share opinions about local businesses, it was in reality a vehicle for the kind of funny viral pictures and videos in which The Lad Bible now specialises.
Solomou didn't found The Lad Bible, but there's no doubt that he turned it into a fully fledged media business. 65twenty changed its name from the grand-sounding The Global Social Media Group in June 2014, and now has three subsidiaries: The Lad Bible Ltd, The Sport Bible Ltd, and The Lass Bible Ltd.
The Lad Bible Ltd currently lists slagbible.com as its main web address at Companies House (the company owns the URL but there is no live site at that address) and is almost a month overdue on filing its returns. 65twenty's spokeswoman said there was no chance "in a million years" of the business launching a website at slagbible.com.
In January last year, the company hired an experienced advertising executive, Kieran Kelly, but he left in November after a dispute over payment agreements.
Kelly, who had previously worked at Express Newspapers and City AM, managed a small commercial team in London and was tasked with introducing the Lad Bible management to influential London advertising agencies.
He arranged several meetings with high-profile industry figures, but clashed with Solomou over sales commission and expenses payments and left the company abruptly. Kelly has now been paid in full. The Lad Bible declined to comment on the matter.
BuzzFeed News also spoke to a young journalist who claimed not to have been paid at all for their work on the site. Speaking anonymously because they're trying to break into the industry, the journalist told us:
I was never paid. I was told that I'd write for them for free as a induction/probation, which was fine by me and still gave me that valuable experience with a well-known company.

However, I chased payment after this probation many times, with multiple excuses. The last excuse was as soon as their new website was built that I would get paid. ... No money arrived. From there, I quit. I don't mind freelancing; however, for me personally I was taken advantage of and they used me for free content.
The company spokeswoman said: "We don't have any current or ongoing issues with current or former members of staff."
The company is making decent amounts of money from advertising as well as drawing in a huge audience – it makes more than £100,000 in revenue in a typical month.
According to a media pack from 2014, written by the site for potential advertising clients, 85.6% of The Lad Bible's audience are male, making it a unique proposition for advertisers compared to other leading online publishers, which tend to have a female-heavy audience.
In addition, the company is insuring itself against the volatility of online advertising revenue with its own e-commerce site, Top Lad. Liam Patterson, CEO of e-commerce company Print Collective, runs toplad.com as a "storefront" and has said this about how Top Lad uses targeting to sell stuff to The Lad Bible's Facebook followers:
We also use social data through Otus Labs, which is a technology tool that can take people's Facebook likes, their information, gender, and use it to tailor down and make recommendations based on who you are.
There is nothing new about laddish lifestyle publishing for young men – it's just moved from the newsstand to smartphones.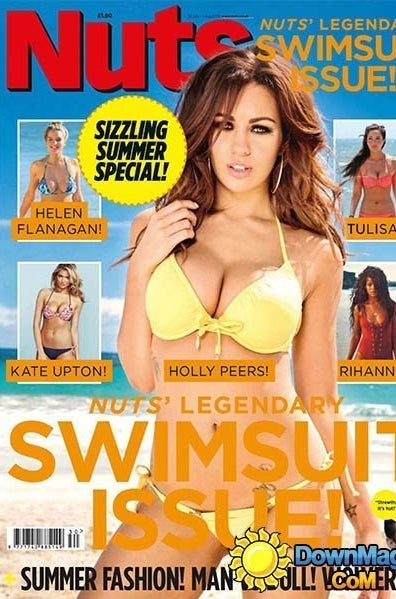 "Lad" media can be traced back to the launch and subsequent success of Loaded in 1994, and the rise of Nuts and Zoo in the 2000s. In a successful and fast-growing magazine sector as web publishing was still in relative infancy, Nuts and Zoo sold half a million copies a week between them. Nuts closed in March 2014 after its sales dropped from 300,000 to 50,000 in a decade.
In a way, nothing has changed. The Lad Bible has the same anarchic mix of entertainment, humour, sexy girls, and would-you-believe-it news as those magazines, just updated for the age of Facebook, Pornhub, and viral videos.
However, The Lad Bible is now cleaning up its act. The girls section of the site has gone. Cleavage Thursday is no more. Anyone searching for cleavage pictures – or indeed, Bumday Monday – will now be told "page not found", or be routed to the homepage.
In many ways, 2012, when The Lad Bible relaunched as a content-driven website, marked the high tide of modern laddism.
The Inbetweeners Movie had recently been riding high at the box office, and the growth of "banter" as a way to explain away misguided sexist male humour online, on university campuses, and in pubs across the country meant the time was right for a publisher intent on feeding fun, shareable content to young men's smartphones.
Solomou fully embraced this, telling Digiday in January 2014 that the existing lad-mag publishers have been overtaken by wilder, less corporate upstarts:
As time has gone on, the big brands and publishers have become more out of touch with the male audience. They've gone corporate and lost their rawness.

You don't sell skinny jeans in Disney Land. You have to be naive to say brands aren't going to connect themselves with this type of content if that's where their audience is.
These days, however, The Lad Bible's homepage looks like any other mainstream entertainment site.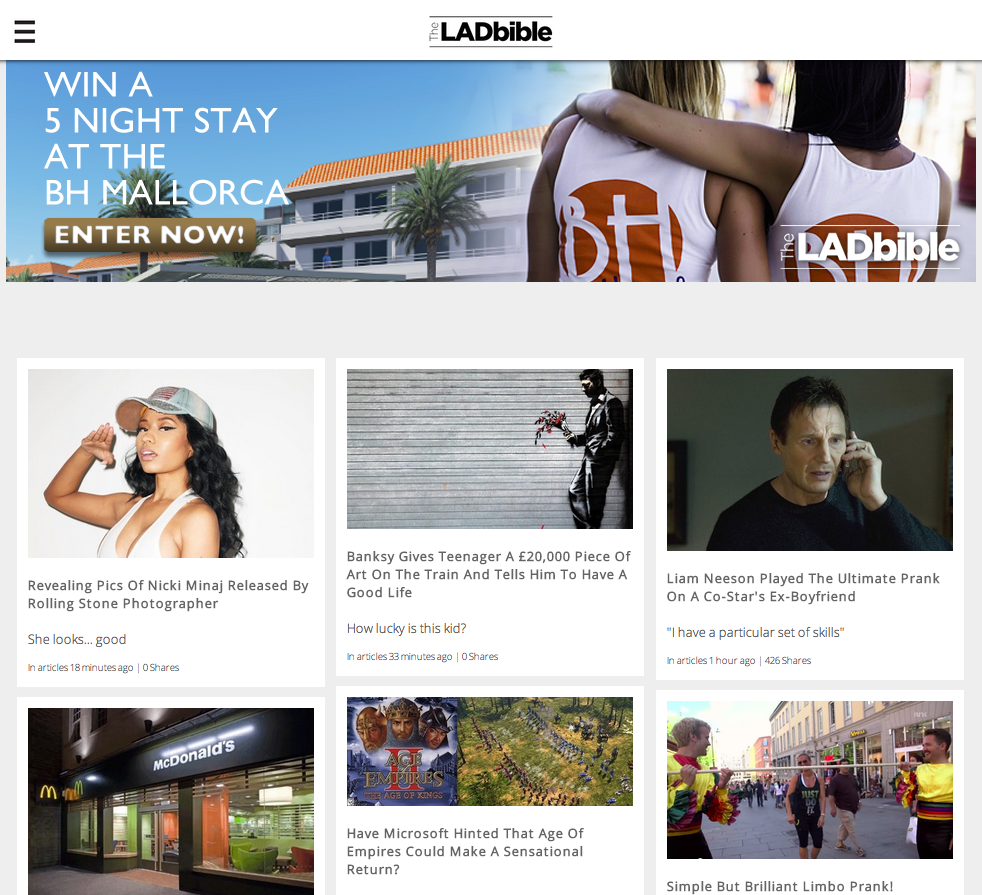 Alex Partridge, founder of both The Lad Bible and Unilad, told BuzzFeed News that the online "lad" media craze is coming to a close:
I think the word "lad" has lost a lot of popularity. It used to be "cool". Everyone wanted to be a "lad". This isn't the case anymore, the audience is maturing.

Both Unilad and The Lad Bible have generally steered away from what people associate with lad culture. Neither of them have lost their backbone or key brand values, but they are very much so a general comedy news outlet now, for the youth.
A good example of this came late last year, when The Lad Bible sent out one of its first press releases to promote a Christmas charity campaign.
In an article headlined "We've Found The Guy Helping Homeless People In An Amazing Way This Christmas", the site said it had tracked down one Liam Bond, who had given away £50 of food to a homeless person instead of spending it on booze – which had echoes of another uplifting story from around the same time.
The story was mentioned in The Sun and widely shared on Twitter. The generosity of The Lad Bible and its fans appeared genuine, but far from being an everyday "lad" whom the site had tracked down, it seems Liam Bond is in fact a team leader at The Lad Bible, according to his LinkedIn profile, and has worked at the company since October 2014.
What does the future hold for The Lad Bible and 65twenty?
Thanks to its well-oiled content-discovery machine, its vertiginous growth on social media channels will continue this year and continue to turn heads.
And advertisers targeting males in the the 16–30 age bracket will continue to want a slice of the community it's created. But in order to make the transition from scrappy start-up to serious media business – a process that might involve a sale to a larger, more venerable publisher – the company might have to start playing by some of the more accepted rules.
This is already starting to happen: It's about to hire someone to look after its public relations, and it now has a small office in London in addition to its Manchester HQ (London staff were previously working from home). Having previously run images without credit or attribution, it is now in talks with photo agencies such as Getty.
If the success of The Lad Bible shows anything, it's that for a whole generation of people, social media and the consumption of text, pictures, and video are the same thing – for the twentysomething reader of 2015, content is consumed not alone but with friends. The Lad Bible has identified a profound shift in media consumption habits. In doing so, it has stolen a march on the media establishment it so clearly wants to join.