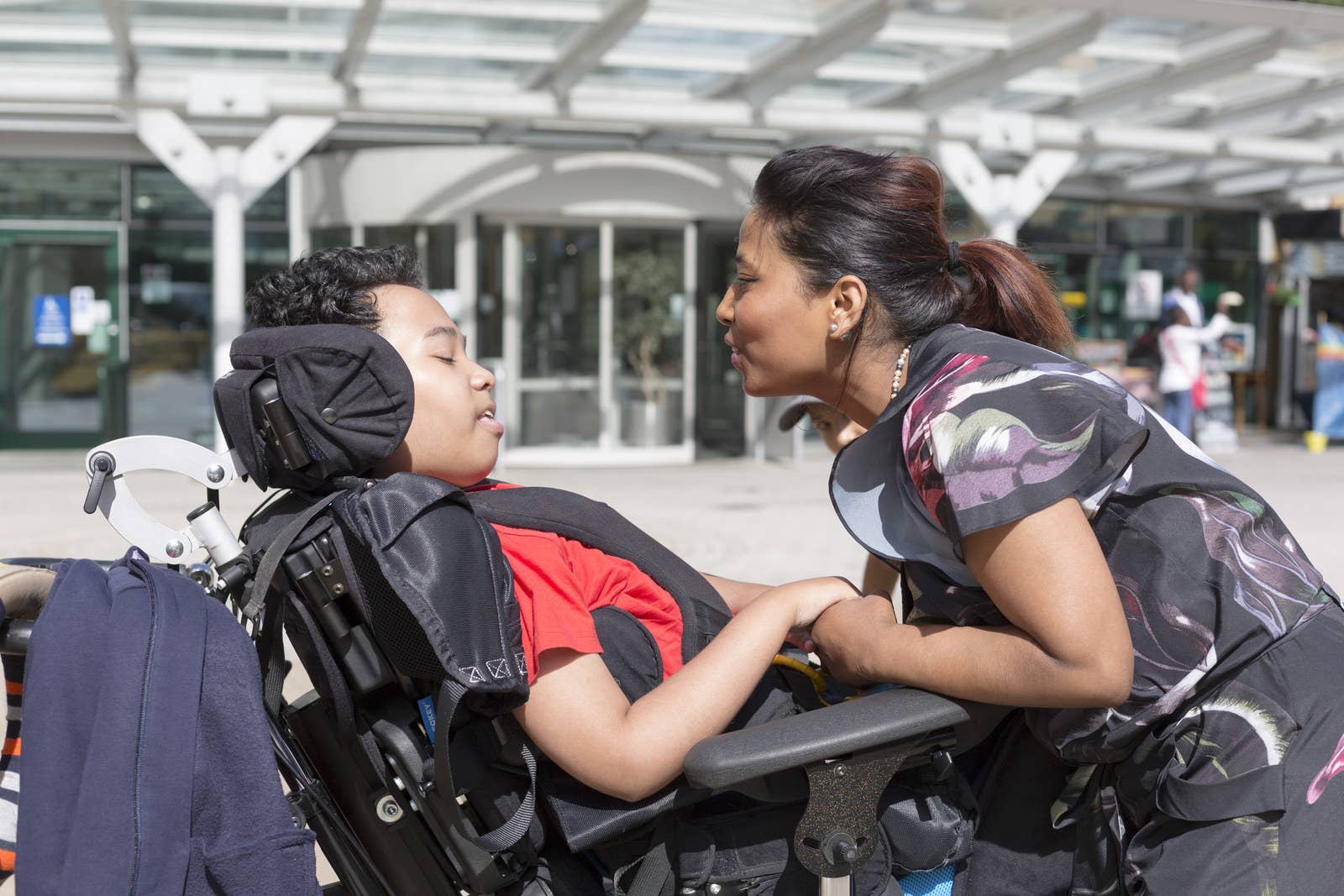 At her lowest point, Koli Begum took her son to the hospital where he was born. Not because he was ill, but because she had run out of options. She had nowhere else to go.

Adam Payne, 12, is paraplegic, blind, and autistic; he has epilepsy, cerebral palsy, and a learning disability; he is fed through a tube and cannot talk or walk. But he has quality of life and a personality: He smiles and laughs and enjoys listening to conversation, music, and football.
Begum, 35, had been fighting for nine years for the local council to upgrade the family's housing association home – she knew a day would come when Adam could no longer live there without significant structural work and expensive equipment. But the council repeatedly said it wasn't possible.
Then last year, after an operation meant he could no longer live at home on medical advice, Adam was separated from his parents while a solution was found. Begum was distraught and felt that her family was being destroyed. Things looked bleak.
But BuzzFeed News can now reveal the full unlikely story of how one woman's fight for her son's rights eventually turned the tables in her favour and how, after a long battle, the authorities relented to a mother desperate to improve her son's life and stay in social housing, granting her £220,000 to make it happen.
This story could only be reported after BuzzFeed News won its own legal battle against an anonymity order made in an earlier case in the High Court, where a judge ordered that Adam could only be referred to as "AP."
In a submission to the High Court's administrative division, lawyers for BuzzFeed News argued that the public interest issues outweighed the court's concerns about his privacy because the case was emblematic of a much wider struggle facing disabled children across the country. They can be separated from loved ones and moved far away, all because the right care isn't available in their area or their home can't be suitably modified. We argued that decisions of this nature, about someone's entire future, should be subjected to wider scrutiny. The judge agreed.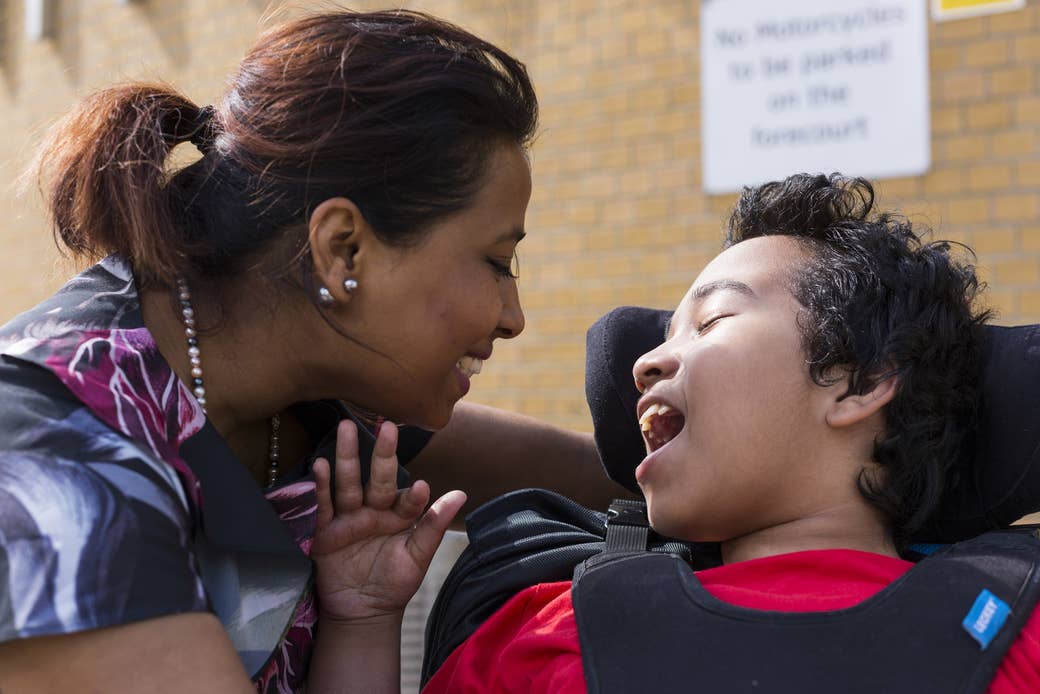 Begum does not take no for an answer. An effervescent Londoner who apologises for talking nonstop, she is a one-woman whirlwind.
And she was kicking up a fuss as soon as Adam arrived in 2005. He was born brain damaged, and she still feels bitter about the level of support the family was offered – she claimed that, for the first 10 months of Adam's life, apart from health visitors, there was no specialist help.
"We spent so much of our lives going in and out of hospital appointments, I just hit a brick wall. And there's me thinking I'm going to be a professional dancer, but it didn't quite turn out like that," she said, as BuzzFeed News met her and Adam in September last year near the hospital where he was staying in Archway, north London.
"I accepted my situation but I couldn't accept the lack of respect, the lack of communication, the lack of honesty and integrity. I thought, 'he's done nothing wrong. I've done nothing wrong.'"
After another fight, in 2009 the family were given social housing with Sanctuary Housing, a housing association in Tottenham, north London.
"We were really pleased – it was a lifetime home. It had wide doors; it was much better. But straight away I said to them [the housing association], 'I'm not being funny, but this isn't going to last long-term.'
"They went, 'No no no, don't be ridiculous, Miss Begum. We'll get you the disabled facilities and you can tweak it, you can get a grant.' But it didn't turn out like that. The minute I asked for a grant they [the council] were up in arms."
Begum claims she was told that the authorities were concerned that, if her request was granted, other families would expect the same treatment.
"Then we asked for ramps for the back door. They gave me two planks of wood. I'm not lying. The fifth richest country in the world gives us two planks of wood? When we first used it – and he was in a smaller wheelchair then – it snapped. Straight away I got a legal team because I knew something was wrong."
Undeterred, Begum began canvassing the council to provide the cash for improvements and for the housing association to carry them out. At a meeting convened by the family's local MP, David Lammy, in September 2016, it was agreed by the family and the council that dual planning would take place to find Adam a residential placement and to explore whether improvements could be made to the house.
But moving the refurbishment project beyond the conceptual stage never seemed to happen.
"The problem with disability culture is everyone thinks they know how to tell the other person how to live their life," she said. "The OT [occupational therapist] said to me, 'I'm not being funny, Koli, but what you're asking for is too much.' I said it would be too much if it had no relation to his medical situation. She was like 'the [council] department know what they're doing.'"
Meanwhile, Adam's medical situation was deteriorating. And his parents were stuck in a miscommunication and organisation loop with the NHS, never fully understanding his long-term plan.
"People think, 'Look, they've got the DLA [disability living allowance], they've got social services, they've got this, they've got that.' They think there's a really good infrastructure in place. But the infrastructure is dysfunctional! No one talks to each other," Begum said. Throughout all this, Begum believes she has faced discrimination because she is a Muslim woman – so much so that she even changed her appearance and no longer wears her veil. She said she once spent hours in a hospital waiting room because the staff didn't think to ask her if she was Adam's mum.
"The hospital had a problem with me being 'Adam Payne's mum'. We went for blood tests and it takes hours and hours of waiting, and people would come up looking for the most Caucasian person like yourself and say 'Adam Payne?' and this woman would be like 'No, I'm Danny's mum'.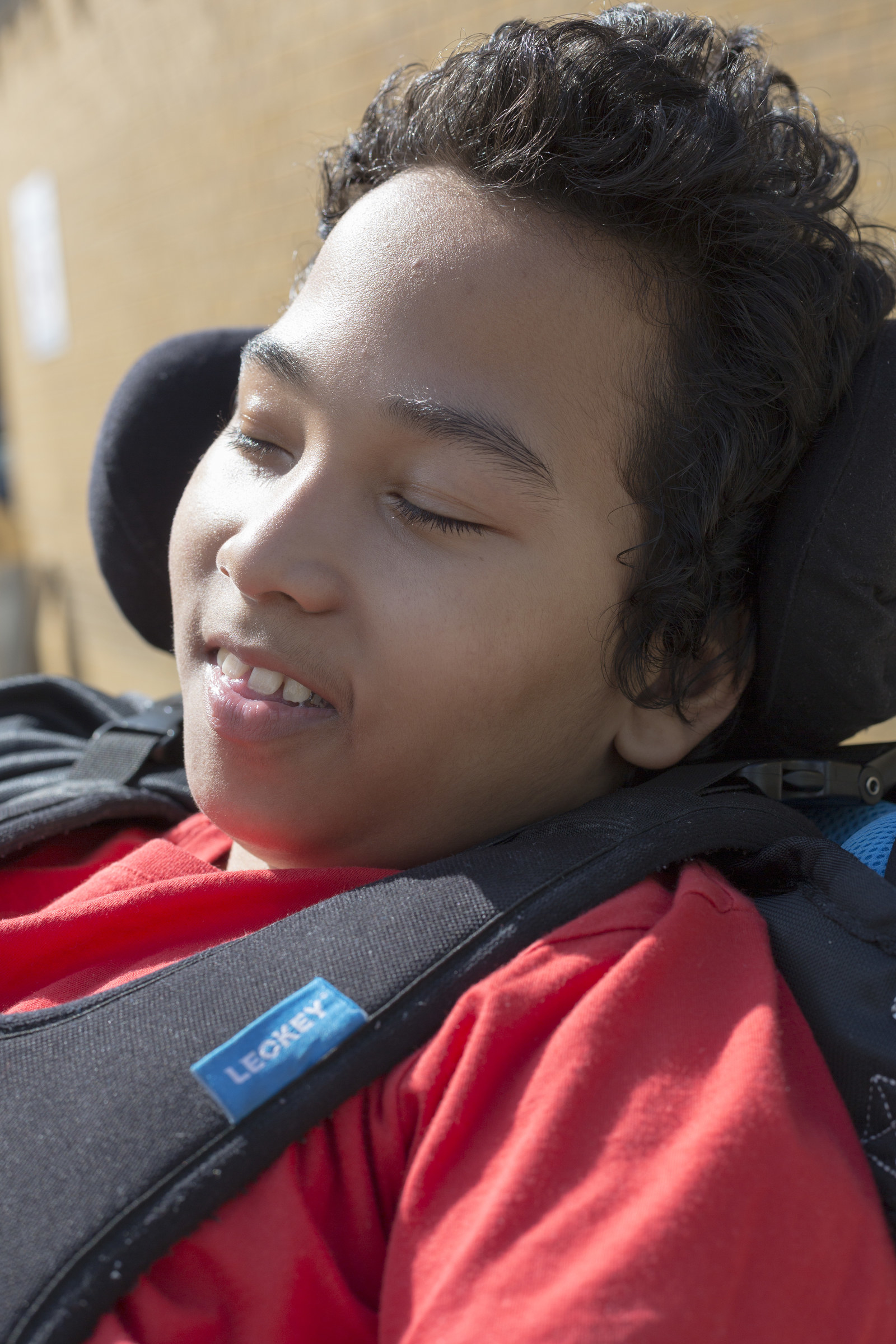 "I ended up wearing a handkerchief scarf, but that didn't work because people would still be like 'Do you speak English?' And I'd be like [in an East End accent] 'Alright love?' I couldn't handle it."
After losing weight due to eating problems, Adam had a gastric feeding tube fitted. But it kept coming out, prompting Begum to return to hospital for it to be refitted.
"I was told 'Mummy can't keep coming back to have it put back in, the community nurse should do it.' I said 'How am I supposed to know that?' They said 'Someone should have referred you.'
"But who is this somebody? It doesn't make sense. In the end I put the tube back in, because what was I supposed to do?"
In 2013 she took Adam to the family GP because she thought there was something wrong with his back. A hospital consultant told her not to worry – this was to be expected with cerebral palsy, she was told.

"I told them he had scoliosis, a curve in his back. I try not to Google things, but I did. And this doctor X-rayed him and it turned out he had a 40-degree-angle curvature of the spine – one hip was coming out and one was migrating, and they said they would put things in motion."
Action wasn't needed immediately because Adam was still growing. But as he reached puberty, Begum knew even more clearly that he couldn't stay in their home. Since their existing stairlift had broken, Begum had no choice but to carry Adam – who was already big for his age, weighing 34 kilograms – up the stairs to bed.
The day the pair fell down the stairs, with Adam fracturing his hip, was the same day Begum set up her crowdfunding page to raise money for home improvements. She ended up raising £30,000, but still the answer to whether they could renovate was no.
Then last year, Begum was told that Adam needed to have a rod fitted to help correct the curvature of his spine.
A consultant at Great Ormond Street Hospital in London said that after this surgery he would not be able to live in an unadapted home – without the right lifts, hoists, and showering equipment – ever again. Begum was also told how serious the surgery was: It was possible Adam could die.
And Begum hoped the operation, on 3 May 2017, would force Haringey's hand and allow them to spend their crowdfunding money – to at least make doors wider and to create an open-plan kitchen and living area.
But one week afterwards, lawyers for the council wrote to the family's solicitor to set out four options: Adam could return home, with some minor alterations; he could move to temporary accommodation, which was always unlikely given his specific needs; he could be placed in specialist foster care; or lastly, the family were free to come up with their own suggestion. Revamping the home was not offered as an option.
Incensed at this, she told the council that this wasn't just about equipment but a boy's right to family life: "My child is made to sit there and smell food that he can't eat, he's blind, he doesn't know where we are, and you're telling me that this is OK?
"I'm a broken woman and I'm trying to hold myself together, and they said if I don't take options one, two, three, or four, and one of them was foster care, permanent, with no end result, no date for him coming back, nothing," she said.
Instead, the director of a local hospice offered the family six weeks of respite care. This was a useful stopgap, but no permanent solution.
While there, the council offered a series of potential placements. Among them was foster care in Croydon, south London, 30 miles away. But immediately Begum was reluctant – the foster carer suggested sending Adam back to school sooner than Begum had anticipated after his surgery.
"That's a two-hour drive and the placement was with a woman who was stating that she wouldn't take him out [of school] for six weeks after his spinal surgery. She said 'He's done really well to sit in his chair.' He's just had major spinal surgery, he's just had his back drilled," said Begum.
A placement in Skegness, Lincolnshire, some 140 miles away, was also suggested because it was one of the very few suitable places in the country with a wet room.
The family's legal team sought to break the deadlock by applying for a judicial review in the High Court, which, on 17 July 2017, said that Adam had to be immediately placed in suitable care, paid for by the council, in a hospital or residential setting. The judge, Mr Justice Holman, said in his order: "There is no doubt that Adam is a very needy and vulnerable child who is likely to require very expensive support from the state for the rest of his life.
"It is DEEPLY REGRETTABLE [judge's own emphasis] that the court has now become involved in his life and care and I beseech both sides to work together to find an acceptable, amicable solution."
After six weeks at the hospice, having been given a deadline to leave and still without what Begum considered a viable long-term solution, this is how Begum turned up at Adam's birthplace, the Whittington Hospital in Archway, North London. They would spend 71 days there. Begum stayed in the small, isolated room with Adam day and night, sleeping on a small cot, living out of a suitcase.
The next stop on his long tour of hospitals and care facilities was the Portland Hospital in London – another temporary measure. Adam can't return to the family home until the required improvements are done.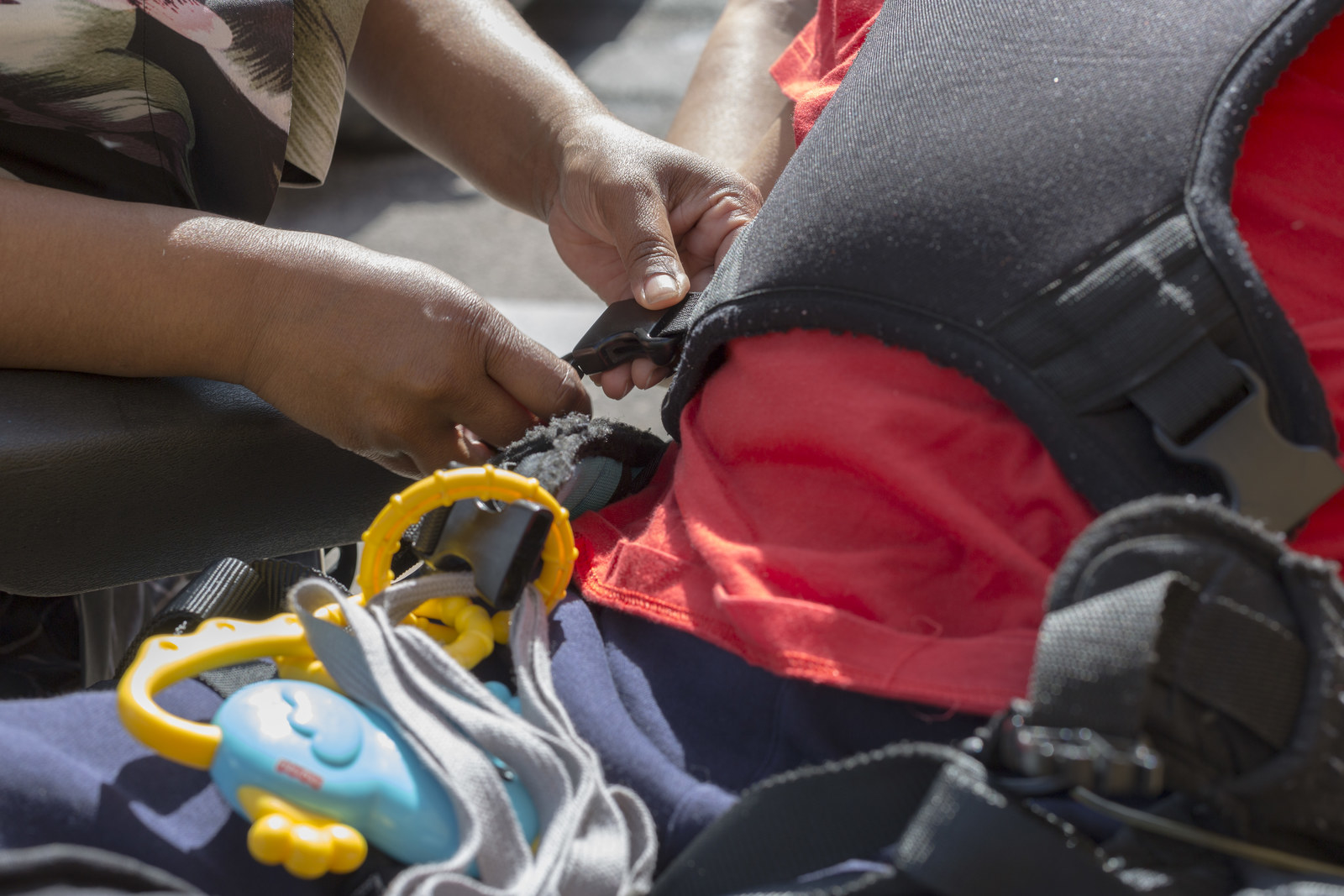 BuzzFeed News heard about Adam's story through disability rights campaigners. But the full story would not be public if the anonymity order made by the High Court – and argued for by Haringey council – had not been challenged.
Two weeks ago, Begum got the news she thought she might never hear: The council has agreed to pay £220,000 toward major structural work and new equipment for their home. They will remain in social housing and remain a family living in the same home.
There is still discussion over exactly what to build, what contractor to use, and what part of the crowdfunding money can be used in what way, but the plan is to create an open-plan kitchen and living area space and an entirely new first floor, purpose-built for Adam's needs, with a lift to get him between floors.
The work should take about 12 months and is scheduled to start in four to five months' time.
So what changed?
Speaking earlier this week, Begum said: "I don't back down; I'm relentless. It's going to be maybe next June or July when he comes [home]. I think they just realised that this can't go on.
"Everyone kept telling me to let it go – they kept saying 'You're fighting for something you're never going to get.' They thought I was an overzealous maniac parent who wanted something that was fundamentally not my entitlement.
"And here we are nine years later and we're not just getting a few walls knocked down, we're getting it done properly."
Haringey council declined to answer specific questions on why it took so long for Adam's family to be given the grant they need, nor would it confirm the specific terms of the arrangement.
A council spokesperson said: "Our first priority has always been, and remains, to ensure that Adam gets the best possible support and care. We understand that this is an incredibly difficult time for the family and have been working hard with the parents of Adam and Sanctuary Housing to try to find both interim and long-term arrangements that meet the needs of the family."
John Hanson, the head of housing for the eastern region at Sanctuary Housing, said in a statement: "We continue to work closely with the family and Haringey Council to plan how the home can best be adapted. Adam's welfare remains the priority and once adaptations are agreed, we will complete the work as quickly as possible."