A hacking group is claiming responsibility for taking down the National Crime Agency's website, three days after the agency arrested six suspected teenage hackers in connection with previous attacks.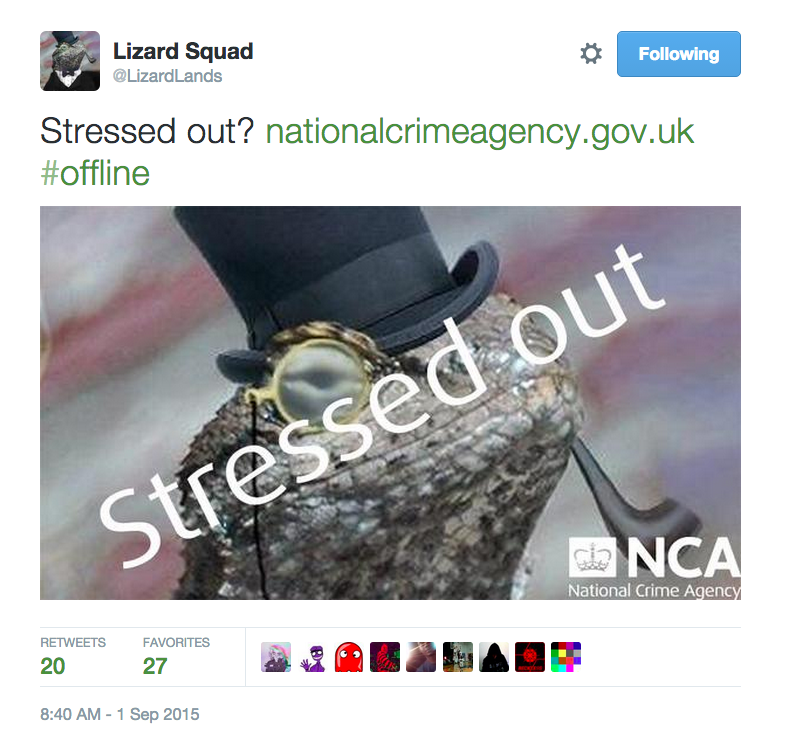 The NCA's website was taken offline after a "distributed denial of service" (DDoS) attack on Tuesday morning, whereby hackers disable a site by sending it huge amounts of traffic or data at once from many different IP addresses.
The hacking group known as Lizard Squad – which has claimed credit for similar attacks on Microsoft and Sony – tweeted "Stressed out? nationalcrimeagency.gov.uk #offline" at 8.40am. It was back online just over two hours later.
On Friday, the agency arrested six teenagers as part of Operation Vivarium, a joint investigation into hacking by the NCA and regional police forces.
The six are accused of using the "Lizard Stresser" tool, which the NCA claims is used to launch DDoS attacks and disable websites for up to eight hours.
The agency claims the hackers – who come from across England and range in age from 15 to 18 and were released on bail – had previously targeted a national newspaper, a school, a games company, and various retailers.
The NCA is targeting a further 50 people with addresses registered on the Lizard Stresser website, but who are not thought to have carried out attacks.
The agency said in an emailed statement: "The NCA website is an attractive target. Attacks on it are a fact of life."
It continued: "DDoS is a blunt form of attack which takes volume and not skill. It isn't a security breach, and it doesn't affect our operational capability. At worst it is a temporary inconvenience to users of our website.
"We have a duty to balance the value of keeping our website accessible with the cost of doing so, especially in the face of a threat which can scale up endlessly. The measures we have in place at present mean that our site is generally up and running again within 30 minutes, though occasionally it can take longer. We think that's proportionate."