Turns Out This "Furkan Derya" Joke In Sydney's Daily Telegraph Wasn't An Error
The play on words was spreading like wildfire on Twitter on Monday morning. But it's not a mistake.
On Monday morning, a lot of people on Twitter were talking about a jokey line in an article by Tim Blair in Sydney's Daily Telegraph: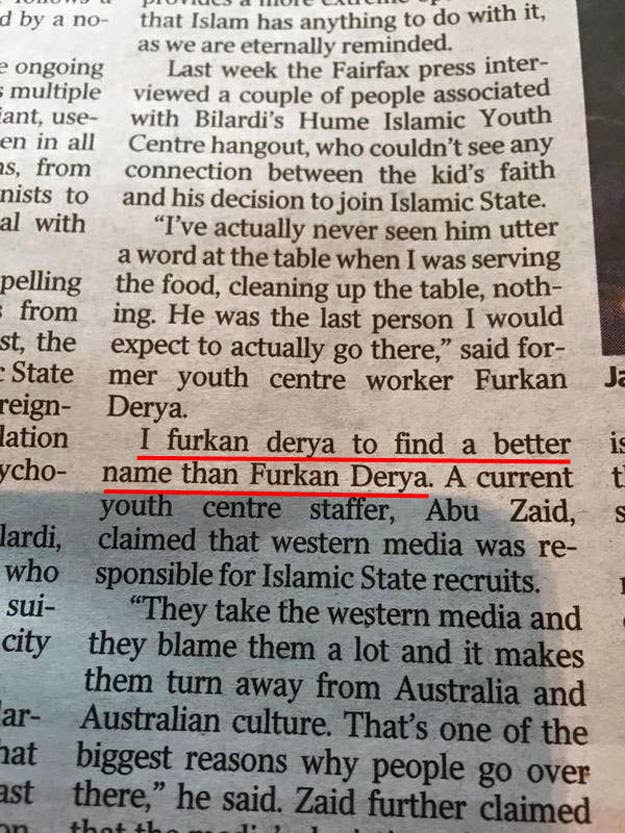 The snapshot image was being shared by people who assumed it was an editing error. It was described as "a massive howler" that had been left in by accident.
But it's an intentional joke: In the online version it remains intact.
The article concerns the radicalisation of Melbourne teenager Jake Bilardi, who was suspected to have died in a suicide bombing in Iraq last week after travelling there last year to join ISIS fighters in the region.
Furkan Derya worked at the Hume Islamic Youth Centre, where Bilardi attended, and recently told reporters about his memories of him.
Blair himself posted an update on Monday afternoon local time confirming that it was a joke, while also having a pop at the reaction to it from "Twitter's outrage police"
Kyle MacLachlan, of Twin Peaks fame, got the joke.
And "Daily Telegraph" was trending on Twitter in London this morning, presumably because people thought it was the British Daily Telegraph.
So in the end, no one is going to be in trouble at the Daily Telegraph today – the British or the Aussie one.