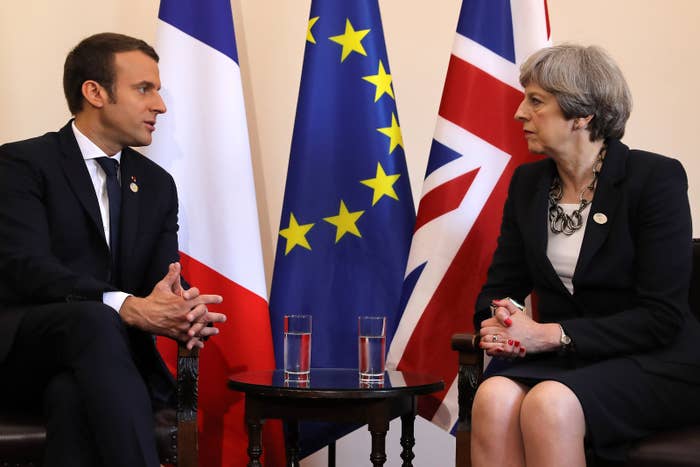 Theresa May has won the backing of French president Emmanuel Macron in her bid to pressure tech companies to do more to tackle terrorism, including a proposal to create new legal powers to force them to remove extremist content.
On Tuesday May will meet Macron in Paris, where the pair will discuss what Downing Street referred to as "a joint campaign to ensure that the internet cannot be used as a safe space for terrorists and criminals".
They are due to discuss potential fines for companies that "fail to take action", but both leaders said they would work with the companies to develop tools to identify and remove harmful material.
Speaking ahead of her trip to Paris, May said in a statement: "The counterterrorism cooperation between British and French intelligence agencies is already strong, but President Macron and I agree that more should be done to tackle the terrorist threat online.
"In the UK we are already working with social media companies to halt the spread of extremist material and poisonous propaganda that is warping young minds.
"And today I can announce that the UK and France will work together to encourage corporations to do more and abide by their social responsibility to step up their efforts to remove harmful content from their networks, including exploring the possibility of creating a new legal liability for tech companies if they fail to remove unacceptable content.
"We are united in our total condemnation of terrorism and our commitment to stamp out this evil."
May and Macron will pressure technology companies to establish an industry-wide forum to share solutions to tackling online extremism, as was agreed at the G7 summit of world leaders last month.
Home secretary Amber Rudd said in the wake of the Westminster Bridge terror attack in March that it was completely unacceptable that police couldn't get hold of the attacker Khalid Masood's final WhatsApp messages, because of the app's end-to-end encryption.
She said: "We need to make sure that organisations like WhatsApp, and there are plenty of others like that, don't provide a secret place for terrorists to communicate with each other."
Rudd will meet with the French interior minister Gérard Collomb in the coming days to further discuss the plans.
May will be Macron's guest at a friendly international football match between France and England later on Tuesday, where there will be tributes to the victims of the terror attacks in Manchester and London.