Elon Musk Is Stuck In A Copyright Row Over A Farting Unicorn And He's Pissed Off About It
The man behind Tesla is accused of using an image of a farting unicorn in a hidden product feature without permission.
Somehow Elon Musk, better known for electric cars, designing futuristic transport networks, and firing rockets into space, has become embroiled in a dispute over a picture of a farting unicorn.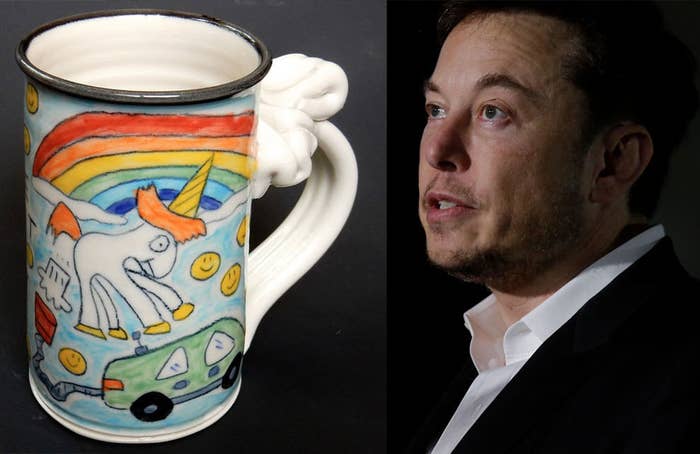 ~FREEZE FRAME~ If you're wondering how this came to pass, then listen up.
By the way, since this post went live, Musk has deleted all the tweets referring to the farting unicorn. We've preserved the text of the tweets.

This all started back in February 2017. Musk tweeted an image of two mugs designed by Colorado potter Tom Edwards. Musk seems to have been drawn to the way the unicorn – obviously – farts energy into the car.
Musk said it was "maybe my favourite mug ever" – and Edwards was at this point happy with the publicity and the extra sales the tweet generated.

Edwards came up with the design in 2010 – the other mug, made at the same time, has a message that reads: "Electric cars are good for the environment because electricity comes from magic!"
But then in March 2017, Musk tweeted an image clearly inspired by the mug and "made today on Tesla sketch pad", which is a touchscreen device found in Tesla cars.
It turns out that the image now appears as an hidden Easter egg feature in Tesla cars: When you press the "T" button three times, the unicorn drawing appears.

Now that it's part of the car's operating system, Edwards says he should be reimbursed. He told The Guardian: "It's part of their branding now. I love the fact that it's in the cars, but I just want them to do the right thing and pay me adequately for it. Elon Musk can be a hero for standing up for artists' rights."
And that's not all: Tesla cars used the image in an in-car electronic Christmas message too.
Edwards' lawyer contacted Tesla asking for a resolution to the matter – this stopped short of being a cease-and-desist claim – and called for a "mutual decision" on the use of the image.
Tesla had not responded to BuzzFeed News' request for comment at the time of publication.
Fast forward to June 2018 and Edwards' daughter tweeted directly at Musk about the affair after it was picked up by news sites – and he defended its use and offered to change it to something else.
On this, there was not any mutual agreement.
At one point Musk asked: "How much money does your dad want for this terrible transgression?"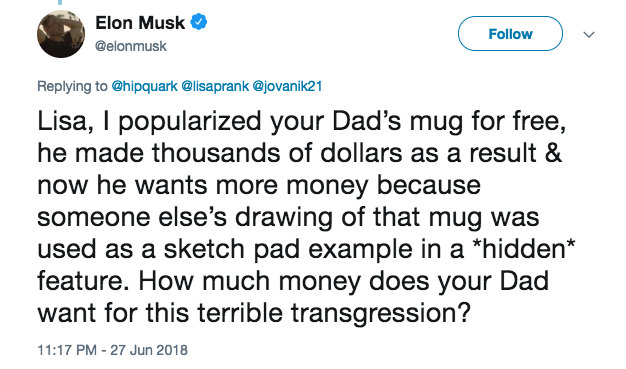 All of which led to Musk criticising news outlets for covering this whole weird episode (👋🏻).
But only after he'd called someone a jerk for suggesting that he was proposing to pay Edwards with exposure.
Musk says he is genuinely annoyed by the whole thing and that "nothing is more absurd than reality."
It's hard to disagree with that.