Councils Across The UK Are Ordering Urgent Tower Block Safety Reviews After The Grenfell Disaster
Local authorities up and down the country have sought to reassure tenants in high-rise flats that they are reviewing safety procedures in light of the tragedy.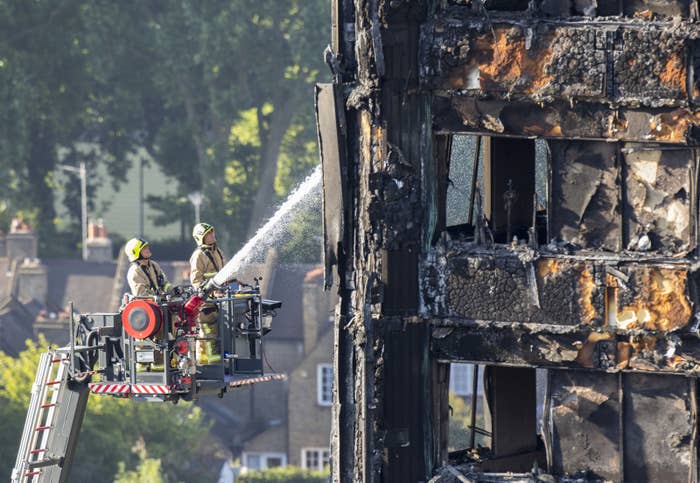 Local authorities across the UK have ordered urgent safety reviews into their high-rise residential buildings in the wake of the Grenfell disaster, as anxious residents ask whether their homes are safe.
Responding to questions from tenants, several authorities have written to high-rise residents, tenants, and leaseholders to reassure them their homes have not been fitted with the same aluminium composite material (ACM) cladding that Grenfell residents saw "going up like a match" during the fire.
Some fire safety experts believe the cladding, which is two thin sheets of metal with a layer of polyethylene insulation, may have contributed to the rapid spread of the fire. Other forms of ACM are available that offer greater fire resistance.
London mayor Sadiq Khan wrote to the prime minister on Friday asking that the government provides a list of the tower blocks that have been checked for fire safety, as well as a list of those that have yet to be checked, by the end of the day.
"If the government has any reason to believe that specific tower blocks could be at risk, residents should be rehomed in the local area immediately, while these checks take place," he wrote.
A council flat tenant in Bristol has launched a High Court claim against Bristol city council to halt ongoing cladding works on 45 towers in the city. A letter from Duncan Lewis solicitors requests that all work stops or it will seek a judicial review. The council has reassured tower residents that it does not use ACM nor work with the companies involved in refurbishing Grenfell.

Kensington and Chelsea council leader Nick Padget-Brown told BBC Newsnight on Thursday that no other towers in the borough have the same kind of cladding.

On Thursday Hounslow council halted renovation work to re-clad six "deteriorating" towers in Brentford, despite the work being at an advanced stage. Like many councils, Hounslow received several calls from anxious residents this week. BuzzFeed News has asked the borough exactly what type of cladding the project used.

Ruth Cadbury, MP for Brentford and Isleworth, said via Twitter on Friday that one tower, Clement Court, does have the same ACM cladding as Grenfell.
One concerned resident in a north London tower block attempted to warn other residents that it had the same cladding as Grenfell and that it was fitted by the same company. A note left in the lobby of the 22-storey Dorney Tower, in the Chalcot estate in Swiss Cottage, north London, which like Grenfell was refurbished by the regeneration company Rydon, warned people to beware. However, while ACM was used for the Chalcot estate, this case study shows that it was bought from Etalbond, a different manufacturer to the one used at Grenfell.

Westminster council wrote to residents in one block in the Little Venice district to inform residents that the cladding on the building had been fitted by the same company that fitted the Grenfell cladding – but added that there was "no reason to believe" the same materials were used.

Croydon, which has more than 1,000 tower blocks, has ordered an urgent safety review and its CEO wrote to residents yesterday to say it was "making checks on all of our blocks with external cladding and looking at the implications as well as carrying out a full review of fire safety".

Several other London boroughs, including Camden, which has 220 towers, have ordered reviews. Camden council staff were sent to personally reassure tower block residents. Islington, Wandsworth, and Sutton also offered similar assurances.
Gavin Shuker, the MP for Luton South, and Stephen Hammond, the MP for Wimbledon, have written to the CEOs of their local authorities to seek reassurances on fire safety assessments.
Southampton city council wrote to tower block residents to say that cladding has been installed on eight towers, but using a naturally fire-resistant mineral-based variety. It pointed out its advice was still for residents to "stay put" in their homes in the event of a fire in the building.

Greater Manchester mayor Andy Burnham is calling an urgent meeting with all high-rise building owners in all 10 Manchester boroughs to ensure safety standards are up-to-date. There are 178 council block towers in the region, several of which have recently been re-clad in refurbishment works.
"We want to provide real reassurance to people who live in high-rise buildings," he said. "I know that many people will be worried and want to know how they can ensure they are safe living there with their families."
A review is under way of tower blocks in Salford, where the council has pledged to find out from its housing partners whether "fire safety policies and procedures are in place and have been followed" for buildings of a similar age to Grenfell.
Geoff Harris of the Greater Manchester Fire and Rescue Service said: "There is no doubt in my mind that the horrific inferno that engulfed Grenfell Tower will provide a defining moment in relation to fire safety in high-rise buildings across the UK."
Urgent checks were being carried out by the Northern Ireland executive to figure out if any of its 32 tower blocks had been fitted with ACM cladding. Four of them were recently refurbished and received new cladding.
GHA, a major provider of social housing in Glasgow, has said it does not use the same cladding as used at Grenfell, while Edinburgh city council also confirmed that ACM was not used on its towers, as did Aberdeen city council.
Lord Porter, chairman of the Local Government Association, said in a statement: "Fire risk assessments and the construction of buildings are being reviewed and double checks are being made to ensure remedial work recommended under previous assessments have been carried out. Councils are also working closely with tenants to review and offer fire safety advice.
"Councils take the safety of residents extremely seriously. We need to know with certainty how this fire started and why it spread so quickly so that councils can start to take any action needed.
"The LGA continues to work closely with councils, the Government and fire chiefs to help coordinate national efforts in response to this dreadful disaster.
"The thoughts of the whole local government family remain with the victims and families affected by this devastating fire, the local community and the emergency services."