A Prison That's Suffered Two Days Of Riots Routinely Locks Up Inmates All Weekend
A prisoner rights campaigner told BuzzFeed News that inmates at HMP The Mount have been locked up during the last three weekends and this has been going on since May.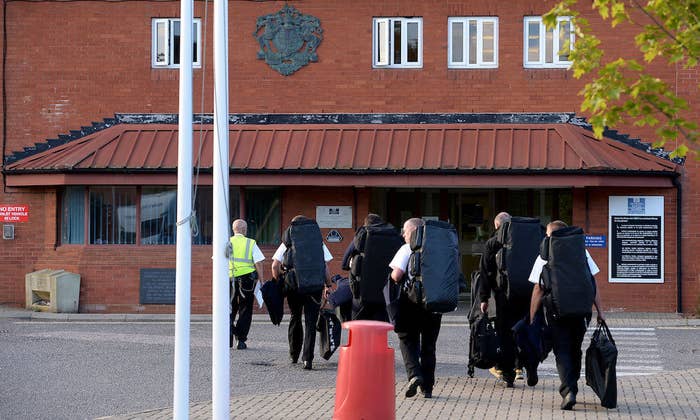 A prison that has been hit by two days of unrest and disorder has been keeping inmates locked up in their cells for entire weekends for as long as three months, BuzzFeed News has learned.

Simmering tension and longstanding grievances turned into disorder at HMP The Mount in Hertfordshire on Monday afternoon when around 50 cells were damaged. Prisoners in the category C jail, which holds about 1,000, had been locked up for the third consecutive weekend, with food being served cold through the cell door.
A "Tornado" squad of riot-busting officers was sent in, and the prison was secured at around 10pm on Monday evening. But on Tuesday, trouble began again after prisoners took over a wing of the prison and smashed some windows, the BBC reported. The incident was declared over at around 5pm.
An unrelated incident at HMP Erlestoke in Wiltshire on Tuesday left five prison officers injured and hospitalised, one of whom has a suspected broken jaw, according to Glyn Travis, a spokesman for the POA, the prison officers union.
BuzzFeed News has learned that prisoners at The Mount are routinely locked in the cells – known as being "banged up" – from Friday afternoon until Monday afternoon because of staff shortages.
Gloria Morrison, campaign coordinator for the Jengba group, which campaigns against joint enterprise sentences, said prisoners were becoming desperate.
"Prisoners only want to organise meetings at weekends, because it's the only time they get out of their cell," said Morrison, who spoke to an inmate serving a life sentence on Sunday, and his mother on Monday.
"It's not just three weekends that this has been happening, it's been at least three months. They are not getting fed until the late evening and they are just getting a sandwich, a biscuit and a drink in their cell, there's no hot food.
"I don't like prisons but The Mount has always been a fairly good nick in the past."
Morrison said visitors were caught up in the disturbance on Monday and weren't allowed to leave, which was corroborated by one eyewitness.
A spokesperson for the Ministry of Justice said in a statement: "Specially trained prison staff have successfully resolved an incident at HMP The Mount on 1 August. There were no injuries to staff or prisoners.
"We do not tolerate violence in our prisons, and are clear that those responsible will be referred to the police and could spend longer behind bars."
The disturbance at Erlestoke was described as a "major incident" by POA acting chair Mark Fairhurst. He said around 60 prisoners were involved in the prison's Silbury Unit, before it was brought under control at 1pm. A Ministry of Justice source said there were fewer than 10 prisoners involved.
In June 2016, Erlestoke suffered heavy rioting – 140 prisoners had to be moved after two wings were put out of use. The riots coincided with the prison's smoking ban, although the governor later denied that the ban was their sole cause.
The MOJ spokesperson said: "Staff successfully resolved an incident involving a small number of prisoners at HMP Erlestoke on 1 August. The offenders responsible will be referred to the police and could spend longer behind bars."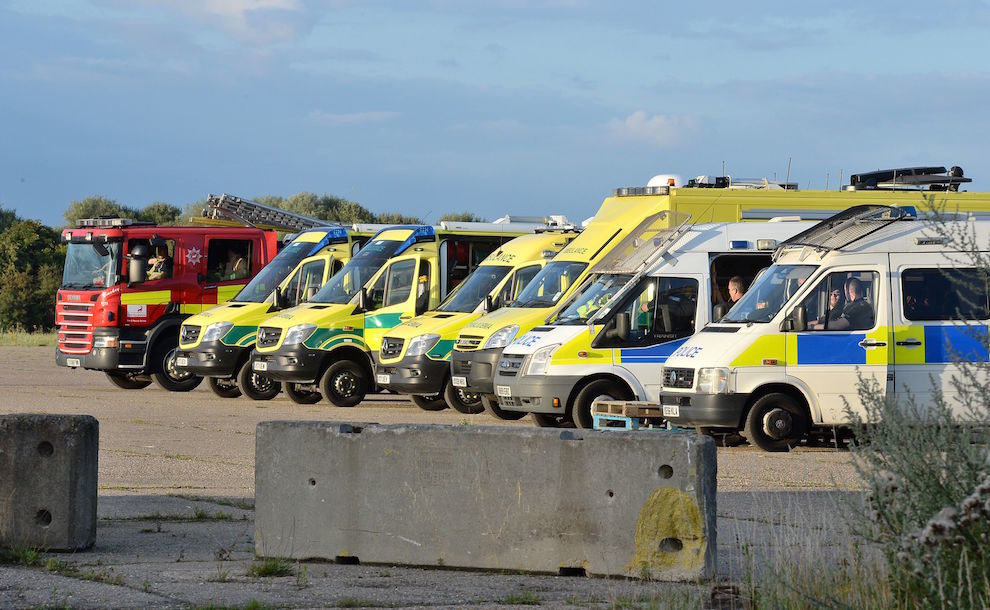 Monday's disorder at The Mount came the same day as a report from its independent monitoring board that wrote that the prison has "suffered from staff shortages driven by uncompetitive pay scales".
It warned that experienced staff had not been replaced and that out of 136 officer roles there were 24 vacancies. In November last year, and mostly in a single week, there were 70 emergency call-outs, mainly for drug-related problems.
The report said: "Back in the summer of 2016, all the ingredients were in place for The Mount to suffer disorder such as has been experienced in other prisons – staff shortages, readily available drugs, mounting violence."

However, the report added that: "It is to the credit of the Governor and all his staff that The Mount ended the year as a safe prison where prisoners have a good chance of rehabilitation."
The prison opened in 1987 and has space for up to 1,000 inmates. As of February 2016 1 in 5 prisoners in The Mount had an indeterminate sentence, including IPP prisoners.
Frances Crook, CEO of the Howard League for Penal Reform, urged David Lidington to act now on prison safety and said she had written to him with suggestions.
The POA's Fairhurst said in a statement on Tuesday afternoon regarding The Mount: "The Prison Service is in disarray; this type of unrest underlines the problems in our prisons and has significant ramifications for the taxpayer and local community.
"We have lost around 8,000 staff since 2010 while the prison population has increased. The government has allowed and condoned the actions of the Prisons Board to meet the demands of year on year budget cuts under the failed concept of Benchmarking.
"Whilst the POA welcome the recent announcement to increase officers this is too little too late. Staff morale is at an all-time low and as fast as the service recruits new staff, staff leave in their droves. It is time for the Government to act and act quickly."