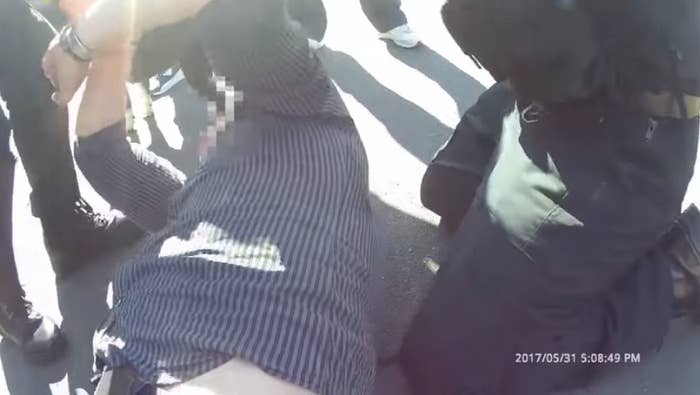 An internal investigation is underway at Avon and Somerset police after one of its officers punched a man in the face while he was being detained under the Mental Health Act.
Footage of the incident, which happened in Yeovil after 5pm on Wednesday, was captured by shocked onlookers and posted to social media.
The force took the unusual step of releasing its own body-worn camera footage of the incident, in which an officer can be heard repeatedly telling the man to "let go of my arm," before counting down from five and hitting him.
One video of the incident, which has been viewed on Facebook more than 500,000 times, shows three officers restraining a middle-aged man who, after being struck, struggles to his feet before falling to the floor.
The clip's poster, Luke Harris, said in a caption: "Avon and Somerset's finest. This guy was detained under the mental health act. (Not a criminal) whilst 3 officers had him in cuffs he was punched without being able to defend himself. I think this is wrong share this and get this prick sacked."
Avon and Somerset police said in a statement: "We're issuing body worn video of an incident in Yeovil yesterday which has been widely published on social media.
"We were called shortly before 5pm from the ambulance service about a man acting aggressively towards their staff. It appeared the man was in mental health crisis, so officers took the decision to detain him under the Mental Health Act.
"While we always act in the best interests of the person in crisis, there is sometimes a need for restraint to protect the person, our officers and members of the public."
The statement, which made no reference to the punch, said the "public rightly expects police officers to use force reasonably so we welcome their scrutiny," adding that the force's own Professional Standards Department will conduct an investigation.
Police wouldn't provide any more details about the status of the man, who has been admitted to hospital.