A Muslim Activist Was Found Guilty Of A Terror Offence For Not Handing Over His Passwords
Muhammad Rabbani, the international director of the Muslim advocacy group Cage, was charged under schedule 7 of the Terrorism Act in May.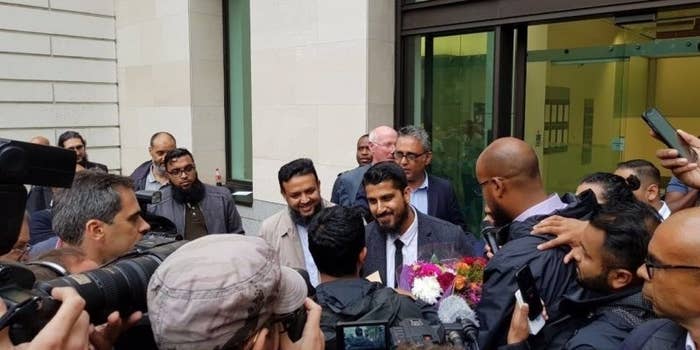 A director of a Muslim advocacy group has been convicted of failing to hand over passwords for an iPhone and a laptop, which he said contained sensitive information from a torture victim.
Muhammad Rabbani, 36, from London, was found guilty but walked free after being handed a 12-month conditional discharge at Westminster magistrates' court on Monday. He was ordered to pay £600 in costs.
He was stopped by police after flying into Heathrow airport in November last year from a Gulf state, where he said he was investigating a torture case allegedly linked to the US.
After three hours of questioning he was arrested for "wilfully obstructing" a police search by not handing over his phone PIN and computer password.
Rabbani was arrested after agreeing to hand over his laptop and phone but refusing to give police the passwords to unlock the devices. He was charged under schedule 7 of the Terrorism Act 2000, the same law under which David Miranda, the partner of journalist Glenn Greenwald, was detained at Heathrow for nine hours in 2013.

Rabbani said he had been stopped and detained by border officials at least 20 times, including seven times in UK airports, and twice had been asked for his passwords, although on all these occasions he had not been arrested.
"It was a case involving the US against an individual who was allegedly tortured over the course of 12 or 13 years in US custody," he told the court.
"There were around 30,000 [documents] which I was especially uncomfortable handling and I felt an enormous responsibility to try and discharge the trust that was given to me and the lawyers I met at that event."
Henry Blaxland QC, acting for Rabbani, told the court that the stop itself was unlawful. He called his client's situation "Kafkaesque".
Rabbani's team argued that he should not have to hand over the password because this would expose sensitive information given to him by a third party.

But the officer who stopped and arrested Rabbani said he did not bring up confidentiality during police interview.
The officer also wouldn't say, under cross-examination, whether he was acting on specific information when he detained him. Prosecutor Tom Little told the court, however, that the stop was "not random".
In sentencing, senior district judge Emma Arbuthnot said she believed Rabbani was protecting sensitive information but was bound by the law to find him guilty.
Scores of supporters gathered to protest against the case against Rabbani at midday on Monday, with some praying outside the court building in central London.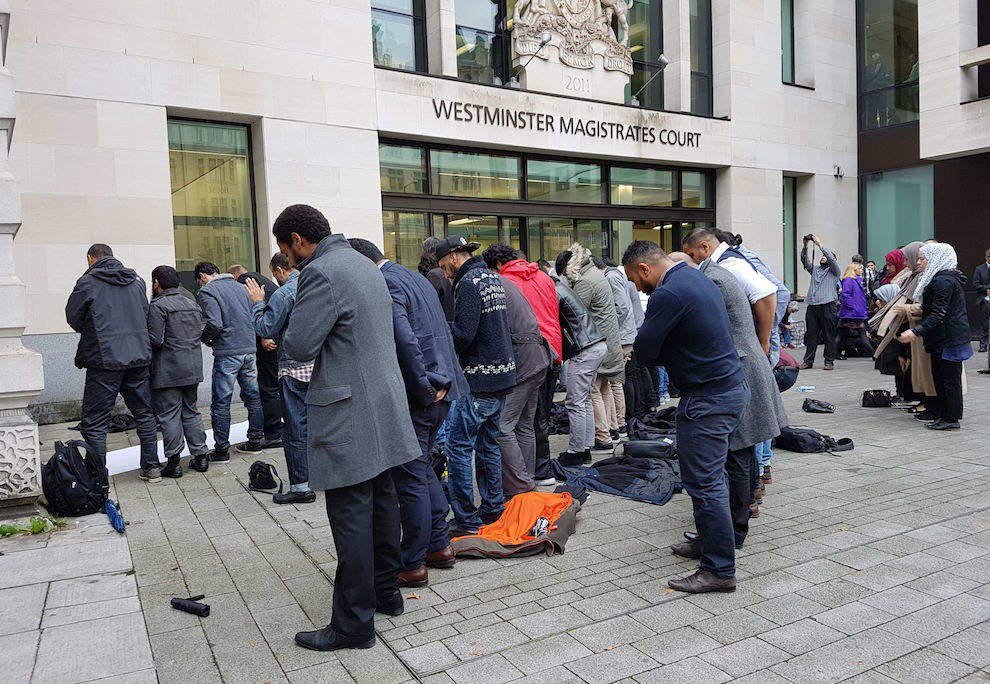 Speaking before the trial, Rabbani said: "We are quite confident that the law is on our side and the court will recognise that I'm actually innocent of any wrongdoing and was protecting an important principle: client confidentiality and legal privilege."
Cage, which campaigns on behalf of people affected by the "war on terror", came to prominence in 2015 after it emerged the group had interviewed British jihadi Mohammed Emwazi, whom its research director Asim Qureshi described as a "beautiful young man".

The group, which is campaigning to revoke all counterterrorism legislation, said Rabbani was considering appealing the conviction.
Rabbani said in a statement: "Today's judgement based on the judge's and prosecution's acceptance that I am of good character and worthy of belief, highlights the absurdity of the schedule 7 law.
"They accept that at no point was I under suspicion, and that ultimately this was a matter of having been profiled at a port. There are important implications for our collective privacy as s.7 acts as a digital strip search.
"I took the decision to not raise the details of an important torture case before my arrest, and ultimately I have been convicted of protecting the confidentiality of my client.
"If privacy and confidentiality are crimes, then the law stands condemned.
"CAGE and I are glad we brought this case, and the result indicates that our only option is to change the law. Schedule 7 actively discriminates, and this will hopefully be the start of a number of legal challenges as more people take courage to come forward. We will be appealing this decision and we have won the moral argument."