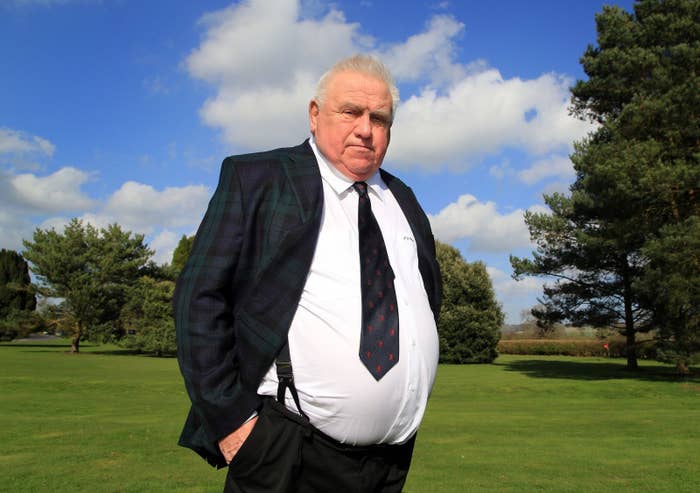 A millionaire landlord who is facing legal action for refusing to let Indian and Pakistani tenants live in his houses because he claims they leave behind a smell of curry at the end of their tenancy insists he's not racist, because he does allow black people to live in them.
Fergus Wilson, 70, who owns property across Kent worth an estimated £250 million, is being taken to court by the Equalities and Human Rights Commission, which argues that Wilson's tenant criteria is unlawful and has applied for an injunction against him.
In a brief statement on Wednesday, the commission's CEO, Rebecca Hilsenrath, said: "We have asked the court if it agrees with us that Mr Wilson's lettings policy contains unlawful criteria and, if so, to issue an injunction. As this is now formal legal action we will release further information at a later date."
But a defiant Wilson told BuzzFeed News that he stood by the ban, denied that it was discriminatory, and said he had support from within the British Indian community.
"Well, that is my current policy, unless the court tells me I'm wrong. I will have to do what the court says," he said.
"The answer is that I don't believe it is discrimination. By the way, the Equalities Commission are not saying I'm racist – they make that particular point.
"I rent to black people, an awful lot of Gurkhas, an awful lot of eastern Europeans, but we don't get many Indian and Pakistani people – we haven't had an application for five years."
Wilson said very few Indian or Pakistani tenants had applied to live in his homes – the last was in 2012 – which he put down to these communities typically owning property.
He said his opposition to people from these immigrant communities living in his houses was due to a lingering smell of spices causes by cooking Indian food – he cited a specific example some years ago in which he declined to buy a house for this reason.
But he made it clear there was a wider societal motive too: "I would say this to you: All this is going to do is put English people [off] who would have been invested to take poorer people off the housing register. Many of them are going to look at this [legal case] and say, 'Do I want the hassle? If an Indian person comes along and I've got to take them and I've got the problem afterwards of getting rid of the curry smell?'"
And when asked by BuzzFeed News whether he had considered that white British people can and often do cook Indian-style food, he responded: "Anybody could, but our experience is that we've never had this problem with English people."
He also disputed, despite the result of various polls, that chicken tikka masala is the UK's favourite dish.
"Well, they [surveys] say it, but I've seen contrary evidence. But it's the issue of the curry smell. Even the Indian people and the Asian network say there is a problem with a smell at the end.
"Many Indian people on the internet have said, 'Unpalatable as it may be, what Mr Wilson has said is great.'"
His decision to ban Indian and Pakistani tenants emerged in March after The Sun revealed that he had outlined the change in a letter to a letting agency that manages some of his properties.

When the newspaper confronted him about it, he defended his position and said: "To be honest, we're getting overloaded with coloured people."
Wilson has previously said that people on zero-hours contracts, single parents, and domestic abuse survivors – who he called "battered wives" – are also unwelcome.