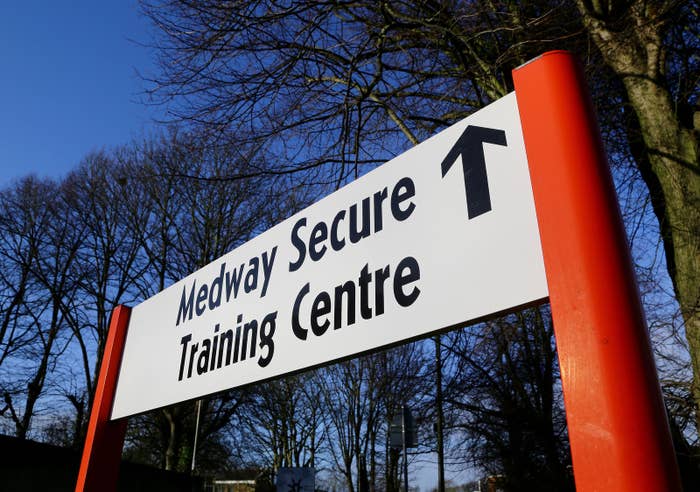 A controversial government-run youth prison has been branded unsafe by inspectors almost 18 months after serious failings and abuse by staff were uncovered in a TV documentary.
Medway STC in Rochester, Kent, was labelled "inadequate" for its safety, its promotion of positive behaviour, and the effectiveness of its managers in a report from Ofsted, the prisons inspectorate, and the Care Quality Commission on Tuesday.
Critics who have been campaigning for the closure of youth prisons said the report's findings were evidence that Medway was "unfit" to hold children.
The centre, which holds children as young as 13, was the subject of a BBC Panorama investigation in January 2016, when it was run by outsourcing firm G4S.
Concerns raised by that programme, and 35 separate letters detailing serious allegations about G4S's running of youth prisons, prompted the then justice secretary Michael Gove to put the centre under the control of the government in July 2016.
G4S only runs one youth prison, Oakhill STC, and is in the process of selling its children's homes. But inspectors noted that the vast majority of Medway's staff are former G4S employees, who require better skills and training.
The report found:
– Since the last inspection there had been five "serious injuries or warning signs" arising from staff use of restraint, all involving children who said they couldn't breathe.
– Some keys to doors in the prison were unaccounted for and several locks were faulty, compromising the centre's safety, as was the case at the centre's last inspection.
– After an increase to the prison population, there were 40 uses of restraint by staff in February this year, up from a monthly average of 20.
– Violence had risen since the last inspection, but accurate records were not kept, with data missing from July to October 2016.
– Areas of the jail where children said they felt unsafe, including stairwells, were not covered by CCTV.
The report said the jail needed to improve in four other categories: the health, care, resettlement, and achievement of its inmates.
Frances Crook, CEO of the Howard League for Penal Reform, which has campaigned for the closure of youth prisons, said: "Almost 18 months have passed since the BBC's shocking Panorama documentary, and yet today we read another awful report on Medway, which is clearly unfit to look after children.

"The G4S years were disastrous. Unfortunately, running Medway in the public sector does not appear to have made much difference. Children are still being placed in this jail, despite there being empty beds in the well-run local authority units."
Crook will visit the jail later this week.
A Ministry of Justice spokesperson said in an emailed statement: "The safety and welfare of young people in our custody is our absolute priority. We are pleased that this report found Medway has made steady progress in a number of areas since the last inspection, but we are clear that there is still a lot of work to do.
"That is why we are implementing a comprehensive plan which includes the appointment of new specialist, highly trained staff and improved support for vulnerable children.
"We will continue to work hard to drive improvements and have put in place a new leadership team to help make this happen as quickly as possible, to ensure we are delivering the best support to those in our care."
G4S said in a statement: "We are mystified by suggestions that employee records might not be available as there was a detailed handover of the centre a year ago, which included staff notes and records. We cannot comment on what may have happened since the transfer in July last year and neither are we aware of any subsequent requests for employee information.
"The transfer was completed to the satisfaction of the Ministry of Justice and the new operating team."