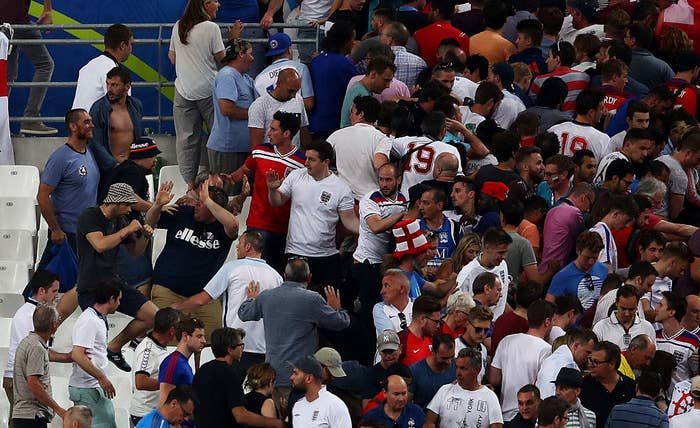 Six English men have been jailed in France in connection with violent clashes between English and Russian football fans and the police before and after the two nations met on Saturday in their opening game of Euro 2016.
The fans were aged between 21 and 41 and all received sentences of between one and three months, for throwing bottles at police in Marseille.
Alex Booth, 20, from Huddersfield, was given a two-month sentence and Ian Hepworth, 41, a psychiatric nurse from Sheffield, was jailed for three months. Both were banned from France for two years.
Hepworth was accused of throwing a bottle at police and then running away afterwards. He claimed in court he could not remember the incident.

Booth told the court in Marseille: "I would like to say sorry to the police and to the people and city of Marseille. This is not like me; I'm not a violent person," the Mirror reported.

"I love my job and my family, I've never been involved in football hooliganism."I was in the wrong place at the wrong time."
Booth's father, Chris, told reporters that he would fight his son's sentence.
One Austrian and three French men also faced trial in connection with running battles with police in which tear gas was used and bottles were thrown. In total, there were 20 arrests.
On Monday, French prosecutor Brice Robin said that as many as 150 well-trained, "hyper violent" Russian hooligans were behind much of the violence that broke out ahead of the Group B match, which ended 1–1.
He told a press conference: "These people were well prepared for ultra-rapid, ultra-violent action. These are extremely well-trained people."
He added that some Russian supporters were turned away at Marseille airport, but some travelled overland.
One of the Britons arrested for throwing bottles during violent scenes on Saturday was aged 16, Robin said.
Two Russian nationals have been expelled from France, and another two were arrested over the weekend for a pitch invasion.
Robin told reporters that 35 people were injured over the weekend, four of them seriously. "Almost all of those who were wounded were British," he said, while adding that British supporters were responsible for some violence.
One English fan in his fifties was reported to be in a critical condition after Saturday's violence.
Fans in the Stade Vélodrome on Saturday reported seeing Russian fans break out of their designated area en masse to attack English fans, who were fleeing in panic.

And earlier on Saturday, Russian and English supporters clashed with police and each other in the city's Vieux-Port area. Police used tear gas to disperse fans on numerous occasions.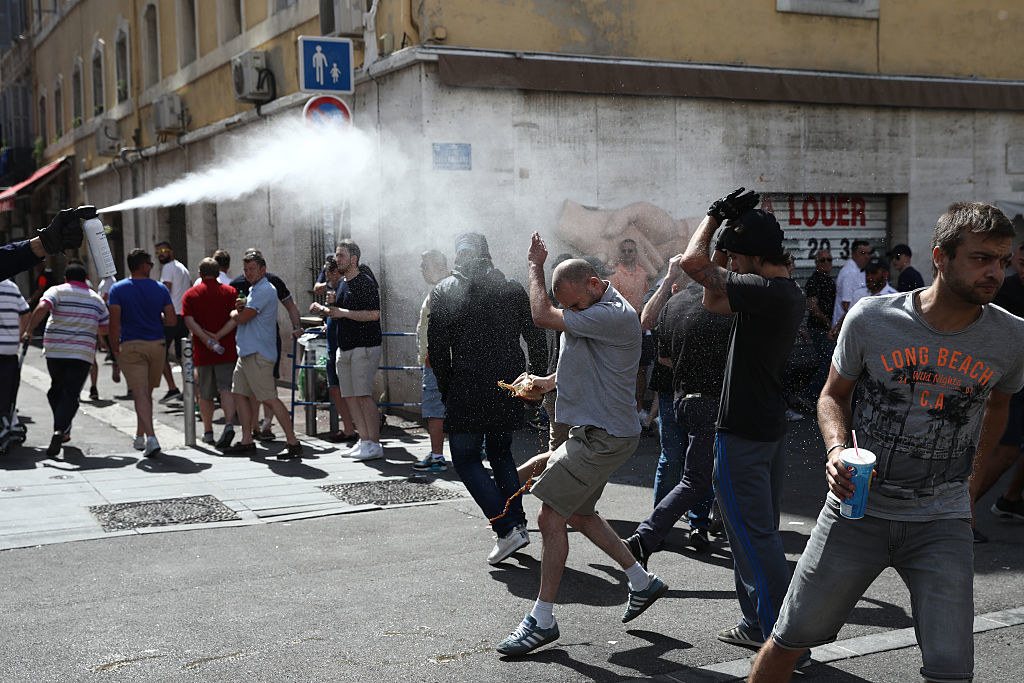 UEFA, the governing body of European football and the organiser of Euro 2016, has threatened to throw England and Russia out of the tournament if further violence occurs.
In a video published by the Football Association on Monday, appealing to England's fans, England manager Roy Hodgson said: "I'm obviously very concerned about the threat which is now hanging over us and the sanctions that could possibly be imposed on the England team. We worked very hard to get here and we really desperately want to stay in the competition.
"And I'm appealing therefore to all our fans... for you to stay out of trouble and try and make certain that these threats that are being issued are not carried out."
In the same video, England captain Wayne Rooney said: "I'd like to ask the fans: Please, if you don't have a ticket don't travel. And for the fans with tickets, be safe, be sensible, and continue your great support for the players."
Home secretary Theresa May told the House of Commons that she had discussed the violence with French interior minister Bernard Cazeneuve, and she appealed to supporters to behave ahead of the crucial clash between England and Wales on Thursday.
"The French authorities had to deal with trouble involving English supporters on Thursday, Friday and Saturday around the city and there were alarming clashes inside the stadium at the end of the match," she said.
"I am in no doubt that coordinated groups of Russian supporters bear a heavy responsibility for instigating violence. However we must ensure that we have our own house in order. Some among the England contingent in Marseille behaved inexcusably. Anyone who has travelled to France in order to cause trouble has let down their nation and does a disservice to all genuine England fans."
Some 1,400 fans with a history of football violence have been prevented from travelling to France, May said.
On Monday, at a regular briefing for journalists, David Cameron's spokeswoman said: "The government is deeply concerned by the violence in Marseilles at the weekend, including reports of fans being attacked by rival supporters.
"We welcome UEFA's decision to launch an investigation into the violence and we will look at how we can support that while engaging with our European partners."
The spokesperson added that Britain had raised concerns over Saturday's violence with the Russian government through its Moscow-based staff.