Watch them from afar. Don't engage.

Follow them and see if they'll lead you to their supplier.

They're your friends. It's cool.

It's complicated. I don't speak to them much.

Great! They're my best friends.

We argue sometimes, but at the end of the day we love each other.

I'm closer with my siblings than my parents.

It's okay. Nothing special.

We talk once a week, but that's pretty much it.

Great. I'm in a loving, committed relationship.

Complicated. I like someone, but they don't like me back.

Nonexistent. I'm single AF.

Okay. I've been on a few dates recently, nothing serious.

Good. I just started dating someone.

Blah. I just got out of a long-term relationship.

In the corner people watching.

In the middle of the dance floor having an amazing time.

Getting another drink. It's time to get drunk!

Hanging out with my BFFs.

I'm mingling and chatting with everyone.

Via The CW

Via The CW

Via The CW

Via The CW

Via The CW

Via The CW

Via The CW

Via The CW

Via The CW

Via The CW

Via The CW

Via The CW
This "Riverdale" Quiz Will Reveal What Percent Archie, Betty, Jughead, And Veronica You Are
You got:

50% Archie, 25% Betty, 15% Jughead, and 10% Veronica
You're mostly Archie with a little bit of Betty, Jughead, and Veronica thrown in. You're an extrovert, and you make friends super easily. Everyone knows your name and you make it a point to be kind to everyone. Your heart drives your decisions, which can cause you to end up in some sticky situations. When your friends need a good laugh, they turn to you.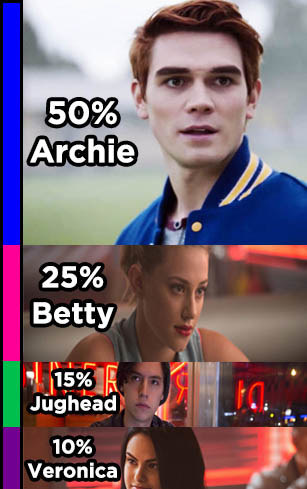 You got:

70% Betty, 12% Archie, 10% Veronica, and 8% Jughead
You're almost all Betty. Your intelligence is your defining quality. You're extremely kind and will do anything to help the little guy. You've hit a few bumps in the road, but you always try to remain positive. Your friends look to you as a shoulder to cry on because you're a great listener. You're a leader, especially in times of crisis. You love with your whole heart.
You got:

60% Jughead, 20% Veronica, 15% Betty, and 5% Archie
You're mostly Jughead with a little bit of Veronica, Betty, and Archie mixed in. People describe you as an introvert. You're deeply passionate about the things you care about, whether it's family, friends, or a good book. You love doing anything that expresses your creativity, whether it's writing a story or drawing a cartoon. You tend to push people away when things get tough, but that's just because you don't want to worry anyone.
You got:

55% Veronica, 30% Jughead, 12% Archie, and 3% Betty
You've got a strong head on your shoulders just like Veronica. You know what you want and you're going to take it. You're assertive, especially when your friends are in trouble. Showing your sensitive side will take some time, but once you've found a group of good friends you have no problem opening up to them.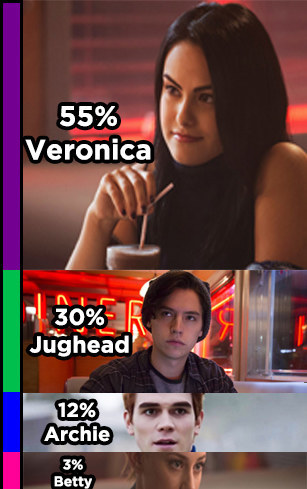 You got:

45% Betty, 35% Veronica, 15% Jughead, and 5% Archie
You're almost equal parts Betty and Veronica. You're very curious and love to explore the world around you. Your temper may get the best of you sometimes, but your anger just shows how passionate you are about something. You're someone who likes to plan ahead instead of diving in unprepared.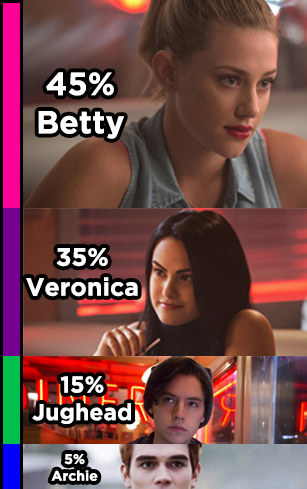 You got:

25% Archie, 25% Betty, 25% Veronica, and 25% Jughead
You're an even combination of all four — lucky you! You're family is the most important thing in the world to you, just like Archie. Like Betty you have an inquisitive mind and always search for the truth. You're stubborn, but your intentions are always good, like Veronica. And, like Jughead, you're a bit of a loner, but you have a core group of friends that always has your back.