🚨 There are spoilers ahead for all 10 episodes of Daisy Jones & the Six! 🚨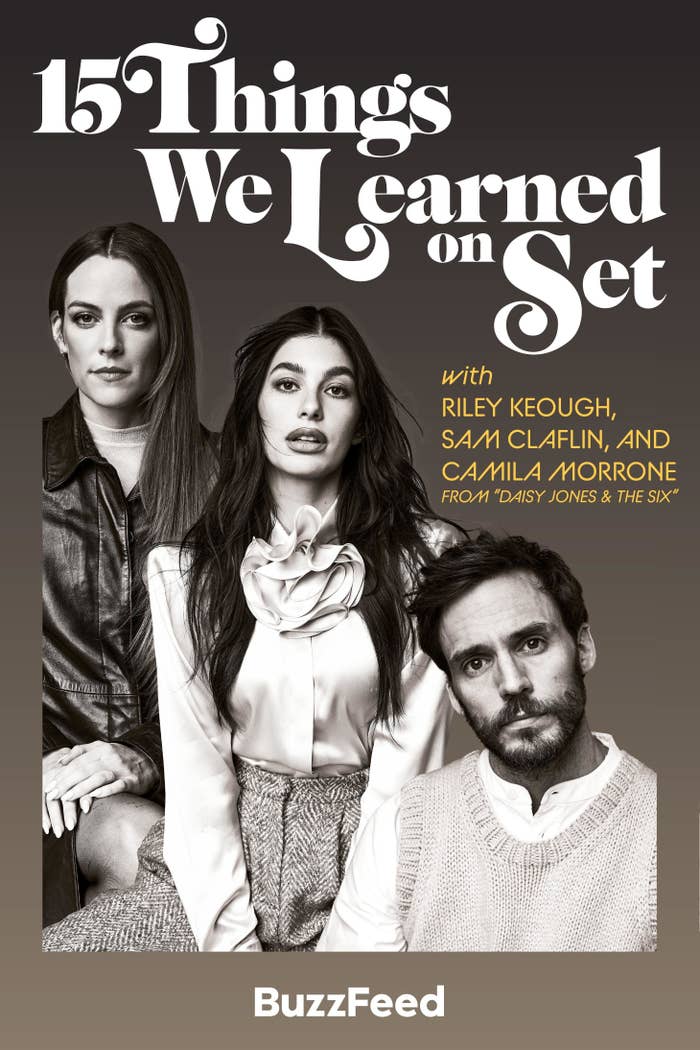 Daisy Jones & the Six is a book that left every reader wishing the band was real, and now it's become a reality. Based on Taylor Jenkins Reid's bestselling novel, this limited series details the rise and fall of renowned rock band Daisy Jones & the Six, and what led to their abrupt breakup just when they were on top of the world. The TV adaptation has led to the band actually charting on the Billboard music charts, having a bestselling vinyl record, and much more. 
At the center is Riley Keough, Sam Claflin, and Camila Morrone, as Daisy Jones, Billy Dunne, and Camila Dunne, who bring to life three complex characters, and a "love triangle" that everyone can't help but love. To celebrate Daisy Jones & the Six, we sat down with Riley, Sam, and Camila to discuss all 10 episodes of the hit series — they talked about their auditions, what it was like bonding as a cast, their favorite scenes, and much more.

Here's everything we learned:
1.
First, Riley, what was your audition process like for Daisy Jones & the Six?
Riley Keough: I read the book. I mean, I listened to the audiobook, and I met with Hello Sunshine, like, very early on. Then, I auditioned. I sent a self tape in. This was before the singing, just acting. I think I sent about three acting tapes in.
Sam Claflin: Were they giving you notes each time?
RK: No, just three different ones. So, I did two scenes, and then they added another scene.
Were they scenes that made it in? Or completely random scenes that ended up getting cut?
SC: Yeah, which scenes were they? 

RK: It was the Apple Pan scene and the pool scene. My audition was very different to the pool scene that's in the show. I wonder if they'll ever release the auditions.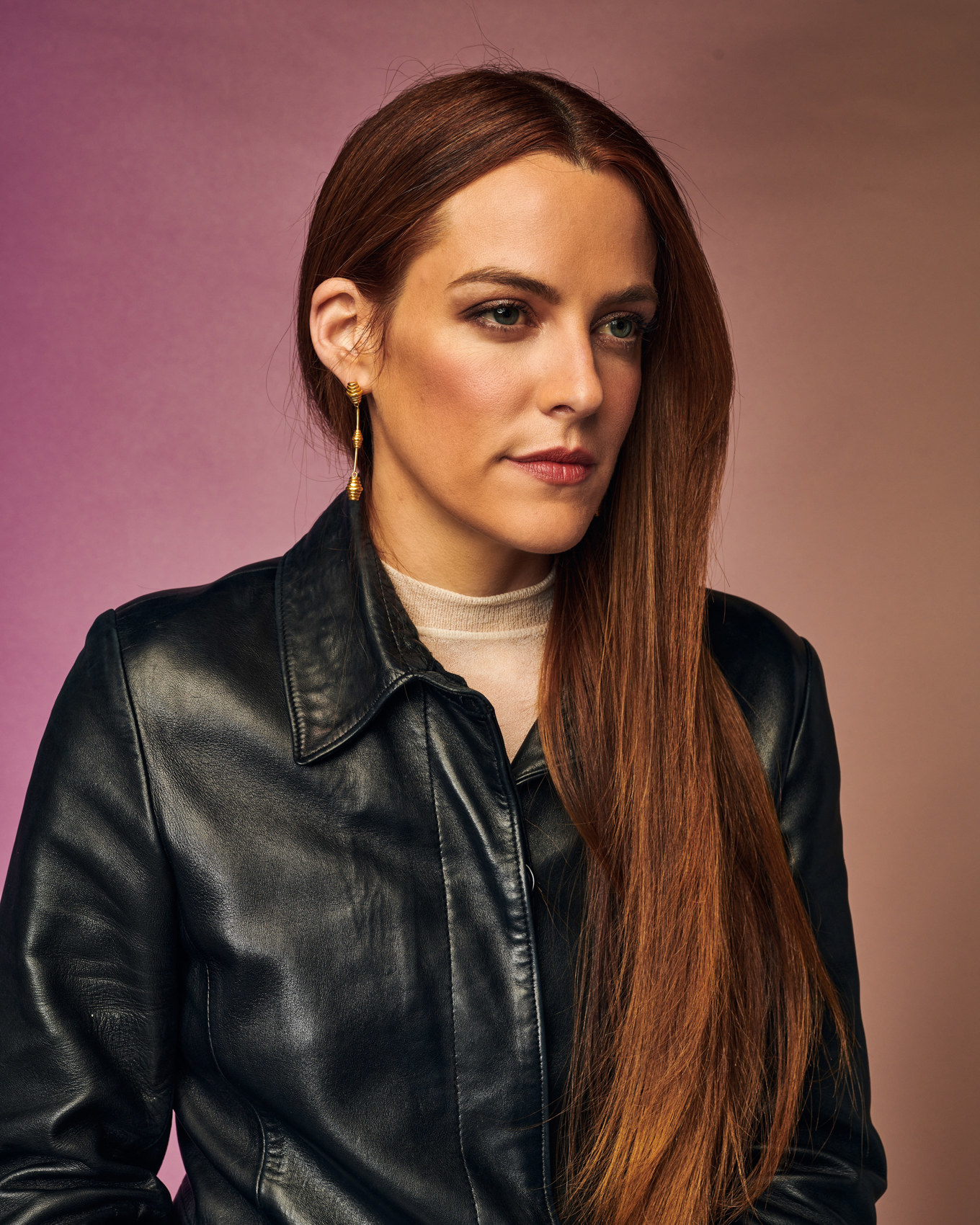 2.
Camila, how did you first hear about Daisy Jones and ultimately join the cast?
Camila Morrone: I came in after Riley. One of my best friends, who happens to be Riley's agent, told me about this book and told me I should read it. Then, when the audition came around, I crammed read it. But, accidentally binged it. I loved it. I went in for the audition and then got called back for a chemistry read with Riley. I was so nervous to meet her and so intimidated that I had to do scenes with her. I got cast, and then we went out to find our Billy.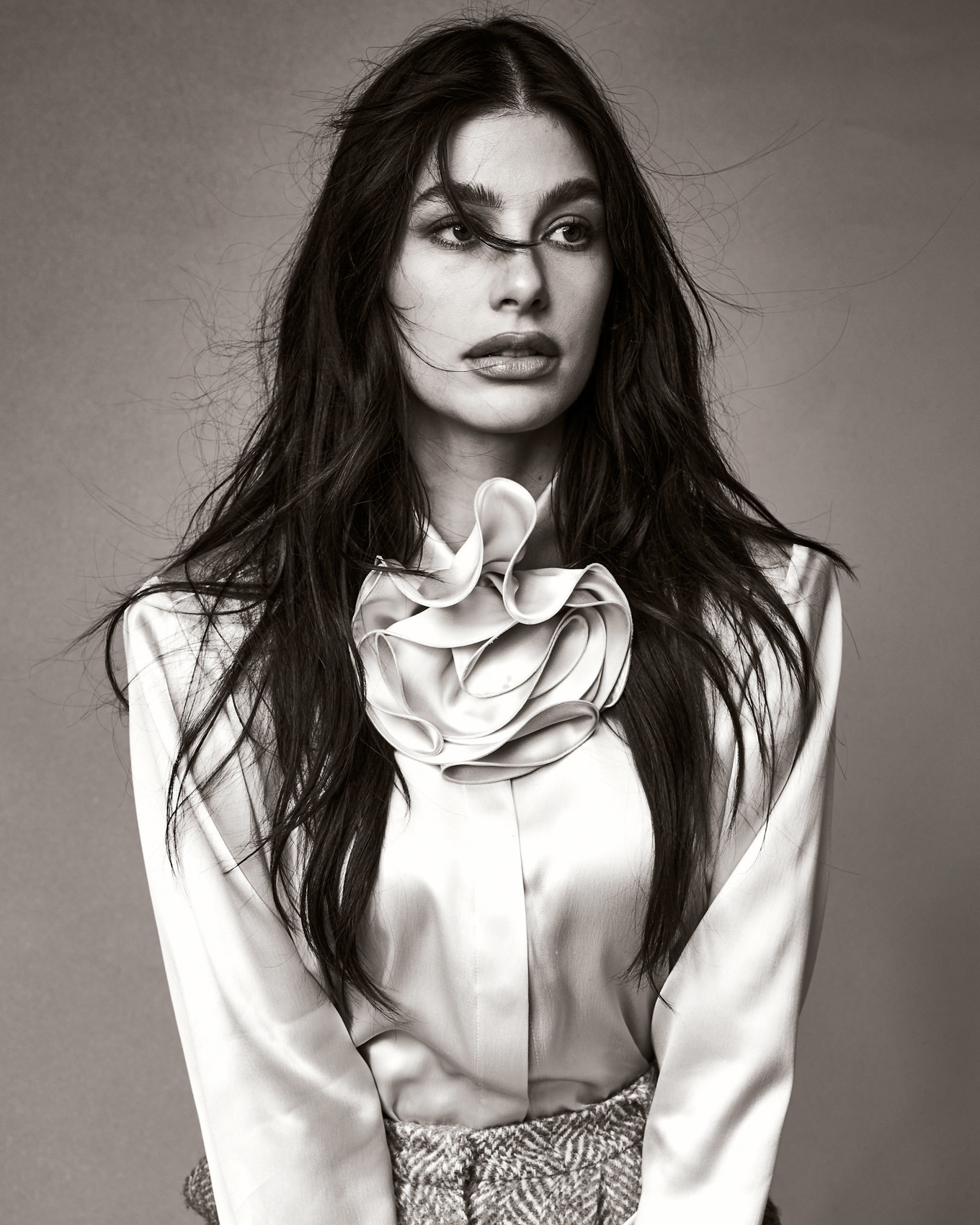 3.
And Sam, you were one of the last ones to be cast, so how was it auditioning and stepping in knowing Riley and Cami were already involved?
SC: I was actually meeting with Hello Sunshine for a different project. I was in LA, and I was at the airport, and I got a phone call from my agent saying, "Can you stay in LA any longer?" I couldn't. I had to go back to my children. So, I went back home, but then, like, two days later, I was back on a flight to LA to audition for this thing that I'd never heard of about a '70s rock band. I managed to read Episodes 1 and 2. I knew that Riley and Cami were already attached to the project. I only did the one audition weekend. I flew into LA and had to prepare, like, a 1970s rock song and was going to be doing a chemistry read with these two lovely ladies, and with Will [Graham]. Then, I was obviously fortunate to meet Riley and Cami, and they both made me feel very welcome.

RK: Everyone was cast when he was cast, and he was the hardest character to find. I think Taylor [Jenkins Reid] said that she always thought Daisy would be the hardest, but it was actually Billy.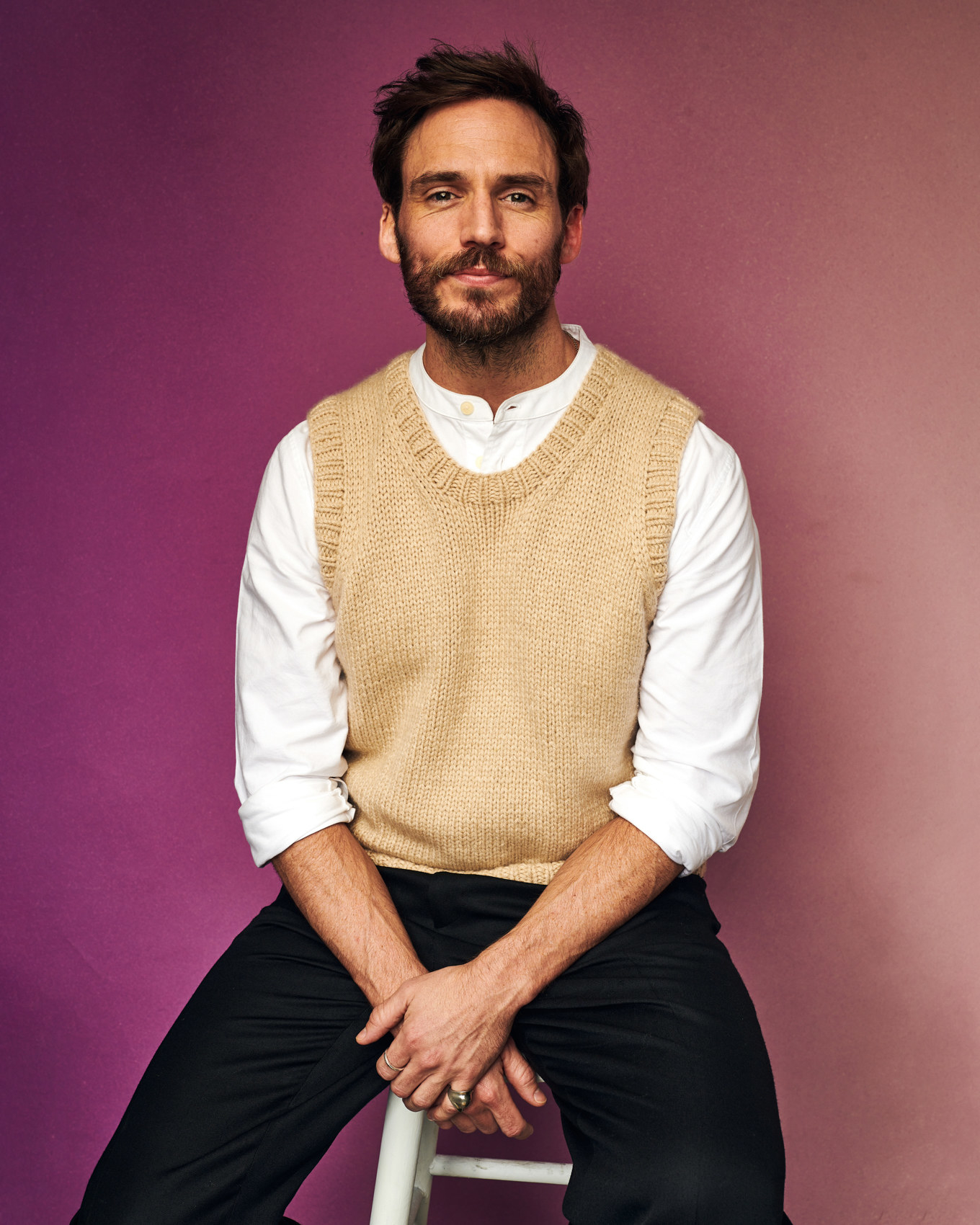 4.
Do you remember what scenes were used for your chemistry reads?
SC: It was Apple Pan, and it was the scene before—

RK: It was a scene before Chicago Stadium. It was a scene that doesn't exist anymore.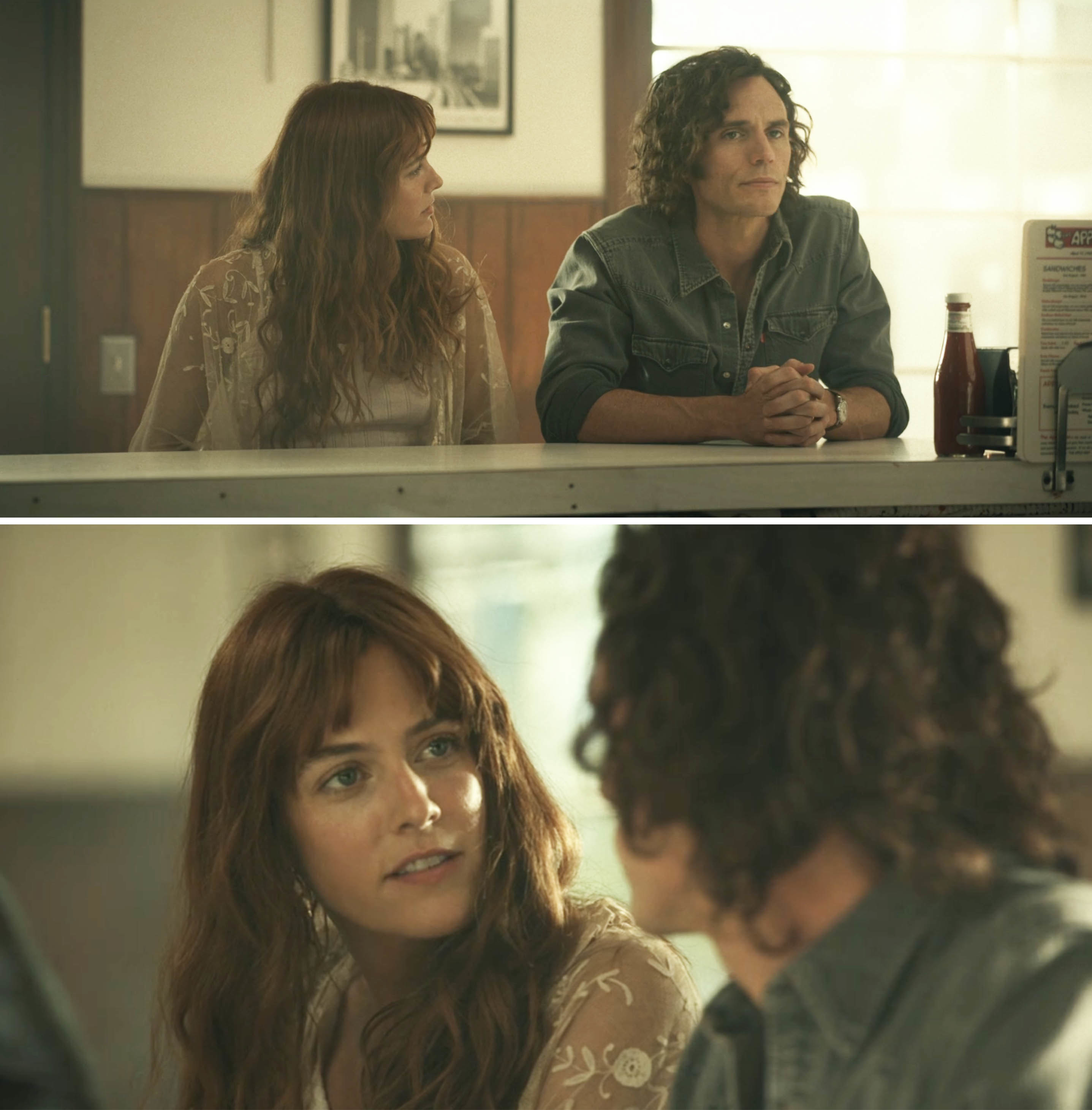 5.
Taylor Jenkins Reid's books, including Daisy Jones, are all so beloved. Were you aware of how big her fanbase was before filming began?
RK: I feel like it has only gotten bigger. On our plane rides over here, like every plane that one of us took, it either had somebody reading Daisy Jones or Evelyn Hugo.

The Seven Husbands of Evelyn Hugo is my favorite book of all time.
CM: Me, too!
I mean, I love Daisy Jones, too, but Evelyn is very special.

SC: Taylor's amazing. She's an amazing person as well. It's been really special having someone like that kind of be so supportive of her book growing and evolving. It's quite cool.
CM: Daisy Jones was one of the first books I read, like, recreationally and enjoyed. I hadn't been reading for years.
Same with me! I picked it up beginning of the pandemic, and it really jump-started my love of reading as an adult. I just loved how it was written like a documentary.
CM: It makes it fun and relatable. I loved it so much.
And then, I love that the show is telling the truth essentially. Like, we're seeing what actually happened, so it lends itself perfectly to a TV adaptation where you can add things.
RK: Was there a change that surprised you, Nora?
Billy and Daisy never kiss in the book, so I was honestly stunned that it happened, and it's such an important moment that really changes how you view Billy and Daisy's relationship, obviously.

RK: Did you like that change?
[laughs] Now I'm being interviewed. I read the book always thinking they had totally kissed, but weren't going to reveal that to Julia, who thought so highly of her parents' relationship.
SC: And I think the buildup to that moment is really well done.
Exactly. I think the buildup to Daisy not recording the song the way Billy wants makes that moment even better.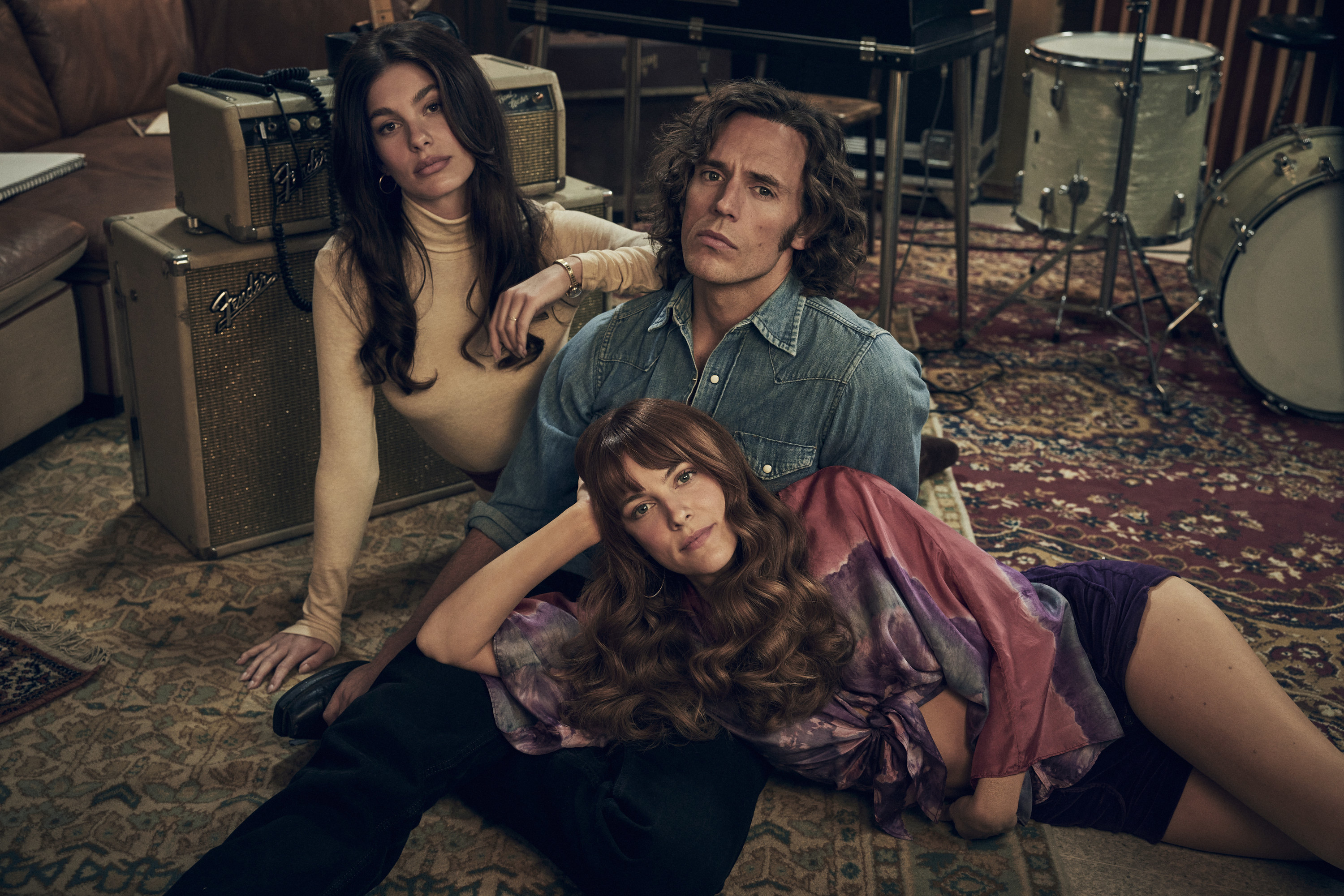 6.
Obviously, singing was a huge part of playing Daisy and Billy. Riley, do you remember what song you sang for your audition and what that was like?
RK: After my initial acting auditions, they were like, "Great, but can you sing?" In the beginning, I sent in, I think, me singing "Wild Horses" [by the Rolling Stones]. I was singing very soft and falsetto. And they said, "You need to be able to sing louder and belt." I had never done that in my life. I told my agent, "I don't know how to do that. I literally have no idea how to even sing loud. I'm not a singer." So, I sat in my car and tried, and I didn't sound good. Then, I went to a vocal coach for a couple of days, and finally, I got what I thought was belting and sent that in, which was a Lynyrd Skynyrd song. I did "Simple Man."
CM: I love that video, and I hope you'll release it one day because it's actually great.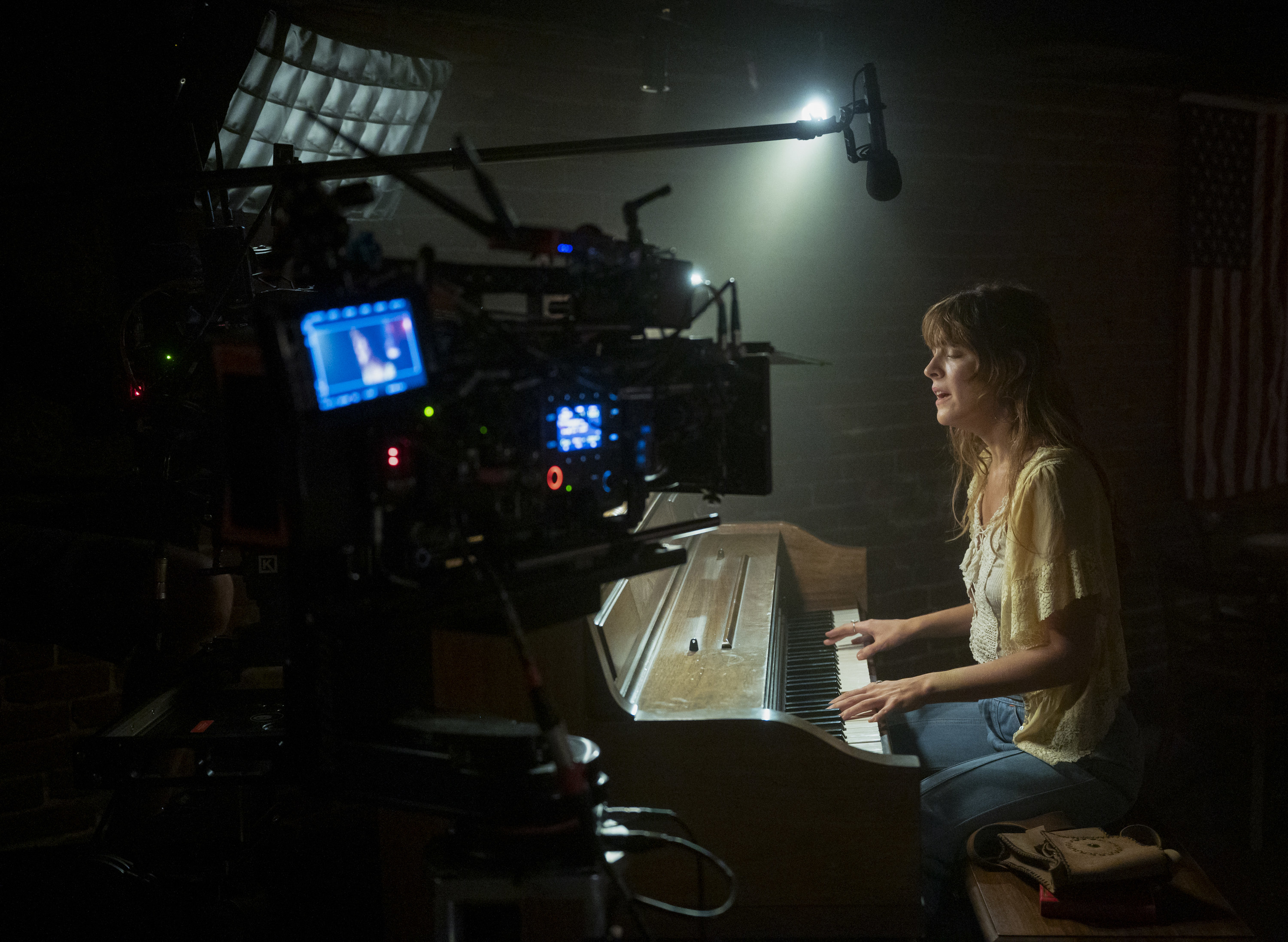 7.
Sam, what did you sing for your audition?
SC: [laughing] My rock song was Elton John's "Your Song." It's the most un-rock and roll song you've ever heard in your life. But, that was all I felt comfortable to do. I sort of knew the lyrics, so I wasn't learning anything new. But yeah, they quite quickly, during me singing it, were like, "Yeah, that's great. Could we try this song?" And then Tony [Berg, music consultant] came in with a guitar and started playing "Come Together." And I was like, "Oh, the Michael Jackson song." And he was like, "The Beatles." [laughing]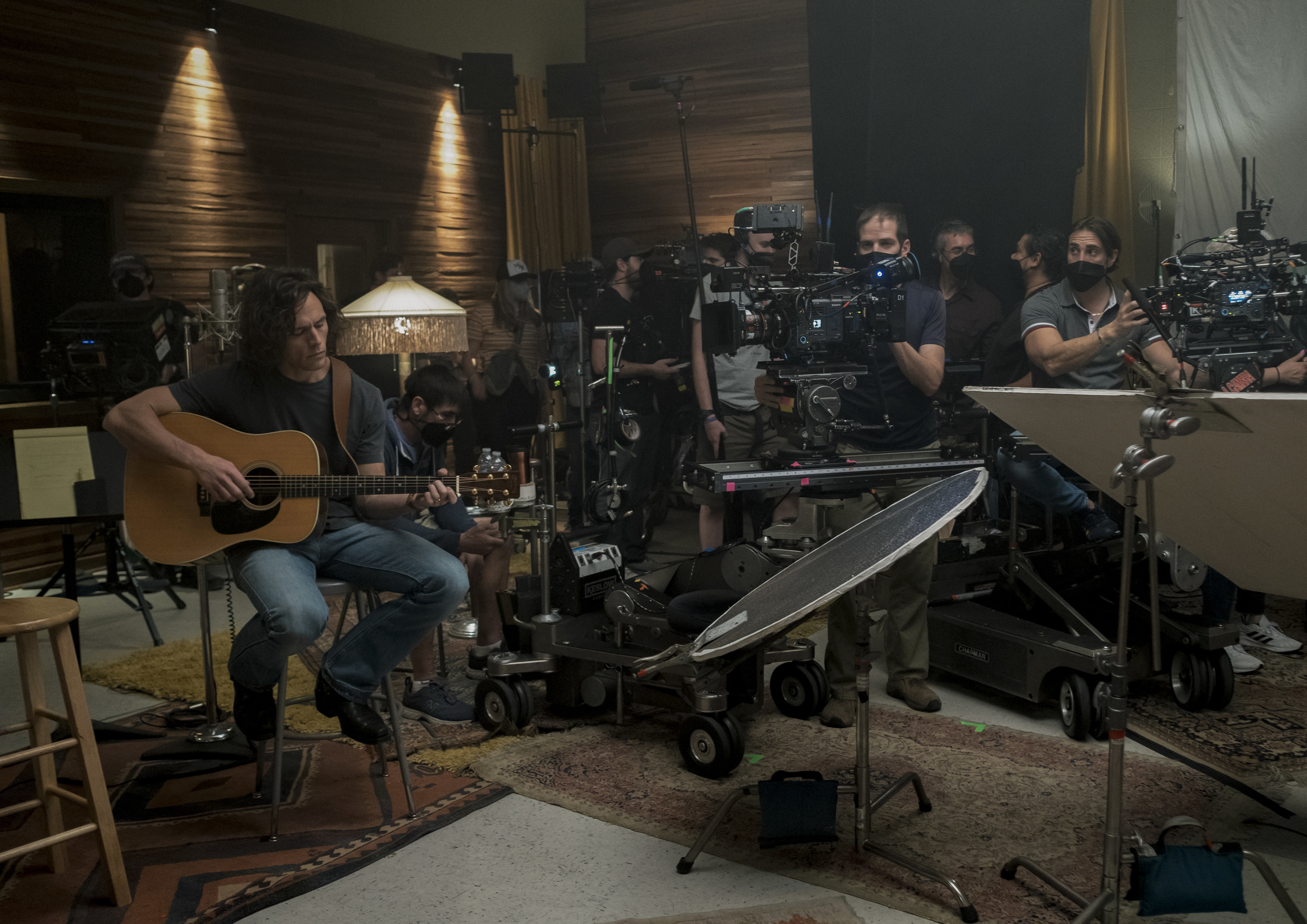 8.
Riley and Sam, you've talked a lot about learning to sing and play instruments for the show. What was that process like, and was it, frankly, intimidating the first time you had to play in front of people?
SC: I remember they put a guitar in my hand and were like, "How good are you with a guitar?" And I said, "I've never held one." They had me put my fingers for chords and strum, and they were like, "Okay, we can teach you." I just remember, I eventually got asked to do a singing lesson with Eric Vetro, who ended up being Riley's voice coach, too. I was doing this thing with him, and he jokingly was like, "Have you met the music producers yet? They don't like anybody." I thought, Oh my god, this is going to be horrible.

RK: That was sort of the last round for anyone who had to play music, was to go sit in Sound City with Blake Mills and Tony Berg and, like, perform for them live. I also had to do that. It was the last thing we had to do was go sit in the booth and play.
That's intimidating! Just thinking about not only playing in front of these great musicians and producers, but also being in THE Sound City. The documentary Sound City by Dave Grohl is one of my favorites, and just thinking about all the history while being there must've been wild.
SC: Oh my god, that documentary is so cool. I love it, too. 
RK: Yes, exactly! They were trying to make it low-key by being like, "Yeah, we're just going to go into Sound City and hang out, and check it out."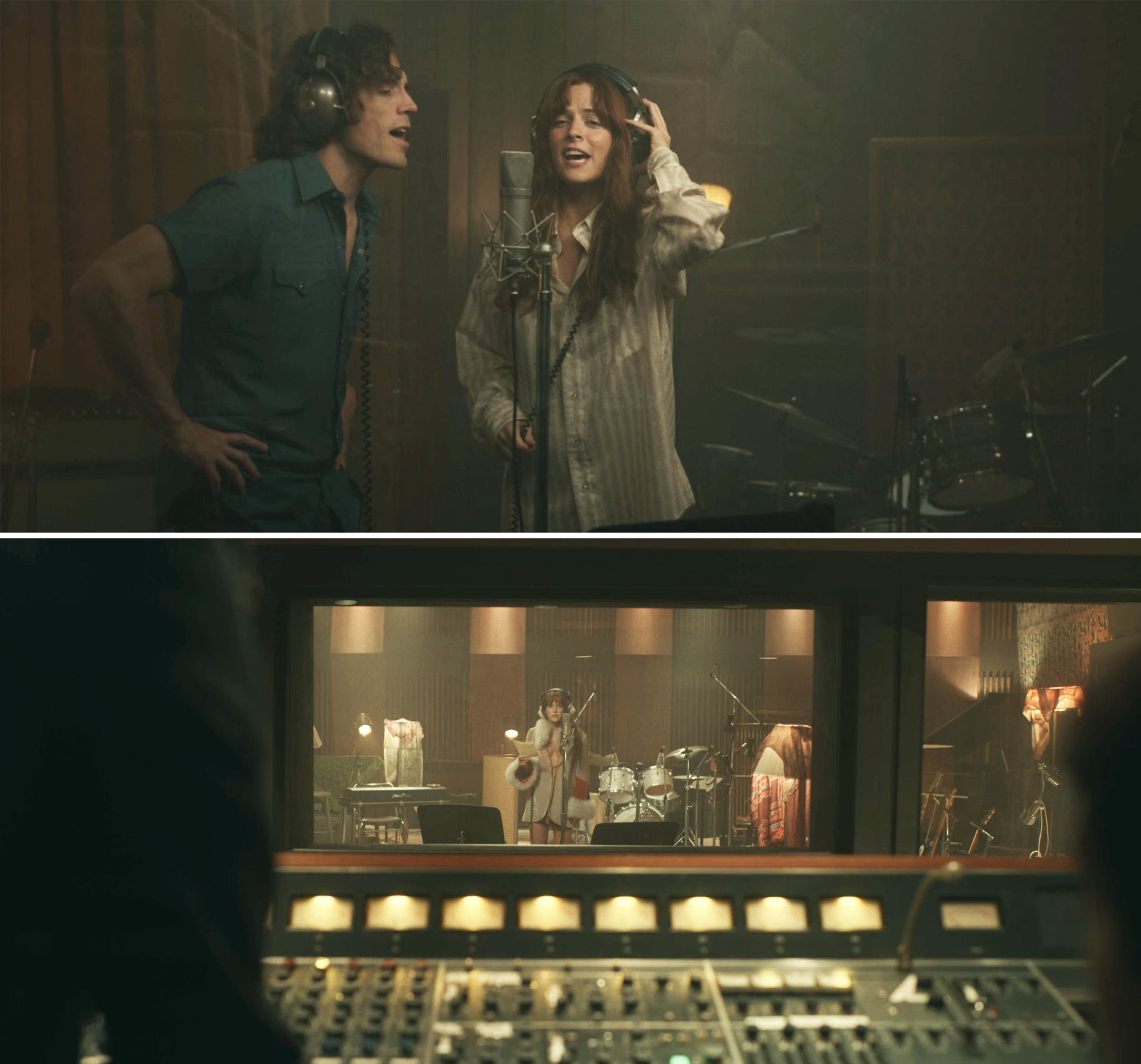 9.
Camila and Riley, do you have a favorite Camila and Daisy scene you got to film?
CM: Our pineapple scene was the first scene, I think, we filmed together. I really liked that one. I didn't get to work with Riley that much, and she's, like, one of my favorite actresses. So, every time we were in a scene together, I would just watch what she was doing, and I was like, I wish I had thought of that. Ugh, she's so cool and effortless and great. She also just looked so cool as Daisy. Like I said, I read the book, so it was surreal watching her embody Daisy. Riley and I are good friends IRL, so those scenes together were easy.
RK: I think my favorite scene to shoot with Cami was the picnic scene in Episode 9 because it was very laid-back. There was no tension. I think a lot of our scenes were like figuring out what the dynamic is because we're not friends. There's a lot of moments where we're both kind of like, What is this dynamic? And how do we play these scenes? Because every Daisy and Camila scene is very complicated. With this one, I just felt like it was very simple. It was probably the least effort in terms of figuring out their dynamic.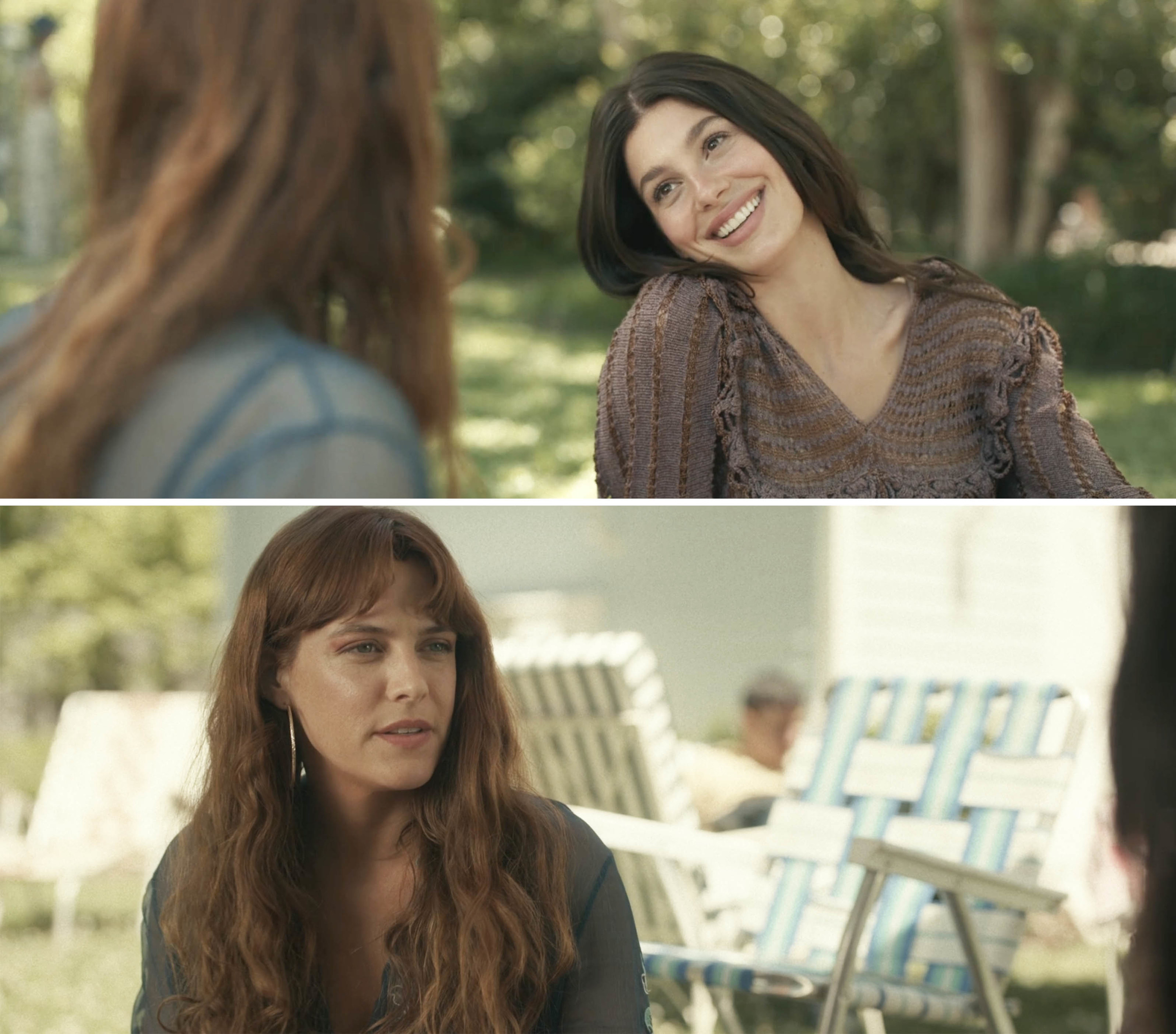 10.
And Sam and Riley, do you have a favorite Billy and Daisy scene from Daisy Jones & the Six?
RK: I do. But I'm curious what yours is.
SC: Mine also coincides with the first time it was just me and Riley during a Billy and Daisy scene. It was the songwriting episode, which is Episode 5. We spent a lot of time at Teddy's house. I remember that was when I was really spellbound by Riley, as an actress. It was when we were in the car at the end of the episode. You've broken down in the car after I said something that upset you, and I'm looking for you and finding you sat in the car. I remember watching you and being like, Oh my god. It really broke me. I think that whole sequence, which we shot over, like, two weeks, and there's loads of different scenes, but the whole thing was really cool. It felt very different to the dynamic I was used to, working with the band and how that was all coming into play.
RK: I think that my favorite scene of Daisy and Billy's is actually the scene on the beach. I love that scene. I think it's so sweet. I don't know, like they don't have a lot of moments that are sweet together. That scene I love because most of the scenes, there's tension or fighting or something. But, that one, they're just very sweet, and they're both just nice to each other. So, I like that scene.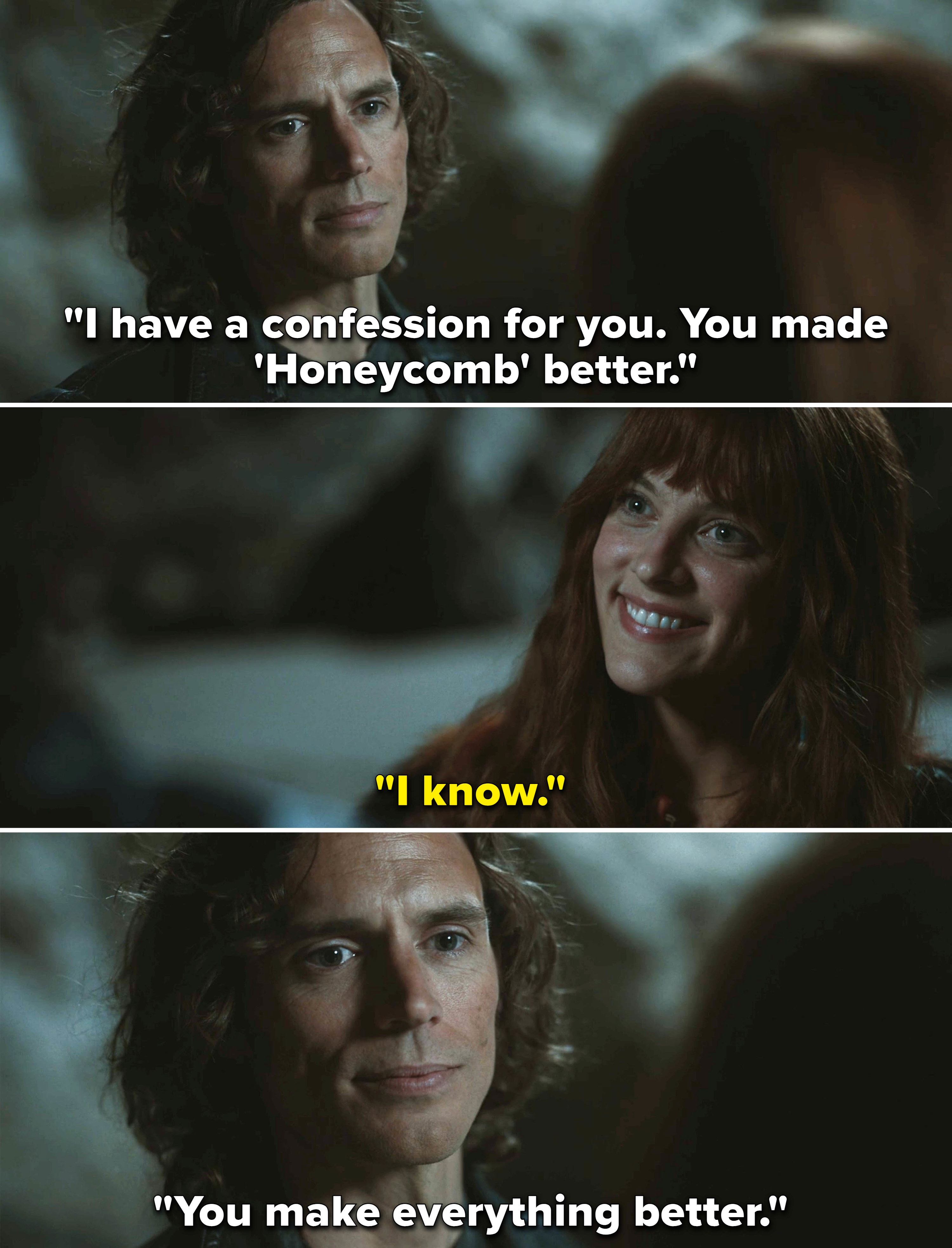 CM: I'm jumping in 'cause I have a favorite. I love the scene in Episode 10, when Daisy says, "I don't want to be broken anymore." 
RK: That was such a LONG day, too. It was a nightmare.
CM: I didn't know that. I was just mesmerized by you as actors.
RK: It was like 9 in the morning. We had a rough day. But, maybe it worked for the scene. 
CM: I'm telling you, it worked because you see the evolution of them from Episode 3 where you meet to Episode 10.
RK: Nora, what's yours now? [laughs]
Oh, god. Okay, I did love the change that Billy finds Daisy after her overdose at the end of Episode 8. But, the part of that scene that really got me, was in the beginning of Episode 9, when "Gold Dust Woman" by Fleetwood Mac plays as that scene continues. It was so brilliant, and I freaked out that you actually got a Fleetwood Mac song incorporated into the show.

SC: Oh my god, it's so good.
RK: The song makes that scene even more emotional.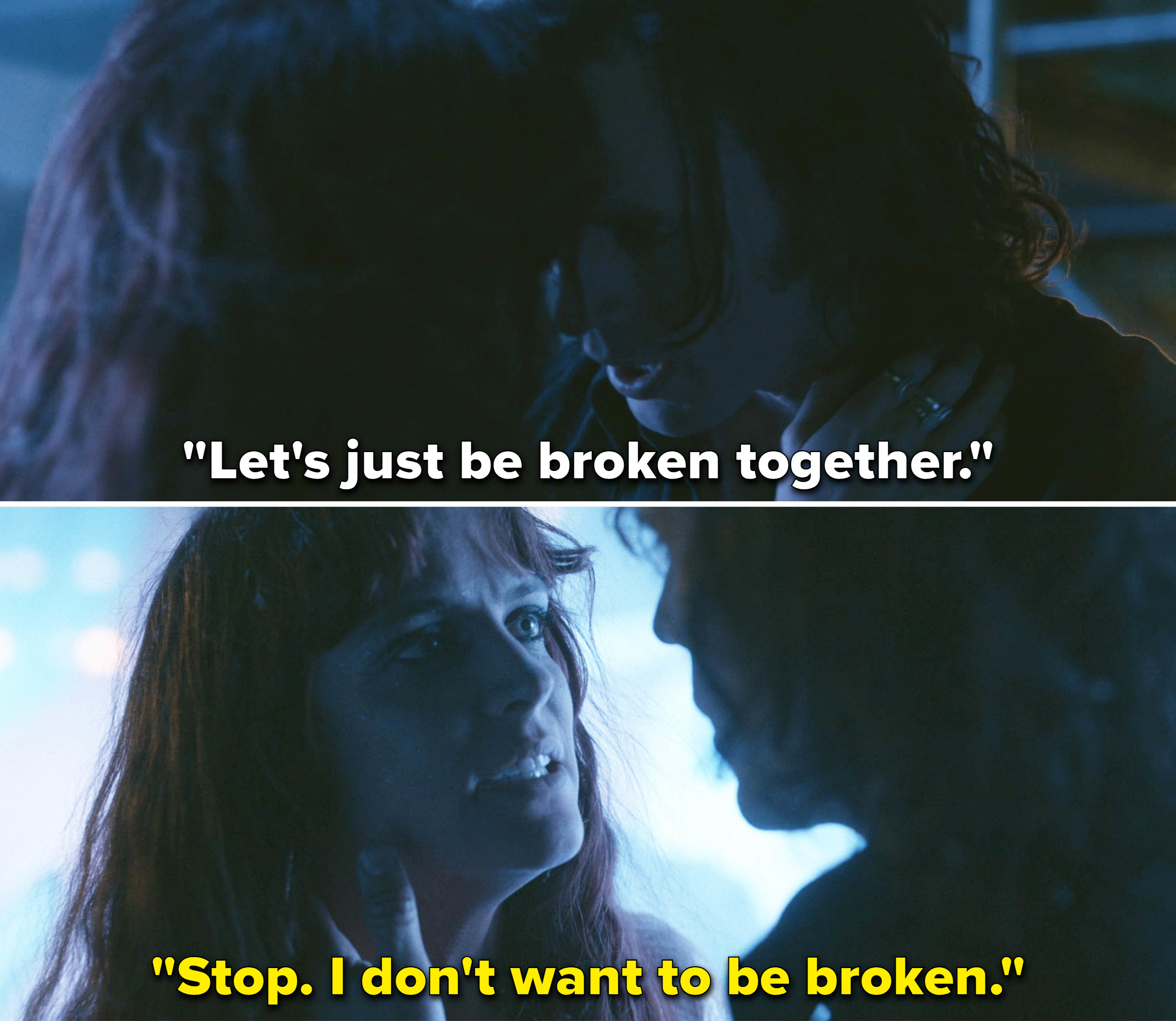 11.
It has been a long journey to get Daisy Jones from page to screen, and with the pandemic, it was even longer before you actually started filming. Did all that extra time allow you to bond even more as a cast?
SC: It was even before the pandemic, though. We all went for dinner as a cast to this little restaurant in East LA. I think, even in that moment, I remember thinking there's something really special about this group. I felt like we were all going to get on, even at that point. And yes, we were then gifted an extra year and a half because of lockdowns. We were all part of a WhatsApp group. We Zoomed and did things together, even though we were far apart. I think by the time that the lockdown lifted, we all were desperate to do anything together and human contact. I think we were just really lucky that there were no egos. We're a very supportive group. I felt like we were all similarly inexperienced in certain parts of our careers, whatever that might mean. It sort of felt very natural.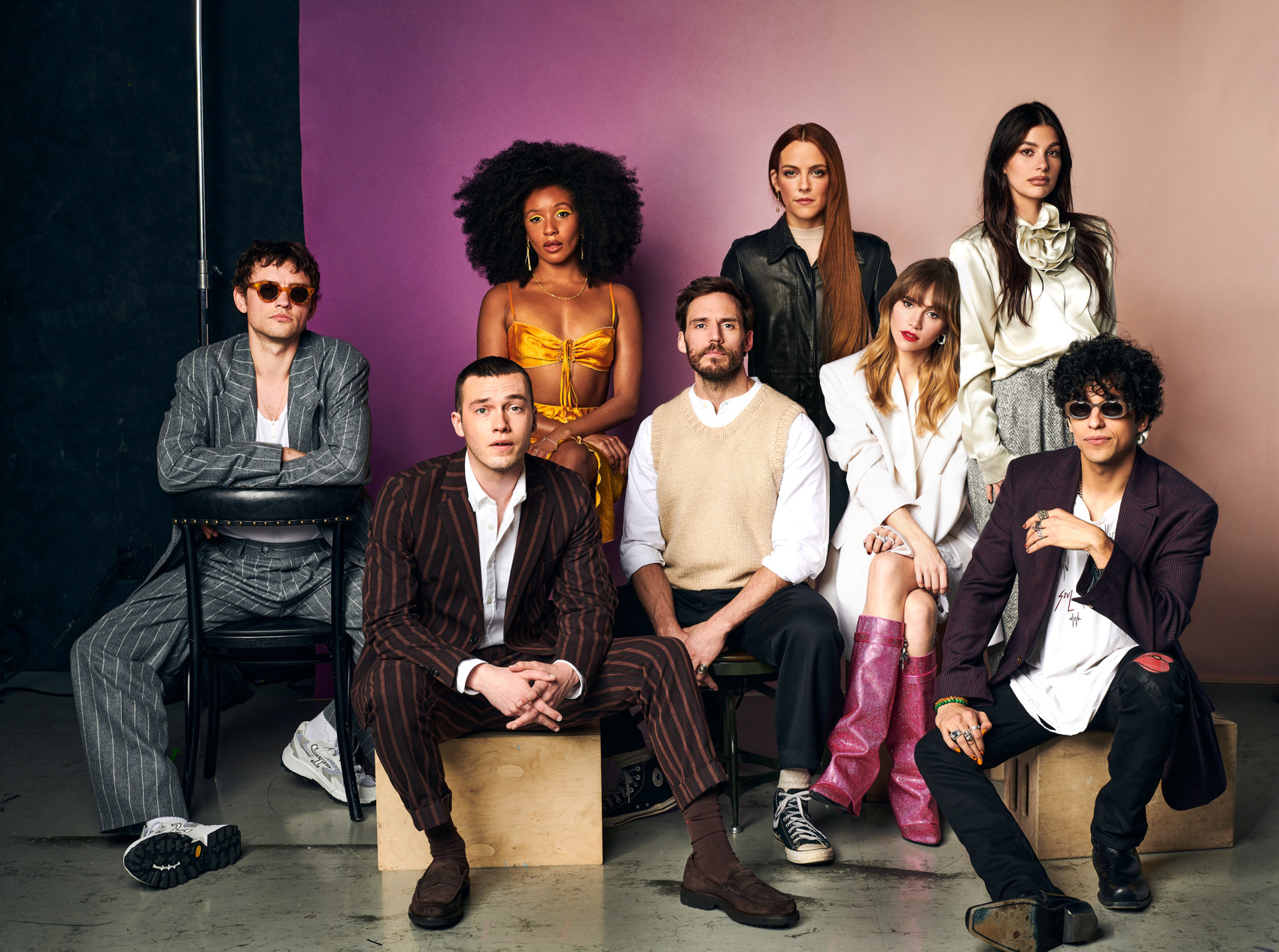 12.
Riley, did you take anything from the Daisy Jones & the Six set after filming wrapped?
RK: I took a jacket. There's a scene where Billy and I are sitting in a coffee shop in Episode 9. So, I took that one and—
CM: Does Denise [Wingate, the costume designer] know you took a jacket?
RK: Yeah!
CM: Lucky bastard!
RK: I think there were some rules that Denise [Wingate, the costume designer] had. This one, Denise made it. It wasn't rented or anything. I tried to get gifted Daisy's car [laughing].
SC: [laughing] That was a little hard to sneak off with, huh?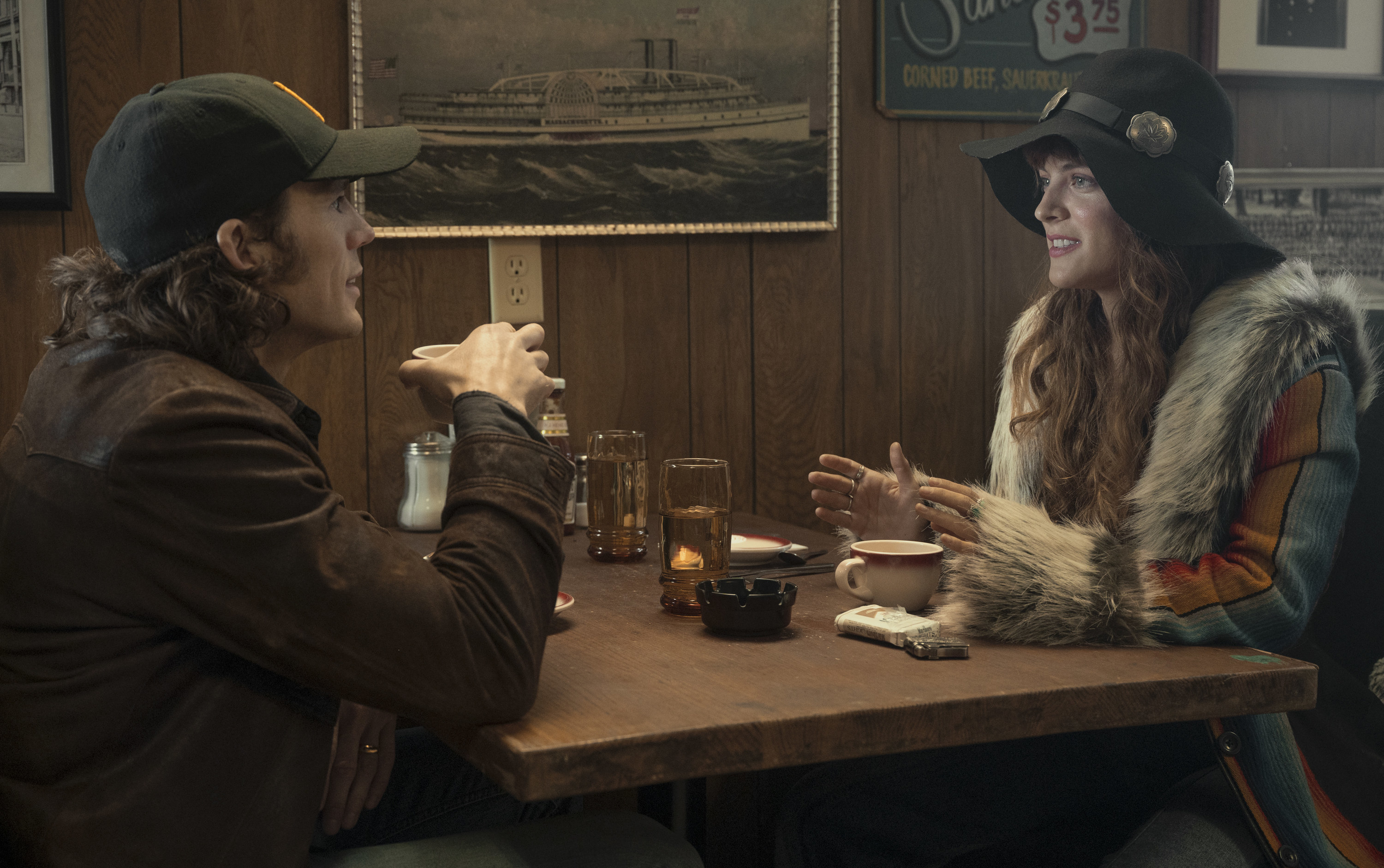 13.
Camila, did you take anything after you wrapped filming?
CM: I didn't take a single thing. I wasn't aware that we were allowed. So, now I'm sad, and I want to go back and hound Denise Wingate for props. 
You didn't take anything, Cami?!
CM: No, everything had to go back to special storage. Camila wore so many vintage rental items we had to return. I had over 100 outfit changes in the show. Oh, actually, I do have my camera from rehearsals. Camila's camera.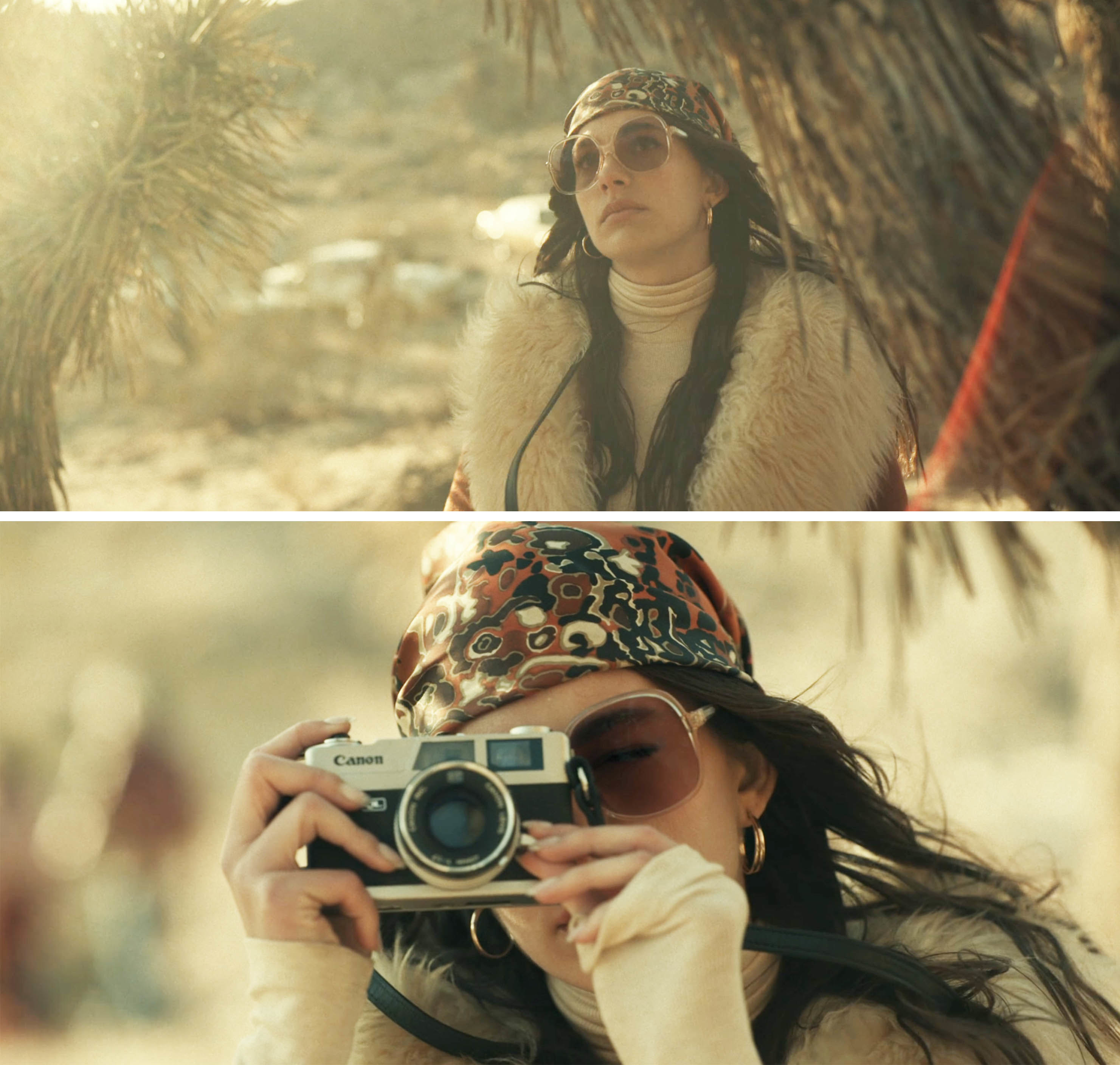 14.
And Sam, what did you get to take home from set?
SC: I was gifted Billy's guitar when I wrapped, which was pretty cool. That was pretty amazing. I also stole a floor-to-ceiling length poster of mine and Riley's faces. It was when we were shooting in New Orleans, and it was outside the theater. HUGE poster. Huge poster. I asked someone on set, and then when I wrapped that day, it was, like, rolled up in my trailer, and I was like, I don't know how the hell I'm going to get this home. Still, I don't know what I'm gonna do with it.
CM: And you stole T-shirts outside the Soldier Field stadium show, right?
SC: Oh yeah, I stole the merch as well. 
15.
And finally, do you have a detail or Easter egg from Daisy Jones & the Six that you particularly love?
RK: I do have a fun fact that Daisy's guitar is my guitar. 
CM: WHAT?! That's so cool! I didn't know that!
SC: I didn't know that either.
RK: It was my personal guitar, and I wanted to use it in the show.