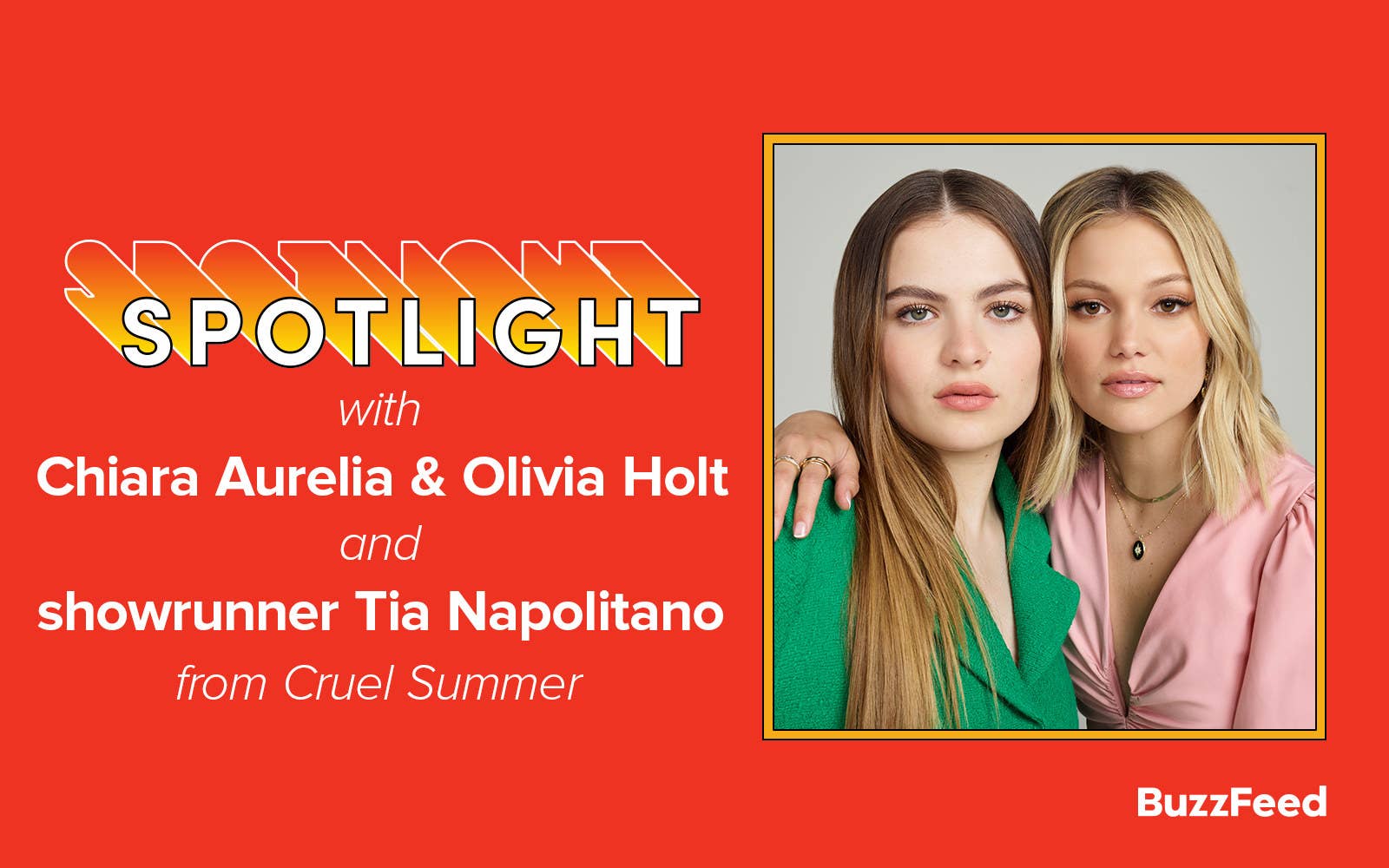 Cruel Summer became one of the best mystery shows on TV this year. With hundreds of fan theories and twists, week after week, Cruel Summer was the show to talk about. Now, after the Season 1 finale, fans were given a lot of answers, but also some new questions.
To celebrate Cruel Summer Season 1, Chiara Aurelia, Olivia Holt, and showrunner Tia Napolitano sat down with BuzzFeed to chat about everything — like their thoughts on the wild Season 1 finale, their favorite behind-the-scenes memories from filming, what Season 2 holds, and much more. Here's everything we learned:
WARNING: There are massive spoilers ahead for Cruel Summer Season 1!
1. First, both Chiara Aurelia and Olivia Holt didn't know Jeanette and Kate's entire character arcs or the ending when the season began.
Chiara: I was kept in the dark under every circumstance. The lovely Tia Napolitano did not tell me the end. I was very much invested in doing everything in my physical power to figure it out. I think I found out the end probably around Episode 8.

There was a little bit of, "We know the ending and you don't." Michelle Purple [who is an executive producer] told me that around Episode 3. We were filming Episode 3 and she goes, "[Laughs] I know something that you don't know." She would not tell me and she went, "There are only three people in the world that know, and none of them are going to tell you."
Olivia: We were mostly getting information as we filmed. I read the first two episodes before I signed on and I was already really invested in both of the characters and the story. I was interested in where the story could go. The trajectory of them was foreign to me. I had no idea where it was going to go until we started shooting.
2. Olivia was the last person to be cast on the show. In fact, they had already filmed the pilot without her, so they reshot it once she joined.
Olivia: I sort of came in as a newcomer and everyone welcomed me with open arms. I read the first two scripts and I met with the original creator of the show and we talked about it, and then I signed on pretty quickly. So, I think I met everybody for the first time over Zoom because it was right when the pandemic started. I was so quiet. I was so nervous to meet everybody because I had seen the original pilot that they had shot and I was like, "These people are brilliant. I wanna work with them."
3. When showrunner Tia Napolitano and the writers came up with Jeanette's ending, they actually asked Chiara if she thought it worked and made sense.
Tia: When we told Chiara, we invited "flags on the play." We were like, "Does this sit well with you? Does this resonate as authentic to Jeanette?" And Chiara thought about it and came back with a yes, which was great.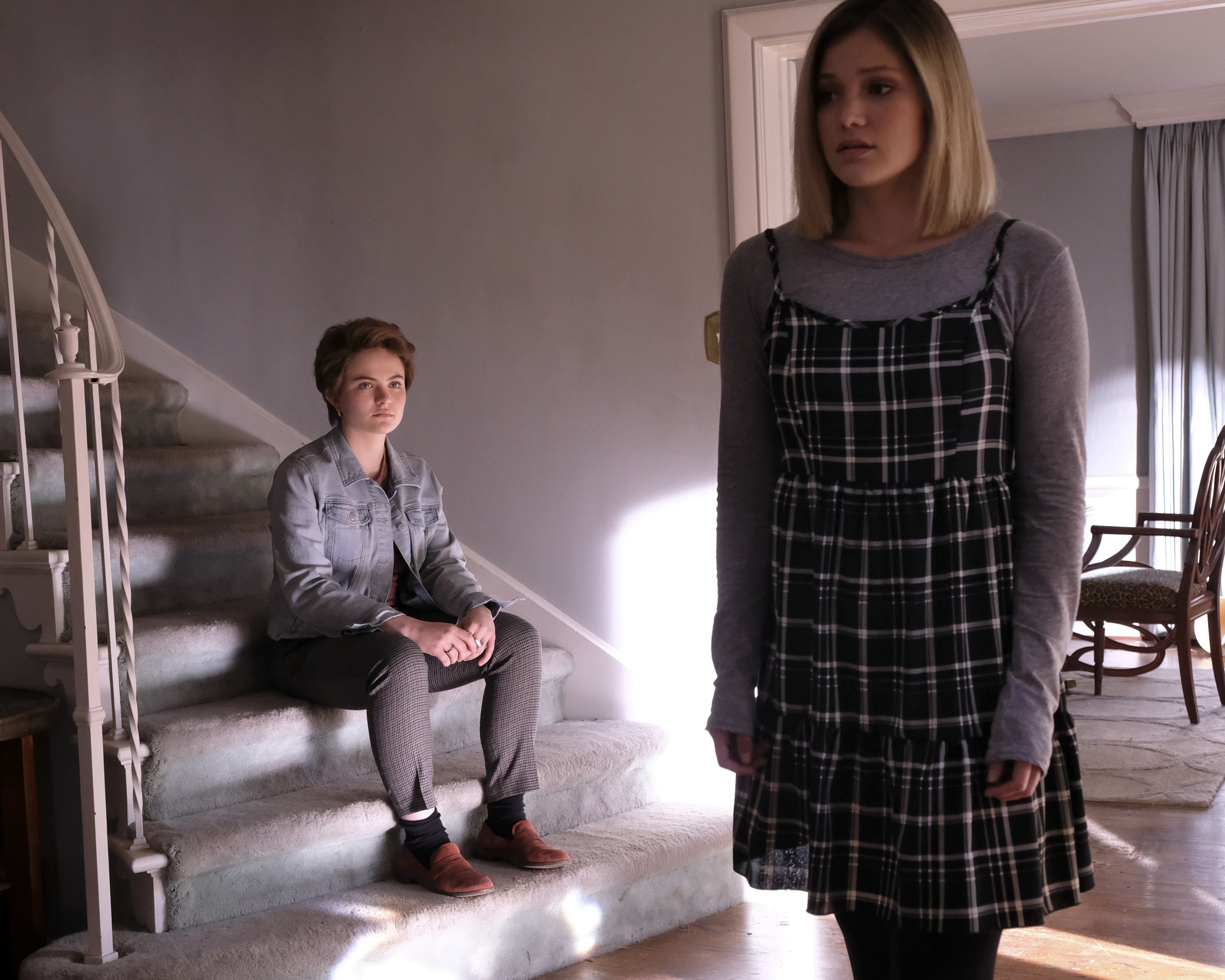 4. Chiara and Olivia both loved the twist ending of Jeanette actually having heard Kate.
Chiara: It was crazy! I knew it was coming, but it still was shocking. I mean, it's like your mouth just drops to the floor. It's so exhilarating and exciting, especially with such a big twist. I feel like it's really good to leave the audience satisfied, but with so many more questions.
Olivia: I felt like all of the questions I had and all of the answers I got completely shocked me. Also, everything satisfied me. I was very happy with all the answers, and then being able to bring all of those scenes off the page and put life into them was something I was excited to do.

5. For most of Season 1, Kate and Jeanette share hardly any scenes together, and that was intentional. It made their meeting in Episode 10 more "exciting and thrilling."
Tia: We had strategically placed Jeanette and Kate almost entirely away from each other throughout the season, so that having them in the same room, just immediately and visually, is exciting and thrilling. You get this sensation that you're about to get all of the answers. So that was really exciting. It was amazing to finally strip away all of the other people in this world and the media, and just give Jeanette and Kate two microphones — basically, put them in a room, and go, "You guys talk now."
6. In fact, Olivia and Chiara really never worked together during Season 1 and actually had "completely opposite" shooting schedules. So it was exciting when they finally filmed the moment when Kate and Jeanette talk.
Chiara: Olivia and I virtually never worked together. Our shooting schedules were completely opposite. It was so rare that our paths crossed, at least at work. We hung out plenty off of set. But we were both so excited because we were like, finally, we actually get to work together and we actually get to bring our characters together. From a personal standpoint, that was incredible. Then, from a character standpoint, it was amazing because there was so much aggravation, frustration, and anger that both our characters felt towards one another that had been built up all season long. It was really exciting to watch that bubble burst and to have this one on one.
Olivia: I love Chiara. I'm so bummed we didn't get to work together more because she's so good. Those scenes in the finale, I think it was so important for us to spend as much time on them as possible. To be able to really curate the right tension for Kate and Jeanette was hard and important because Chiara and I are such good friends in real life. There were so many times where we would break into laughter and would be like, "No, no. We've gotta get our shit together." She's a dream and I felt really lucky to have a scene partner like her.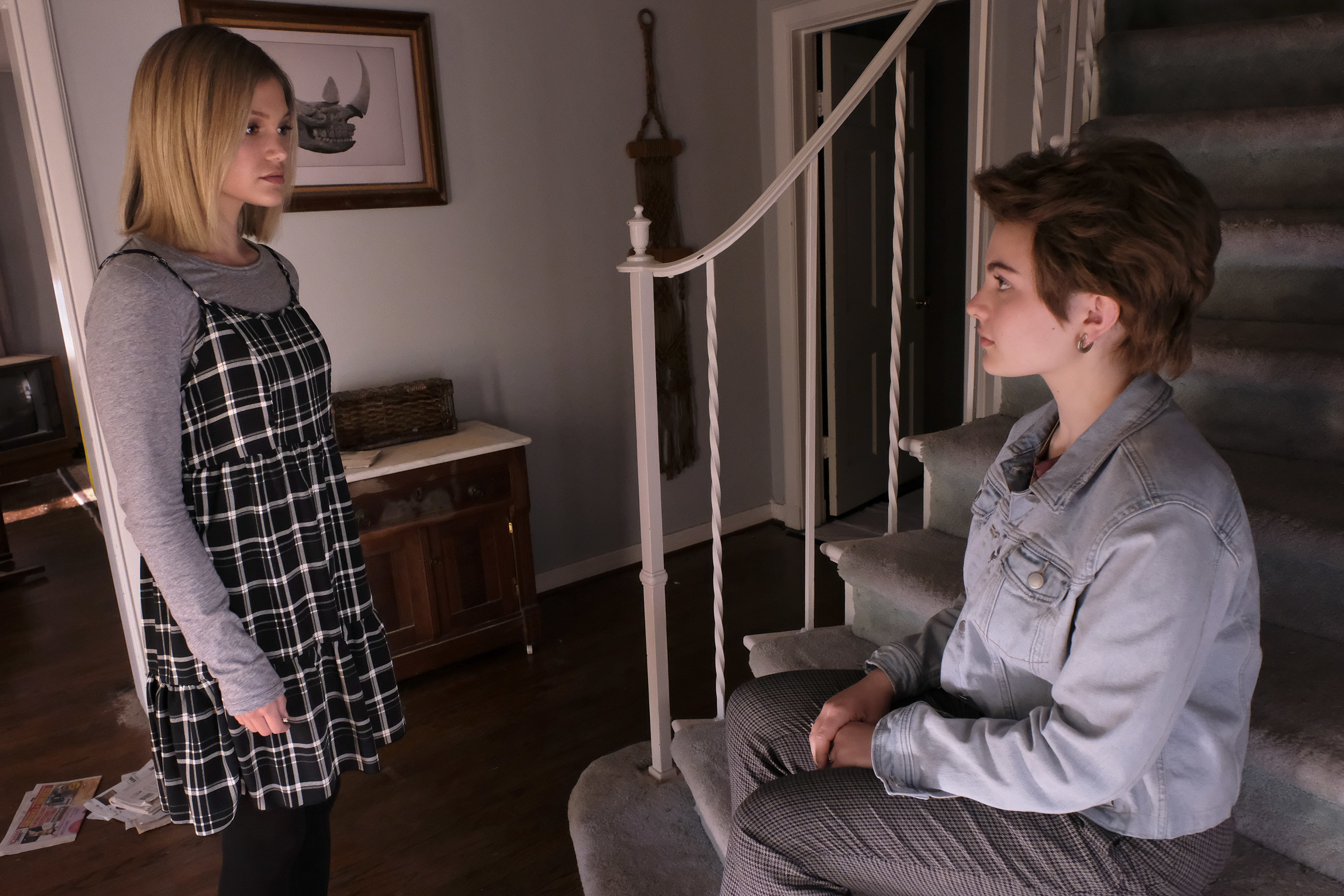 7. From the beginning, the writers always knew that Kate was going to be the one to shoot Martin Harris, but they didn't know Annabelle was going to be the gun until around Episode 4.
Tia: We always knew that Kate was going to be the one that pulled the trigger and shoot Martin Harris. Around the time we first mention Annabelle, I think in Episode 4, that is when Annabelle being the name of the gun came about.
8. Olivia loved Annabelle being the gun, and she said it was fun to know that not a lot of fans had gotten the "Who is Annabelle?" theory correct before the finale.
Olivia: Annabelle was so interesting. I think it's the only theory that I feel like a lot of people hadn't quite gotten before the finale. I kind of love that. I love that people aren't expecting it to be this object.
9. It was important that the show really dove into Kate and Martin's relationship because they didn't want to glamorize it and wanted to show how wrong it was.
Olivia: I'm so happy we really dove deep into their story because I think it's really important for people to see all of the elements and layers of just how wrong their relationship was, even though at some points it probably felt right. It was really important for us to be as transparent as possible and not to glamorize it in any way. I'm glad we took the time on that episode.
10. The scene from the finale that Tia "rewrote the most" was the moment between Kate and Martin in the basement.
Tia: That was the scene in the finale that I rewrote the most because we really wanted to get it right. It became important to make sure Kate saved herself and that Kate had the agency and the power. That felt really satisfying and the kind of story we wanted to tell with Kate.
11. And because Blake Lee, who plays Martin, is such a sweetheart off set, Tia said watching Martin's death was "really hard and emotional."
Tia: Watching it in the edit and putting it together was really hard and emotional because Martin Harris is an abuser, but Blake Lee is a lovely human, a really sweet person, and a friend. To hear him give that performance just brings me tears because I know Blake. I texted Blake the other day being like, "Why do I cry every time Martin Harris dies?!" And he was like, "Because you and I are inside of him. We are inside his head. A part of us dies every time we watch it." I don't know what that makes me, but it's true. Just seeing Blake's sweet, sweet face in pain is hard. It makes me have feelings and I think that's the goal of art and television. So we're doing it right.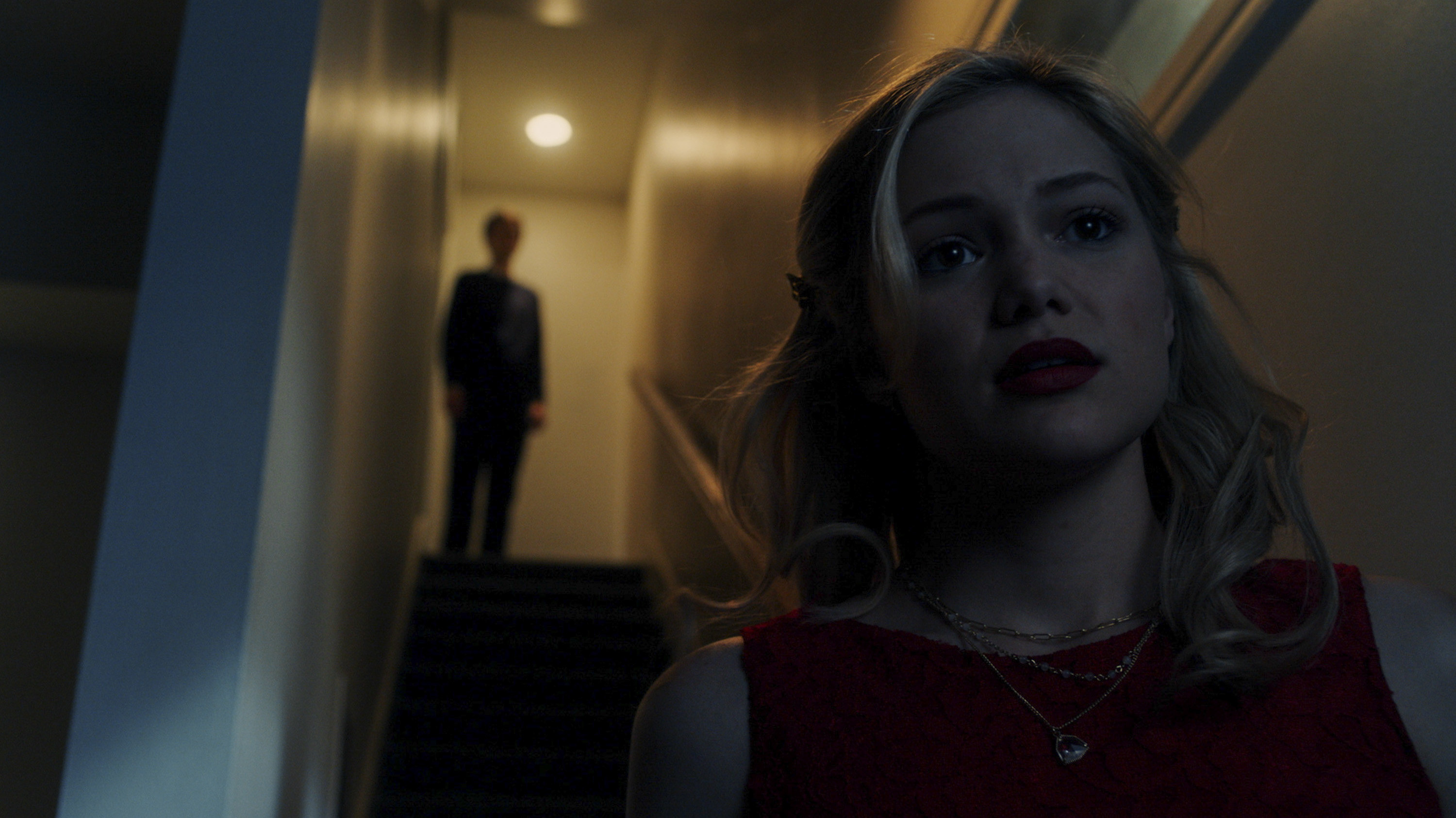 12. Olivia said it was hard to shake off the "heavy and emotional scenes," especially during Episode 9, but she leaned on Blake Lee, who was an incredible scene partner.
Olivia: We had some heavy stuff, but I'm so incredibly lucky to have worked with Blake Lee on this because the trust and communication between us — as humans and actors and friends — was just beyond what I could have ever asked for or imagined. It's very difficult for me to break away from those heavy and emotional scenes. Just because it takes such a toll on my mental and emotional, and sometimes physical, health. If it weren't for Blake and our creative team behind the scenes, I don't know how it would have turned out or how sane I would've been afterwards.
13. Chiara studied Olivia's performance in Episode 1 when Kate is on the Marsha Bailey Show so she could mimic her mannerisms when Jeanette is on the talk show in the season finale.
Olivia: It was so creepy!

Tia: I have to give Chiara props for the Marsha Bailey Show. Chiara, immediately, when she heard we were doing this idea, studied Olivia's performance in the pilot episode. It is a wonderful thing for our hair and makeup and wardrobe departments because they were able to make them creepily similar, but it's the way Chiara holds herself. The way she positioned her feet, the way she spoke. It's an acting masterclass.
14. One of Tia's favorite relationships to write was Kate and Mallory's because she loves "female friendship stories."
Tia: Female friendship stories are my favorite thing. There isn't enough of it in the world of TV. It was really satisfying and so fun working with Harley [Quinn Smith] and Olivia.
15. Olivia said finding out Mallory was the one Kate actually saw was "bananas" and it took her a little while to process it.
Olivia: It was the moment we were all waiting for, right? It actually took me a while to process because it was so interesting to me. The whole season Kate is firm in thinking she saw Jeannette, and then Jeanette really didn't see Kate. But, Jeanette did hear her, but nobody asked her that.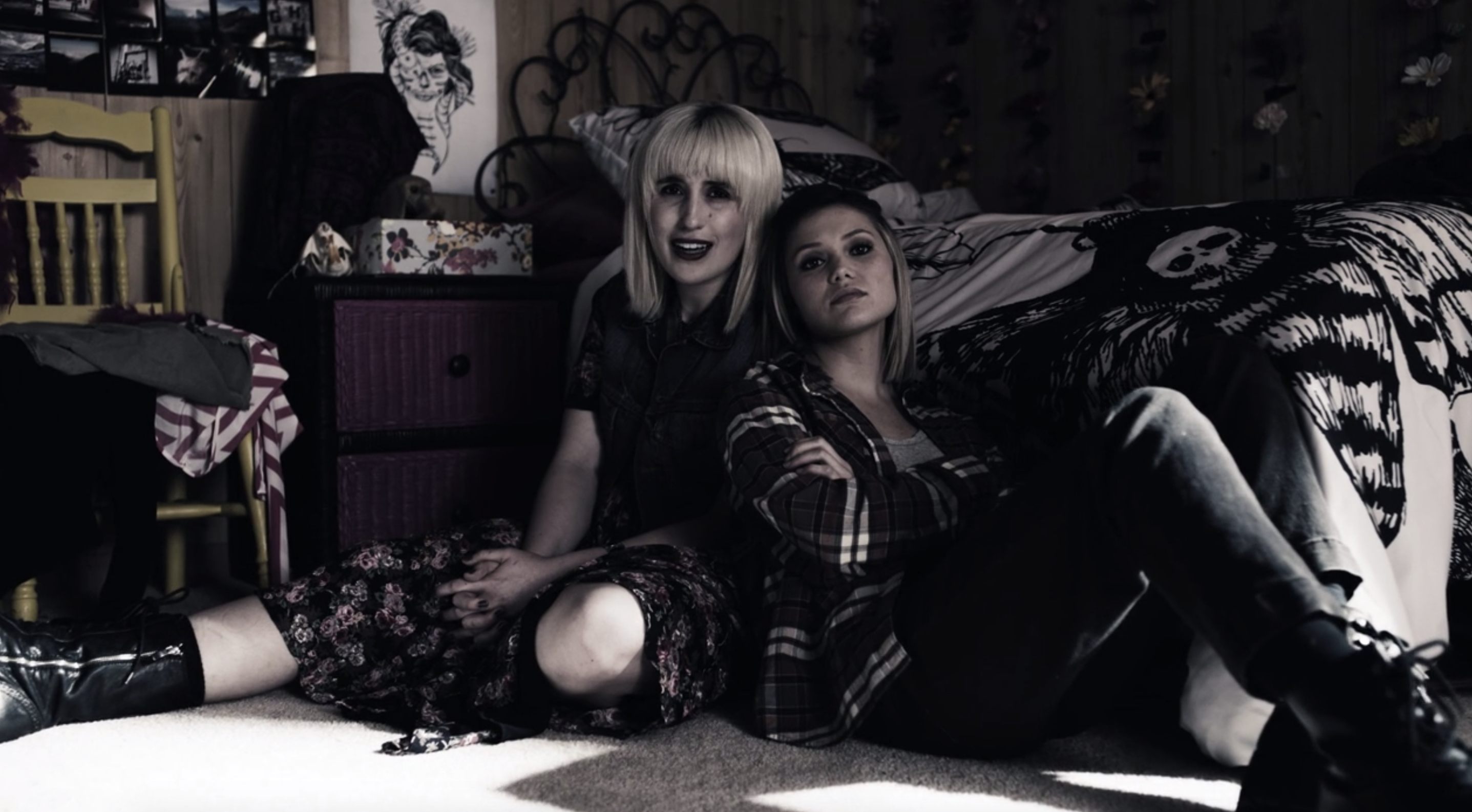 16. Olivia loved building Kate and Mallory's relationship throughout Season 1, and called their scenes together "magic."
Olivia: Harley's brilliant. I get so excited every time I have a scene with her because I just feel like we have a real connection. With Kate and Mallory, we've really invested ourselves in these roles and to bring them to life, especially together. Their scenes are just magic. Kate has obviously been through a whole journey of learning how to trust again because she put all of that trust in Martin. So it's interesting watching how she handles the trust being broken with Mallory. The way that she has gained perspective, hears her, understands her, and is there for her just shows the loyalty that is there. I think that's really special to see.
17. And Olivia believes Kate and Mallory are "soulmates," and she's excited to explore their relationship further in Season 2.
Olivia: I think they have such a special relationship that I would want to dive further into that. I think I've thought about it a hundred different ways and I think I would love to see them together and to conquer life together. The two of them are like soulmates, you know? However the audience wants to interpret their relationship I'm cool with, but there is something about a soulmate that is so blatantly obvious. I think that's what Kate and Mallory are.
18. Before Cruel Summer, Tia worked on Shondaland shows like Grey's Anatomy and Scandal, and she said that really helped her know the "importance of tracking" all of the characters and their motives.
Tia: I think coming out of Shondaland where I'm used to writing for an ensemble cast, I know the importance of tracking. Those shows are a lot of relationships, and this is mystery, but the skill set is similar in that you have to pay off everything. You have to track everything, like everything is there for a reason. Even Kate eating pineapples and milk is there for a reason. Those things we show are deliberate and there are hints along the way if viewers are looking for them.
It was challenging in the best way. I think everything that I learned coming out of Shondaland, I brought to this show. It's a character study. It's about relationships and how those relationships change over time and how they change with circumstance. It's showing humans on TV in the world of a mystery. I think that was the best way to think about it. Everyone feels very human and very grounded.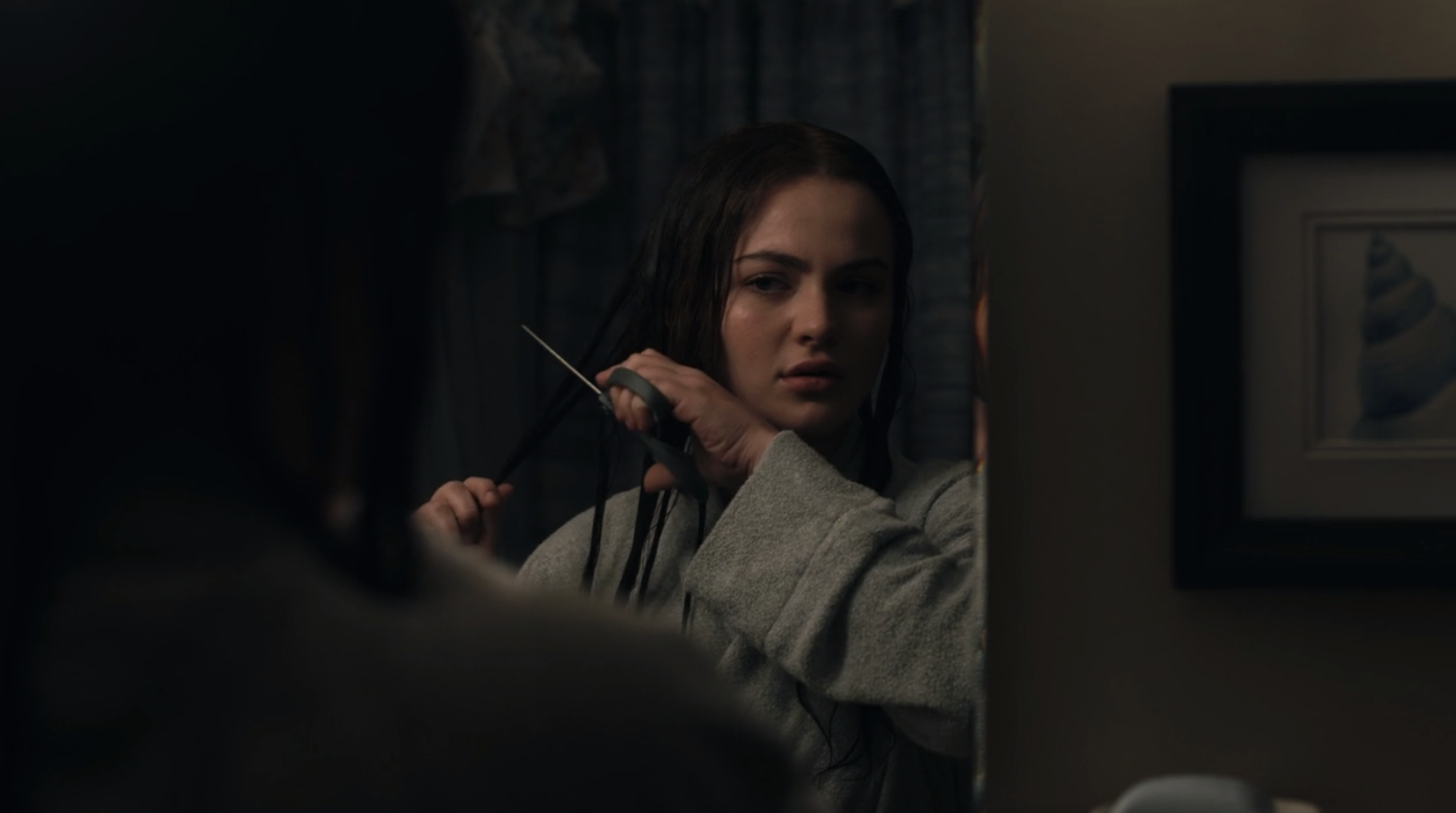 19. The moment in the Season 1 finale where Jeanette cuts her long hair was done in one take and it was the last thing they filmed for Season 1.
Chiara: We had one take and it was the last thing we filmed for the whole season. Bill Purple, our director and wonderful producer, came in and was like, "Chiara, you're in a wig. We don't have another one. You've got one take. Get ready. We're gonna do it." I was terrified I was gonna mess it up. I was so scared it wasn't gonna work. We have those final snips, like, releasing Jeanette into '95 and I hear from the other room, "That's a picture wrap."
20. Since the show started, Chiara has had fans come up to her and want to know the Season 1 ending, but also "which Jeanette" she is in real life.
Chiara: The amount of times people have been like, "So which Jeanette are you in real life?" What do you mean, "Which Jeanette am I?" I'm Chiara. Like, what kind of question is that? I've had people in public places stop me and, like, yell at me as if I'm Jeanette. I had one lady who was so frustrated. I was trying to order a coffee from her, and she was like, "I'm not gonna take your order unless you tell me the end of the show."
21. Tia's favorite fan theory from Season 1 actually involved a Reddit thread where someone found an old photo of her and said it was Annabelle.
Tia: My favorite one Michelle sent to me the other day was some Reddit thread. Somebody had found an old photo of me and posted it on Reddit and said something like, "Photographic evidence of Annabelle," and people freaked out. That one was hilarious.
22. Meanwhile, Chiara loved sharing the "desire" with the fans to know the ending because the cast would also theorize week after week while filming.
Chiara: It's just so exciting to see so many people get invested in the storyline and honestly create some really amazing theories. Like, at least when we, as a cast, started reading the scripts, we were so excited because we had all of our own theories. So we were excited to figure out what was happening too. So, I'm glad the audience shares that desire with us.
23. And Olivia's favorite fan theories were the ones that turned out to be correct.
Olivia: I loved the ones that were so on point to what our story was. I was like, "You guys could be writers." It was also cool to see how invested fans were in our show. That makes me so happy. Ultimately, I think the ones that were pretty on point with what was happening on the show were amazing. I loved that I personally hadn't seen a theory that was right about Annabelle. That kind of made me excited too.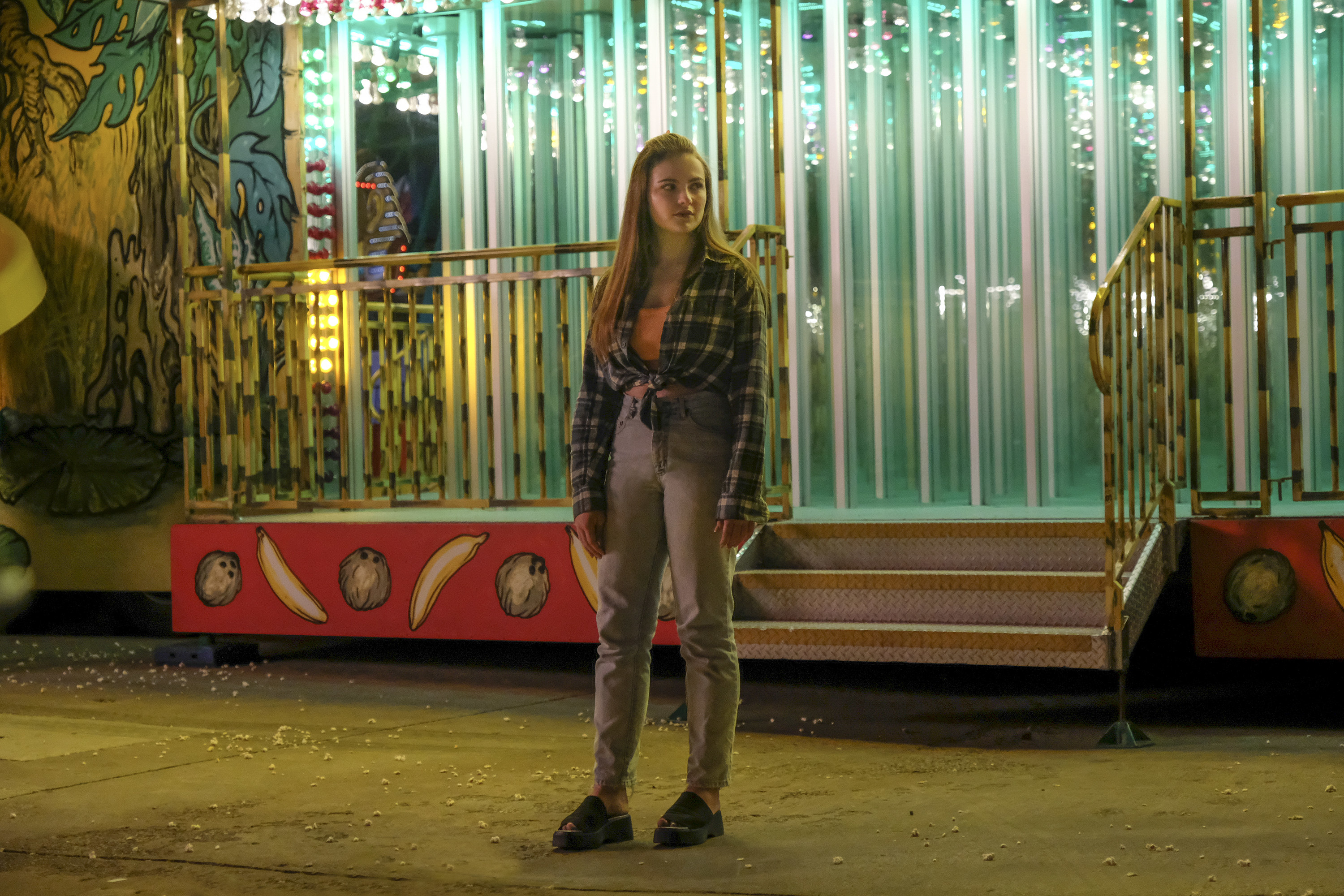 24. One of Chiara's favorite episodes to film was "As the Carny Gods Intended," which is when all of the storylines take place at the fair.
Chiara: I think my all-around favorite moments are when we really got to do these big group scenes together. I spent a lot of time, in '93, with Mallory and Vincent, and in '94 with Jamie, and then '95 with Angela and Greg. So, because there are so many different worlds spinning at the same time, it was incredibly exciting and thrilling when we finally all got to work together. I spent the most time with everyone on Episode 5. I said before it's my favorite. It was my favorite to film because we were all at the fair all day every day. We were filming into the night and we just got to sit around and talk, and do these big group scenes that were very technical and hard to film. It was really exhilarating once we completed those and we felt so accomplished after the day was done. It was wonderful.
25. The hall of mirrors moment in Episode 5 was one of the hardest to film. They built it on a soundstage and managed to fit the whole camera crew inside.
Chiara: They built this huge hall of mirrors on the stages. It was so hard. I'm not even kidding you. I could not get through it myself. I, like, tripped and fell and ran into so many things. I can't believe we got a whole camera crew in there. It was so fun. I love that stuff.
26. The cast is very close off screen, and both Chiara and Olivia say part of the reason is because they filmed during the pandemic.
Olivia: Everyone really committed to this project. I think when you have actors that are not only committed to making a great show, but also committed to enjoying the time as well, it makes for a better show. It makes for a better experience. I look back on this show and there were some really hard times, more so on the emotional and heavy aspects of the material. Then, obviously, shooting during the pandemic, but the cast made it so much easier. I am so grateful for all of them. I think I'll be lifelong friends with all of them.

Chiara: We were relying on one another as constants, as characters, as coworkers, as friends, and as a family. We were trusting one another with our livelihood and our safety. We put so much faith in one another. It was truly a wonderful experience.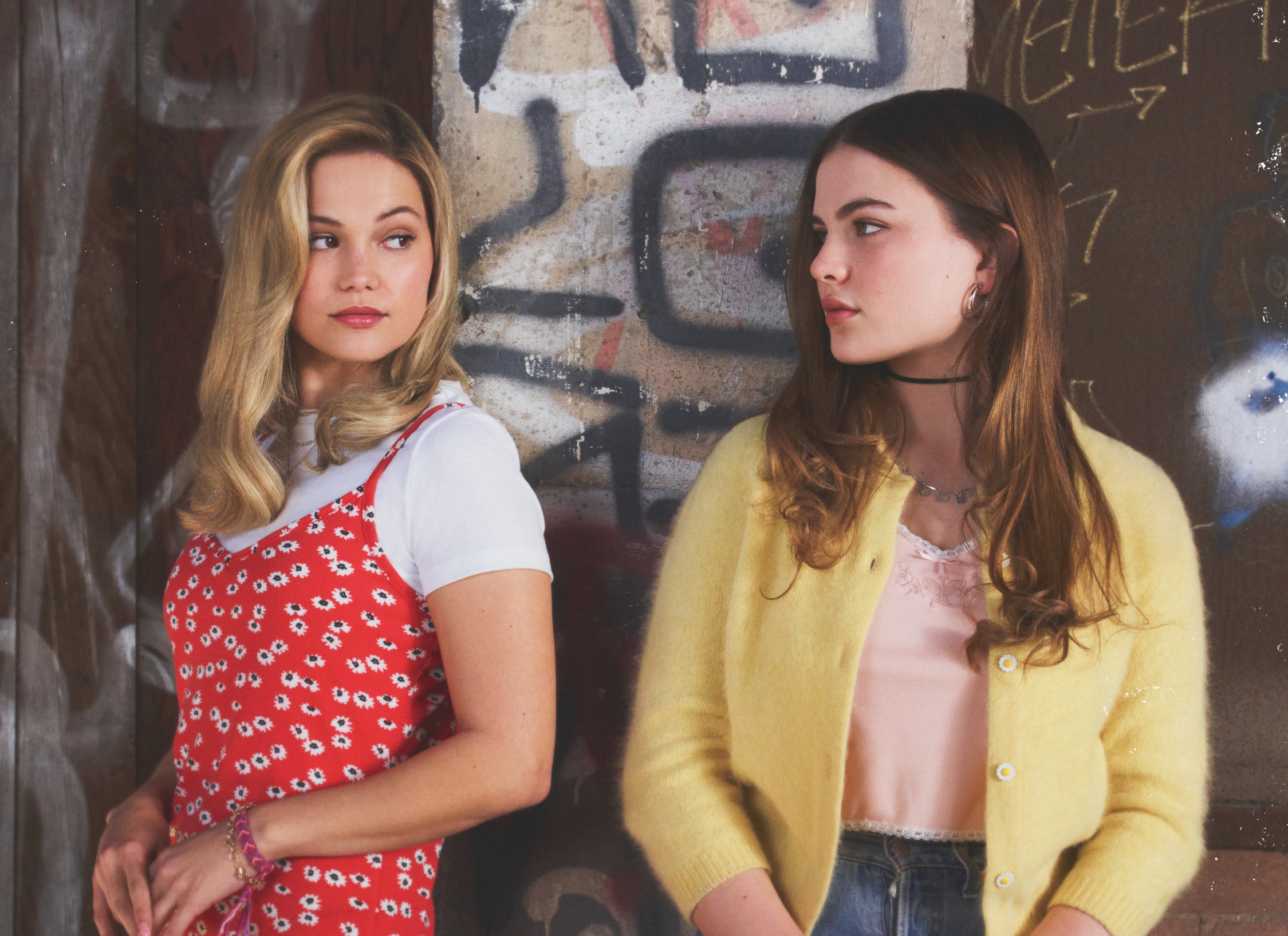 27. Chiara and Olivia would prank each other while filming Season 1. To the point where Chiara hid behind a bush while Kate and Froy Gutierrez were filming a scene so she could scare them.
Chiara: Okay, so story time. I was sitting in my trailer with my door open, on my phone, and Olivia's in the next trailer over. I don't see or hear anything, and I jump really easily. So she comes making this whole video like, "I'm gonna go scare Chiara." She comes to my trailer and starts screaming at me at the top of her lungs. I jumped so high out of my seat. I was screaming and then I was laughing so hard. I was so scared.

So, later that day, her and Froy were filming the scene in Episode 7 where Jamie is drunk and falling in the grass, and Kate is trying to help him, and they pass by this bush. So I went up to the director and was like, "Hey, guys, when you're finished with the scene, do you mind if I get Olivia and Froy back? I can hide in the bush and you guys can get it on camera when I scream and scare them." So they were on board. They finished the scene and the director was like, "Okay, we're gonna do one more." I go crouching behind the trees and Olivia walks by and I scream. Olivia and Froy screamed so loud. There is a take of this somewhere. The entire thing was on camera. They were screaming so loud. After Olivia came and gave me the biggest hug and tackled me on the grass and was laughing.
Olivia: Oh my god. Terrifying. Chiara's really good at scaring people. She's the ultimate prankster. I've gotta give her credit for it. She definitely committed and I totally respect it.

Chiara: Olivia got me back on the last day though. She hid behind a curtain in my room, while we were doing a rehearsal, for 30 minutes. She jumped out and scared the living crap out of me. I was terrified.
28. While Chiara doesn't have a favorite version of Jeanette, she said she loved the moments when 1993, 1994, and 1995 started to merge together.
Chiara: I felt like each individually was so enjoyable because they all so perfectly bounced off of one another. I feel like there was something so special about tapping into '93 after we'd done a whole day of '95 or vice versa. I think there was such a joy in being able to show such diversity. The truth is, although they are very different sides, they still are the same human. All of the bits and moments from '93 to '95 made it so worthwhile. Being able to play such a three-dimensional character with such huge changes and such development growth over the course of her high school years was honestly incredible. I really enjoyed moments of each year that embodied moments from the other years. When '93 started merging into '94 and when '94 started merging into '95, and then when '95 started to evolve and you saw gleams of the joy she felt in '93 come through.
29. On the last day of filming, the crew gave Chiara a box of "250 clothespins" with notes from all of the crew members written on them.
Chiara: The crew and I had a lot of clothespin wars. I was clothes-pinning people and would write little notes, it was a cute set tradition. On the last day, everyone told me this big prank was coming for me and I was shocked that it never came. But at the end of the night, someone handed me a box and I opened it and every single crew member had written a note on a clothespin. I have a box of 250 clothespins from the whole crew. They had gone around for like a week collecting then. I have notes from everyone I worked with all season. I have never cried so hard in my life.
30. Looking at Season 2, Olivia hopes to explore more of the "relationships" and dive deeper into everyone's dynamics.
Olivia: I'm so invested and interested in all of the relationships in the show, from Kate and Mallory to Vince and Ben. Even now, the new complication between Jeanette and Kate. I feel like we could dive further into all of those dynamics and it would be really interesting. I'm very satisfied with where Kate is at in her life right now too. I'll be interested to see what things are thrown at her next.
31. Meanwhile, Tia said she and the writers are "just starting to talk about it." While there are no concrete storylines yet, Tia hopes they can continue to "challenge" themselves.
Tia: I was saying Season 1 started with this untieable knot in that Kate had her truth, Jeanette had her truth, and how could there possible be anything in between? We've sort of worked our way into "How do we solve that? How do we untie it?" We know we want to do that again. We want to challenge ourselves with something equally impossible and mysterious, and find the best version of that. We want to give people all of the answers to the clues and questions we tee up because I think that's really satisfying.
32. And the writers also want to tackle another important topic like they did with grooming this season.
Tia: I know what we also want to do is tackle something like we did with grooming. We want to talk about something important along with the mystery and the character studies. So that's kind of my wish list for Season 2. We are just getting started.
Be sure to catch up on (or rewatch) Freeform's Cruel Summer, which is streaming now on Hulu.