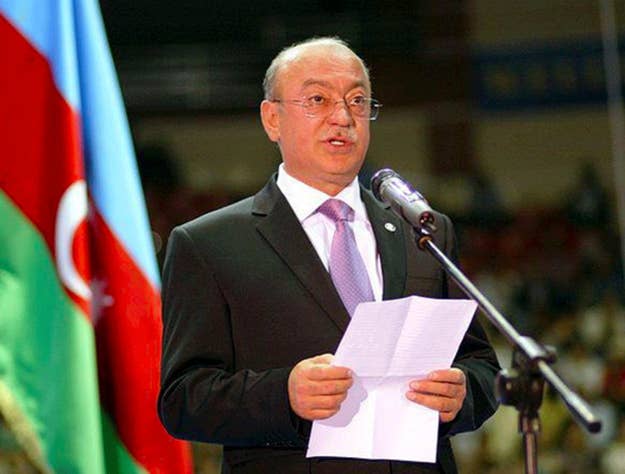 The middleman in a boxing bribery scandal that has cast a shadow on the London Olympics was described in 2010 by an American diplomat as an important and corrupt player in the oil-rich country's government.
Immediately after an Azerbaijani boxer featured in one of the most bizarre incidents of the Olympics, numerous media outlets noted that Azerbaijan was accused in a 2011 BBC report of bribing international boxing officials. The allegations of bribery stemmed from a $10 million payment by Azerbaijani businessman Hamid Hamidov to the World Series of Boxing, a money-bleeding U.S. league for lower-level fighters, which is owned by the AIBA. The BBC's sources said the payment was made in return for a promise to give two Azeri fighters golds in Olympic boxing. Hamidov, Azerbaijani officials and AIBA officials have repeatedly denied that the money was used in any way to influence the outcome of boxing matches.
An AIBA investigation in December 2011 cleared the accused parties of wrongdoing. In the AIBA's report, Azerbaijani official Kamaladdin Heydarov is identified as a "translator" between Hamidov and World Series Boxing. The BBC's report also mentioned Heydarov, saying he was involved in communications between the World Series of Boxing's chief operating officer and AIBA president Dr. Ching-Kuo Wu.
Yesterday, referee Ishanguly Meretnyyazov of Turkmenistan was dismissed by the AIBA after making a series of highly questionable calls in favor of an Azerbaijani boxer who judges then gave a victory by decision — a ruling that was soon reversed. Last night Reuters reported that an Azerbaijani technical official, Aghajan Abiyev, was also booted by AIBA for improperly contacting members of his delegation. (Officials involved in judging and staging events aren't supposed to be in touch with their countries' athletes and support staff.)
If the alleged 2011 bribe turns out to have been related to the overturned decision, a 2010 cable between American officials published by Wikileaks in 2011 indicates that this wouldn't be the first time Heydarov was allegedly involved in such a situation.
According to the leaked memo, Heydarov is a minister in charge of "Emergency Situations," his fiefdom described as "the ministry of everything substantial." (Heydaraov's government website says he's in charge of protecting his country from natural and man-made threats.)
"Some observers have said he might be even more powerful than the President himself," the leaked cable read.
Those who upset him, according to the cable, have found themselves in trouble: "Korean diplomats have confirmed that Heydarov was the protector for several major business deals, but have complained that many of these deals have gone awry after the Korean firms refused to pay adequate patronage to Heydarov."
The 2011 World Boxing Championships, which served as Olympic qualifiers, were held in Baku, Azerbaijan, which according to the cables is where Heydarov's empire is based.
In the AIBA's subsequent investigation, headed by U.S. Naval Academy athletic director Dr. Tom Virgets, Heydarov is described as a "an Azerbaijan official who had helped to make the introduction to the private sector investor and assisted with translation."
Arguing that the BBC report relied on unreliable witnesses, the AIBA concluded there was no reason to believe that the Azeri government had tried to bribe the boxing federation for medals.
"We have conducted an exhaustive investigation over the past two months, and we have concluded that the allegations made by BBC Newsnight in September that there was an investment by a government or any discussion or effort to guarantee gold medals were completely without merit," the group said in the report.
The AIBA did not immediately return requests from BuzzFeed for comment.
Also see: This Wikileaks Cable About The Azerbaijan Boxing-Scandal Guy Is A Work Of Central Asian Genius