This post has not been vetted or endorsed by BuzzFeed's editorial staff. BuzzFeed Community is a place where anyone can create a post or quiz.
Try making your own!
Players Union Had Ties To Payday Loan Company That Sued Vince Young
At least five athletes — and not just football players — have defaulted on six- and seven-figure loans given to them by Pro Player Funding LLC.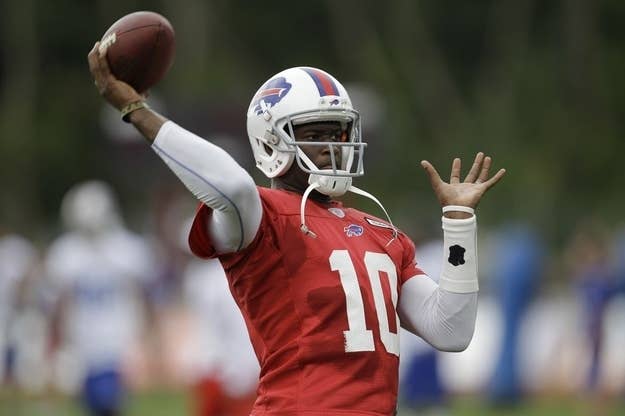 The financial company whose lawsuit against Vince Young for defaulting on a high-interest loan made headlines last week at one point issued a statement on labor issues that NFL Players' Association forwarded to media members and endorsed as identical to its own stance.
NFLPA player representative Jay Feely denounced the loans offered by Pro Player Funding and other groups to his fellow players as "predatory" (Young's carried 24% interest) during last year's lockout.
But Pro Player, and its executive and frequent spokesperson Darien Dash, appear to have cultivated a friendly relationship with the NFLPA. In 2010, the NFLPA endorsed a statement Dash made about labor issues as its own position.
An NFLPA spokesperson referred questions to Dana Hammonds, the organization's Director of Financial Programs & Advisor Administration, who did not return requests for comment.
Pro Player's legal entanglements with pro athletes also extend beyond its previously reported default lawsuits against Young and other NFL players, BuzzFeed has learned. Court records show that Pro Player also won a judgment against Columbus Blue Jackets defenseman Jack Johnson, who missed a payment seven days after he was traded from the Los Angeles Kings last February. All the loan agreements in question specified that a single missed payment triggered default.
If estimates in stories written during the lockout are correct, dozens more NFL players took out similar loans.
Dash, who was once involved in a $48 million suit against Michael Jackson, is a cousin of former Jay-Z business partner Damon Dash; his sister is Clueless star Stacey Dash.
According to court papers, Pro Player is controlled by Centurion LLC, which is part of Platinum Partners, LLC, a group of hedge funds based in New York City. Platinum Partners itself recently reportedly settled a lawsuit that alleged it covered up knowledge of fraud perpetrated by a Fort Lauderdale lawyer it had invested with; the lawyer, Scott Rothstein, has admitted to running a Ponzi scheme.
Dash and Platinum Partners did not return a request for comment.