This post has not been vetted or endorsed by BuzzFeed's editorial staff. BuzzFeed Community is a place where anyone can create a post or quiz.
Try making your own!
Auriemmaville: An Entire Sport Revolves Around UConn's Accused Coach
An NBA security official suing Geno Auriemma for discrimination is facing off against a legend on his home turf. Her lawyers say she's ready for the pressure.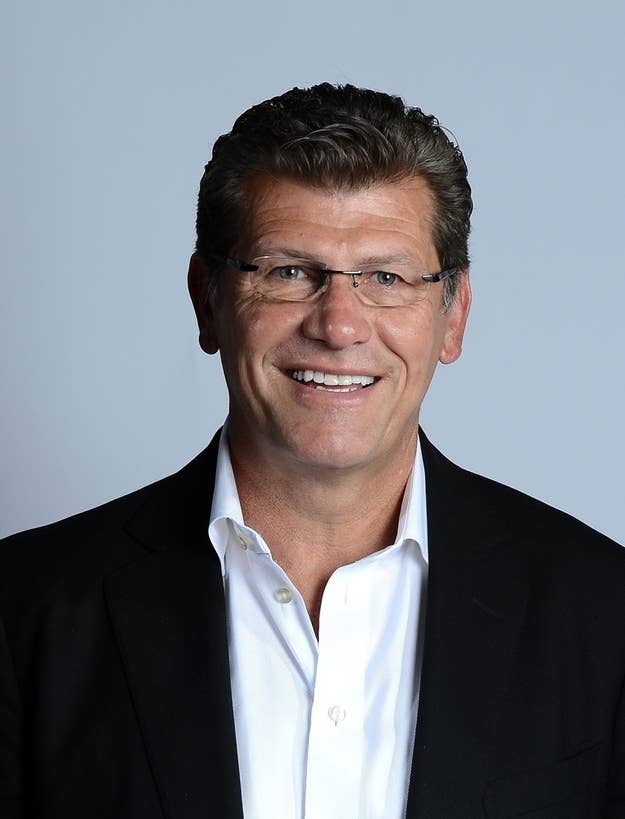 Kelley Hardwick makes a living providing security for athletes, often women's basketball players. Hardwick has suddenly become quite a public figure in her world after she filed a civil lawsuit in New York against Geno Auriemma for sexual harassment earlier this month. And perhaps no other figure in sports dominates their game to the extent that Geno Auriemma dominates women's basketball.
Hardwick alleges that after she rebuffed advances from Auriemma, who had just been named the national team's head coach, while she was protecting Team USA at a tournament in Russia in 2009 he had her taken off of the Olympic security detail. It's a post she had worked for the previous two Olympics.
Her opponent has won seven national titles at UConn. Three of the last four women's college players of the year have been on his team; 12 players on WNBA rosters in 2012 went to UConn. He's attained a degree of renown and name recognition far beyond almost anyone in the women's game.
Consider for example, the Mohegan Sun Casino and its WNBA basketball team (perhaps confusingly also named the Sun). The casino, located about 30 miles away from UConn, has collaborated with Auriemma to open both a Geno's Pub and Geno's Fastbreak Food Court. Its team boasts three former UConn players and draws around 6,700 fans a game in an arena that holds 9,000 -- big numbers for a league that often fails to reach 50 percent capacity in similar markets. (Says Renee Montgomery, a former UConn point guard who plays for the Sun: "I played for UConn and then I went away for a year to Minnesota. So I got to see life outside of Connecticut, and ... it was so awesome to come back.")
Staff members at Geno's Pub said he often visits the bar bearing his name, conversing with fans and bringing in large groups. ("Big night at Mohegan Sun Casino," he tweeted on New Year's Eve. "Kevin Hart in the house. Genos Pub is going to be jammed.") Pictures of him and former UConn stars drape the area, while sandwiches like "The Jennifer Rizzotti" and "The Ashley Battle" bear the names of fan-favorite former players. A new Geno's restaurant is set to open this summer in downtown Storrs, with developers quick to point out Auriemma's "national reputation" in a press release announcing the project
Public opinion in Auriemma's corner of the world has initially been strongly his side. "I...have a hard time believing the accusations," wrote Helen Wheelock on the influential Women's Hoops Blog. "I don't believe it, I simply don't believe it," wrote Chris Elsberry, a columnist for the Connecticut Post. Said Kia Vaughn, a former Rutgers University star who plays for the WNBA's New York Liberty: "Don't do that to him. He doesn't need that."
Auriemma is now head coach of the Olympic team as well. Its roster, just set, boasts six UConn graduates. While he prepares for London, his accuser has continued working her current job with the NBA's security team. The league has declined comment on her assignment, but she can be seen on the sidelines of NBA Finals games guiding Heat players into their locker room.
Her lawyer, Debra Cohen, said Hardwick is prepared for public scrutiny. "Kelley Hardwick is an amazing woman," she told BuzzFeed. "She's focused on her family and her job."
As of Wednesday, no one representing Auriemma or Team USA has contacted Cohen.
For the time being, a rare dark cloud hovers over Geno's world.